You may be wondering – are telescopic rods any good?
Perhaps you wanted to go on a trip with your friends but uncertain if there would be a good fishing spot somewhere. Instead of bringing a long and bulky fishing rod, wouldn't it be nice to have something that's compact and portable?
It would be a rod that you can easily retract and extend as needed.
Well, this is why telescopic fishing rods were invented – exactly for situations where you never know when fishing might happen.
This is why today, we'll discuss telescopic fishing rods: What they are, why they are great, and how to find the best one for your needs. Let's jump right in!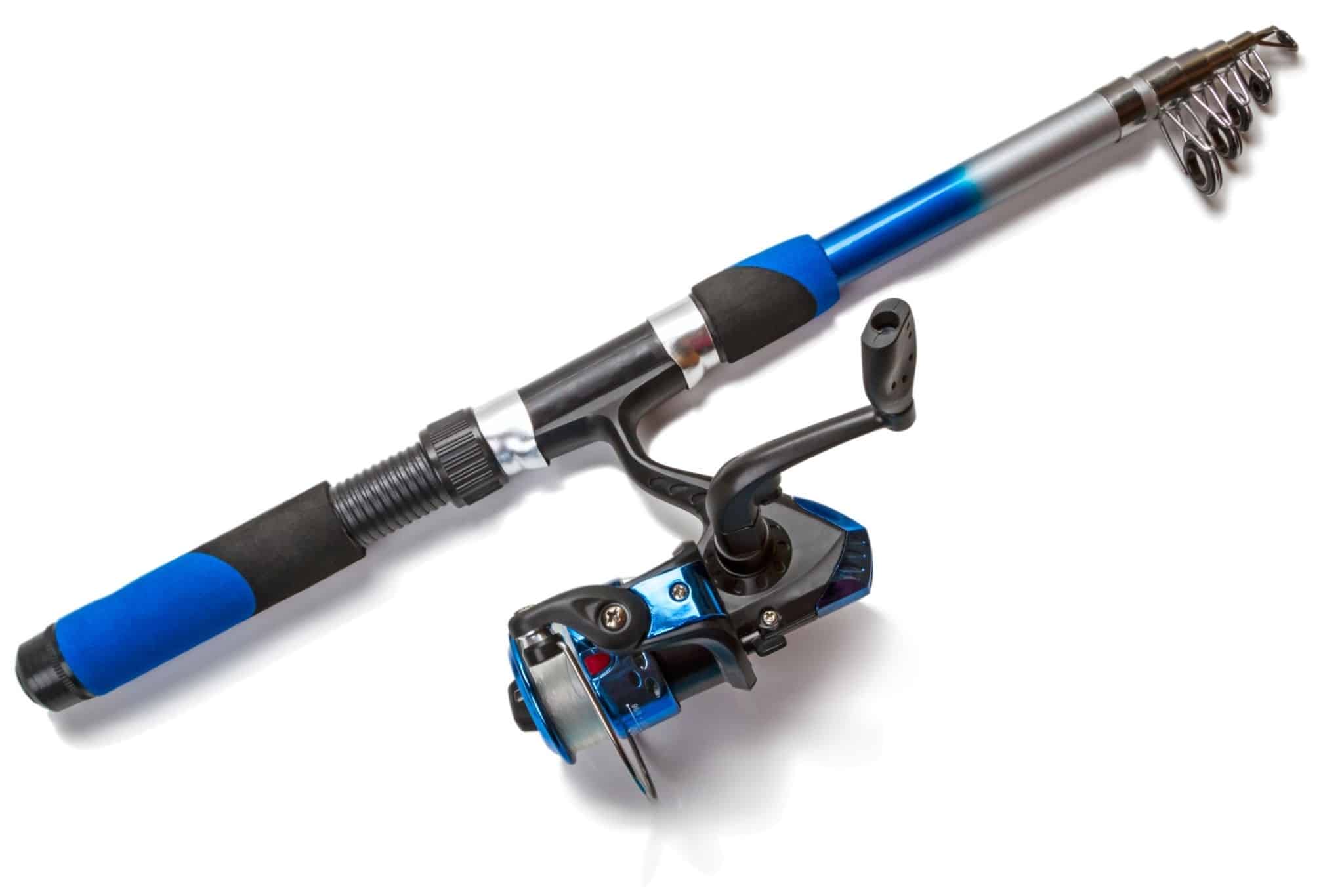 Portability At Its Finest – Are Telescopic Fishing Rods Any Good?
First of all, telescopic fishing rods are just what the name implies:
They are foldable and retractable. Hence, this type of rod is portable and compact.
Once fully collapsed, these rods should not be any longer than 18 to as much as 26 inches. Thus, you should be able to fit them quickly in the trunk of your car or even underneath the truck seat.
If you need a portable fishing rod that can fit in your carry-on luggage, this is the rod for you. In fact, you can squeeze it inside your backpack, as well.
So, when you feel the need to fish, this rod can make it happen for you. Just pull it out of your luggage or backpack, extend it, then it should be good to go.
Overall, a telescopic fishing rod offers you the features typically available in a one-piece or even a two-piece fishing pole. The handle is carbon fiber while others may be covered with some soft foam and with a cork interior.
As for the reel seat, this can vary between stainless steel and aluminum. Some telescopic fishing rods are even made of glass. There are also "eyes" added in, which strengthen each section. These are also metal-made for further durability.
Are telescopic fishing rods any good for saltwater or freshwater use? Absolutely!
In fact, the inserts are crafted from certain materials based on where you want to use the rod. And lastly, there is a tip cover made of hard plastic, which safeguards the eyes once the rod is collapsed.
Key Reasons Why You Should Use a Telescopic Rod
So, it's compact, portable, and functional. Did we mention it is customizable, too?
In fact, a telescopic fishing rod can be customized to match your desired line weight and reel. There are rods in baitcasting or spinning type, yet it should not be hard to find rods for surf and sea, as well as trolling purposes.
With all these things in mind, let us look into the reasons why using a telescopic rod makes a whole lot of sense.
First, it is for hikers and backpackers. Since telescopic rods are lightweight and compact, you can easily fit them in your luggage. Even a regular backpack should accommodate a telescopic rod perfectly well.
It also works great for minimalists, those who like to live as naturally as they can, as well as survivalists. The rod is small when collapsed, yet large enough as a full-sized rod when extended.
Hence, if you are preparing yourself for a catastrophe, or you want something handy when the time comes to get your own food, then you can count on a telescopic rod. They work well and do not use up a ton of storage space at all.
When you are the kind of person who wants to go fishing at the spur of the moment, this type of rod is for you. Simply grab your rod, extend it to its fullest length, and it should be ready to go.
What A Telescopic Rod Is Made Of
Now, let us talk about materials and build. What is a telescopic rod made of?
For the most part, it is constructed from the exact same materials that non-telescopic ones are made out of. The only real difference is the system and how these rods are extended or collapsed.
For the handle, it can either be cork or carbon fiber. But in some cases, the rod may have a foam handle.
But when it comes to traditional ones, the rod may be crafted from fiberglass or graphite. Others may be a combination of both.
Although the common material used is fiberglass, graphite is better in terms of providing sensitivity. Fiberglass is flexible and durable but not as sensitive as graphite. Thus, the latter is better for allowing you to feel vibration when a fish bite your bait.
The only downside of using graphite is its brittleness. This is why if you prefer a sturdier rod, then fiberglass is the best choice for you.
But there is also such a thing as a composite fishing rod. What this means is that it offers the best of both worlds. It is durable, yet sensitive, which is perfect for any angler especially beginners.
How to Buy the Best Telescopic Rod
With all these things in mind, what is the best telescopic rod to buy?
First, you need to make sure that the material is indeed sturdy. Consider the durability and sensitivity of the rod, as well as the construction.
Is it suitable for freshwater fishing? Or is it more for saltwater fishing? You have to find out about these before you make a purchase.
Actual product reviews from buyers can also help you determine if the item in question is worth purchasing. You can save yourself from headaches and worries by thinking hard before you buy and making sure that the item you get is indeed worth it.
So, are telescopic fishing rods any good? Definitely. As long as you keep in mind the features we indicated in this post, as well as the function you have in mind for the rod, then these things will guide you as you purchase one for your needs.