Are you looking to boost your casting success?
But at the same time, you're on a tight budget?
Worry not. You should find the best baitcaster combo under $100 that's just as good as pricey ones… Or at least won't disappoint!
A baitcaster combo is a great buy if you want to improve your performance and get a great value for your money. You'll also be pleased to know that even big brands selling baitcaster combos are quite reasonably-priced. Definitely a bang for your buck – better than buying a separate reel and rod!
But again, there are cheap junk ones to watch out for. So don't be deceived by what you can find because baitcaster combos are not created equal.
So let us go ahead and have a look at our top picks for the best baitcaster combo under 100. Keep reading to also check out our buyer's guide to help you select the right one to purchase.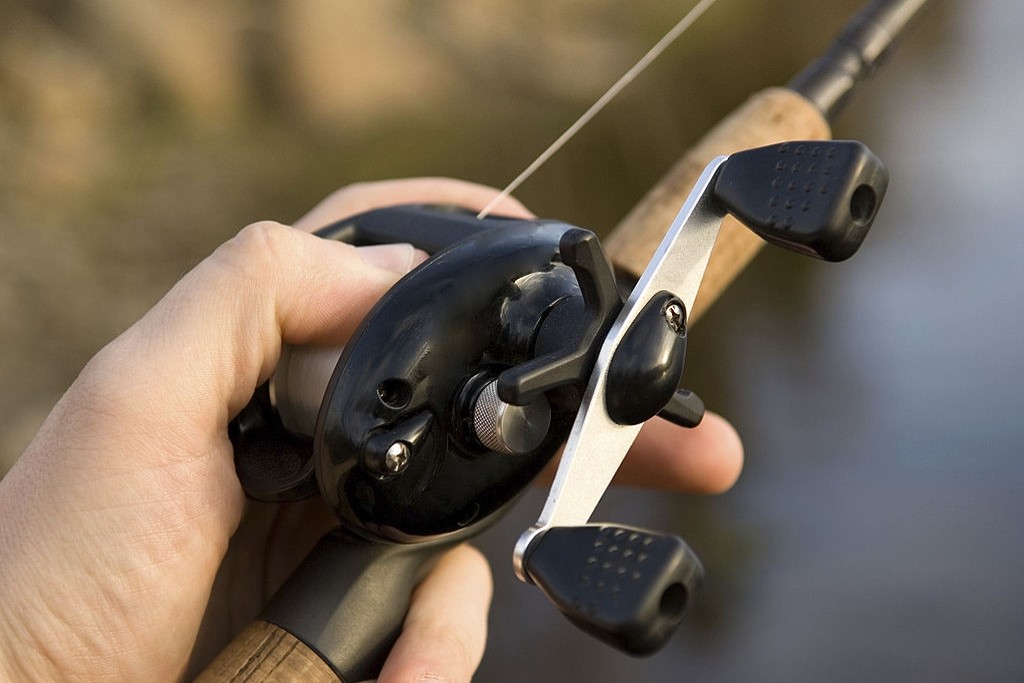 Top 8 Best Baitcaster Combo Under $100
Cast like a boss with the Black Max by Abu Garcia. This baitcasting combo is a great quality rod and reel in one, which boasts of optimum power, durability and sensitivity. We love how sleek and lightweight it is, along with the ease of use.
The reel is made of sturdy graphite side plates and frame, so you can be sure it can last for a long time. There are four pieces of ball bearings crafted from stainless steel and a roller bearing that ensure reliable and efficient operation each time.
Plus, the Power Disk system makes every drag performance smooth and flawless. For the money, it is a good choice when you need a medium-heavy rod and reel combo. Overall, this unit will not disappoint, although it is a bit stiff for some users.
Pros
Sleek and lightweight design
Superb performance for the drag
Made of 24-ton graphite material
Cons
Feels slightly stiff for some users
Decent quality but not as great as high-end ones
Another good brand of a baitcaster combo is this one from Ugly Stik. This is a fine fishing pole that's perfect for saltwater, so it should be ideal for those who are interested in this type of fishing. Casting is efficient, so it should work for pro anglers in need of a budget-friendly baitcast combo.
For the price you pay, you can say that this item is indeed worth it. The rod works amazingly well, although the reel is pretty much mediocre. If you need a suitable backup for your fishing tool chest, this may just be the perfect one for you.
Our only observation about this product is that the reel is mainly made of plastic. There was also quite a decent amount of bird nesting, so that is one thing worth noting. The hook holder has a slightly odd appearance but it definitely works, which is a good thing about this combo.
Pros
Suitable for saltwater fishing
Works well as a backup rod and reel
Casting is okay upon setup
Cons
It is not recommended for beginners
Can take some getting used on casting
When you need a quality rod and reel combo, the Tailored Tackle is a fine choice for you to consider. This is recommended for largemouth bass fishing, which also makes for a great addition to your angling tools. When you need an efficient and user-friendly baitcasting combo, this product is sure to match up to your standards.
Casting and untangling is a breeze with this item. You can simply open the reel up and all that nasty tangles are fixed up in seconds. If you are in search of a medium-heavy fishing rod, this is truly the right one you need. You will love the sensitive tip of the rod, which can feel every single movement.
We think this product works great, although it can take some getting used to – even for experienced ones. If you want just a simple baitcaster to learn on, this would work. It's high-performance and inexpensive considering all the other features you can get from it.
Pros
Designed by expert anglers
Comes with a lightweight rod and reel
Suitable for new and pro anglers
Cons
The price is a bit on the steep side
May be too basic for experienced anglers
When buying a good quality baitcasting combo, you want to make sure that not only does it work. It also needs to be portable and easy to take with you wherever you go. This is why we like this product from Sougayilang. This rod and reel combo is one of our top picks because of all the fine features of this item.
There are strong line guides and sturdy reel seats made of graphite. The rubber grips prevent slippage, and we think the overall design is simple, yet effective. The reel is made of reinforced and sturdy CNC-machined brass material for longevity.
It is definitely a portable rod you can carry around and bring with you to your fishing trips. Just keep in mind, though, that the reel is slightly weak but the rod works great. This is a decent baitcaster combo worth the price.
Pros
Medium-action rod that works for freshwater, river, lake, and for catching salmon, trout, and bass
Excellent portability and lightweight features
Optimum service by the brand
Cons
Weak reel but is not a deal-breaker
May require practice to get the hang of it
We are impressed with the fact that this product works as advertised. The setup process is quick and easy, so it should be ready to go in seconds. The performance is also smooth and quiet, which are plus points for this item.
Once you cast, the reel feels amazingly smooth. This also comes with a low profile frame, which is an improvement from the previous models. If you need to adjust, you should not have any problem with it at all because it can be done easily.
Overall, we like this rod and reel combo. The backlash is barely present, which makes the action outstanding. You can even throw the lure up to three times or much farther than the average reel. Truly your money's worth!
Pros
Excellent setup between the rod and reel
Quiet and smooth operation
Comes in a compact and lightweight design
Cons
Ideal for pro and advanced anglers
A bit on the expensive side
In terms of appearance, this baitcast combo from Ugly Stick is indeed a looker. It features the same quality you can expect from higher-end models but without the steep price. You can certainly vouch on the durability and strength that this item has to offer.
The rod offers a light and smooth feel, and as for the cosmetics, this product is a head-turner. We are thoroughly pleased with the lighter feel of this product and with the improved components that you can also get from pricier products in this category.
There are no complaints at all with the quality of the rod. However, the reel is not exactly the best you can get. As it is crafted in plastic, for the most part, this can make it a bit flimsy. But as for the other features, you will be pleased with this item overall.
Pros
You can expect durability and strength
Great aesthetics with a modern vibe
The tip design is perfect
Cons
Not quite the best design for the reel
There is a learning curve to deal with
For the smoothest and most efficient performance that will not break the bank, this baitcast by Berkley is a good choice to consider. The rotor and body are lightweight and durable, thanks to the graphite material used for it. We like how it can stay in good condition for a long time with minimal maintenance required.
There are 6 bearings in total and a roller bearing to enhance the performance. The spool is made of machined aluminum, and this provides maximum strength but without the extra bulk and heft. The bail system is also superb to maintain durability for years to come.
We can honestly say that this baitcast combo works. The clicker is pretty loud, though. There is also some slight stiffness to think about, which can be solved by lubricating it. Otherwise, the rest of the features are good for the price.
Pros
Stiff (in a good way) kind of a rod
Can be used to catch bigger fish
Good value for your money
Cons
There is a bit of a stiffness to it
The clicker tends to produce some noises
Last but not least, we have this fine piece of item that is worth your investment. The gear ratio is 6.1:1, which are decent numbers. There is a graphite material for the side cover and the frame while the spool is aluminum.
You will love the anti-reverse feature that you can use continually. We also love the magnetic cast control for maximum control any user will love. With a cork handle made of natural materials, this eliminates fatigue that is a hassle to many anglers.
The cast is accurate and long, and these are outstanding features you will love about this product. But the reel can be a bit flimsy, so be sure not to go above the recommended weight limit.
Pros
Lightweight and durable
Superior gear ratio
Has a natural cork handle
Cons
Can take one day to practice
The reel is not as excellent as the rod
Buying Guide for a Baitcasting Combo Under $100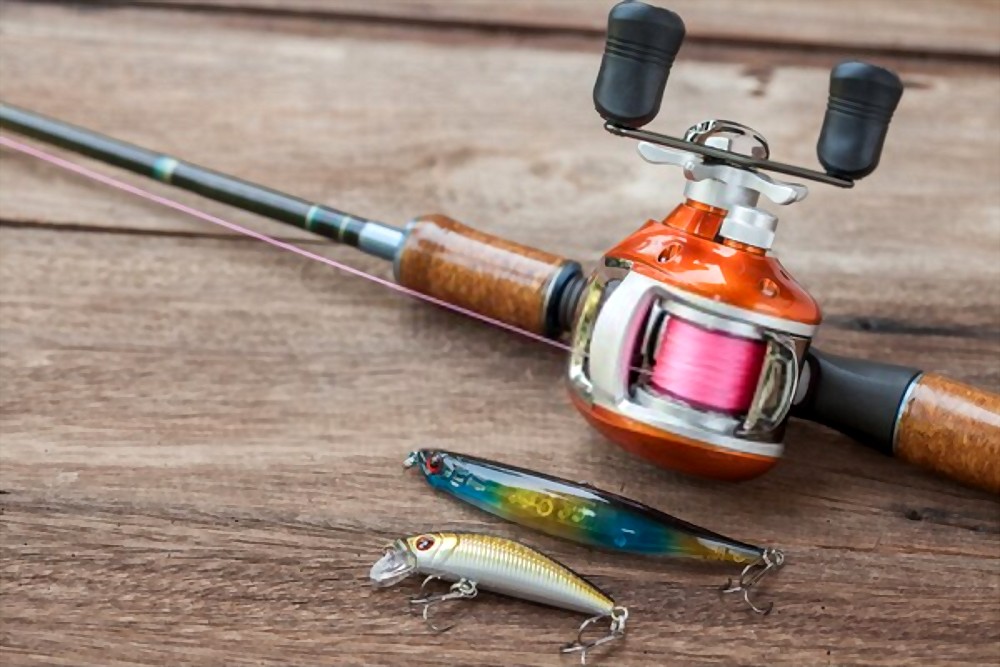 So have you got your eyes set on a new baitcasting combo?
Before you pick one right up, be sure it's really got all the right features that can make a big difference in your overall user experience.
But first, here's a question: Who needs a baitcaster combo?
Basically, it is highly recommended to those who want to make a switch from using a spinning setup. They might want to try a baitcasting reel and rod, and so a combo should be a suitable choice.
If you are on a tight budget, you can also benefit from baitcasting combo, specifically one that is in the $100 range. This way, you will not have to worry about breaking the bank in purchasing one without compromising quality and performance.
In case you are not yet aware of it, the reel is not designed for ultralight gear. As for the rod, the line guides tend to sit more tightly to the black. There is also a trigger grip feature on there.
This is why you have to realize that a baitcasting reel is so much different from an open-face or spinning reel.
You can expect a free-spooling action for an enhanced casting performance. But then, there is the issue of a tangled mess. This is why there is a learning curve to think about when you switch to this casting technique.
Once you have passed the "getting used to" phase, though, you will notice that it is undeniably more efficient than a spinning reel.
So if you would like to proceed to use a baitcaster combo, what do you need to look for to make sure that your purchase is indeed the right one?
There are a few features to think about, and here are just some of the things worth looking into.
1. Gearing
The gear ratio is something you need to consider when choosing the right combo to buy. This impacts the reel's speed, so it is worth making sure that you have the right one you need.
We recommend that you look for an average ratio for baitcasting that is suitable both for professionals and beginners. Good numbers to start with are 6.4:1, although there are other options available.
For a faster, more efficient speed, there is the 7:1 ratio. It is good for many applications, which is a good thing for most anglers. But if you like to stick to a slower speed, then you can go for the 5.4:1 gear ratio.
2. Size
There are different sizes for a baitcasting combo.
For instance, you should be able to find one in the small, medium, and even large. If you like small, then you will love how light and easy it is to cast them.
But then small baitcaster combos are not exactly tougher than larger ones. So you may want to opt for large baitcasters as these are heavier and sturdier. The line capacity is another thing worth thinking about, which also impacts your decision on which baitcaster size to purchase.
3. Ball Bearing
Naturally, you should go for high quality and well-performing ball bearings. This part of the baitcaster is generally cheap, so you might as well choose superior quality bearings that will last for a long time.
4. Spool
Many brands and models of baitcaster combos come with an aluminum spool.
We highly recommend this material for durability and sturdiness. This is also resistant to rust, so you can prolong the lifespan of the spool. Scratches are also the least of your worries when you have a spool made of aluminum.
5. Frame
Most rod and reel combos come in aluminum or graphite frames. If you want a cheaper option, then graphite is your best bet. It is also lighter, in comparison with aluminum.
But then, you want to not just settle for something that is cheap. Longevity is also an important feature, which is why it is worth looking into an aluminum frame that can resist wear and tear for a longer lifespan.
6. Handles
You would not want to settle for a baitcaster combo with a handle that is very uncomfortable to deal with. This will impact not only your experience in using this tool but also in your performance.
We highly recommend that you check out rubber handles. You will love the softness and grippy quality of this material that will add to your comfort and efficiency when fishing.
For more tips on how to choose the right baitcaster combo under 100, this video can help you out.
Frequently Asked Questions
What would you recommend for the material of the reel and rod?
First, let us talk about the rod.
For this piece, we would suggest that you check a frame that is not only strong but flexible, too. This is why we highly regard graphite as it is flexible, sturdy and absolutely reliable. In terms of weight, it is a bit heavier than fiberglass.
But if you prefer one that has a higher sensitivity design, then fiberglass works best. They are just as tough or even tougher than graphite. However, they are undeniably sensitive and with a lighter build.
As for reels, we suggest that you go for an aluminum or stainless steel frame. These are good materials because you can count on their rust-resistance, durability, and longevity.
What is the best weight to buy?
Your choice depends on what your fishing needs are.
You can find a rod and reel combo with medium to light, heavy, medium-heavy and medium light. The weight gives you insight into the ease and effectiveness of the rod with the reel. It is also important that their weight matches one another.
What is the best line to use with baitcaster combos?
We suggest that you use heavy and medium lines. These are the best ones to use because they are designed for beginners and those who are just getting started.
If you are already experienced in angling, then you should be fine with light lines. Casting may also be easy at this point, but we cannot guarantee the performance to be excellent. This is why overall, we would say stick to medium and heavy lines.
What are your thoughts on the magnetic brake?
There are three brake types – the centrifugal, dual, and magnetic. Among these three, we like the magnetic one because of its outstanding responsiveness. Experienced anglers are better off with centrifugal but newbies and those who are not as pros will appreciate a dual brake more.
When should you use a baitcaster?
Any type of fishing is great with a baitcasting combo. There are actually little restrictions, but you need to focus more on larger and medium-sized catches when using this tool. This is the way for you to maximize your user experience.
Just in case you are not very well-versed with a baitcaster combo, this is a cool video to check out for you to learn the ropes:
Final Words
So there you have it – everything you need to know about a baitcaster combo and how to by one for your needs.
Overall, it takes some awareness and knowledge on how to use and purchase this fishing tool. But by checking out our featured items, our complete buying guide and some frequently asked questions, you should be well-prepared in buying the right item you need.
Go ahead and take a look at these products we recommend and let us know your experience after using our featured baitcaster combos under $100 that is sure to bring a back on your buck.