If you're planning to begin fly fishing, then you'll need to invest in the best beginner fly rods. It's one of the first things to prepare as you learn to do this sport, helping you hone your skills in the long run. However, there are a lot of things to consider when getting your first fly rod, and it isn't just about getting the first expensive rod you see.
So if you're stuck on what kind of fly rod to get as a beginner, read on! This article will tackle the 12 best beginner fly rods and more tips and factors to consider when getting the right one.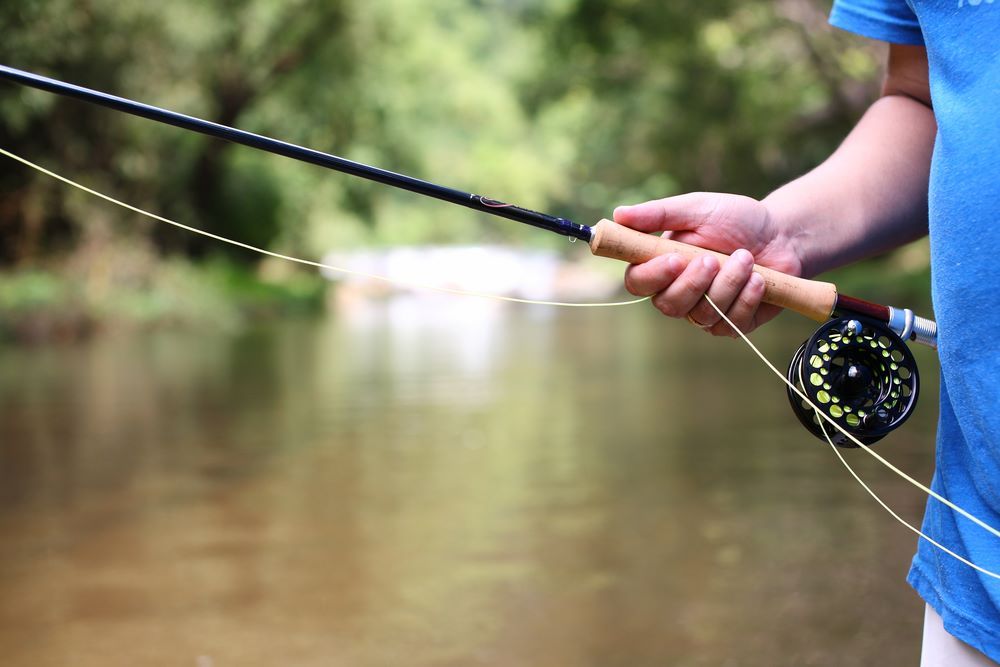 Quick Comparison: Top Beginner Fly Rods
**Below, you'll find our more detailed reviews, but you can also click the links above to see current prices or read customer reviews on Amazon.
The 12 Best Beginner Fly Rods Reviews
Based on research and overall customer reviews, these are the 12 best beginner fly rods you can get today:
The Redington Fly Rod is made for classic trout and beginners, having the moderate action rod. It's made with a dark clay brown blank, also designed with a seat insert made with rosewood for strength and attractive design. Its stripping guides are also made with titanium oxide to ensure that it lasts longer when underwater.
Furthermore, it has the custom-machined components which make it more suitable for both beginners and intermediate fly fishers. The entire package includes a rod tube made of ballistic nylon to protect the fly rod and accessories, making it even easier to transport and protect when stored.
Overall, it provides incredible value for a strong and durable fly rod. While it isn't a combo kit nor does it come with the special frills, you get your money's worth and can easily start casting and hunting for average-sized fish without any trouble.
What's great about the Fenwick AETOS Fly Rods is that it comes with a variety of lengths and weights to choose from. That way, you won't have to worry about settling for just ONE type with the fish you want to catch.
It's a fast-action blank and has the lighter feel for more comfort as you make your cast. Furthermore, it has an attractive look while offering a better grip with its cork handle. It even comes with a rod tube and bag made with Fenwick cloth, which is what keeps the entire fly rod well-protected.
While one would see this suitable for beginners, it's not recommended for first-timers. It may be better for beginners who are already familiar with fly fishing and want to get a fast-action fly rod for bigger fish. Plus, it has a lightweight design that makes it more pleasurable to cast.
The Wild Water Fly Rod is one of the best to purchase as a full-on a beginner, as it comes with everything you need. It's the starter package which includes the slow-action graphite rod, suitable for those starting with fly fishing.
Furthermore, it also comes with a reel seat, stripper guitar, and SiC ring, as well as foot snake guides and a hook keeper. It also includes a fly box which can hold almost 400 flies at once, coming with three each of different baits and flies to start with. They aren't of the highest quality, but still, give good performance for starter fly fishers.
From its waterproof design down to the adequate quality parts, you'll have an easier time learning how to do casts and catch small fish. Plus, it's cost-effective, saving you time and money purchasing all the necessities separately.
For those who want something high class with quality performance, then you'll like the Temple Fork Outfitters. This particular brand is known for professionalism, and this medium fast rod offers it without falling on you. It offers the smooth and powerful casting which beginners can quickly pick up on, catching most types of fish.
Besides this, it's made with the black matte finish for the sleek and modern style. The reel seats are anodized and have aluminum inserts for that strength and durability, but still lightweight enough for that ease of control.
Besides this, it has the premium cork and burled accents that make it more comfortable to grip on. Yes, it may be a bit more expensive compared to other beginner fly rods, but it shows both class and performance worth the investment. If you've got the extra budget, you'll appreciate this package.
If you're focusing more on simplicity as a beginner, the Orvis Clearwater Rod and Reel Outfits is a good performer. It's very versatile because of its weight and feel, making it suitable for both beginner anglers and experienced guides. However, this is made mostly for beginners and intermediate fly fishers, as it has less control than what expert fishes need.
However, it does come with excellent performance, thanks to its large arbor, as well as its aluminum reel to maintain your control when catching small to medium fish. Furthermore, it holds enough power at a lightweight, grippable feel for more comfort while you cast.
Many have raved about how it's a good and dependable rod which seems to last for a long time. It may not be the best for catching huge fish, but enough for medium sizes at its price range.
For beginners on a budget, then the Piscifun Sword is a great choice. But do take note that this is a slow action fly rod, making it more suitable if you're catching smaller trout and streams, as well as sunfish. However, you can still choose different lengths and weights according to what type of fish you need.
Whichever type of fly rod you use, you can expect it to have good performance without the high price. It's accurate enough for fast pulling power and precise fly placement, which helps you catch fish better. Besides this, it's made with IM7 Graphite, which is basic, but durable enough.
All in all, this is best recommended for those who usually travel for their fishing, especially since it's lighter and easier to assemble compared to most rods at a similar price range. From its beginner-friendly yet quality construction down to its four-piece design, you won't have a problem with bringing it when traveling.
One would appreciate the St. Croix for its simplicity. But don't be fooled by how simple it looks, as it comes with excellent strength for a graphite fly rod. It has good sensitivity and control, having a hook-setting power so you can maintain the distance based on how you make your cast. Furthermore, it has tuned actions and tapers for good performance while fishing.
It's made of the premium materials, such as aluminum-oxide guides and a premium cork handle for grip. Plus, the sleek look to it makes it a stylish rod to hold, looking like you're a pro. You can select different types of actions and weights according to your needs and the fish you want to catch!
Moderately-priced with durability and performance in mind, it looks like a good beginner's fly rod with a professional touch to it.
The Eagle Claw Fly Rod is high-quality gear for any type of fisher, whether beginner or advanced. Many admire it for its excellent reliability for its affordable price, having already been field-tested to make sure it doesn't break while using the rod.
The fly rod is made with fiberglass and stainless steel guides, as well as the premium-grade cork handle for ease of grip. One would also appreciate the way it was made, having a classy design that makes you feel like a real fly fisher.
For its great action and the heavy-duty weight, it can capture bigger and average-sized fish with ease. All you need to make sure is that the second piece fits snugly before you try to use it, or the piece would fall out while casting! Also, I recommend that you use a heavier fishing reel for better balance.
9. The Easy Assembly and Travel-Friendly: Echo Base Fly Rod
If your main focus is a travel-friendly design, then the Echo Base Fly Rod is a great choice. It comes in the four-piece travel design and a lightweight bag, which is easier to bring around anywhere. Furthermore, it's very easy to set up and disassembled as needed, having the alignment dots to quickly assemble.
The rod even comes with a lifetime warranty to ensure that it's made to last for the long run. It seems heavy-duty and made to last for a few seasons of intense use. It's known as one of the best performance for a rod its price and dimensions.
While it isn't the absolute superior, it has an excellent price-to-quality ratio that fishermen love, especially for travelers. For beginners, it will give you good action. For experts, you may want to use it as a backup as needed.
Fly fishing combo kits are extremely helpful for beginner fly fishers, which is why the Sougayilang Combiner's Kit is an excellent option. Not only is it affordable, but it's complete as well, having the basic package to begin your fishing escapades.
The package includes the fishing rod, its bag, an aluminum alloy fishing reel, fly fishing and backing line, tapered leader, braided loop connectors, as well as a fly fishing box and fishing flies. That's a whole lot in just one package, but take note that it doesn't have superior quality, but basic enough to get you started in learning how to fly fish.
The fly rod itself has an aluminum body and less than nine feet length, good enough for beginners. It works as advertised and helps you catch multiple fish, though be wary of its fishing line. If it came with a construction manual, it would be much more helpful for beginners!
Another affordable to moderately-priced fly rod goes out to the Tailwater Outfitters Toccoa. It's a fast action fly rod made of IM8 Graphite, which offers more durability and accuracy. Besides that, it's a four-piece design for easier transporting and traveling, also being lightweight with a handy travel bag.
There isn't any problem in setting it up, as it has alignment dots and the strong ceramic stripping guides and chrome snake guides. That way, it provides a smoother casting for precision and performance. The fly rod even has a cork handle with the ergonomic grip, preventing fatigue as you cast your line.
Many have claimed about how inexpensive it is without the high price tag, making it worth more than what you pay for. Overall, it's durable and made with quality for beginners to enjoy.
The M MAXIMUMCATCH Fly Rod comes at a very affordable price, even giving you the choice of getting the individual rod or a combo kit. If you're a beginner, it's recommended to invest in the combo kit, though the fly rod alone would do just fine. You'll just need to invest in the individual accessories yourself, depending on what you need.
What makes this fly rod unique is its MAXLINQ Blank technology, with the rod made of carbon fiber and layers. This adds to its strength compared to other beginner fly rods made of graphite. Furthermore, it offers both excellent distance when making a cast, and presentation with a classy design.
For its smooth guides and ease of casting with most reels, it's a cost-efficient choice. Just be wary of the smell when you receive it, which dissipates in a few days. But this is just a small inconvenience for most fishermen, as you'll receive a quality fly rod to last for a long time, great for the learning curve.
How to Choose the Best Beginner Fly Rods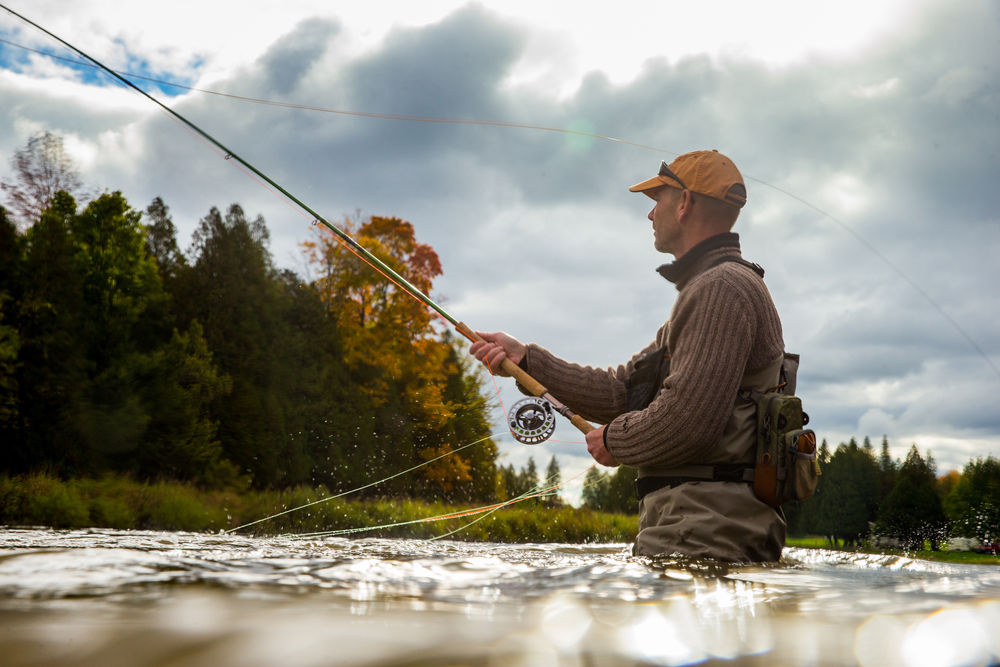 Now that you're familiar with the best beginner fly rods, how will you know which is the best for you? There are different aspects to consider when choosing what to invest in, so it's best to look into these factors:
1. The Action
For those who are new to fly fishing, you're probably familiar with the action. This term refers to how much your rod would bend under pressure. Fast action is stiffer, while slow action is flexible.
For those starting, it's recommended that you get a fly rod that has a medium or moderate action. This type of action is most versatile and has lower line speeds, which give you more time beginners require as they cast their line.
2. Length
Your rod's length depends on what kind of fish you're focusing on getting. If you want to get larger fish, then it's best to get something longer. For those who are getting panfish, then you'll want a shorter rod.
As a beginner, you won't need a fly rod longer than eight to nine feet. With this length, you have appropriate casting distance while controlling it better.
3. Weight
This is another aspect to consider when selecting a quality fly rod, especially when catching specific fish. The weight should also match with both line and reel weight you'll be using.
Rod weights can range between 1-12wt. 2-4wt is best for small fish, and 7-12wt is best for larger fish. As a beginner, 4-6wt is best for versatility and can handle both slightly smaller or larger fish.
4. Rod Material
Did you know that fly rods can be made from other types of material? Again, the material you choose depends on the type of fish you want to catch.
For those who plan to catch trophy bass or heavier fish, consider getting heavy-duty fly rods made of stainless steel. For beginners on a budget or aiming for smaller panfish, then you can make do with graphite rods.
5. Its Value
When you're getting your first fly rod as a beginner, you won't need to spend everything you have in the bank. Quality fly rods don't come cheap, though there are adequate beginner fly rods at fair prices.
So make sure that when selecting your chose fly rod, consider all the other options you need and set a REASONABLE budget to narrow down your choices.
6. Portability
Ask yourself, "where will you be fishing?" For those who travel a lot for fishing, then you'll want something more portable. This calls for fly rods you can break down in multiple pieces to transport easily.
But if you have a car and won't require something more portable, getting a whole fly rod in one or two pieces work well. This lessens the need to disassemble and set up your rod and equipment.
7. Your Skill Level
Are you a full-on beginner fly fisher? Then you'll have to get a fly fishing combo kit that's suitable for beginners, coming with the adequate action. But for those who aren't "true" beginners or it isn't their first time fly fishing, you'll want something with slower or faster action, depending on the fish you want to hunt.
Information on Using a Fly Rod For Beginners
Once you've chosen the right type of fly rod, the next question is using it properly. To learn how to fly fish and use your fly rod properly, follow these helpful tidbits:
1. Fly Rod Purpose
First, you should understand the way a fly rod works. Fly rods have three purposes, which are to:
Cast: Fly rods allow fly lines you can cast with more accuracy and power without scaring fish
Line control: Fly rods give better control over your line, leading it to fish to catch
Striking and landing fish: Fly rods can set the hook on fish and land on fish to catch it better
2. Learn the Fly Line
There are various types of fly lines, such as the floating fly line, sinking fly line, and the sink tip fly line.
There are also tapers, which are level, double, and weight forward tapers, which can work for either close or long distances.
3. How to Cast
When using the fly rod, you'll have to learn how to cast properly. There are two basic casts you should master:
Back Cast
Do the backcast by lifting and doing rear power stroke. Take note that you do the lifting motion with only your forearm, while the wrist is locked in a forward position.
Do the rear power stroke only using your wrist, with your forearm locked in position.
Forward Cast
Once you've done the backcast, you'll need to do the forward cast, which launches your fly line in front, going to the target.
You will need to do a push, which is by only moving your forearm and moving the wrist horizontally, creating a pushing motion. Afterward, make a power stroke and stop moving the forearm, this time only moving the wrist to cast your line.
Fly Rods: Frequently Asked Questions
There's more to learn about the best beginner fly rods other than how to choose and use one! Check out these frequently asked questions many have wondered about fly fishing and rods:
1. What's the best fly rod weight for fishing trout?
As mentioned above, there are different types of good fly rods made for specific fish species. If you plan on fishing smaller trout or panfish, then it's highly recommended that you get a fly rod weight between zero to four.
If you're getting average-sized trout, then get a fly rod with a weight between four to six. That way, it'll be easier to cast your line in a good depth that can catch these types of fish.
2. Will I need a tippet?
Tippets are usually a part of fly fishing combos and are what helps make your fishing flies go deeper underwater. It's what helps you get more "access" to fish!
So YES, you do need a tippet, they are an important piece of equipment for BOTH beginners and advanced fly fishers. But similar to fly rods, you have to make sure that it comes in great quality, whether you're getting it separately or as part of a combo kit.
3. Why do I need a fly fishing combo?
You've probably already heard of a fly fishing combo, which is an entire pack of necessities to begin fly fishing. This is extremely beneficial given the fact that fly fishing requires a variety of accessories, making it less of a hassle or expense when purchasing.
However, these fly fishing combos are recommended for beginners only, as it comes with everything you need, just the basics. It may not be for advanced fishers, who have or use their customized equipment.
4. What basic gear will I need for fly fishing?
Before you do get into the waters for fly fishing, you'll need to the following equipment:
Fly rod
Fishing flies
Fly fishing line that comes with a fly line, leader, tippet, and backing
There are other "special" pieces of equipment to invest in, though these aren't absolute necessities to begin fly fishing. They can be bought after you learn more and advance as a fly fisher. Also, make sure that you're also appropriately dressed for fishing and the weather.
5. What's the importance of getting a quality fly rod?
A lot of people have wondered about why it's so important to invest your time and money on quality fly rods. Just like other forms of sports equipment, a good fly rod can provide you with excellent benefits, such as the strength and effectivity in fishing.
With a quality fly rod, you won't have to worry about it breaking or performing less than expected. Furthermore, it ensures its durability so you can have a fly rod that lasts for years of intense usage.
Wrapping It Up
Choosing a fly rod can be quite difficult, especially as a beginner. That's why it's important to do your research to know what you should invest in to avoid making any mistakes in the future. Once you've got all the equipment, the next step is to learn how to fly fish and hone your skills in this fun sport.
Hopefully, this article on the best beginner fly rods gave you an idea on what to get for fishing. So don't wait any longer and get the right fly rod for you now!
If you have any questions or want to share your tips and experiences on getting the best beginner fly rods, then comment down below! We would love to hear what you have to think.