Are you ready to give bowfishing a try?
When comes to fishing techniques, bowfishing is without a doubt one of the most challenging. You need to be able to hit your target flawlessly to bring home a good catch. It is an activity that will require precision, accuracy, and yes, the best fishing arrows.
It is a bit like archery… But in the water. So you need to make sure that you get yourself an excellent quality arrow with all the right features you need and is comfortable to use. Sometimes arrows are included when you buy a kit. Still, it would be nice to buy it separately to make sure it is exactly what suits you best.
The question is, what is the best bowfishing arrow to buy? What are the features you need to look for and what options do you have in the market? These are just some of the questions we will answer today, so hang tight and get ready to learn more about the top-rated bowfishing arrows today.
Whether you want to get your feet wet and try bowfishing for the first time, or it's an activity that's been right up your alley for quite some time now, let us go over our highly recommended bowfishing arrows to help you snag that prized catch!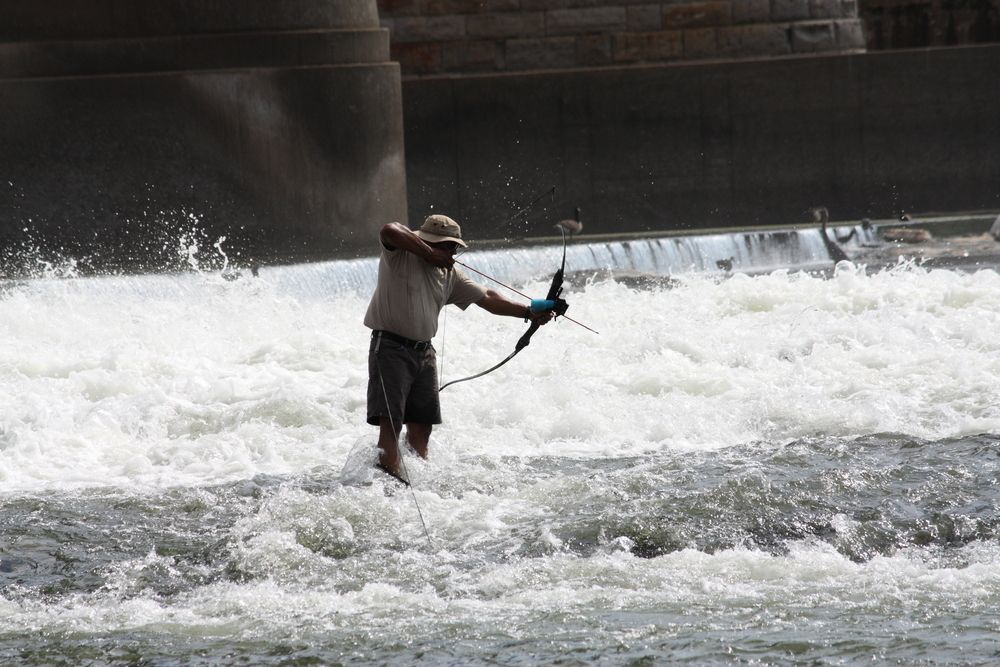 Top 8 Best Bowfishing Arrows
If you are a newbie in the bowfishing space, the AMS bowfishing arrow is the perfect choice for you. It is made of fiberglass to ensure maximum durability and performance. There is a cyclone tip that allows for outstanding penetration, so you can count on catching that fish easily.
There are barbs on the arrow's point pivot, which holds the fish caught. To release the barb, simply loosen the tip, and it is good to go. Plus, we like the bright orange, highly visibly nock. This allows you to see right away where your arrow is, which is an important feature that every bowfishing arrow needs.
One thing to note about this arrow is that the tips seem to be glued on. But you can always apply epoxy to hold it in place, which is not exactly a big deal. This prevents the tip from coming loose once you pull the fish in.
The Truglo bowfishing arrow is a premium-quality arrow that comes with stainless steel, durable tip for a high-precision catch. As for the shaft, it is made of fiberglass with a fluorescent color to increase visibility. It should not be hard to figure out where your arrow went after releasing it, thanks to this brilliantly-colored shaft.
We like the safety feature added into the arrow, which lets you tie the arrow securely to the retrieval system. This way, you can quickly retrieve the arrow while at the same time ensuring accuracy and smoothness in every shot. Speaking of accuracy, there is a super slim nock that makes every release as precise as possible for fewer chances of a miss!
Overall, we think this arrow is decent enough for any bowfisher. Just take note of the fact that there is a slide stop found on the arrow. It is pretty much a lock collar built around the shaft and will not impact the way you catch your fish. Some people may care about this feature while others won't, so it is a mixed bag in this case.
When it comes to durability and precision, the Toparchery bowfishing arrows are hard to beat. Crafted from stainless steel, these arrows are heavy duty and rugged. No matter how many times you use these arrows, they can handle the abuse without any problem.
Each package has 6 pieces of high-quality bowfishing arrows made of commercial-grade stainless steel. You can use these arrows either for bowfishing or slingshot fishing, as these are versatile and will work for either type of fishing. Do you have limited storage? It should not be a problem because you can simply detach the arrowhead for your convenience.
It is quite impressive how this bowfishing arrow from Toparchery gets the job done even without a hefty price tag. In fact, you can barely tell the difference between this product and something that is double the price. If you need a reliable arrow at a budget price, this item is a great option for you.
Whether you want to try bowfishing, spear fishing, slingshot fishing, and other styles, these fishing arrows from Jiexi are just what fits the bill. There are 6 pieces in a pack, and each arrow is made of fine quality stainless steel. With an overall length of 13.8 cm and weighing 17 grams, these arrows are outstanding for both beginners and experts.
Catching your fish even in soft targets is absolutely possible and quite efficient with these bowfishing arrows. Most importantly, the versatility it offers is impressive. This is the kind of arrow that does not limit you to just one kind of fishing technique, which is great.
We think that it can take some time to get used to the arrow's weight if you are transitioning from a different brand and model. But with some practice, you should be able to adapt to the unique features of this arrow and start catching your prized fish.
With a classic style, you can never go wrong with the Muzzy bowfishing arrows. These come with a fiberglass construction, which makes them quite rugged and built to last for a long time. There is a safety slide added in, as well as a nock for great accuracy.
For the price you pay for these fishing arrows, they definitely can't be beat. They can take a beating, and the tips are easy to remove, too. Just slide the tip when you're done, and it should come off smoothly. No stress!
Overall, these arrows work as claimed. They seem a little on the flimsy side in comparison with more expensive arrows but they do the job, which is the most important thing. These are the bowfishing arrows you need without breaking the bank.
Why settle for less when you can get more for the price you pay? These bowfishing arrows come in a 12-piece per set package, which is an amazing deal for the money. They are made of stainless steel for optimum durability. With sturdy construction, you can expect these arrows to last for years to come.
The points are very sharp to penetrate better into your prized catch. Whether you need an arrow for bowfishing or slingshot fishing, you can count on these arrows to get things done. Plus, each arrow weighs 20 grams each, which is a good weight you need for precision.
Our only gripe about this product is the price point. It is a bit steep, which can be a limiting issue for some customers. But considering how well-made these arrows are, there is no doubt that you can get your money's worth by purchasing this product that can outlast cheaper ones in the market.
When it comes to buying a bowfishing arrow, the goal is to never settle for anything less. This is what you can expect from the Ruixunte bowfishing arrows. The materials used are superior quality and long-lasting, so once you have these arrows, you can expect them to last long.
The fiberglass construction is impressive and will not crack easily. As an important additional feature, the tip is crafted from stainless steel with a nickel plating that adds to its sharpness and accuracy. We also recommend these arrows if you are new to bowfishing as these are beginner-friendly and safe to use.
One thing that we would like to mention about these arrows is that the tips will dull over time. It is expected from a cheaper set of arrows that is pretty much entry-level in terms of quality. But overall, if you want to practice your bowfishing skills, these arrows are perfect to use.
The Safari Choice deserves a spot on our list of the best bowfishing arrows simply because it has good features that will make this activity more enjoyable and easier to do. The shaft is well-made and sturdy, which adds to the longevity of the arrow. It does its job for a price that will suit your budget.
We like how it shoots straight and flatly. Whether you are just starting out with bowfishing, or you've been in this field for a while, you will appreciate these bowfishing arrows from Safari Choice. It is durable, accurate, and relatively lightweight.
Our only concern with these arrows is that the head is not rotatable. This may be a drawback for some people but it may not be an issue at all for other users. Other than that, it seems to be a decent set of arrows.
Buying Guide on How to Choose the Best Bowfishing Arrows
Bowfishing arrows come in different sizes and specifications.
This makes it a little trickier for people to choose just the right one, particularly those who have not been around the bowfishing world for a long time.
But we will make it easier for you to pick out just the right product to buy by laying out the different features you should look into when purchasing the finest quality bowfishing arrows that are perfect for your specific needs.
1. Get yourself acquainted with the different parts of an arrow.
Bowfishing arrows include a number of parts that add to its efficiency, strength, and performance. There are also specialized types of arrows available but if your goal is to catch a fish under 20 pounds, then it should not be too difficult to find the perfect match for you.
Basically, there are five primary parts of a bowfishing arrow.
The first is the shaft, and it comes in a number of materials such as fiberglass, aluminum carbon fiber, carbon fiber, and aluminum. We recommend that you look for an arrow made of premium quality fiberglass as this is a very strong and solid material that will not crack, bend, or rust. If longevity is what you look for, fiberglass is an excellent option for you.
Next, we have the rail. The rail performs the sole purpose of securing the line. It can also help keep a shooter safe by ensuring the line's place to the bow's far side. Without an arrow rail, the arrow might flip back and hurt you. So be sure to look for this feature as it is an important feature every bowfishing arrow must have.
The third part of an arrow is the nock. This part notches on to your bowstring to make sure the arrow stays in place and does not slip away on the bow.
There is also a point, that is an essential component of an arrow. To put it simply, the top portion of your arrow that hits and penetrates your catch. We recommend that you look for a point that is replaceable to ensure maximum performance. There are various materials used for the point, and you need to choose one that is ideal for bowfishing.
Lastly, we have the barb. What this does is quite important as it prevents the fish from slipping away from the arrow. You need a reversible barb that adds to the ease of taking the arrow out after you have reeled the fish in.
2. Check the warranty provided by the manufacturer for the parts.
The longer the warranty, the better.
Keep in mind that bowfishing is an activity performed in rugged conditions, so it is possible for some arrows to break due to poor handling. You need an arrow that comes with a great warranty policy that may also include handling issues.
It is best to keep yourself well-informed of how long the manufacturer's warranty is, as well as the type of warranty given. You want it to cover all parts and all circumstances that may cause damages to the arrow. Arrow repairs can be very costly, so the last thing you want is to shell out a huge amount on an arrow that has a bad warranty policy.
3. Learn more about the shaft and arrow point of the bowfishing arrow in question.
As mentioned earlier, an arrow has five key parts. But the most important ones are the point and the shaft.
The shaft is your arrow's life and blood. It needs to be strong and solid to penetrate deeply and easily into your target. You want to make sure that punching the fish is relatively easy even with its tough and thick scales. An extra length for the shaft works well as it adds to the hitting power with extra weight to it.
As for the arrow points, you want it to be ultra-sharp. But the type depends on the kind of fish you are attempting to catch. For instance, a large carp requires better penetration power. A smaller arrow, on the other hand, would suffice for a much smaller lake gar.
You need to make sure that the tips or points can be replaced. This allows for versatility, so you are not limited to catching just one type of fish. At the same time, the shaft becomes a multipurpose tool that allows you to use it in a number of fishing situations since you can change up the tip each time.
A pointy and thin tip is great for smaller fish and for target practice. As for a broadhead arrow tip, this is ideal for a large fish as this sometimes comes with two to four sharp blades right on the end for cutting through a massive catch.
4. Consider the safety system.
While this is not a primary feature in a bowfishing arrow, it sure is a smart, optional add-on. What a slide safety system does is it keeps the line in place and prevents it from tangling. This adds to your convenience but will not largely impact your catch.
Bowfishing Arrows: Frequently Asked Questions
What is the best bowfishing arrow material should I buy?
An average bowfisher will find fiberglass arrows more than enough for their needs. This is also a budget-friendly option because it is cheap, yet solid. It can withstand abuse and wear, although sometimes, the straightness and spine are compromised.
A newer kid on the block is the carbon fishing arrow. This material is on the higher end side with a straighter and tighter spine. Accuracy and precision in your shots are guaranteed, but it is definitely a more costly option.
Lastly, there are hybrid bowfishing arrows, which are made of carbon and fiberglass combined. When you want the best of both worlds, you can never be wrong with this type of material. It is a practical option when you want an arrow that lasts long but will not break the bank.
How does fletching impact your overall experience in bowfishing?
Let's talk about fletching for a minute.
Basically, you don't want any fletching on your bowfishing arrow. This is an issue that can cause your arrow to flare to one side. And yes, this is the last thing you want to happen. When there's fletching involved, your arrow will tend to move and drift as it lands on the water, causing you to potentially miss your catch.
Is it okay to use just about any arrow for bowfishing?
We understand that the whole experience of buying a bowfishing arrow can be an overwhelming and confusing process. Some people, particularly beginners, may come to an assumption that just about any arrow is fine to use.
But is it really fine to settle for archery arrows or hunting arrows for bowfishing? Or is it important to buy a dedicated bowfishing arrow?
Traditional archery arrows are not as sturdy and are generally lighter than bowfishing arrows. This is why you cannot simply scrimp on your arrow and go for something that is not specifically designed for this type of fishing. You need an arrow that is exceptionally strong and can handle a big or small fish.
What other tips can you give when it comes to choosing bowfishing arrows to buy?
We recommend that you check online reviews that feature actual tests done to certain arrows to ensure their reliability and performance. For instance, we have personally tried and tested the different bowfishing arrows featured in our reviews, so you can have an idea on what to expect from these items.
Each product comes with its own set of pros and cons, even high-end ones. This is why you need to weigh your options after learning more about the drawbacks and disadvantages of each arrow available in the market. You need to make sure that all the features necessary are indeed found in that arrow before you make a purchase.
The price tag does not always dictate the quality of the item. There are cheap ones that may be just as decent as a pricier one. But at the same time, do not settle for dirt-cheap arrows that clearly do not offer the quality performance you need.
You should look beyond the price tag. Consider the features, drawbacks, and other essential qualities that the arrow has. It is important that the arrow has the right amount of weight that adds to its sturdiness and power once it has caught the fish. This way, your prized catch will not easily squirm away and escape.
Conclusion
There are many arrows out there for bowfishing but these are not created equal. This is why thorough research is required to help you come up with the best decision.
After learning more about the features to look for, as well as our featured items, you are now armed with greater knowledge on how to buy the best bowfishing arrows to ensure an excellent fishing experience you have always wanted.