Fishing for crappie is fun because they're easily available and can pick a fight! Because of their strength, you need to make sure that you have the right equipment prepared, starting with the best crappie rod and reel combo.
But with the many types of rod and reel combos available, which one is the best when dealing with crappie? Read on as I show you my top eight reviews and a helpful purchasing guide you can refer to.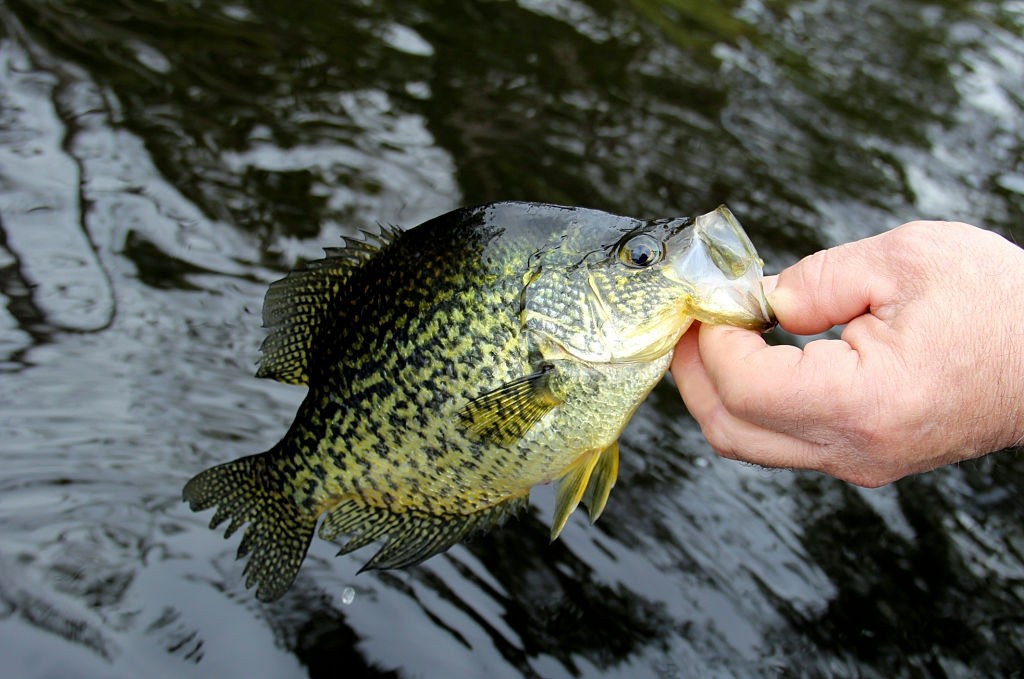 Quick Comparison: Top Crappie Rod and Reel Combo
**Below, you'll find our more detailed reviews, but you can also click the links above to see current prices or read customer reviews on Amazon.
Eight Best Crappie Rod and Reel Combo Reviews
After much testing, these are my top eight choices on crappie rod and reel combos:
My top choice is the Tailored Tackle Rod and Reel Combo, which is versatile enough for most ice fishing situations. For fishing crappie, it offers excellent sensitivity and has the versatility to catch multiple species without worrying about its strength and build. It's a 28-inch rod that has a medium-light power rating, with a fast action to detect sensitive bites.
As for the reel, it's size 20 with five ball bearings, comfortable to grip and use as you fight for your crappie. It even comes with a cork handle for an ergonomic grip, as well as carbon fiber construction for further protection and durability to last for years.
For its versatility and amazing quality, you get your money's worth and more.
Pros
Awesome sensitivity, it can detect the smallest nibble
Feels very smooth with solid drag and fast on the tip
The combo's made with extra protection for durability
Cons
Mostly made for ice fishing with its shorter rod length
A few complaints about the reel being cheaply made
---
The Shakespeare Ugly Stick GX2 Fishing Rod and Reel Combo are optimal for crappie fishing! The spinning reel has three ball earrings with a one-way clutch and instant anti-reverse bearing so you have the smoother feel and will instantly hook to crappie. It's also built with the double anodized aluminum spool for an even longer-lasting reel.
As for its rod, it has a length of six feet and offers medium power, suitable for catching crappie. The light action is still sensitive enough to detect the slightest movements, and you can catch heavier fish without the rod breaking from its bend.
While the reel isn't the best quality, the rod makes up for it and they both perform excellently together. Even experienced anglers can appreciate the quality of the combo, getting a great deal for its price.
Pros
It has a smooth enough reel with four ball bearings
Rod is robust, can catch heavy fish without damage
Good sensitivity for medium power rod and casts well
Cons
The spinning reel quality isn't as great as its rod
Complaints about shipping damaging the combo
---
The Pflueger President Spinning Combo has the ultralight option for extreme sensitivity. While it's light and sensitive, it doesn't scrimp on the material and construction. It can catch and fight heavy crappie without worry about damaging the fish or rod itself!
The spinning reel has a ten-ball bearing system and the rabid ready spool so it can be used straight from the box. It's also built with stainless steel guides to last longer even when in saltwater.
As for its rod, it's made with I-m8 graphite and an aluminum handle, ensuring better grip and stronger feel. You can feel even the tiniest tugs and movement as a fish hook into it, and the rod never wears out even as it bends over while reeling in fish!
Pros
Ultralight, sensitive, and will detect slightest movements
Extremely strong make and doesn't snap when bent
Good spinning reel quality that feels smooth and solid
Cons
The reel may be smaller than expected for some
Some complaints about low-quality pole guides
---
The Zebco Crappie Fighter is the best for beginners who are on a budget. It has an ultralight spinning reel with a ball bearing drive, as well as the light power rod offering fast action for better detection of nibbles and bites. It's easy to adjust as it has a changeable left or right-hand retrieve, as well as a front-adjustable drag.
For its cheaper price, do be wary and manage y our expectations. With that said, you can still catch light crappie efficiently and not have to worry about its damage. It looks strong enough to last and with adequate smoothness to reel in fighting fish.
Pros
It comes at a very cheap price but still performs well
Perfect for beginners who want to go crappie fishing
Ultra light and sensitive enough for detecting bites
Cons
The rod and reel combo isn't as durable as others
Complaints on low-quality fishing line breaking easily
---
The Lews Fishing MR Crappie Combo is made for catching crappie with its light action graphite rod and reel eats. It's ultra-light and has the stainless steel guides and inserts, as well as soft and light EVA foam grip handles for comfort.
As for its reel, it's made with a graphite body and rotor with a chrome-plated spool and drag knob, which is already pre-spooled. The dual-bearing construction is enough for smooth reeling and adequate to catch lighter crappie.
While lady to use from the box, be wary of its durability, as it may bend and snap quicker when dealing with strong and/or heavier fish. But if you are a novice aiming for smaller crappie, you'll find great value with this combo.
Pros
Has a good quality reel and feels smooth when used
Great value for beginners at a cheaper price range
Made to catch small crappie and gets good distance
Cons
It isn't the most sensitive and you can miss bites
Some complaints about the rod snapping too easily
---
The Cadence CC4 Combo offers the spinning reel suitable for crappie fishing. It's made with 24-ton graphite and corrosion-resistant stainless steel, as well as robust carbon composite for protection for the entire combo! This ensures that the rod and reel are built to last for a long time regardless of the fishing technique and where you use it.
It has seven ball bearings with an instant anti-reverse bearing to reel your crappie in easily, even when it tries to put up a fight. Furthermore, it's as light as you need it to be, bending over slightly but still being strong enough to avoid snapping off. It retrieves well and I'm able to keep most of my catches without the damage!
With all this in mind, this is worth the price if you focus on durability and protection with a lighter weight.
Pros
Well-balanced with lighter weight and strong build
It has a great retrieve with seven ball bearings
Constructed with protective materials for durability
Cons
The rod and reel combo is not braided ready
Some complaints about shipping breaking the rod
---
The Abu Garcia Ike Dude Fishing Reel and Rod Combo have a spinning rod for crappie fishing. While it only has two ball bearings, it's enough for a good retrieve. What makes it an excellent investment is its tough quality and protective material.
It's built with a graphite body and armor, as well as the aluminum spool. Despite the strong properties, it's extremely lightweight easy to cast without breaking off.
You'll be surprised by how tough it is, no matter how heavy the crappie may be. As long as you have a heavy braided line, the rod won't crack as it bends, coming back to place without a crack. This one is best made for those who need something that can withstand a short fight as you reel fish in!
Pros
Strong and can handle a fight when reeling crappie
Lightweight and can bends without snapping easily
The combo feels smooth and sensitive enough
Cons
It's made better for beginners than expert anglers
There are no clicks when using the drag adjustment
---
Last but not least, the Sougayilang Fishing Rod Reel Combo is made for those on a budget. It's moderately priced and on the lower price range, still offering the complete package. It includes a carrying case with three fishing lines, a 110YDS fishing line, as well as other necessary accessories to get you ready for crappie fishing.
The spinning rod is made with a combination of fo graphite and fiberglass, offering sensitivity and flexibility. It can detect light nibbles well and is long enough for long casts while still maintaining enough control. As for its reel, it has a stainless steel reel seat and 13 ball bearings with a one-way clutch you can easily adjust.
However, do manage your expectations as it may not be the lightest and strongest around. For its price and package, you get excellent value BUT this is made better for beginners rather than expert anglers.
Pros
Comes with a complete package for excellent value
They provide excellent customer service if needed
Can catch light crappie well with good sensitivity
Cons
It isn't as durable as other rod and reel combos
Not for experienced anglers, suitable for novices
---
How to Choose the Best Crappie Rod and Reel Combo
It can get quite confusing knowing which rod and reel combo you need for crappie fishing. Besides the reviews above, here are more advice and factors to consider when selecting the suitable one for you:
1. Pole Length
The length of your rod creates an impact on crappie fishing. There is no one perfect length, as it all depends on your fishing style and technique.
For crappie rod/poles, it comes in various lengths, ranging between six to ten feet long.
Shorter rods are best for quicker casts, adding on its accuracy and for getting to tighter areas underwater. Longer rods are best when you want fish to get out of heavier cover (like heavy marsh and vegetation), also providing longer casts. Determine where and how you plan on crappie fishing to see what length you need the most.
2. Pole Sensitivity
Crappie has thin mouths, which changes your typical fishing style since you need to be a bit more sensitive and delicate with your approach. When you hook your fish too aggressively, then you may cause injury to the crappie and they are more likely to get away.
Your rod should be more sensitive so you are alerted with even the tiniest sign of nibbling. With a lighter weight, you'll be alerted and can detect when crappie has been attracted to the bait. That's why you want something extremely lightweight for easy casting and detection.
3. The Reel
Besides the rod, you also have to consider the reel type and build.
The reel should be just as sensitive and flexible as your rod when crappie fishing. You'll want to invest in the lightest possible reel to detect slight movements and nibbles, and it can have you cast lighter bait better.
The size also matters, and you should get a reel with a size that ranges between 10 to 30. These are smaller reels made for crappie.
As for its type, you should get either spinning or casting reel. I would invest in a spinning reel, though this is up to your preference and style. Spinning reels are best for various fishing styles and lighter lures, while conventional reels are made for baitcasting, Bluewater fishing, or trolling.
The thing you do need to focus on is a faster gear ratio to get crappie hooked quickly and effortlessly. Your chosen reel drag should also have at least three ball bearings, ensuring they are made of quality materials for better performance.
Also, both rod and reel have to be compatible with one another, which ensures both parts work best to complement their functions.
4. Strength and Durability
You wouldn't want to waste your money on a rod and reel combo that will only last for a few months. The material and construction quality of your combo should be highly considered.
I highly recommend that you get rods made with either graphite, fiberglass, or composite materials. These offer a combination of strength, lightweight properties, and ruggedness for an excellent performance.
For crappie fishing, you'll want to go with graphite, which is the best among the three materials. Graphite is more sensitive while fiberglass is a bit more durable, not breaking from any bends or strain.
As for the reel housing, it should be made with either graphite or aluminum. Both these material types have a lightweight and strong build, being resistant to rust and weather. That way, your fishing equipment can last for years with proper care and maintenance!
Also, take note that if you plan on fishing in saltwater, then you will need something much stronger. You'll want something made with either bandied aluminum, shielded stainless steel, or reels with bronze bearings and forged aluminum spools. This will be a bit pricier, but it pays off in durability and strength for the rod to last longer in most fishing situations.
5. Power and Action
You want a lot of power when choosing your rod and reel combo, as crappie can be strong and will fight as you try to reel it in!
The ideal power rating for crappie fishing should be between light to medium. This is still resistant enough to bending for lighter fish like crappie.
Similar to your combo's power ratings, it should have good action as well. This will decrease the ability of your rod to bend, returning to its original shape. For crappie fishing, you'll want a slow action rod, which affects sensitivity while allowing your rod to absorb shock better, ensuring that your catch won't be damaged!
6. The Combo's Price
The price shouldn't be the top priority, but an important factor as well since you shouldn't scrimp or overspend on your fishing gear. I recommend that you find one in the midrange, finding middle ground with what you can spend but still thinking of quality.
The best combos aren't the most expensive, coming in various price levels. You can find excellent combos ranging between $30 to $200, also depending on your expertise. You can get more value from your rod and reel combo if it comes with quality accessories and a good warranty!
---
Frequently Asked Questions
Now that you're familiar with the top crappie rod and reel combos, what else should you learn about it? These are frequently asked questions that can help you learn more about the fishing equipment:
1. Why do crappie rods have to be so long?
In general, crappie rods are longer than usual for a reason.
Crappie rods tend to be longer, especially when fishing in freshwater. The length allows you to make a more quiet approach so you stay undetected from crappie, who have a stronger sense in sight and hearing. You are also able to take longer casts to areas where crappie usually are, which is in heavier covers.
However, there are rod lengths between three to four feet only, which is more suitable for ice fishing. There are also the typical lengths between six to ten feet, depending on your fishing technique.
2. Should I get a braided line for crappie fishing?
Braided lines are optimum for crappie fishing as they have enhanced sensitivity. But take note that fishing with braided lines may have limitations, especially if the line isn't set on the reel properly.
It can pull hooks up, ripping through your crappie and damaging it. Besides this, the line may be visible to crappie compared to other line types. So be wary with the line's noticeability and adopt proper technique according to the line you use.
3. Why should I get a rod and reel combo instead of purchase it separately?
Combos are ready to use without the need to purchase a lot of other accessories. You already have the basic fishing equipment, and all you need to do is to wind the line to the spool and add terminal tackle. Some combos may come with its line pre-wound.
But isn't that something more suitable ONLY for beginners rather than for "experts?" No!
While combos are suitable for beginners who want to learn without spending a ton or having to customize tackle, they are also made for advanced anglers. Combos can come in sophisticated packages with high-quality components for various fishing techniques.
With that said, if you're an experienced angler who wants more customization, it's best to go for different choices over combos. For me, I like the convenience, and I also recommend it for beginner to intermediate fishermen!
Combos will simplify the entire process of getting new gear and will still be priced at more reasonable rates. No need to worry about trying to find a rod and reel compatible with one another when the package ensures they already are.
Are you still wondering what else is there to learn about crappie fishing with a suitable rod and reel? This informative video can help you out:
Wrapping It Up
Crappie is fun to catch, but only if you get the right equipment like a good rod and reel combo. As long as you're familiar with what to get and invest in the suitable one for crappie, you won't have a problem struggling in reeling your catch in. Now you're ready to learn more about catching crappie during the day (or night)!
I hope that my reviews on the best crappie rod and reel combo helped you find the right one! So start looking more into these products and be sure to follow my purchasing guide, too.