With today's technology, we can't be surprised by how many have taken advantage of the electronics and devices. Gone is manual labor in most industries, even for fishing! One particular gadget I highly appreciate is the electric fish fillet knife, which has helped save a ton of time and energy!
If you're planning on getting the best electric fish knives yourself, which should you choose among the bunch? Read on as I show you my top nine choices and a helpful purchasing guide to lead you to a suitable one for YOU.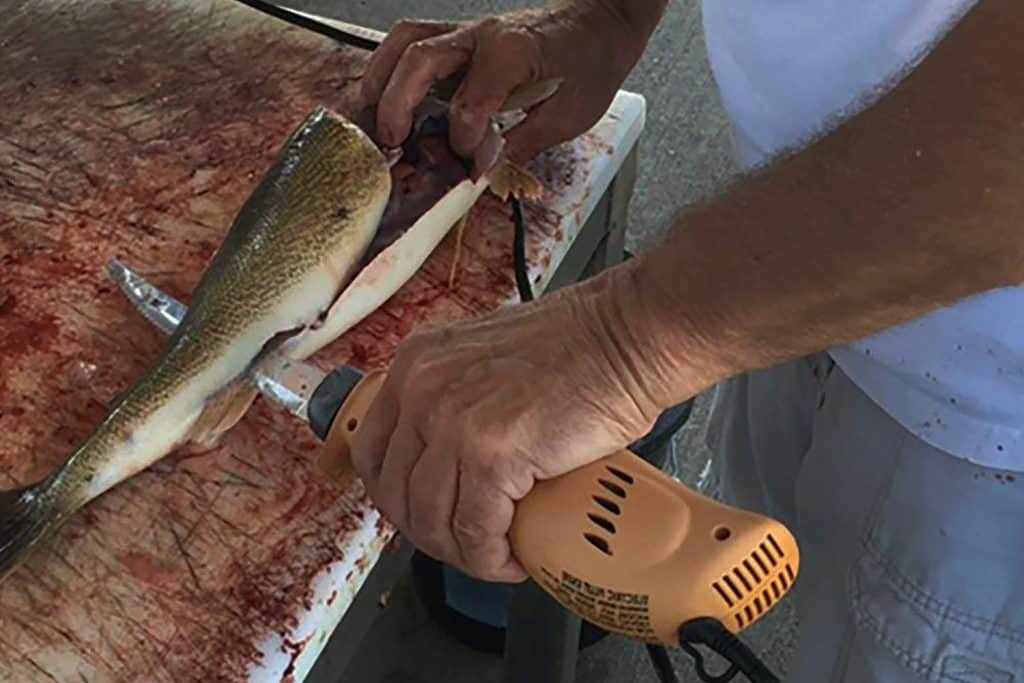 Quick Comparison: Top Electric Fish Fillet Knives
**Below, you'll find our more detailed reviews, but you can also click the links above to see current prices or read customer reviews on Amazon.
The Nine Best Electric Fish Fillet Knives
Based on all the tests and customer reviews, these are the nine best electric fish knives you should consider investing in now:
The Mister Twister Electric Knife is my top choice of all reviewed because of its simple yet durable design. It's built with everything you need in an electric knife without the frills, such as:
Unique Mister Twister action for better control
Convenient blade release for ease of maintenance and cleaning
Safety lock to prevent accidents and mishandling
Though corded, it offers great power and I appreciate that the cord can stretch well and is easy to put away. Even after how many uses, it still stays strong and acts as new making it well worth the investment.
Pros
It's extremely durable and will stay strong for long
Gives you better control with unique twist action
Offers convenient safety features for easy cleaning
Powerful and can be used for fish and meats well
Cons
The knife is corded and may restrict movement
The motor feels a bit warm, may affect the fish quality
---
For those who focus on its heavy-duty construction and flexibility, then you'll appreciate the Rapala Electric Fillet Knife. It's made with the highest quality material and the heavy-duty motor built to last and perform amazingly. Besides its durability, it's also known for its excellent speed and power, giving more than the typical electric knife.
Its extreme power might also be too much for some, so be prepared for its strength and be wary before you cut through the meat. As long as you have the control, you can take advantage of its power for quick filleting.
Pros
The knife is great to work on tough scales and meats
Offers fast cutting and better power than other knives
It has a durable build and made with premium parts to last long
Cons
May be too strong for first-timers, you need practice
The blades may be too short for some
---
The American Angler PRO Electric Fillet Knife is truly made for the anger on-the-go. It offers one of the most powerful torque power compared to the typical electric knife, so it never slows you down and still gives you great control. I like that it has a compact design and an ergonomic handle to keep your grip stable and controlled.
Beyond its grip, I also commend its airflow design, which keeps the motor cool even as you work for long hours. The power it exerts is amazing without overheating or vibrations, giving you more accurate and precise cuts.
Pros
Unique airflow design to keep the handset and motor cool
More torque power than the typical knife, made for anglers
It can be used for hours without it dying down or vibrating
Cons
You may have some issues with switch sticking
The blades require replacement for sharper cuts
---
Hamilton Beach is a popular brand name known for its many kitchen appliances and accesses. Their electric knife is no exception, offering adequate power and performance at a more affordable price. It's made best for cutting vegetables and bread, but you can also cut fish with it well, as it offers sharp blades and a good handle.
It has an excellent grip and it fits comfortably in my hand, giving me better control for accurate cuts. I do have to put a little more effort as I push in the knife, but it's not a huge deal considering the price.
Pros
Comes with a case and free carving knife for versatility
Ergonomic handle for easy gripping and control
Strong stainless steel blades that can cut through meats
Cons
Not the strongest knife for filleting fish requires more effort
The durability of the knife is questionable, not as long-lasting
---
Black and Decker, just like Hamilton Beach, is a great name to trust with kitchen appliances. Their Slice Right Electric Knife is ideal for cutting various meats and produce, with its long 9-inch serrated blades. Made of stainless steel, they can cut through rapidly AND evenly through most foods, ensuring accuracy with its better length and sharpness.
It comes with a comfortable handle that has an anti-slip grip to allow better control as you slice through fish. You won't need to struggle or worry about it slipping or vibrating, giving you better cuts with minimal efforts.
Pros
Easy to clean with dishwasher-safe parts and blade release button
Long stainless steel blades to ensure better cuts on big fish
Comfortable grip to improve control without vibration
Cons
The safety button is weirdly positioned, takes time to get used to
The stainless steel blades may need a replacement quickly
---
I commend the Cuisinart for their ultimate electric knife, which you can use for filleting fish! It comes with the complete package at a moderate price, though you do get more than what it's priced. It comes with two stainless steel blades, at the handle, and a butcher block to store your knives safely.
The stainless steel blades are made of high-quality construction, one made to cut meat and the other for bread. This makes the knife versatile and usable in most kitchen applications, especially with its good design that activates through pressure. It's comfortable and easy to use even for your first time, making it a great choice for beginners.
Pros
Offers versatile use and complete package for the kitchen
Easy to clean the blades, which can cut through fish well
The knife's comfortable to grip and no issues with cleaning
Cons
There have been complaints of the casing breaking
The stand can't stand on its own, needs to lean on the wall
---
The Berkley Electric Fillet Knife is simple and comes with everything you need as an angler. It focuses more on filleting fish, and while you CAN use it for meats, it isn't as versatile. However, I'd rather have something that focuses on fish, as an angler who needs fish filleted precisely and perfectly.
This electric knife has an eight-inch stainless steel blade, which can resist corrosion and has the sharpness to cut through big or small fish alike. It also features the serrated blade, ensuring that you won't put in too much effort when filleting fish.
Pros
It's made for filleting fish with its 8-inch serrated blades
Simple yet efficient, knife saves time when cutting bigger catches
Sharp tip and simple design at a moderate price
Cons
There are some problems with the motor heating up
The longevity is questionable, needs more maintenance
---
8. The Ergonomic Design and Easy-to-Use: Oster Electric Knife
The Oster surprised me with its affordable price for an electric knife, especially with its package. It comes with a custom storage case and carving fork, making it useful for filleting fish AND other types of meat. The electric knife features a stainless steel cutting blade with a special cutting tip to carve the hard areas.
The handle has a great design, which is easy to grip and doesn't vibrate or make noise. As long as you care for it well, it can perform as you'd expect from an electric fish fillet knife.
Pros
The handles have soft pads and good grip for comfort
Comes with extra accessories for versatility and portability
It can cut fish adequately without noise or shaking
Cons
Complaints about shorter lifespan, need to care for it more
The blades need more maintenance and replacement
---
Last but not the least, the Toastmaster Electric Carving Knife is worth buying for its versatility. It's made with stainless steel blades, with a good design unique to Toastmaster.
The Toastmaster has an ergonomic handle for an easier and more comfortable grip as you cut. Furthermore, it has a blade eject button to remove your blades easily, as well as a power button to switch it on and off effortlessly.
As for its power, it gives the right amount, though I wish it were more powerful. It's good enough to slice softer fish meat, but with tougher ones, I don't believe it has enough strength, taking more effort to cut through produce.
Pros
It has a good grip for easier handling and control
Includes safety features for careful cutting
Good power for its price doesn't make noise
Cons
Not as powerful as other knives, not the best for tough meats
Complaints about the 7-inch blades being too short
---
How to Buy the Best Electric Fish Fillet Knives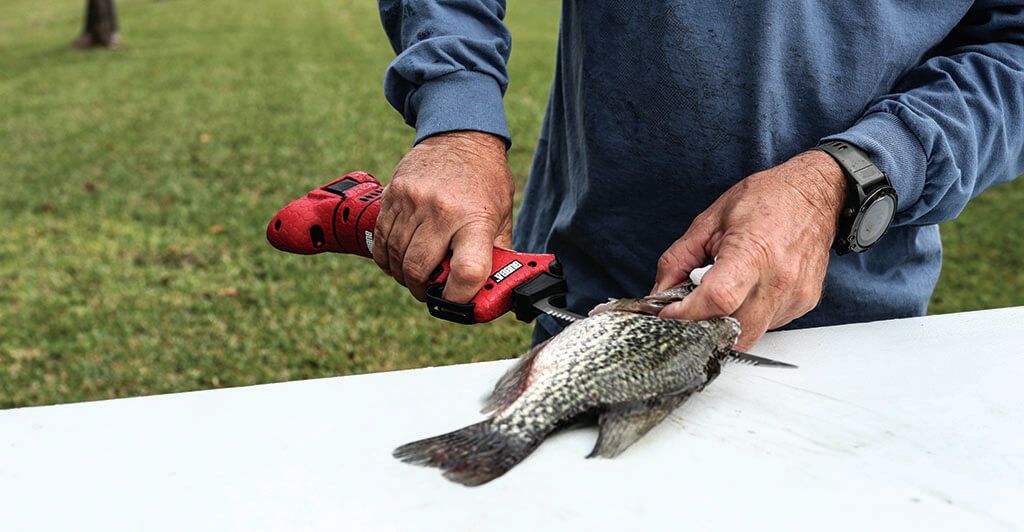 Besides choosing from this list, there are other factors you need to consider before investing in an electric fish fillet knife. Here are the important things to look into:
1. Power and Variable Speed
These are powerful devices that can sift through tough bones, so you'll want more power. This will give you the advantage to slice through thicker and harder fish bones from bigger catches. If you find yourself doing heavier duty work, then more power is needed.
Also think about the variable speed, as you'll want to have more control of your knife and cuts. If you're a beginner or don't need to focus on how fast (or slow) you slice meat, then this is only an optional feature.
2. Blade Quality and Flexibility
I'll get into the types of the materials later on, and while the blade type is crucial, the quality of it can make or break your cuts. If you get a low-quality material for the cheap price, then you may not be able to perform the job as expected.
You'll want to focus on a blade that can last for years, not mere hours! It should also be flexible enough to fillet and clean the fish, offering more control as you slice through flesh without breaking bones.
Focus on its durability and quality, with the blade not tarnishing or warping after a few uses.
3. Corded or Cordless
There are two types of electric knives, which are corded or cordless. Corded runs would run on power supplies, while cordless ones rely on batteries.
Corded types never run out of power unless you have a power outage, and will offer more power with higher RPMs. With cordless types, you can take it wherever you go, even during fishing trips! However, there's the chance of losing power if you forget to charge or replace the batteries.
Both have advantages and disadvantages, and if you need to focus more on portability, the cordless is a good choice. If you want more power to use at home, then corded is the way to go.
4. Safety Features
There are many different safety features you can look into when choosing your electric knife. I highly recommend that you get a knife with a stable blade that has a safety lock to hold the blade in place. This prevents it from moving or wobbling as you use it, which also keeps you from cuts and the like.
You may also need one with a ventilation system or features that prevent overheating to keep the motor running well.
5. Battery Life
If you choose a cordless electric fish fillet knife, then you'll have to consider the battery life. Usually, cordless electric knives last for 80 minutes before it needs a charge. However, brands can offer shorter or longer durations, branding from 30 minutes to 90 minutes!
The power would depend on your batteries and their quality as well. However, you may need to pay more for longer-lasting power and stronger batteries. For me, I find that worth the extra bucks!
6. Airflow
As mentioned in safety features, airflow and ventilation are crucial to keeping your knife from overheating. This is because proper airflow can keep your motor cool, smooth, and performing quietly simultaneously. Furthermore, better airflow can also prevent the knife from vibrating too much when in use, so you won't have to worry about noise or wobbly performance.
7. Handle Grip and Design
It gets easier using electric knives when you're comfortable with handling it. So you should get a knife that's easy to handle with the ergonomic grip, feeling comfy and preventing slippage.
Look for knives that have handles that can conform to the shape of your hand. This improves to control you have when using it, as well as reduce any strain felt as you work on a lot of fish!
8. Size and Length
Electric fish filler knives would come with blades of different lengths and sizes. The ideal length ranges between six to nine inches, and you need to consider this depending on the fish you usually cut through. There are certain blade lengths for specific fish types, such as:
Ten inches work best for tuna, halibut, and swordfish
Eight inches work best for snappers, cods, and flounders
9. Durability and Versatility
Electric fillet knives should be able to last for years of intense use, dealing with different kinds of meats outside fish. This gives you your money's worth and has you enjoy a knife that cuts through anything. The entire knife should be made of quality parts and materials, from the motor, handle, blade, and cooling system, among others.
10. Blade Type
There are different kinds of blade materials to choose from, including:
Plain carbon steel is strong and sharp, though it doesn't mold or bend easily. It isn't the best choice when filleting fish, but gets the job done at a cheaper price. Furthermore, they rust easily.
Alloy steel is durable and lightweight, but a bit brittle and not as durable compared to stainless steel. They aren't corrosion-resistant, but fairly cheaper.
Tool steel is harder and tougher compared to others, but they aren't flexible and tend to break easily.
Stainless steel is one of the best blade materials, being sharp, flexible, and durable. They are corrosion and rust-resistant, making them durable to last long.
Titanium is lightweight and non-corrosive, so it gives you more comfort without risk of straining. However, it isn't as strong as steel and can't hold edges.
Frequently Asked Questions
Now that you're familiar with how to choose a good electric fish fillet knife, what else do you need to learn about it? Here are frequently asked questions to give you more insight into these handy gadgets:
1. How do you clean and maintain the electric fish fillet knife?
Here are some tips to follow when cleaning and maintaining your electric fish fillet knife:
Before cleaning it, remove and take your blade apart. Wash it carefully then leave it to dry before putting it away to store
Check your blades regularly, determining its sharpness and to sharpen it when dull
If your blade is too dull, replace it as it won't be safe to use it
Clean the handle using a damp cloth, wiping it dry. Do NOT submerge it in the water!
Make sure that you read your manufacturer's instructors beforehand, as some companies have different recommendations. You can use a knife sharpener, or to have it done by a professional depending on the quality and construction
2. Why are electric fish fillet knives beneficial?
Why invest in an electric fish fillet knife over regular ones? Here are its benefits:
They are easy to use without the need to exert too much strength and effort while using it
It saves you a lot of time and energy, as you can work on many fresh catches in minimal time
Electric knives don't cost a much as you think, being available at reasonable prices!
They are easier to hold and control, giving swifter and smoother cutting
It delivers more power to cut through different meats and produce. Most are also portable and compact to bring to fishing trips!
However, do take note that it has its cons, such as safety risks if improperly handled, or heaviness compared to regular knives. But if used well, you won't have any major problems with it whatsoever.
3. How can I properly use the electric fish fillet knife?
Here are the steps to follow when using an electric fish fillet knife:
a. Plug the knife in an electric outlet and lay your fish on the side
b. Cut the fish down to its backbone, avoiding to push your knife too hard. Simply guide it as it goes through the flesh and works on the filleting
c. Go through the fish's flesh, following the backbone and passing through the ribcage and tail. When reaching the tail, don't cut the skin and leave it attached first
d. Flip the fillet fish over and begin cutting through the fillet carefully, removing the skin. Guide the knife to the fish's contours, making the clean and precise cut for lear flesh
e. Check your fish, feeling if there are bones left. If any, clean the small bone bits with the knife without needing to turn it
f. Wash your knife using cold water and keep it dry afterward
Do you want to learn more about the best electric fish fillet knives? Check out this informative video on how to use them properly:
Wrapping It Up
Electric fish fillet knives offer a host of benefits, from saving time to accurate work. As long as you select the one suitable for your fishing needs, you'll have a much more time readying your catch! These top nine electric fish fillet knives will surely give you the precision and cuts you need.
Hopefully, this article on the best electric fish fillet knives helped you out! So don't wait any longer and look into investing in any of these products now.