Does the idea of catching fish in a frozen body of water appeal to you?
We can't blame you for that. There is something fascinating, yet challenging about ice angling. It may take a lot more work than fishing in the river during summer. But we assure you that this activity is quite rewarding.
And yes, who would not love the placid, immaculate white views all around you? There is something magical and peaceful about fishing in thick ice; the dreamy winter scape adds to the serenity and calming feeling that ice angling offers.
To help you make your goals of ice fishing come true, we've come up with a list of the best ice augers to choose from. These products are the best of the best, so you don't have to go through an excruciating experience of selecting from hundreds of options out there. You can just go ahead and pick from our shortlist of excellent products in this category that is sure to give you the result you expect from it.
Browse through our list of the best ice augers for fishing that highlights the features and limitations of each. Have a look at these items and find the right one that matches your specific needs and expectations for a fun, rewarding, and successful ice angling experience.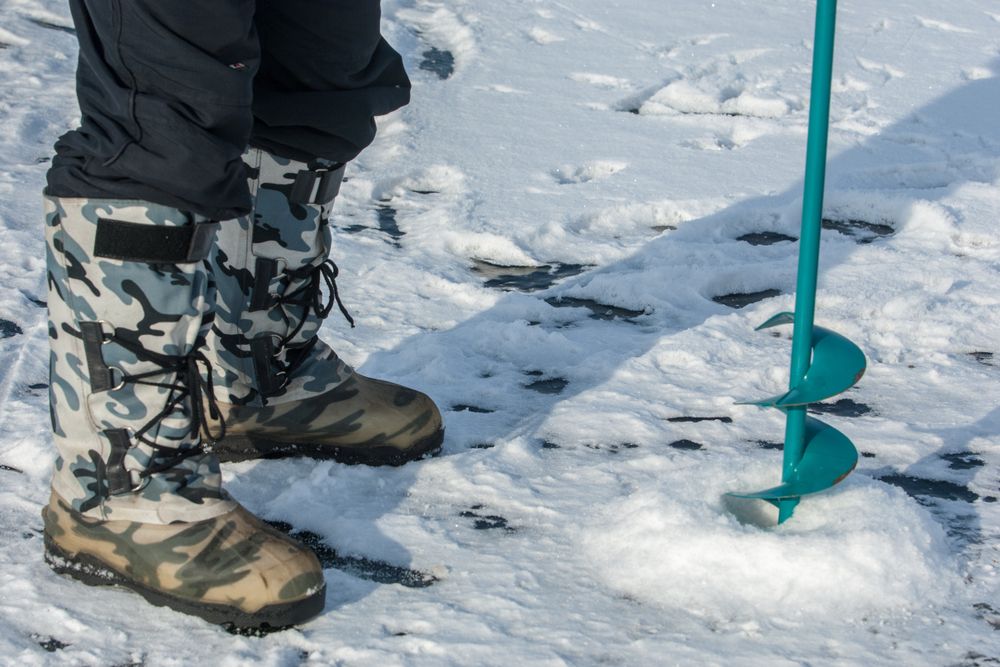 Quick Comparison: Top Ice Augers for Fishing
**Below, you'll find our more detailed reviews, but you can also click the links above to see current prices or read customer reviews on Amazon.
10 Best Ice Augers for Fishing – Features and Limitations to Consider
Check out these best ice augers based on durability and performance tests, customer experience, and value for your money.
When it comes to durability, the XtremepowerUS ice auger has plenty of bragging rights. The drill bit is crafted from commercial-grade manganese steel that can withstand extrusion, impact, and extreme working conditions. It also has a black finish that resists corrosion and rust for a long lifespan.
Safety is another great feature of this ice auger. It comes with a safety lock feature for the powerhead, which prevents it from turning on accidentally. With a powerful 1200W motor and a whopping 200 RPM for the speed, the XtremepowerUS is a true workhorse on icy waters.
While you need to go easy with this machine once you are half-way three inches deep, it gets the job done without a glitch. As a bonus, we like the anti-skid and ergonomic design of the handle that adds to the overall performance of this ever-reliable ice digger.
If you need an ice auger that's tough on ice but gentle on your back, the Strike Master Lazer is your best bet. It has an impressive RPM that can drill inches of ice faster than the average ice augers. No task is impossible with this hand ice auger that gets the job done with utmost precision at all times.
Do you think the ice is just too thick? That's not a problem for this ice auger. The rubber grips located above the handle are adjustable and can go from 48 to as long as 57 inches. But more than the length, it is the precision that makes it a step up from the average, inferior ice augers.
It may take a bit longer to dig up a few foot deep hole but this machine can get it done nonetheless – and as flawless as how you want it to be. With superb accuracy and precision, the Strike Master Lazer will not disappoint.
Does your old ice auger dull too easily and quickly? It is right about time to switch to a better one that stays sharp and powerful longer. The Eskimo Hand Auger features dual-flat stainless steel premium blades that are built to last.
Tired of dealing with a drill that exhausts you too fast and too soon? This hand auger comes with a pommel knob and a handle that makes the task easier to the body. Plus, with a cutting path that is 6 inches in diameter, it is just as efficient as how you want it to be.
Performance-wise, the Eskimo Hand Auger gets the job done. There is a bit of a learning curve involved in turning the auger counter-clockwise but for the price you pay for this nifty tool, it is hard to beat!
If what you look for is a reliable and high-quality ice auger to make ice fishing fun and easy, the ION X is a great option to consider. This ice auger features the latest technology and a whopping 60 percent more storage capacity than previous ION battery models. This should be enough to penetrate 1600 inches of hard ice on a single charge.
The new, state-of-the-art ION X also features a cast bottom that makes every cut more even and smoother as you drill or redrill holes. This legendary smoothness is a popular feature of the original ION but made even better in the ION X.
The cast material is smooth and tough, yet not as heavy-duty as stainless steel. But there is no doubt that this tool can cut ice in an impressive manner. And yes, it is electric-powered, which means there is no need to carry oil or gas with you.
An excellent all-around ice auger, the ThunderBay packs a punch in the ice cutting department. The robust engine delivers optimum torque that can cut through very thick ice without a problem.
We are blown away by how lightweight this machine is at just 32 pounds. As a bonus point, it has an easy starting feature. The Cold Shot advanced technology takes the stress out trying to get it ready to go and do some serious ice cutting!
Overall, this auger has plenty of ice cutting power. It takes some getting used to with starting it up right out of the box but once you get the hang of it, you should get it up and running in no time.
Put away that ice skimmer and start cutting immediately with the ION Eskimo Standard Series. This lightweight and robust machine cuts smoothly all the time and features the impressive centering "Spot ON" ring that lets you drill through frozen holes.
Not a fan of stinky fumes and gas? Tired of carrying a heavy ice auger? The ION Eskimo Standard gets rid of them all. Weighing 22 pounds, this unit is as light as it can get without compromising power and performance.
At first glance, one might wonder how this lightweight machine can do the taxing job of cutting through ice. But once you get it started and drill that ice, you will realize this handy machine means business.
Put an end to your misery involving lugging around a heavy auger. The K-Drill is as light as it can get when it comes to a reliable and powerful ice auger that actually works. It also features an aluminum drive powerhead that keeps the chipper blades in place at a desirable angle.
With interchangeable cutting blades that are heat-treated for optimum durability, you can never go wrong with the K-Drill. The center tip takes care of the cutting speed and the offset chipper blades keep the cut as balanced as it can get.
When it comes to performance, this ice auger knocks our socks off. Just be sure to keep your batteries indoors, safe and warm. Leave them sitting out there and they drain too fast.
Redrill holes without any problem with the Eskimo Quantum Series ice auger. This machine features a powerful 43cc engine that is cold weather-tested and approved. You can expect optimum transmission that makes gearing as powerful as how you want it to be.
Never risk going empty on fuel with this machine – it has a see-through clear gas tank that lets you check on the fuel situation with just one glance. And did we mention it has a shock-absorbing handlebar? That does make things more bearable, doesn't it?
Starting and getting this ice auger to work well is as easy as pie. But one word of advice – always prime first before turning the choke on. It's in the instructions, so be sure not to miss that one out.
When it comes to durability and reliability, you can never go wrong with the Strikemaster Hand Ice Auger. This nifty little machine has sturdy blades made of carbon steel with a powder coating to minimize ice buildup for greater efficiency.
To reduce exhaustion and help you drill through frozen holes with better ease, this ice auger comes with rubber grips that are soft and comfortable to your hand. Plus, with a reasonable weight of 6 pounds, this machine is relatively lightweight and portable.
Overall, we think this is one of the best ice augers there is today. Our only gripe is that you'll need to break up the lip it leaves on the side of the frozen hole. If only it does not leave that lip, it would have been better. But for the price you pay for this thing, you definitely can't complain!
Speed, portability, efficiency… What's not to love about this ice auger? It works fast and there's no need for you to warm it up. This machine gets to work right away, which makes it perfect for newbies or first-timers when it comes to using an ice auger.
We also like how it really drills through the ice without any problem. This handy little machine is also pretty lightweight, which reduces fatigue and exhaustion as you go about drilling through inches of ice and trying to catch that fish.
If there is one thing to improve about this auger, though, it would be to replace that metal piece that attaches the drill to the auger. A better choice of material for this would be a three-sided solid metal piece that can firmly engage the drill. But no big deal because it really gets the job done.
What to Look for in the Best Ice Augers for Fishing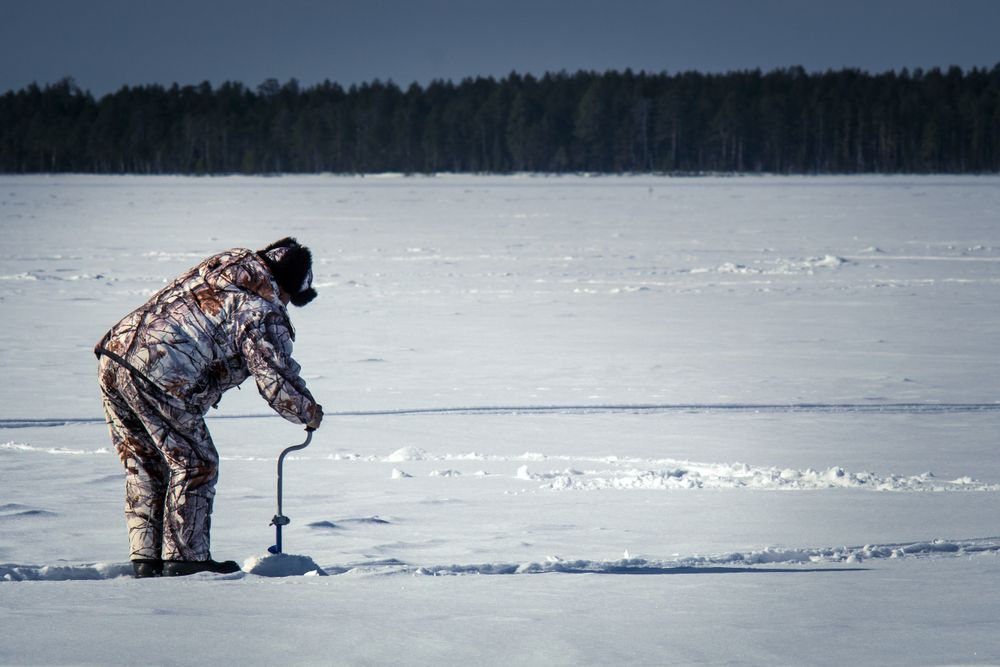 So you think you are ready to go ice fishing? Hold on just yet; you want to be sure you have the right ice auger to use that can help you get a solid catch. Augers are not created equally, and it takes some research to help you find the perfect one to buy. What are the features to look for? How can you find the right auger for your needs?
We have narrowed down this list of important features to consider when buying the best ice auger that will guarantee you of total satisfaction and value for your money.
1. Weight
Gas-powered augers are much heavier than manual ones. But then there are also electric augers, which can be both light or heavy, depending on the specifications and size. So whether you are getting an electric or manual auger, it is best to factor in the weight of the machine. The last thing you want is to deal with a very heavy machine that makes things harder for you.
2. Ease of Usage
How easy is it to start and use the auger? You want it to be as straightforward and seamless as possible. After all, drilling through ice is already a challenging experience, so you wouldn't want to have the extra stress of dealing with an auger that is a pain to start. The more efficient it is, the better.
3. Noise Level
We highly recommend that you stick to an electric auger if you don't want to deal with a lot of noise that a gas-powered auger is notorious for. Since you are likely to be drilling for hours, the last thing you want is to have to put up with an obnoxious level of noise the whole time.
4. Durability
What kind of materials are used for the drill and all its other components? You have to keep this in mind since it impacts not just the efficiency of the auger but also its longevity. Go for a material that is tough-wearing such as commercial-grade steel, which is known to handle abuse very well.
5. Blade
Blades are available in a wide selection of sizes ranging from 4 to as long as 10 inches. If you are planning on drilling big holes for a large game fish, then your best bet is a long blade about 8 to 10 inches in length. To further increase the speed of cutting through ice, you should go for double to quadruple blades. Remember – the more blades, the better!
Your choice of ice auger greatly impacts your overall experience when ice fishing, so be sure to make the right decision when picking up the one to purchase for your needs.
Frequently Asked Questions
Ice fishing is a challenging and rewarding activity at the same time. So whether you are a beginner or a seasoned ice fisher, here are some tips to guide you in snagging the perfect auger for this exciting winter angling activity.
1. Should you but a power auger or a hand auger?
Power augers are much easier to work with because of how fast it drills ice holes. If you are ice fishing in October to December, a hand auger should suffice, with the ice depths at about 12 inches or less.
But if you are ice fishing in the late winter (December to February) or the early spring, you should go for a power auger or maybe even a gas auger that can handle very thick ice during these times of the year.
2. What is the ideal weight to buy?
Definitely the lighter, the better. This is particularly true when you are planning on traveling with your auger. Say, you are going on an ice angling trip at some remote location, and you need to fly out with your ice auger; surely, you would not want to take with you such a heavy machine.
This is why you need to pay close attention to the weight of this tool to ensure your convenience and comfort when traveling with it.
3. What is the best blade size to get?
Blade size varies from as small as 4 inches to as long as 10 inches. So the question is, how do you know which size is suitable for your needs?
If you are planning on catching big fish including a Lake Trout, Burbot, and Pike, then you definitely need to up your blade size and shoot for 10 inches. This blade size may be about $50 more expensive than an 8-inch blade, the added efficiency and performance definitely outweighs the cost.
But it is not just the size of the blade that you need to consider. It should also be easy to sharpen or change. We cannot state enough the importance of keeping those blades ultra-sharp as you move on to the next season.
So make sure the blades are not a hassle to change, and it is even better if the manufacturer offers a warranty for 2 to 3 years in case you end up breaking the whole set.
4. Budget
All of these boils down to how much you are willing to spend on an ice auger for fishing.
Your budget has a major impact on the product you decide to bring home whether it is a gas, power, or hand auger. Or whether you are getting yourself a 10-inch blade or a 6-inch blade. After all, the cost is a huge factor that impacts your purchasing power.
But do not let the cost lead you to an inferior-quality auger. If you are shooting for a hand auger, a decent one should not cost you over $100. In fact, you should be able to find one at $30. But if you prefer to buy a power auger, there are those priced at $300 to as much as $600.
If you don't have that many funds initially, there are second-hand power augers that come at a reasonable price. Again, be sure to consider the time of the year you are going ice fishing since you may not necessarily need a power auger when the ice is not that thick.
Additional Tips When Using an Auger
Once you have found the auger of your choice, it helps to understand some tips and tricks on how to start it efficiently. And yes, ice auger models vary when it comes to starting and priming them. So this is an important part you need to really understand to prevent future problems with your machine.
If you experience some trouble getting it going, you will need to prime the engine the RIGHT WAY. Overpriming it will require you to let it sit for about 10 minutes. Then, you can start it up and skip re-priming.
A flooded auger means it needs to be primed some more. This is why you need to read the manual to determine how long you should prime the machine to get it started correctly.
Conclusion
When ice fishing season is approaching, this can be an exciting time of the year for an avid ice angler. But before you head out to your angling expedition, be sure to check if you have exactly the right tools you need. Invest in a good quality ice auger that will make the whole experience a positive one for you.
We hope that after presenting to you our list of the best ice augers for fishing, as well as our buying guide and tips, you were able to pick the item that suits you best. Check the features of each product presented and compare them with your own preference. We wish you the best of luck with your purchase and have an amazing time catching that fish!