Ready to go ice fishing?
Before you head out in the frigid cold weather, you have to be prepared for the unexpected. Ice fishing is an enjoyable activity but unless you have the right gear, it is nothing but difficult. For instance, you need the best ice fishing bibs that can keep you warm and relatively dry.
It is not your average piece of clothing. An ice fishing bib has waterproof features and additional buoyancy that can protect you while you go about and trying to catch fish in the dead of winter.
But the question is, how can you find the right ice fishing bib to buy? What are the features to look for?
Most importantly, what are your best options in the market today?
These – and more – are the different questions we will address in this buying guide. So, hang tight and check out our list of products and the things you need to look for in the right fishing bib.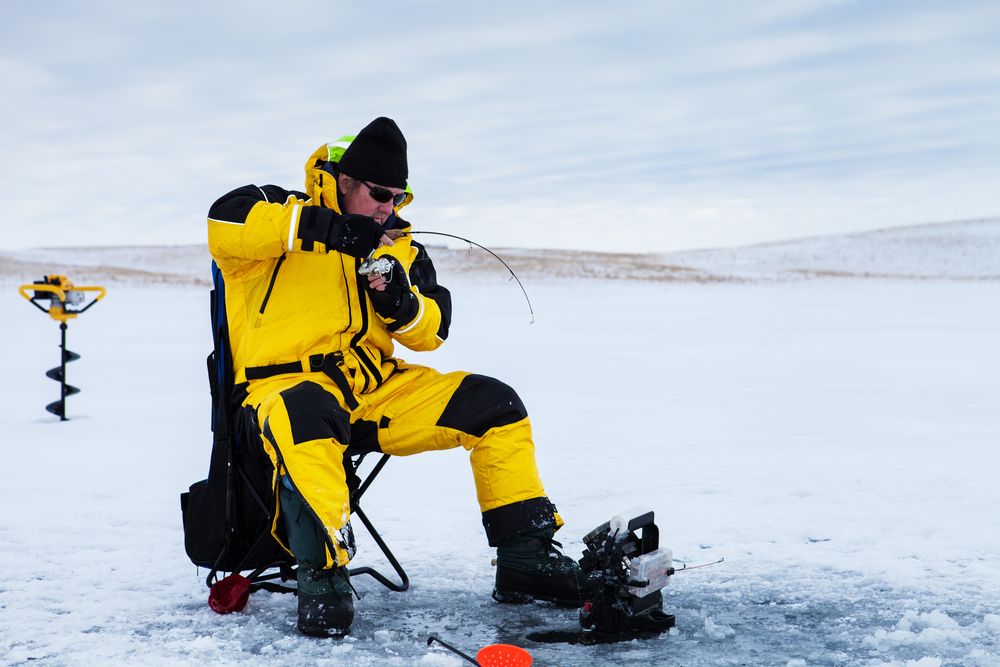 11 Best Ice Fishing Bibs to Choose From
The Striker Ice features a premium quality unlike any other. It comes with a proprietary material called the Sureflote that adds buoyancy to this bib. The material is a low-density, commercial-grade PE foam, and this helps you float when the need arises. The material also resists moisture to keep you warm.
There are mesh drains built right into the bibs, which enhance your comfort. With a breathable hydrapore in the outer shell, you can be sure that the bibs will protect you from the icy cold weather. Zipper vents are added for ease in adjusting the bibs depending on the temperature during the day or night.
This is the kind of ice fishing bibs that you can expect to last for a long time. It is durable, resistant to wear and tear, and works well in keeping you warm. But it does run small, so you might want to size up when you purchase one for your needs.
Available in a wide range of sizes, these ice fishing bibs are sure to give you optimum comfort and protection during your ice fishing expedition. There is a rugged outer shell made of 600D thick polyester, which enhances your comfort and warmth.
The internal lining combined with 60 grams of Thermodex insulating material lets you maintain your mobility even in a subzero climate. This fishing bib also includes a buoyancy element to it, thanks to the Sureflote technology that offers a floatation assistance for this intense, yet exciting outdoor activity.
Overall, this ice fishing suit is one to consider for the price. There are a lot of pockets for your smaller personal items. The fit also seems perfect but you need to make sure to check the sizing to get the right one that truly matches your body shape and size.
Before you head out in the chilly, frosty weather to go ice fishing, be sure to don these overalls. These are not your average overalls, though. You will love how the fabric is specially designed to help keep you warm and comfortable for hours on end. It works for temperatures minus 20 degrees.
The suspenders are adjustable, so you can get the perfect fit and snug feel. The side gussets are elasticized for better mobility. As for additional protective features, these overalls have 600D Ballistic that reinforces the scuff, hem guards, and ankles to protect these bibs from wear and tear.
With boot zippers that are a breeze to put on and remove, as well as O-rings conveniently attached for your keys, these overalls are great. They run a tad small, so be sure to keep this in mind when you order for yourself.
The great outdoors has plenty to offer no matter what season. So if you are planning on going ice fishing, you will need protective clothing to keep you warm, which is what this bib offers. It is perfect for enhancing your comfort even when the temperatures have dropped. With varied sizes available, choosing the right fit for you should be perfectly easy.
We like how comfortable it is to wear this bib. The shoulder straps are made of elastic material, which is adjustable to give you a snug fit. There is a D-ring included at the waist for you to clip in your keys, and the hand-warmer pockets on-seam are a nice addition to this bib. There are also articulated knees that offer additional comfort and mobility.
This is a well-made and good quality fishing bit. The material is also thick and insulating while allowing you to move with ease. But the zipper can be a bit tricky to worth with at times according to some users, although it is not a deal-breaker at all.
When you go ice fishing or hunting in the cold weather, this fishing bib is a must-have for you. It features stretchy suspenders that can be secured with buckles. The D-rings make it easy for you to wear this bib with sheer comfort. There are chest pockets, and these offer some storage for your smaller personal belongings.
With an adjustable internal waist component, you should be able to find just the right fit for you. There are also side dips that have a zip-to-knee design, so you can easily put this bib on or take it off as you wish. Comfortable and warm, it is truly a must-have for ice fishing.
There is no doubt that this bib will keep your body warm and dry. The front area just appears to be a tad too big but this is perfectly fine if you need something more loose to wear for your specific needs.
The Weather Watch ice fishing bibs provide a waterproof protective feature that makes it ideal for water adventures and activities such as ice fishing. We like the nylon material used for it, which is lightweight, yet sturdy at the same time. There is a breathable barrier that can protect you from various outdoor elements.
These trousers are highly protective and water-repellant. They can also prevent you from overheating and sweating, thanks to the breathable material. Other features we like include adjustable suspenders, adjustable cuffs for your ankles, and fully-taped secure seams.
It claims to be breathable, which it is. However, some people still experienced minor sweating when wearing these trousers for hours.
If what you look for are highly protective and comfortable bibs, then this product is just what you need. These are quite adjustable and warm, and there is a breathable material to it. The suspenders are elastic, and there is an adjustable feature on the waist to help you get the right fit.
As for the exterior, this bib is completely waterproof. It can give you the protection you need from snow, rain, and other forms of precipitation. The chest pocket on the interior of the bib is outstanding for storing valuables without any hassle. Lastly, there is a push-button design at the hem that lets you adjust this portion with ease.
There is no doubt that this bib is one of the finest there is. But it is a bit on the small side, so you need to check the sizing before you purchase to achieve the best fit for you.
When the weather outdoors is tough, you need an equally tough and strong bib to keep you warm and safe while ice fishing. The Navis Marine fishing bib is perfect as it is designed to ensure your comfort and safety when you are sailing, fishing, and engaging in other water outdoor activities.
These bibs come with high-visibility elements, along with breathable fabric to promote a comfortable and snug fit. The double-layer fabric is water-repellent, and there are taped seams that offer a waterproof and perfect seal.
There is no doubt that this bib is one of the finest there is in stores today. However, the reflective patches have a tendency to come off and flake off after several washes. Other than that, everything else about this product works as expected.
Breathable and waterproof, this fishing bib for men is a great choice when you need total protection as you go about your ice fishing trip. These bibs are designed to withstand tough, cold weather. There are angler-friendly features to this bib such as the 1000D nylon knees with an efficient drainage system.
There are storm gaiters with a magnetic feature for the leg zipper, so you can easily remove and put on your boots. The inseam is adjustable, and there are handwarmer fleece-lined pockets to add comfort. As these are waterproof and comfortable to wear, you will find this product a must-have for your ice fishing trip.
One thing to note about this product is that the elastic suspenders appear to be a bit on the flimsy side. They may eventually wear out over time, and it would have been better if they came with a nylon webbing with a non-elastic material for optimum durability. It still works, however, for the purpose it serves.
Perfect for your ice fishing trip, the WindRider fishing bib is waterproof, warm, dry, and breathable. There are two layers of laminate fabric to this bib, and you can expect to stay warm for hours on end. But since this is breathable, you do not have to worry about getting very hot while in these protective bibs.
Another feature we like is the pockets. There are six of them, so you can organize various personal items inside such as your knife, and similar objects. With a storm flap, you can get the protection you need no matter how fickle the weather may be.
We think that these fishing bibs are just as perfect as how they appear. The quality is spectacular but they do run quite small. Nevertheless, they are great for the price and comparable to more expensive ones out there.
Rugged and protective, this bib is exactly what you need for ice fishing. It is crafted from 600D oxford woven fabric that is designed to take a hard beating. The taffeta lining adds comfort and breathability to the interior of this bib.
As for the aesthetics, this bib is second to none. It looks attractive, yet with features that are very functional. All you need is to unbuckle it, and then fold down the chest, wrap around the suspenders on your waist, and finish up by buckling up. Then you are good to go!
We like the sherpa-lined pockets for added warmth but the fit overall on the chest area is a bit too snug for some people. It sure is a rain-proof gear but not as much as a protective outfit for the cold. It does not disappoint, though, considering the great features it offers.
Buying Guide for the Best Ice Fishing Bibs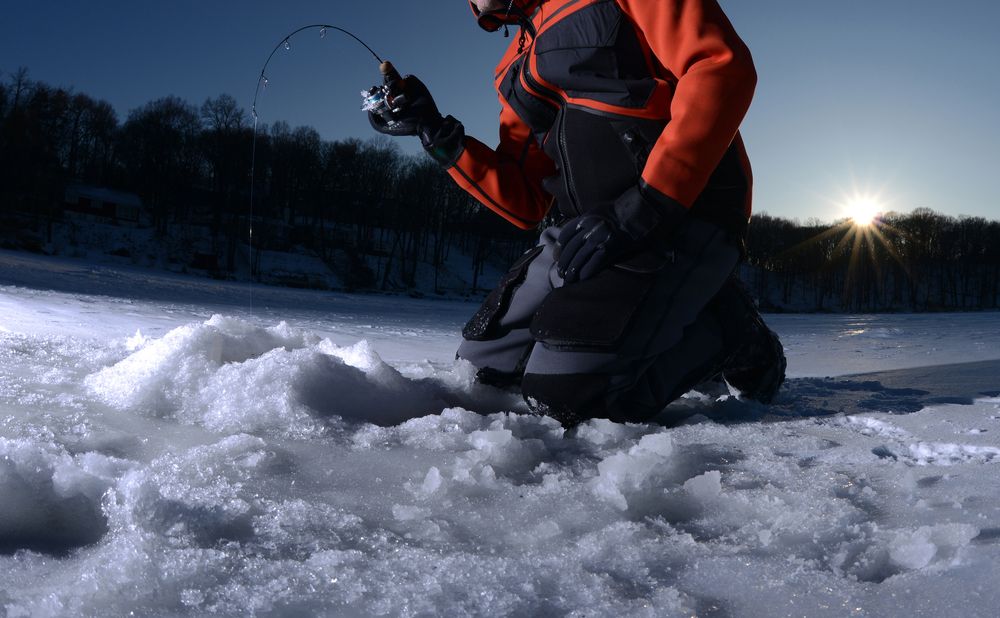 It can be an overwhelming experience to choose the right ice fishing bib to buy. There are numerous options out there, causing some kind of confusion to buyers. This is why we are here to shed some light on what you need to look for when it comes to purchasing a great fishing bib.
Here are a few of the important features to consider that will lead you to the perfect item worth your time and money.
1. Insulation
Ice fishing is not a joke. It is tough, difficult, and just plain challenging. But at the same time, this is a rewarding activity for every avid angler.
You need fishing bibs that will keep you warm even when the weather can be quite brutal. A thick layer of insulation is important. You also want to have hand warmers to keep those fingers nice and toasty. But be sure to choose a bib with removable insulation, which may come in handy once you start feeling too hot.
2. Adjustable
A great ice fishing bib must be adjustable. The straps or suspenders should be easy to buckle and tighten or loosen, depending on what suits you best. The last thing you want is to put up with a bib that is way too tight or very loose on you.
It is also important that there is an interior waist feature that you can adjust any time it is needed. This gives you total comfort as you wear your bib and move without any restriction on your mobility.
3. Floatation
While it is true that you cannot use your bib as a life vest, it does not hurt to have some floatation feature to it. This is why there are bibs with a special kind of technology that makes them buoyant, in case you end up being in the water.
Ice fishing can pose some risks, so it is great to get a little help from a bib with a floatation system. This way, you can remain afloat in case you find yourself in the chilly, cold water. You can ease your worries knowing that you are okay with your trustworthy ice fishing bib with extra buoyancy to it.
4. Comfortable
An ice fishing bib may never be as comfortable as your favorite pair of pants but it could be close. For instance, padding for your bib adds to your ease and comfort, particularly when you need some protection from pains and aches.
In case you slip, fall, or trip, you can count on the padding to break your fall. An icy ground can be tough to deal with, so if you have padded bibs, then you may trip but not suffer a huge problem on your back and leg when you end up on the ground.
5. Waterproof
Naturally, this is a feature you need to have in your bib. You will need protection from rain and splashes with the help of your bib. Be sure that the bib is water-resistant or water-repellent to prevent you from getting soaked wet inside.
A heavily waterproof bib is an essential thing you need to include in your fishing gear. It is not fun to be wet while ice fishing – and it is dangerous at the same time. Serious health concerns may arise from being out in a frigid environment while being so wet.
6. Safety Features
Another thing to look for in a fishing bib is reflective tape. It needs to have a high-visibility design that lets people see you, particularly when you find yourself in an emergency. You want to be sure that your bib can easily help others find you when immediate medical attention is required.
This is why there are reflective tapes added to the hems and body of a fishing bib. When light shines on you or when it is dark, these reflectors make it easy for others to spot you and lead you back to safety when needed.
Ice Fishing Bibs: Frequently Asked Questions
1. What do I need to look for when it comes to determining the perfect fit of a fishing bib?
Ice fishing bibs come in different sizes. You should be able to find the right fit for you by checking the specified sizing by manufacturers. Bibs come in men's and women's sizes with a size chart to serve as your guide.
When it comes to determining what exactly is a good fit, this means that you can still fit into your bib even when you have your regular shirt and pants on. If you can still move well without the bib being too loose or causing restrictions to your movement, then the size is just right.
2. How can I be sure that the bib offers mobility?
It is very important that the bib allows you to move freely and easily while keeping you insulated. This is why mobility is an important feature you should never compromise. You need this feature to help you carry out certain movements such as casting your line and walking or running.
Some bibs with a cheaper quality are very stiff. This is why you should avoid these items as they will prevent you from moving with ease. The seams need to be flexible, and you should never feel like you have to struggle as you take a step.
3. What are the right materials to look for in an ice fishing bib?
There are several types of materials used for an ice fishing bib. But the best one is nylon. This is a good material that is not only durable but it is waterproof, lightweight, and comfortable.
No matter what material is used, be sure that it is sturdy and padded. There should be a good amount of padding that will protect you in case you slip or fall.
Final Thoughts
There are many styles and features an ice fishing bib has but it is best to stick to the basics.
Some are highly necessary such as the padding, floatation assistance, water-repellent system, and others are just additional components that add to your overall level of comfort and ease.
But most importantly, fishing bib needs to be comfortable, warm, waterproof, and with an added buoyancy. The rest are just extras but always make it a point to have these basic and important features. By purchasing a good quality fishing bib, you can expect a positive experience during your ice fishing trip.
So go ahead, pick out the best ice fishing bib for you and have a great ice angling adventure!