There is something uplifting about being out in nature.
Even when the weather is bitter cold, fishing remains to be one of the favorite activities of avid anglers. Ice fishing is a stress-relieving and exciting outdoor activity that makes it worthwhile to do even when the temperature can be quite frigid.
But there is one caveat – finding fish can be tricky. This is why you need the best ice fishing fish finders that will make things easier for you. With this special device, you would not need to sit for hours on the ice trying to get a good catch.
Quite smart and efficient, isn't it?
So to help you choose the right fish finder, allow us to present to you our top picks for this category. We bring to you a selection of these fine items that should guide you in choosing the perfect ice fishing fish finder to buy for your next fishing trip this winter.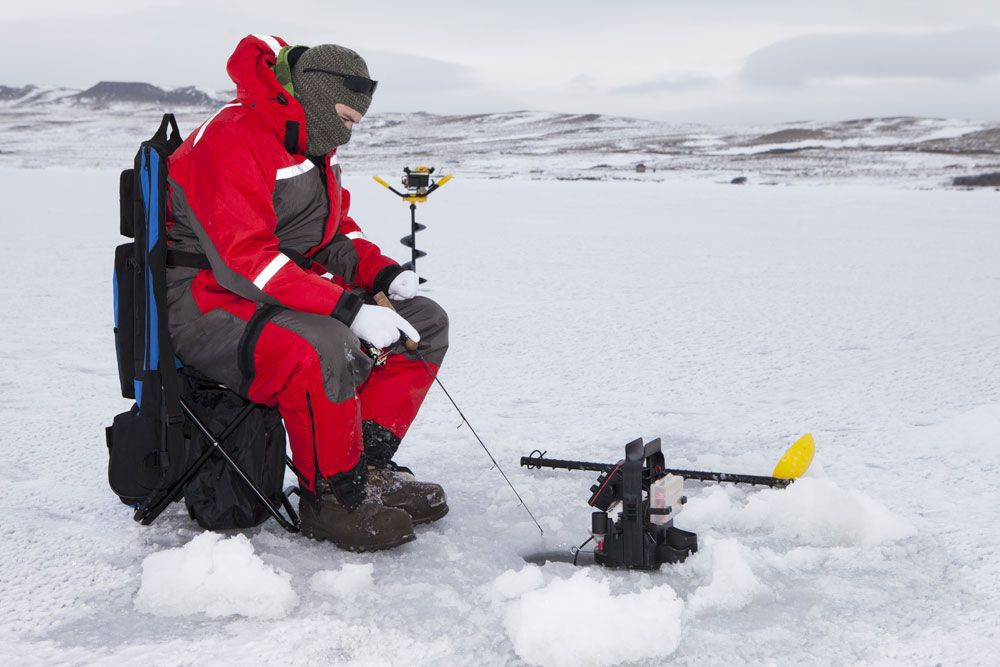 Quick Comparison: Top Ice Fishing Fish Finders
**Below, you'll find our more detailed reviews, but you can also click the links above to see current prices or read customer reviews on Amazon.
Top 11 Best Ice Fishing Fish Finders
When it comes to versatility and functionality, the Deeper Pro+ is one of the best fish finders in the market today. We like how easy it is to locate fish by using this handy and smart tool. You can also check on the size and depth of the fish, including the bottom hardness and contour, to name a few.
This unit includes a GPS onboard, which lets you set up a bathymetric map right from the shore. The Deeper Pro+ lets you cast to a maximum of 330 feet and do a search on the bottom of the water to a depth of 260 feet. Portable and wireless, this unit makes it easy and quick for you to find fish for a rewarding ice angling experience.
For the most part, we think this unit is hassle-free to use. But it tends to float, and the sonar can be weak when the device ends up in a hole packed with thick, solid ice. Otherwise, it gets the job done and makes finding fish more convenient.
Prepare for your next ice fishing trip with this handy device. This fish finder from Garmin Striker lets you learn more about the water surrounding you. The sonar has a high-frequency component that produces images packed with detailed information on the structure of the water and representations of the fish.
There is a user-friendly interface that allows you to install and operate this device in simple ways. It also has an IPX7 water rating, so it can be used in freshwater up to 1600 feet and in saltwater without exceeding 750 feet. The flasher format is excellent for vertical jigging or ice fishing.
One thing to note about this product is the screen. This part of the device is not resistant to water. So you will have to use a protective cover such as a ziplock bag that will prevent water or moisture from getting on this part of the device.
Experience the ease of detecting fish in the water with the Venterior fish finder. This unit helps you determine the approximate location of the fish, as well as vegetation underneath such as weeds, rocks, and sand. There is a backlight feature that is useful when you are ice fishing at night or in dim light situations.
This unit includes a transducer equipped with a 25-foot cable, as well as a transducer float that can be removed. You can use this unit to detect underwater objects at a maximum depth of 328 feet. With a number of settings including a fish alarm, backlight mode, battery save mode and 5 selectable sensitivity, this tool definitely has a lot to offer.
It is a budget-friendly fish finder that gets the job done. We think the features are a little on the basic side but we are pleased that it does help in locating fish. When it comes to functionality and ease of use, this item is indeed a clear choice.
If you are a beginner ice angler who needs some help with locating fish for a more efficient experience, the HawkEye Fishtrax is a fine item to consider. We are impressed with the affordable price and practical features of this unit. You will find it quick and easy to find fish underwater and in frozen holes with this device.
This fish finder features a display that is clear and readable. It includes a 5-level sensitivity setting that you can adjust, as well as a backlit display and a fish alarm to notify you once fish has been detected. This unit provides you with relevant data in a readout that is easy for you to understand.
One important piece of advice when using this unit is to prepare yourself with handling this unit correctly. It can be tricky with a long cord but by learning how to use it properly, you should have no problem at all. The screen is a bit small but it is not a deal-breaker at all.
Simplicity is all you need when it comes to a handy device for locating fish underwater. This unit features a chirp sonar, and this offers relevant information you need such as crisp and clear fish arches. The flasher is built right into the unit, allowing you to find fish when you are doing vertical jigging or ice fishing.
It also includes a waypoint map, and this lets you view and navigate easily through docks, stumps, and brush piles in the water. With an easy installation process, you should be able to set up this unit without any hassle at all.
Overall, we think that this unit does help in locating fish and vegetation underwater. However, the instructions could be improved. For beginners who have never used a fish finder, especially this particular item, getting started can be challenging without a more comprehensive set of instructions.
A dependable and handy fish finder, we are simply impressed with what this unit from Lucky has to offer. It allows you to determine the approximate location of the fish, including various vegetation underneath. The device is portable and lightweight, and you can also wear it around your neck for your convenience.
This is a small, yet feature-packed fish finder that you can use for your ice angling expedition. It also works for kayak fishing, lake fishing, off-shore fishing, and more. With 5 sensitivity modes, a fish school alarm, backlight mode, and battery save mode, it's got all that you need in a fish finder.
We think this product truly works for the purpose it serves. But it reads in meters only, which may be an issue for some people. The bottom contour is not shown, as well, although it is not much of a big deal for those who do not find this functionality necessary.
There are so many things to appreciate about the Hook-3X Lowrance fish finder. The LED display is a good size at 3.5 inches, and there is a backlight color to help you view with ease even at nighttime. The Broadband Sounder lets you find the bottom contour, fish targets, hardness, and structure detail, among others.
With the 83 kHz sonar, it can offer a conical coverage of 60 degrees. This is a useful feature when you want to search a larger area or to display big fish arches down below. On the other hand, the 200 kHz frequency provides an enhanced lure tracking and fish-target separation.
This is truly one of the best fish finders you can find with useful functions. The image quality is decent but not exactly the best. But overall, it gets the job done, which is what matters most about this fish finder.
Packed with dozens of features the Anysun fish finder is a handy and functional device you can use for a more efficient ice fishing experience. It features an IP68 rating, which means it is fully waterproof. There are a 15-meter cable and a night vision setting that lets you use this device even in the dark and at a depth of 15 meters.
The image quality is clear, so you can view fish and vegetation with great clarity. The battery lasts for up to 12 hours, and there is a built-in rechargeable battery included in the unit. With a 7-inch color monitor, it should be easy to view various items underwater with this device.
Overall, this fish finder gets the job done in locating fish efficiently. There are metal clips and fasteners included in the package, which we can't quite figure out what they are for. The instructions are a little vague but still, you cannot beat this great item for the price you pay.
Ice fishing does not need to be a tough ordeal, thanks to the Humminbird. This unit lets you find and track fish through the CHIRP and GPS combo. The CHIRP sonar is dual-spectrum and is perfect for an ice angler. As for the ICE HELIX G2 allows you to determine the different features under the icy water.
We like the bright display that is readable and clear for ease of viewing. There is also a backlight that helps when the conditions are not too bright underwater. The battery has a long lifespan, which can last up to 10 hours. With a handy carry case, this adds to the portability of this unit.
Our only gripe about this product is the rather loose connection of the transducer cord. You will need to push it in just to reconnect the cord to the sonar signal. It does not have a massive impact on the performance of the fish finder, though, so it is not much of a big deal at all.
You can expect the ease of locating fish underwater with the Vexilar fish finder. It is easy to set up as everything comes assembled. There is a 12-volt battery included, along with a charger, as well as an ice-ducer premium transducer built right into the unit.
To help you get started, this item comes with a helpful instructional video. You should be able to learn the ropes easily and figure out how to use the different settings and functions of this unit. Interesting features include a flex light, battery status indicator, 10 interference rejection modes, and 525 resolution segments, to name a few.
This unit definitely gets the job done. It would have been better if there was a cover for the magnifier lens, though. You should be able to buy one, which should be very useful and could add protection to the unit.
Joining our list of the best ice fishing finders is this handy unit called the Marcum LX-7. It comes with a clear and readable LCD display that measures 8 inches. You will love the ease of using this device as the dashboard includes details about various items such as the range, battery voltage, digital depth, interference rejection, and target adjust.
You can use this device to determine the bottom coverage with the 20-degree or 8-degree transducer cone angles. With a sonar display window, you can check the status underwater easily.
Our only gripe about this device is the glare. It is a bit on the harsh side, so you may want to get yourself a screen cover with anti-glare features. This is particularly important when you are ice fishing outside your tent.
Buying Guide for an Ice Fishing Fish Finder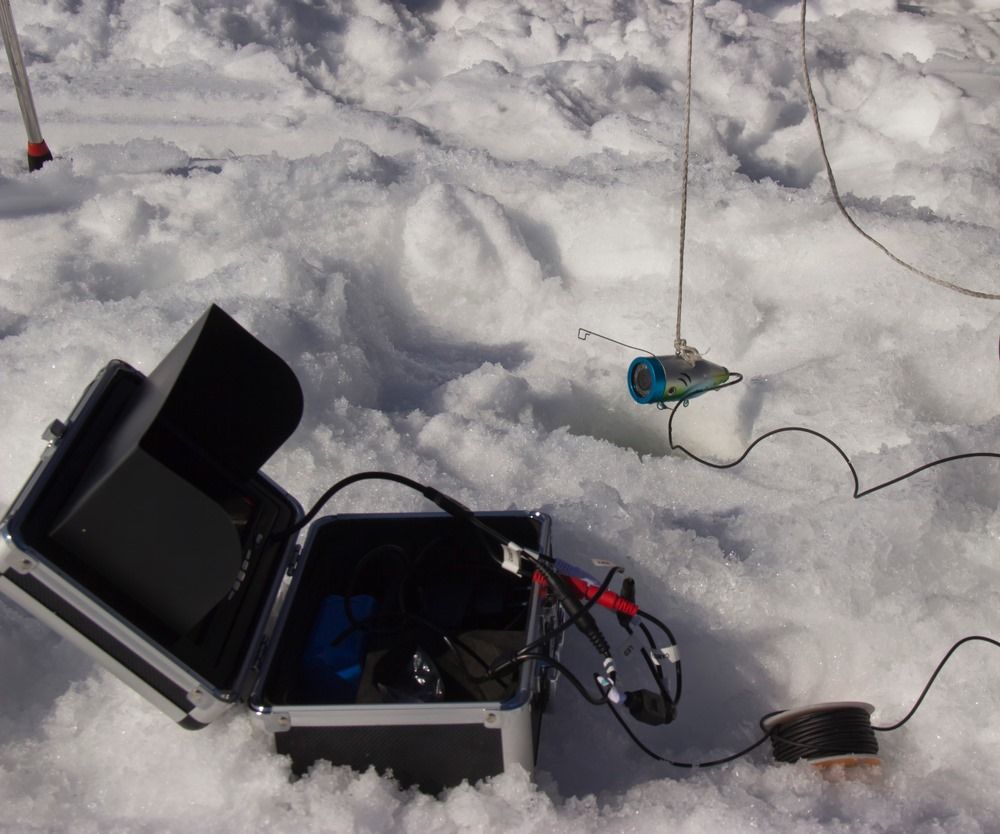 There are a number of products that claim to be the best ice fishing fish finders. But how can you possibly pick one from the rest? Here are some important features you need to look for when shopping for the right fish finder to purchase.
1. Convenient and Portable
Lightweight is always the best when choosing a good fish finder to buy. This is why you need to make sure that the unit is portable and easy to carry. A handy fish finder that is small yet packed with all the features necessary to make ice angling easier is a must-have.
Some fish finders are mounted securely on a boat, which means you need to install them using special attachments. But if you prefer one that you can carry around, then a portable one attached to a device such as a buoy is a reasonable choice.
2. Display
You need to make sure that the display is clear and bright just as how you want it to be. There are displays in black and white while others are in color. We recommend color screens as they offer a clearer and more vibrant image in comparison with the black and white.
But if you are on a budget, a practical choice is a black and white display. This is also more suitable for beginners or novice ice anglers whose choice of a fish finder is restricted by their budget.
3. Transducer
A fish finder will never be complete without a high functioning transducer. What this feature does is it receives sonar waves and sends them out. The transducer picks up results and these are processed to provide a clear image format.
The mounts for a transducer vary. There is a transom mount that is the easiest to work with because of simple installation procedures. But for professional anglers, the thru-hull mount should work, especially when you want to fish while on a large boat.
4. GPS
A GPS is not only suitable for driving on roads but also when navigating in the water. For instance, this GPS allows you to figure your way back safely to dry land. You can figure out the accurate locations of lakes in proximity to your area. This special feature is also helpful when you want to mark your preferred location in the water where there is the most number of fish.
More often than not, you should be able to find fish finders with a GPS built right in them. But they can be more expensive than basic fish finders. So you need to factor in your budget before you buy it.
Ice Fishing Fish Finders: Frequently Asked Questions
Will a regular fish finder suffice when I want to go ice fishing?
No. There are limitations in a regular fish finder, which renders it useless in ice fishing. You need to make sure that the device you get can perform well in the icy snow, which you can only get from an ice fishing fish finder.
Are there other functions that a fish finder can do?
You will be impressed to know that an ice fishing fish finder can provide more pieces of information in addition to just the location of the fish. For instance, you can also determine the bottom hardness and contour, the vegetation underneath, and the temperature and depth of the water.
When you need to know which portion of the water has the most fish, you can also use a fish finder for this purpose. The unit remembers the waypoint, so you can come back to a specific location in the future. Even the way your fish responds to the bait is visible with the help of a fish finder.
What else do I need to know before I purchase a fish finder?
You need to make sure that all the right features are in the item in question. Ice fishing may sometimes be done at night or at least in dim light conditions. This is why you should consider getting a unit with a backlight to make it easy to work with the device.
A fish finder with a large and readable display is also important. The display size varies from 3.5 to as large as 8 inches. There are also other units with a much larger display, although this impacts the weight and portability of the unit, which you also need to consider. Choose a unit that is handy, lightweight, and portable, so you can carry it with ease. Other people also like fish finders they can wear around their neck for greater convenience.
Other cool features such as sophisticated tracking components can also come in handy, although these add to the price tag. A GPS feature is important but this can have an impact on the cost of the unit. So you should consider your budget and level of ice fishing experience. An entry-level and cheaper fish finder with decent display size and image quality would not hurt if you are a beginner and dabbling in the world of ice angling.
Final Thoughts
Ice fishing is without a doubt a fun, yet challenging outdoor activity. The enjoyment of ice fishing outweighs the difficulty, making it truly worthwhile to experience and engage in, even when the weather is frigid.
But the challenge of finding and catching fish is excruciating. It is definitely much tougher than when you are fishing in warmer water. Unless you have the right tool, that is. You may find it tough to locate fish that tend to burrow themselves deeper into the water. This is why you need a dependable fish finder to make life much easier for you.
With various models and features of fish finders in the market today, you should be able to find one that is most suitable for you. So be sure to check out recommended products and learn more about the features they offer to help you select the right one that is perfect for your needs.