Thinking of extending the angling season up to the winter months?
The frigid temps should never stop you from your favorite outdoor activity! In fact, fishing in ice is a must-do for avid anglers.
There's nothing more magical than witnessing the whimsical green-blue light of the flowing water just right underneath the ice. And yes, there's plenty of good catch waiting for you beneath the frozen surface!
But if you think you won't be able to stand the cold, think again… All you need are the best ice fishing heaters to keep you nice and toasty while waiting for something to tug on your line.
We figured you would like to learn more about your best options when it comes to top-quality ice fishing heaters. So we have done the homework for you and came up with this exhaustive list of great products to keep you and your ice fishing gear warm this ice angling season.
Below are our top picks for ice fishing heaters followed by a buying guide and some FAQs to help you snag the right product you've always wanted.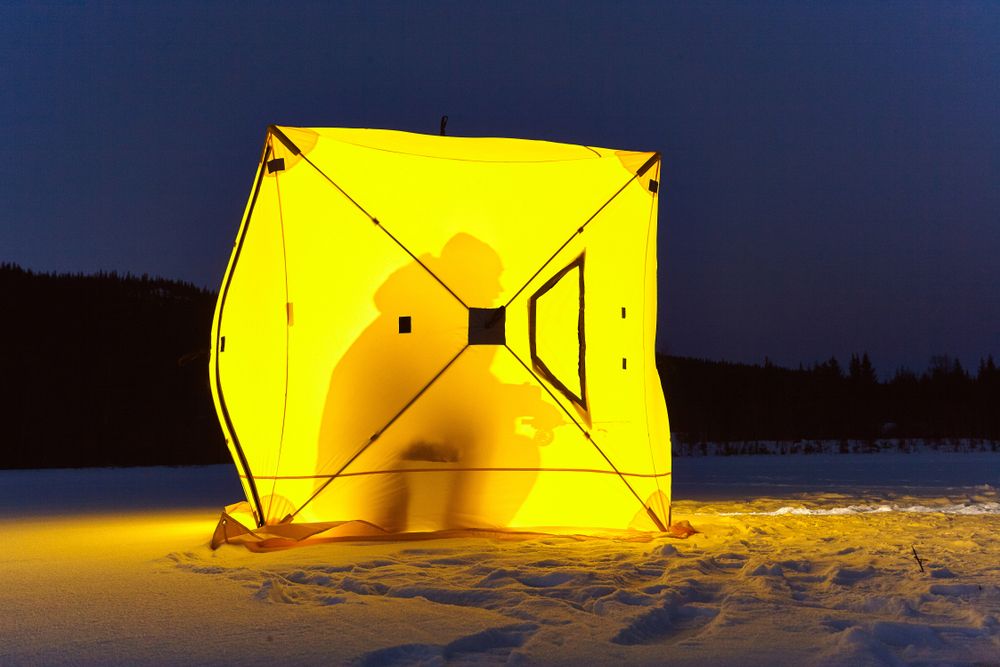 Quick Comparison: Top Ice Fishing Heaters
**Below, you'll find our more detailed reviews, but you can also click the links above to see current prices or read customer reviews on Amazon.
8 Best Ice Fishing Heaters – Know Your Options
Mr. Heater is a household name when it comes to high-quality ice fishing heaters. And we're not surprised – this brand has been around for quite a while now. Mr. Heater Buddy offers radiant heat between 4,000 to 9,000 BTU, which can warm up a 225 square-foot tent!
It features a convenient fold-down handle for a minimalist appeal. This heater comes with a functional swivel regulator, which comes in handy when you purchase a filter and hose to convert this unit into a gas supply. And yes, this unit is easy to light, which is another plus point.
Our only concern with this heater is that the sensor is a tad sensitive. Just a slight movement will cause the sensor to be triggered, so it makes it a bit tricky to hold the heater while fired up. Otherwise, it heats up just fine and does the job well.
If all you need is a smaller heater to heat up an equally smaller area, then the Little Buddy by Mr. Heater is what can get the job done. It works on a medium-sized room, not any larger than 95 square feet. Once fired up, this heater can provide a consistent level of heat that's odor-free and ever-reliable.
Just a press of the on and off buttons is all you need to get it started. When running at a maximum BTU, you can expect up to 5 hours of heating from this nifty tool. There are also safety features added such as the auto-shutoff and a low-oxygen sensor for your peace of mind.
We don't recommend that you use this ice fishing heater in a moving vehicle. It needs to be on a steady surface for safety purposes. Another thing is that you should dedicate a vent area about 4 square inches on a minimum while using this heater.
Before you head out camping or ice angling, be sure to bring along this propane heater from Texsport. This heater offers a maximum radiant heat of 2,890 BTU to keep you toasty in the bitter cold. Made of stainless steel and copper, this heater is as sturdy as how you want it to be.
This is one smart heater equipped with a couple of safety features such as the auto-shutoff once the flame runs out, a stable base, and an aluminum reflector for increased visibility. The Texsport propane heater also works with a 1-pound propane tank, although not included in the package.
We have to be honest – having an igniter would have made this unit much easier to work with. But lighting it up with a lighter is not a big deal at all since it starts pretty quickly and can keep you warm for hours.
Ice fishing is a challenging but highly rewarding outdoor activity. Be sure to come prepared with the best ice fishing heater, which is exactly what this unit from Mr. Heater offers. It can warm a 450 square-foot area and offers a clean-burning heat that's odor-free.
If you want to control the temps, you can do so and set it up to low, medium to as much as high. Safety is also guaranteed with this unit. It shuts off automatically when tipped over or when low oxygen levels are detected. Smart!
While this heater takes a bit of a learning curve to get it started, it's not a big deal once you get used to the whole process. There are instructions to follow, so you won't have to worry about messing up and creating a major safety hazard with this heater.
Make everywhere you go as cozy as your home with this infrared propane heater by Stansport. It offers as much as 3,100 BTU of radiant heat, which is just what you need when it is chilly outside. This heater features a portable handle, a metal dish for focusing heat in one area, and 4 control settings to select the heat level you want.
Safety is guaranteed with this handy little heater. It comes with a stable base and a front cage to prevent it from tipping over too easily. We also like how portable this unit is, so you should not have any problem taking it with you when you're out and about for ice angling.
It may not be the biggest heater there is but it definitely works for a medium-sized area. This unit heats up your tent to give you a cozy little home away from home while you carry out your outdoor activity.
This is definitely a smart little heater that you can count on when you go ice fishing this winter or early spring. It is compatible with a butane gas cartridge that adds to its portability. With a sturdy ceramic burner and a swivel body, this unit is a joy to use without too much of a learning curve to work with.
Loading the cartridge and lighting it up is fast and easy, but be sure to read and follow the instructions carefully to avoid any safety issues. It may not be the Cadillac of ice fishing heaters but it definitely does the job, which is the main thing.
Made of commercial-grade steel, this heater is simply a handy little tool that gets the job done. It offers radiant and consistent infrared heat, and all it needs is a 20-pound propane cylinder and it is good to go. No need for batteries or electricity – this heater is super efficient!
As for the heat output, it goes from 18,000 to 30,000 BTU. We like the windscreen added to this unit, as well as other protective features including rain-protection and wind-resistance. Just control the knob to get your desired output.
There is no built-in ignitor to this heater, which is a bit of a letdown. But that is not a biggie at all because controlling and operating this heater is a no-brainer at all.
This list would never be complete without the Dyna-Glo propane tank heater. We like how it can really heat up an area within a 15-foot radius. There is a mesh burner with double layers for protection and a manual ignition system for ease of starting it up. The support leg made of steel with zinc plating is another fine addition, too.
The Dyna-Glo heater works with a 20-pound propane cylinder, although not included in the unit. Right out of the box, this heater is ready to use once you have the propane tank. There is no assembly needed, which is excellent.
Putting everything together is a breeze. However, it may not heat up an entire garage but it works in a smaller space, which is just what you need when you are out ice fishing or camping.
Buying Tips on How to Select the Best Ice Fishing Heaters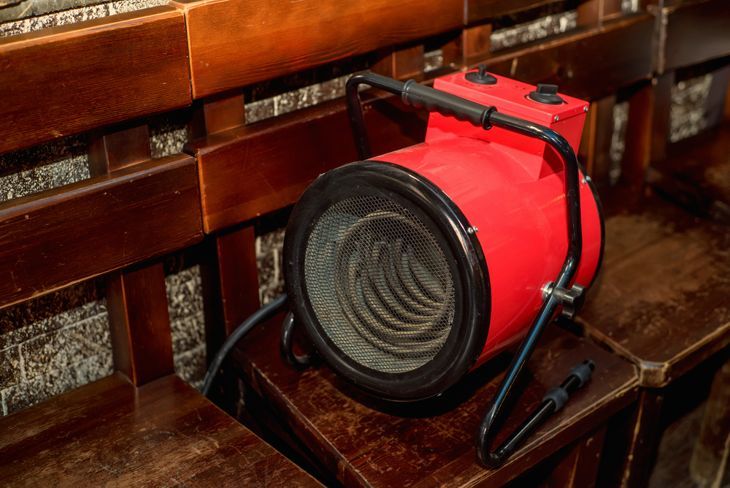 So do you think you are ready to bring home your very own ice fishing heater?
Before you bring home just about any heater you can find, be sure to check out these good features you need to look for in a high-quality ice fishing heater. Regardless of the specifications you require, these features will ensure you of your satisfaction with the item chosen and value for your money.
1. Size
When it comes to ice fishing heaters, size matters. Your heater should be suitable for the size of your tent or shelter. You should be able to find this information in the specification indicated in the package. If it's not stated, calculate the interior area of your fishing tent and match the numbers up to the heater's output.
When in doubt, it is always a smarter move to go for a bigger heater to warm up your tent. Err on the side of caution and go big than settle for a smaller, inefficient heater.
2. Heat Output
Heaters are rated based on the amount of heat they generate, which is what the BTU is rating is all about. Ice fishing heaters can go from 4,000 to as much as 18,000 or even more in some models. The lower the BTU, the smaller the area it can heat up.
We recommend that you go from 8,000 to about 10,000 for a small to a medium-sized area. This is a reasonable number that can guarantee a comfortable environment inside for your ice fishing expedition.
3. Safety Features
Safety first! That's an important thing to keep in mind when you buy an ice fishing heater. Accidents do occur, and the last thing you want is to turn a relaxing ice angling experience into a nightmare.
This is why you should always look for safety components to a heater in question. One of these features includes an auto-shutoff when the unit tips over, which can prevent accidental fires. The valve shuts the unit off instantaneously by stopping fuel supply to the heater.
Another great safety feature is a low-oxygen sensor. When you use the heater in an enclosed space, you want to make sure that the unit does not keep burning when the oxygen supply in the room is running low. Otherwise, you will end up breathing in a high level of carbon monoxide, which means bad news to your health.
With this auto-shutoff feature stated above, the heater turns off immediately to spare you from carbon monoxide poisoning, which can mean a massive difference between life and death.
4. Convenience
The last thing you want in a heater is one that is hefty, bulky, and just a pain to bring along with you. This is why you need to consider buying a portable and convenient heater that will make things much easier for you.
Heaters are generally heavy. But if you can find one with a carry handle that is ergonomically designed, then this makes a huge difference. You want to have an easier time carrying it with a handle, and it is even better if the unit is relatively lightweight.
5. Heating Time
How long does it take for the heater to really do its job? If you want something that can heat up the room quickly, a lower BTU works. But then if you want one that can offer a higher level of heat, then you should check out a high BTU rating.
A lower BTU may not suffice for a large tent but you can expect it to keep you warm pretty quickly once you have started it up. So this is one thing to think about before you purchase an ice fishing heater that will actually work to your advantage.
6. Heat Control
It would be nice to have the ability to control the heat level with just a turn of the knob. This is why we advise that you check out the settings available in a heater. There are those that let you select from low, medium, to high. The knob control makes it possible for you to get your desired setting.
Frequently Asked Questions
Here are a few more things to look into when buying a reliable ice fishing heater for your particular needs.
1. What type of insulation do you have in the tent?
Before you purchase a heater, you need to think about the tent insulation you have. There are tents that come with a thick fabric for insulation while others are a tad thinner.
Your tent's insulation level will impact the amount of heat you will require. With better insulation, you should be fine with less BTU than when it is not insulated well. This is why the area is not the only thing to keep in mind when considering the BTU generated by a certain heater.
2. Should you opt for a portable or a full-size tank?
Ice fishing heaters may either require a propane tank or a larger, standard tank. There are also models that are compatible with either one of these two.
When deciding between these two options, you should think about your own preferences. Would you be comfortable with having to drag a bulky full-sized standard tank out in the snow? Or would you rather be okay with a smaller cylinder at about 1 to 20 pounds the most?
This is why we recommend that you think about your own convenience when torn between these options to ensure your comfort that will impact your overall ice fishing experience.
Another thing we want to add is this – look for a model that is fuel-efficient. Does the fuel run out too quickly or is it economical and lasts for hours? Fuel consumption is an important feature to look into as you wouldn't want your heater to gulp down and zap the propane too quickly instead of slowly sipping it, right?
Conclusion
The choice between one ice fishing heater and another seems to be a tough ordeal for most people. There are just so many features to consider, which can make it a challenge to find just the right one you need.
But after reading our guide and tips on how to buy the best ice fishing heaters, as well as learning about the different options you've got, the choice becomes much clearer. We hope that you were able to gather all the details you need that will lead you to the perfect item to make your ice angling experience much more enjoyable and memorable.