In Minnesota, kayaking may be a terrific opportunity to explore nature and see some of the state's stunning scenery. A number of beautiful rivers may be found in the Land of 10,000 Lakes, providing hundreds of kilometers of exploration.
Whether you can believe it or not, Minnesota actually has a lot of lakes — 11,842 to be exact! These lakes, such as Lake Superior, Mille Lacs Lake, Red Lake, and Leech Lake, are on everyone's wish list. It is not surprising that these waterways are home to well-known freshwater species including walleye, northern pike, musky, bass, and trout.
In this article, we will help you to find out some best kayak fishing lakes in Minnesota and regulations that apply to this area. So, let's dive into Minnesota's fishing world!
Best Kayak Fishing Lakes In Minnesota
For serious nature enthusiasts, Minnesota features more than 4,500 miles of kayak and canoe paths. The scenery is just breathtaking, and being a part of the state's wildness is the only way to truly appreciate it. Kayak and canoe fishing also has the benefit of allowing for a stealthy approach, which makes fish less likely to be startled.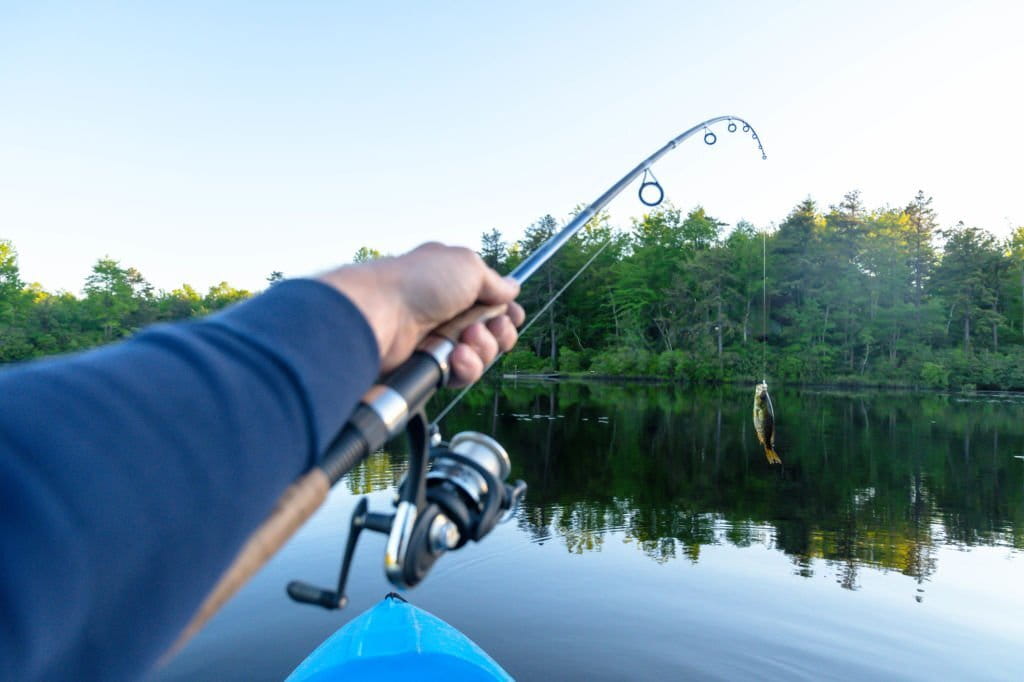 The Mississippi River, St. Croix River, Red River Lake, Lake Vermillion, and Big Fork are the greatest bodies of water for kayaking and canoeing. Keep in mind that this kind of fishing demands outstanding balance when casting and reeling, so it might not be the best choice for a beginner.
The Mississippi River
One of the world's longest rivers, the Mississippi, finds its origins in northern Minnesota. There are many paddling miles available, with opportunities for both short and long adventures.
The State Water Trail starts at the Lake Itasca headwaters and finishes at the border with Iowa. In St. Cloud, Beaver Island Park is a wonderful place to put in. From here, you may paddle along the section that is designated as Wild and Scenic while avoiding the rapids. Beaver Island Park to the boat launch in Clearwater is a 12-mile paddle.
Along the trip, there are a number of islands, cliffs, and rest areas. Fishing for walleye and smallmouth bass may also be successful along the river. Canoes and kayaks are available to rent in Clearwater.
St. Croix River
The St. Croix River, which flows beside the border between Minnesota and Wisconsin, has been classified as a Wild and Scenic River. With trees and cliffs flanking the river, it may be peaceful to paddle through such a lovely environment.
The paddling path has several launching and landing spots, so you may paddle for a few hours or for several days.
You may put-in at the canoe launch at MN Interstate State Park near Taylors Falls for a quick voyage of about 7 kilometers. At the launch, you may hire kayaks and canoes.
For families and novice paddlers, the water's sluggish movement makes it perfect. Osceola Landing is where the takeout is located, however if you need to relax, you may do so at Franconia Landing.
Root River
From Chatfield, the Root River empties into the Mississippi River. It may be a fantastic location for fishing for several species, including catfish and smallmouth bass. It may also be a great place to see wildlife because there are so many different kinds of birds there, such as bald eagles and red-tailed hawks.
The paddling path is perfect for journeys of various durations because it has several entry points and boat-in campsites. Between Lanesboro and Rushford, there are a number of kayak outfitters who provide excellent service on the path.
Just east of Lanesboro, near the river access point off of Highway 16, is a nice place to launch. You must paddle thirteen miles to reach Peterson. Around eight miles from the launch, near Raaen Creek, there is also a boat-in campground.
Minnesota Fishing Regulations
In Minnesota, there are countless options for fishing, yet overfishing is a severe issue. The fisheries in the Land of 10,000 Lakes are protected. Minnesota will provide you with top-notch fishing locations, but to get the most of each spot, plan your trip in advance. If you're a state resident or a visitor, the restrictions are different. There are also more fish laws.
Before leaving the state, all guests are required to have a freshwater fishing license. When they are 16 years old or older, Minnesotans can apply for a license. The good news for Minnesotans is that most state parks allow free fishing. However, whether you're fishing from the beach or from a lake, you'll need a license if a Trout stamp is necessary. Check to see whether you also require tags for Sturgeon and Walleye.
You may get either an individual or a family fishing license, depending on whether you'll be fishing alone or with family. Daily, weekly, biweekly, and yearly licenses are all options. Fortunately, the Department of Natural Resources (DNR) provides a comprehensive list of licenses that are thoroughly described on its website.
According to Minnesota Boating Guide 2022 by DNR, there would be some rules and regulations for kayaking in Minnesotan. It includes:
Minnesota Kayaking Laws – Minnesota law considers kayaks and canoes to be non-motorized watercraft.
Minnesota Kayak Registration – Non-motorized kayaks and canoes that are 10 ft. or less are exempt from registration.
Motorized Kayak Registration – All motorized watercraft must be registered with the Minnesota Registry Of Motor Vehicles and display a registration decal. This includes a trolling motor on a canoe or kayak.
Kayak Operator Licensing in Minnesota – Boaters must be at least 21 years old, or have a Watercraft Operator's Permit.
Motorized Kayaking Age – Anyone under the age of 17 is subject to additional requirements such as supervision by someone over 21 or the ownership of a Watercraft Operator's Permit. (See below for further restrictions)
Kayaking BWI Law – Minnesota has a Boating While Impaired (BWI) law. In Minnesota, a BWI charge is a misdemeanor offense with the ability to become a gross misdemeanor. A person is operating illegally when their blood alcohol content is .08% or above. (see below for gross misdemeanor changes)
Kayaking Life Jacket Law – All vessels must be equipped with a Type I, II, III, or occasionally V PFD for each person on board. (see below for kayak and canoe specifics)
Kayak Lights Law – Non Motorized vessels must at least carry a white lantern or flashlight that is visible from at least two miles away.
Kayaking Sounding Devices – Kayaks and canoes do not need to carry a sounding device in Minnesota. Motorized vessels do require a sounding device. (see below for regulations)
Kayaking VDS Law – Lake Superior is the only body of water in Minnesota that requires USCG approved Visual Distress Signals (VDS).