Do you want to boost your productivity when catching fish?
If so, it's nothing that the best line counter reels cannot do.
Experienced anglers use this device to determine how much line is let out. When it comes to achieving productivity, this is very important. After all, you would not want to be wasting your time trying to catch fish but not getting the results you want.
Thus, you can use line counters to help you achieve this goal. We'll help you pick out the best product to guide you with your purchase. Have a look at our recommended items and learn about the key features to look for when buying a line counter reel.
Let's jump right in!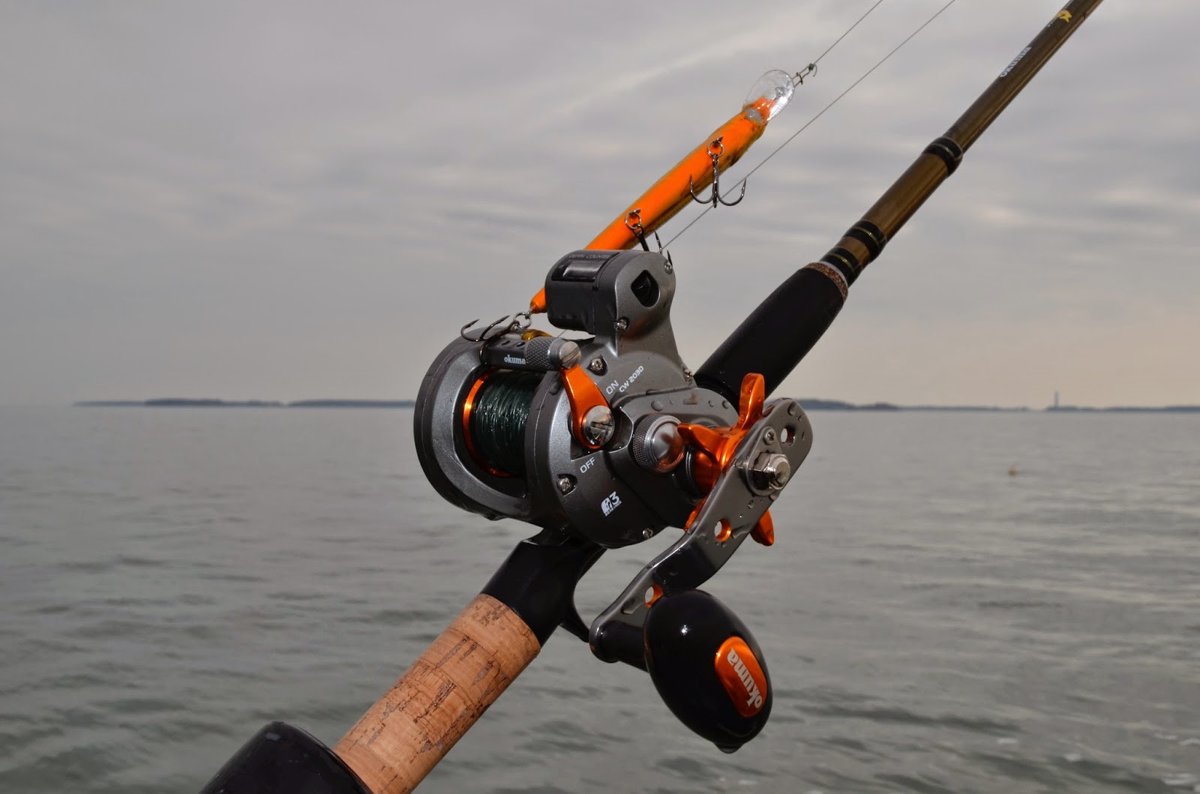 Top 8 Best Line Counter Reels
If what you look for is a line counter reel that outlasts the rest, the Penn General Purpose Line Counter Reel is a great option for you. It is the popular choice of professionals because of its heavy-duty and high-quality design. This is why if you want to ensure productivity and excellent results in angling, this line counter reel can do just that.
This device is crafted from the anodized and machined aluminum spool. Thus, it is durable and can last for a long time. The main gear is brass and machine-cut, as well. Everything about this product spells out solidity, which makes it the go-to of many anglers worldwide.
Are you looking to troll for salmon? Or what about another medium to big fish? This line counter reel from Penn does the job. It is the reel that does not disappoint, so you can expect the best value for your dollar.
Pros
Machine-cut main gear made of brass
Durable and long-lasting
Great for trolling salmon and other fish
Cons
Price is a bit steep
Tricky to set up for newbies
---
You want a line counter reel that is heavy-duty, yet light at the same time. This is why the Okuma line counter is a fine choice to consider. It is lightweight, which makes it easy to use even for beginners. You will find it efficient and convenient to use each time.
Another thing we like about this product is precision. There is a ratcheting drag star, and this is what makes it possible to gain accuracy in your drag settings. As it is tested both for quality and reliability, you can be sure that it will give you the results you want.
Whether you are heading out for striper fishing or catfishing, the Cold Water does the job well. You can also choose between a left or right hand retrieve – whatever works for you. Thus, it is a dependable reel you would always want to bring for your angling needs.
Pros
Corrosion-resistant side plates and frame
Lightweight design
Perfect for catching big fish
Cons
Drag could be tighter
Can take some getting used to right out of the box
---
Do you need a line counter reel that is pretty much ready to use in seconds? If so, this product from Sougayilang is what you have been looking for. It boasts of its ease of operation and quick setup. In just a few steps and literally some seconds, you are all setup with using this device.
The unit is also quite durable. It is all because of the star drag system, which is so powerful and heavy-duty. In fact, it can generate an output of up to 40 pounds of drag. As a result, you can really experience outstanding results from this unit.
When you need results from your line counter reel without breaking the bank, this product does it for you. Most importantly, it is hassle-free to use each time.
Pros
Quick set-up design
Durable and made of brass for the gears
Precision drag settings
Cons
A bit too big for some types of fish
No automatic engagement whenever you reel
---
The Ambassadeur by Abu Garcia is a smooth and seamless line counter reel. The smooth operation is all because of the 2 pieces of stainless steel-made ball bearings with an additional roller bearing. This is why it just reels faster and with optimum precision.
This device also includes solid levers and buttons. You can easily choose the setting you want and get the results you need. Reeling becomes easy and effortless as there is no need to play around the reeling. It just does the job flawlessly all the time.
As for the retrieve, it is right hand only. There is a maximum drag of 15 pounds, so be sure to consider that before purchase. It needs to match the type of fishing you do to get the finest results.
Pros
Smooth and flawless operation
Compact size and lightweight
Holds up to 15 pounds
Cons
It is not the best for freewheeling
Occasional minor issues with the line counter reset
---
When it comes to budget but without compromising quality, the Magda Pro by Okuma is best for that. It has a reasonable price tag while at the same time providing the best results for your needs. This is why we highly recommend this product for those who need a budget-friendly line counter that actually works.
The Magda Pro features a left-handed retrieve. It is lightweight and has a corrosion-resistant material. This is why it is best for ensuring durability and a long lifespan. The side plate is stainless steel and the spools are graphite. There is also a line counter that measures the distance in feet.
What's great about this product is the sensitivity. You can expect accuracy in the results because of this. Plus, it can hold a maximum of 20 pounds and 420 yards. This is why it is a reliable line counter reel for a price you will love.
Pros
Excellent drag
Lightweight and durable components
Reasonable price
Cons
The line counter is somewhat temperamental at times
The reel has many plastic parts
---
Another fine product we like is this one from Daiwa. This line counter reel is simply reliable and allows for easy tracking of the trolling pattern of fish. You can easily boost your catch by using this dependable and practical device.
The Lexa 100 can hold up well for freshwater and saltwater fishing. It also has an additional line capacity. Thus, it is perfect for catching tougher fish or using heavier fishing lines. As for the line counter, it measures accurately in feet. The spool click is also very convenient to work with each time.
When you need a reel for trolling big fish like trout, this unit does its job. The handles are comfortable, the unit is lightweight, and it is relatively accurate each time. What's not to love about it?
Pros
Comfortable and ergonomic handles
Corrosion-resistant and smooth bearings
Designed for freshwater and saltwater
Cons
Limited maximum drag
Can be tough to use at first
---
When you require a practical and reliable line counter reel for saltwater use, the Yumoshi is one of the few you should consider. This unit comes with a heavy-duty body and design. The handle is comfortable and convenient. There is also a fishing wheel that has all the necessary parts you need.
As for the best applications, you can use this unit for ocean boat fishing, lake and beach fishing, or even when rock fishing. It comes with a right hand retrieve and a reasonable speed ratio. This is why you can minimize missed opportunities by using this product.
In terms of accuracy, you will love what this product has to offer. The counter is also quite accurate for helping you achieve productivity in the water.
Pros
Budget-friendly line counter reel
Convenient and efficient to use
Suitable for saltwater
Cons
The line has a tendency to get tangled sometimes
Not the highest maximum drag
---
Last but not least, we have the Shakespeare ATS. This line counter reel is truly impressive as it delivers results as expected. It offers you two options for non-line and line counter including for sizes 15 up to 30. This offers you greater versatility for your specific needs.
We like the fact that this line counter is quite rugged. It comes with a single piece and crafted from graphite for the frame. The side plates are also graphite to ensure maximum durability. This line counter comes with two pieces of ball bearings. Thus, the gear feel is quite smooth and efficient.
When you need an inexpensive, yet highly efficient line counter reel, the Shakespeare ATS is for you. It is designed for freshwater fishing to help you boost your catch. Most importantly, the quality is evident even with its low price tag.
Pros
Includes two counter options
Bait clicker can be activated easily
Stainless steel and corrosion-resistant
Cons
Limited to freshwater fishing
Does not look as solid as pricier ones
---
Guide to Buying the Best Line Counter Reels
There are so many line counter reels out there, making the choice quite overwhelming.
How are you supposed to choose the best line counter reels and what are the things you should look for?
Fortunately, the choice does not need to be tough. In fact, there are certain characteristics and features you should keep in mind when deciding on the item to get.
Here are among the top features you need to consider when shopping for the best line counter reel for your angling proficiency needs.
1. Size
You need to think about the reel size, for the most part. After all, this impacts the fishing line you can squeeze into the spool.
Consider the depths of the water you want to troll in. For instance, if your target fish moves to a different depth, you want to make sure that your line counter reel can handle that. This makes a big difference in the choice you make while ensuring the results you want.
2. Counter Measurement
What is the measurement used by your line counter and what is your preference?
This is an important thing to consider before you purchase a particular line counter reel. But mostly, the line counters you can find in stores measure in feet. This is also a great mode of measurement when you go trolling.
Why?
Because the line depths end up getting much deeper. This is why you should get an accurate and precise measurement system. Obviously, it should be in feet as you can get farther with this measurement.
3. Level Wind
Stability is very important when choosing the right line counter reel to buy.
This is why you need to make sure that your reel has a wind system that is level. What this means is that your fishing line remains secure when you troll. It will not easily go out of place and slip from the reel, which often happens due to boat or wind movement.
4. Your Location
Inexperienced anglers tend to bypass the importance of location when deciding on the best line counter reel to purchase.
For instance, if you are heading out to go fishing in the river, the lake, or the ocean, the line counter reel needs to match the requirements for these areas. You cannot simply use just one type of trolling reel for all of these locations.
The water's depth varies depending on where you are fishing. As a result, you need to make sure your reel can handle it. For instance, in shallow waters, the depth is up to 200 feet. The fish you can catch there can be quite heavy and large.
On the other hand, deeper waters surpass 200 feet. But the species are often smaller and lighter.
This is why you should understand where you plan on fishing to determine the size and type of reel to get. Once you have these all figured out, you can determine exactly what the perfect reel size suits your needs.
5. Line
Another key thing to consider when choosing a trolling reel is the line you are using.
Trolling reels have varied specifications. So, before you choose one, it needs to be suitable to the species you are catching, the equipment you are using, and the location you plan on fishing.
There are different types of line such as braided, lead core, and monofilament line. When you are trying to catch small to medium fish, monofilament lines are perfect. These are also cheaper and have a thicker quality.
On the other hand, braided lines are thinner. But despite the thin quality, it is stronger than your mono line.
Lastly, the lead core is thick. In fact, it has a heavy metal core with a braided shield. This is the best line to use for your large catch.
But one thing is certain, however. When it comes to a smaller reel, it does not work quite efficiently with a very thick line. This is why you should consider this important aspect to achieve the result you want.
6. Build
Just as with anything you buy, you need to pay close attention to durability.
This is why the material used for the line counter reel is highly important. The build and construction generally impact the solidity of the unit. So, you should consider the type of material used for the trolling reel to determine whether it is worth your budget or not.
If you prefer a lighter trolling reel, the best material for that is aluminum. it is a lightweight material that is often combined with corrosion-resistant protection to prolong the lifespan.
But much lighter than that is graphite. In fact, it is also quite cheap. But at the same time, it has a flimsy feel. You cannot expect it to last longer than more expensive and heavier reels. For beginner trollers or anglers, though, graphite line counter reels should suffice just fine.
When you want greater durability, go for the machined aluminum. It is not like a cast aluminum that is solid yet not quite long-lasting as the machined one. If you are looking to catch a medium-size fish you can benefit greatly from a machined aluminum trolling reel.
Another thing that we love about the machined aluminum option is the rigid quality. The material is typically a block of solid aluminum, which gives it a more solid feel to it. It can also hold your bearings and gears perfectly in place. The alignment is excellent, which means less failure and missed opportunities.
The result? Better productivity!
With a greater torque, this is the kind of reel that can hold up quite well for your massive catches. If catching big fish is what you are looking for, there is no need to second-guess what a machined aluminum trolling reel can do!
7. Function
It is also worth noting that a line counter reel can either have a manual or electric operation.
Now, if you want a virtually low-maintenance type of reel, the manual is a good option to consider. It is generally dependable and will not break apart.
However, it is not exactly more precise than the electric one. For instance, calibrating electric reels are easier, which also lead to greater accuracy. As a result, we recommend this functionality for beginners.
One thing to note, though – you need to be sure that the batteries are always full to ensure the best results. Glitches occur when the battery is low on juice. So, this is the only inconvenience you can experience when it comes to using an electric line counter reel.
8. Budget
Last but not least, let us talk about the budget.
As you know, trolling reels come in different price tags. There are high-end ones and entry-level ones, and in addition to their performance, it is the price tag that separates the two.
This is why you should think about the price you are willing to pay for a line counter reel. If you are just starting out, it is not very practical to go ahead and buy the most expensive tool in the market.
You are still learning the ropes, so it would be fine to use a cheaper, yet quality trolling reel.
Professionals, however, prefer to buy a much more sophisticated one. They need more functionalities and features for their trolling reels. And usually, the more features there are, the steeper the price.
So, you have to factor these features in when deciding if you should go ahead and buy a pricey trolling reel straight away or not.
---
Frequently Asked Questions
1. What is the best material for a line counter reel?
Durability is an important aspect to look into when buying a trolling reel. In this case, you should check carefully what the material used is. There are usually three types such as the graphite, machined, and cast aluminum.
The weakest among these is the graphite one. But the advantage of using this trolling reel material is the lightweight design. It is also the cheapest, which means it should fit your budget easily.
On the other hand, machined aluminum is the toughest of them all. It is not bound to wear out quickly, which makes it a great value. But with superb solidity comes a steep price. This is why it is usually the prime choice of expert anglers.
The mid-range one is cast aluminum. It is durable, yet not as sturdy as a machined aluminum. Yet, it is your better option than a graphite one when it comes to a longer lifespan.
2. What should you look for in a drag system?
We recommend that you check out a multiple disc type of a drag system. Be sure there are adjustments that are convenient to work with. This adds to the convenience when you need to fight with a massive fish.
3. What are the other things to consider in a line counter reel?
The size, capacity, and ease of use are always worth looking into when shopping for a line counter reel. These are key features that will impact your overall experience and success with this device. Also, make sure the trolling reel and line are compatible with each other to prevent any concern with the usage.
For more tips, please take a look at this video on line counter reel for greater angling success:
Conclusion
Trolling reels are very important when ensuring your productivity in the water.
After all, you would not want to end up dealing with all the losses and missed opportunities.
This is why we have presented these top options for you – we are here to help you out in deciding the right item to purchase that will match your needs and expectations.
We hope that after reading our product reviews and buying guide, you were able to determine the best line counter reels that work for your requirements. As we have mentioned, there are many features to look into before you purchase one. By now, you should be able to carefully analyze the different aspects impacting your decision. Thus, you will end up buying the best line counter reel that will ensure your angling success!