The Musky is such a beast, one of the largest and most powerful gamefish that will put up a fight. Weighing up to 30-pound monsters, you wouldn't want to come unprepared, which is why you need the right equipment. One of the crucial gear you'll need is the best musky reels!
But what are the best musky reels available and how do you know which one is right for you? Read on as I show you my top eight reviews and a helpful guide on how to select a suitable reel for catching musky in your area!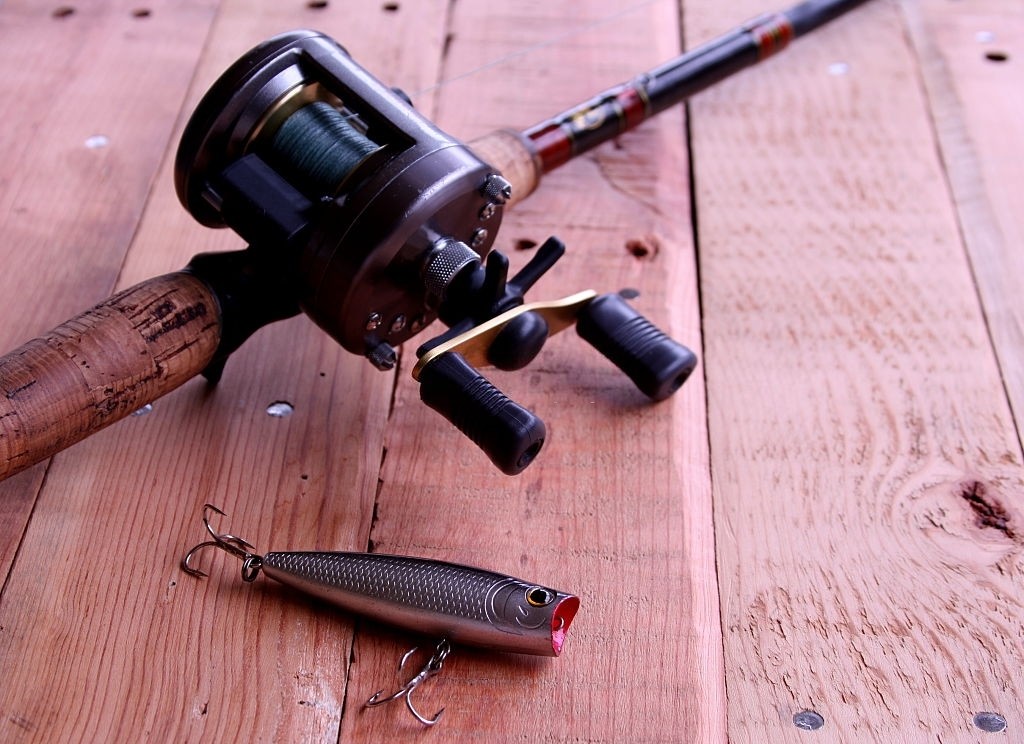 Quick Comparison: Top Musky Reels
**Below, you'll find our more detailed reviews, but you can also click the links above to see current prices or read customer reviews on Amazon.
The Eight Best Musky Reels
Of all the different musky reels available, these are the eight best you can invest in today:
The Abu Garcia Revo Toro Beast, as the name suggests, is a BEAST when in the waters fighting large fish like musky! The new model comes with an extraordinary set of features that will help you get a successful catch, no matter how big the musky can get.
This is because it's built with an X2-craftic alloy frame and side plate, as well as a carbon matrix drag system and stainless steel ball bearings. All these materials are strong to handle heavy weights, any body of water, as well as intense fishing situations. No matter where you cast it, it can provide smooth and solid reeling with its heavy-duty drag system.
For its unique Duraclutch design and power, I believe it's worth the long-term investment.
Pros
Excellent DuraClutch design for better durability and engagement
Has a heavy-duty dragger and HPCR ball bearings for smooth reeling
Can withstand heavy pressure and larger fish like the musky with ease
Cons
The power handle feels a tad bulky and awkward to use
Some complaints of receiving open and used reels
---
The Okuma Komodo SS is a baitcaster reel suitable for beginner and intermediate anglers. While it's advertised that baitcasters aren't meant for large muskies, this offers extra power you haven't seen in a typical baitcaster.
This is because it has the stainless steel main gear and parts, as well as a carbonite drag system and corrosion-resistant steel bearings. With the heavy-duty and well-constructed material, it offers the ultimate power and strength that can catch muskies, though not the heaviest ones we'd like. That's why it's best suited for beginners looking to catch lighter muskies and other fish species to hone their skills.
It does come at a slightly higher price, but with its longer-lasting features and materials, it's worth it for years of fishing various species.
Pros
It's made of heavy-duty stainless steel to last for years
7+1 stainless steel bearings with a 30-lb max drag for smooth performance
Comes with a 3-year limited warranty for better value
Cons
Better used for beginner anglers and lighter muskies
A bit pricier compared to other baitcasters
---
The KastKing Royale is one of the well-known fishing brands, with their baitcasting reel being no exception to its fine products. It features the brand new design to offer even better and smoother performance at a more affordable price.
What it's best known for is its feel, having the "Grand Touch," with its synthetic soft-grip handles and lighter weight. It helps lessen fatigue and makes it a better experience even when fishing for hours. Plus, it's made for high performance and endurance, with an almost-18 lb drag, exceptional on baitcasting reels.
For the beginner on a budget, this reel is a cheap yet high-quality choice you can enjoy when aiming for musky and similar species.
Pros
Amazing feel that allows me to fish for hours without fatigue
It can handle powerful and large species with smooth performance
It's one of the most affordable fishing reels made for muskies
Cons
Baitcasting reels are better suited for beginners for its lighter weight
Not the best for extremely heavy muskies, made for fish under 20 pounds
---
The Lew's Fishing Reel is made with an aluminum frame and side plate with a 4+1 ball bearing system to offer adequate smoothness. This baitcasting reel is superior for its price, with both beginner and advanced anglers enjoying its features.
It comes with a 6-pin centrifugal brake system and a carbon fiber drag to help reel in your large catch better, lessening the risk of damaging and snapping your line. The reel also offers better comfort with its 100mm power handle and oversized EVA grip for a softer feel and less fatigue.
It isn't the cheapest, but I'm confident in its durability and power for large muskies.
Pros
It's optimal for long-distance casts and powerful fish species like muskies
Comfortable grip that helps you put pressure on fish without slipping
High-quality materials that lessen the risk of damaging your line or losing your catch
Cons
It has a high wobble lure and you need to tighten its screws
Made with a plastic bait clicker that looks and feels cheap
---
The SHIMANO Calcutta B Round Reel is the ultimate fishing reel for the powerful and heavy musky. It has the slow line retrieve of 27" and a 3+1 ball bearing system with the max drag of 16.5 lbs. It also has a gear ratio of 6:1, optimum for fast retrieves but higher torque and more power.
While its drag system and bearings may seem unappealing for catching musky, it still packs a punch. It's made with the extremely strong and ultralight forged aluminum for durability to last long. The company promises that its parts stay in proper place regardless of how much pressure you put into it, and after a few uses, I can see they live up to their claims.
Pros
Very strong material and build meant to last for intense musky fishing
Good drag power for heavy and fighting fish without breaking the line
One of the highest quality and longest lasting baitcasting reels
Cons
Not the smoothest reel and you may experience some jolting
Comes at a very expensive price for a baitcasting reel catering to beginners
---
The ABU GARCIA Round Reel is a bait cast fishing reel suitable for both beginners and advanced anglers. Professional anglers will get surprised by its construction and performance, as it can perform almost similar to a spinning reel.
This is because the reel is designed and engineered to perform smoothly, having a 3+1 ball bearing system and a carbon matrix drag system. As you reel in your catch, your fishing gear remains smooth and consistent, not breaking your line or connection to the hooked musky. Furthermore, it has a centrifugal brake for a more precise cast and constant pressure from casting to reeling in.
For a baitcasting reel, I can see it lasting long and catching a lot of powerful, average-sized muskies.
Pros
Has extended bent cranking handles and power knot for more torque
Strong and precise for fighting fish, it stays smooth as you reel it in
Nice model design that looks attractive and feels great
Cons
The drag may feel too light for professional anglers
There are no directions or manuals included with the reel
---
If you're looking for something more affordable without sacrificing strength, you'll like the Sougayilang Fishing Reel. It's a baitcasting reel best suited for beginners but has exceptional features made for catching heavy muskies.
What it's best known for are its smoothness and consistency. Made with 6+1 stainless steel bearings and a carbon drag system, it offers the best drag pressure and synchronized level wind system to retrieve heavy fish effortlessly.
I highly recommend this reel if you're aiming for heavy muskies but still learning the ropes of fishing.
Pros
Affordable price with extra power and strength to last long
Butter smooth performance with its ball bearing and drag system
Comes with excellent customer service and a 3-year warranty
Cons
It's made best for beginners than professional anglers
The reel sometimes make s a lot of noise and requires tweaking
---
The Penn Warfare Fishing Reel is a great option for those who want something comfy and lighter. It's made with a lightweight graphite frame and side plates. While graphite may not be the strongest material, it still packs a punch and can drag in muskies well, with minimal to no risk of snapping.
The reel also has the machined brass gears and carbon fiber drag washers to match its strength. Coming with instant anti-reverse bearings, it ensures that it has a solid hold when handling heavier fish like the musky.
Furthermore, you can choose between using the right or left hand, adding to its versatility and comfort. For its fatigue-lessening features and affordable price, this is suitable for beginner anglers on a budget.
Pros
It comes at an affordable price while remaining strong
Smooth enough for beginner anglers and can reel in big fish
Has an auto-engage feature when you begin reeling for ease of use
Lightweight and comfortable to prevent too much fatigue
Cons
Not the best for professional anglers with the graphite material
The bait clicker included sometimes gets stuck and feel jammed
---
How to Buy the Best Musky Reels
Now that you know what the best musky reels are, which is the most suitable for you? There are different factors to consider other than the top choices above. To help narrow down your choices, look into these features:
1. Trolling vs Spinning vs Baitcasting Reels
There are three main types of reels you can choose from:
Trolling reels are similar to baitcasting reels, though its line counter makes it unique. It's also usually used with a lead core line or downrigger, best for targeting muskies that are deep in the waters.
Baitcasting reels are my most recommended and ideal type, though this is better off for professionals. This is because baitcasting reels are heavy-duty and allow you to point and shoot easily. However, you'll need more skill and knowledge when using these.
Spinning reels are optimum for amateurs and beginners learning the ropes, but you have to make sure they are strong enough to handle large muskies. This is because spinning reels have unsound lines, which can slow your casting speed and affect the distance.
You may have also searched for the spincast reel, and while these are efficient, they aren't suitable for muskies because of the species' size and power.
With that in mind, it's best to choose between the spinning or baitcasting reel, based on your fishing skills and preference.
2. Heavy-Duty Drag System
The drag system is very important, and it isn't only dependent on the reel's gear ratio. Various aspects contribute to the drag of your reel, such as:
The reel's build and design
Its stability
Ball bearing strength
And many more!
The ideal musky reel should have the capacity to give a drag force between 15-25 pounds, though it's better to stick with at least 20 pounds. A drag capacity below 15 pounds won't be able to carry the weight of a big musky, as well as any fight and resistance it puts up when you hook it.
3. Excellent Construction
Your reel's durability is one of the most crucial features to watch out for, as you'll be fighting against heavy and large beasts! It's best to get a strong and robust reel that can handle muskies AND last for years of fishing.
That's why you shouldn't get any average reel, as those are meant for smaller fish species.
Invest in reels that come with features such as metallic bodies, stainless steel ball bearings, as well as stabilizing technology and extra protection with spool efficacy. I highly recommend that you get reels made of stainless steel or aluminum, both of which are rust and corrosion resistant and are durable to last.
4. Durable Ball Bearing System
The number of bearings will determine how smooth the reel operates, both during drag and when retrieving without fish. With a low number of bearings, the retrieval with being jumpy, which is bad when muskies can put strain as you reel it in. It can have your reel and drag lose its strength and cause the line to stall or snap.
It's best to get a gel that comes with at least five sealed ball bearings. Furthermore, you should invest in ball bearings that are protected and made with high-quality materials, preferably stainless steel. You can opt for the lightweight yes stronger and corrosion-resistant ceramic, but it makes the reel even more expensive!
5. The Gear Ratio
Reel gear ratios range between 4.6:1 to more than 8.1:1.
But what do those numbers mean?
The first digit shows the number of rotations your spool makes for every full turn of your reel handle. Meaning, a reel that has a gear ratio of 5:1 would have its spool rotate five times for every single complete turn of the handle.
The lower your reel's gear ratio is, the slower the reel retrieves. This equals to a higher torque power, with you putting less energy when retrieving bait.
When catching musky, it's best to have a gear ratio between 5:1 to 6:1, as they are large and powerful fish. This gear ratio allows you to drag them with precision and strength, which should be prioritized over retrieving them quickly.
6. Line Weight and Capacity
Another thing to consider is its line weight and capacity.
Muskies have different weights, ranging between 15-36 pounds, so you'll require a line weight that handles fish that large, including the pulling and stress.
It's best to have an 80-lb line to ensure that it's strong enough to handle large muskies. While people think 65-lb lines are fine, it's better to add a bit more weight to prevent it from breaking.
As for its capacity, it needs to handle at least 150 yards of the 80-lb test line. If you don't hold enough line, then it may not handle the running musky. They can run out your line, either causing it to snap or fray.
7. Line Retrieve Per Crank
The line retrieve is specified in inches, indicating how far you can retrieve the lien with one complete turn of your handle. This is also an important factor, so you know how much effort to exert as you retrieve your bait and land your hooked fish.
Since you should get a lower gear ratio, it's best to get a slow retrieval rate compared to the faster reels available. Note that this is tested using a full spool of line on your reel, so you'll need to keep your reel full to ensure consistency and the same feel for better casting and retrieval.
8. Are You Right or Left-Handed?
Of course, you want to be comfortable when handling your reel, which is why it's important to consider its weight and handedness.
Fortunately, most reels are adjustable and can be made for both left or right-handed anglers. However, there are a few reels made specifically for right OR left-handed, with the latter being a bit limited. It's still good to do your research to know if the reel suits your comfort so you can fish with ease.
Furthermore, you'll want a good balance of a light reel that's still durable. This lessens fatigue without compromising its lifespan and how it retrieves large muskies.
9. Price and Warranty
Last but not the least, you also have to consider your budget! Fortunately, you don't have to get the most expensive Musky reel, though I don't recommend you scrimp and get the cheapest one available.
It's much better to balance the price and value, ensuring that the reel is made of quality components that make it worth the investment. $40 to $70 are relatively cheap but still offer good quality for beginners, but if you want versatility and years of fishing the big ones, then it's best to go for reels that range between $100 to $200.
Besides that, look into the warranty and guarantees to get an even better value from the reel!
---
Best Musky Reels: Frequently Asked Questions
There is more to learn about reels made for catching muskies! Besides my top reviews and how to choose what suits you best, here are frequently asked questions to know more about using these reels:
1. What is musky fishing anyway?
Musky fishing, as the name suggests, is catching muskies in various bodies of freshwater using any fishing technique you prefer. Muskies are a species of large freshwater fish native to large rivers and lakes in North America. They are also known as the fish of ten thousand casts because of the effort it takes to catch it!
2. Are musky difficult to catch?
The Musky looks similar to a pike, predators that would quickly bite the prey and swallow them headfirst. They would eat any fish within their ecosystem, like the duck, frog, rat, or muskrat. Because of their power and size, some people think that they are difficult to catch.
Musky can be hard to catch but only when using low-quality equipment, especially with cheap reels that have smaller gear ratios.
3. When should I catch musky?
The best time of the day to catch Musky depends on the season and water temperature. It's best to catch them during the fall when Muskies are out any time throughout the day. But when the water temperatures reach the 50s, it's best to catch them during afternoons or early evenings when it's slightly sunny.
4. What other gear should I use for musky fishing?
Besides a high-quality reel made for catching muskies, you must have a strong rod, line, and tasty bait. It's also best to prepare a release tool, a jaw spreader, bolt and hook cutters, needle nose pliers, and gloves to protect your hands from the fish's sharp teeth! Also, some extras include a catch net, knife, and fishing vest for safety and convenience.
5. What rod and line capacity will I need for musky fishing?
It's best to prepare a long rod, about 9-feet or longer that's strong to throw large rubber baits and soft enough to work with glide and topwater baits. As for the line capacity, opt for more than 150 yards with a 65-100 pound test line for large and fast Muskies.
6. Can I get a cheap musky reel?
You can get a cheap musky reel, but it comes with a price- whether it's a lack of durability or performance. Because of this, you won't be able to catch as much musky as you'd expect, or any other fish for the matter.
7. Why is it important getting a high-quality reel for musky?
As mentioned, a cheap reel may end up costing you more money and fishing opportunities. That's why it's best to focus on getting a reel made with high-quality materials and components that protect your reel while making it strong enough to catch the heavyweight and powerful musky.
8. How can I take care of my musky reel?
Your fishing reel can last for years of catching musky, as long as it's cared for properly. Make sure that you keep your reel away fro sharp objects and dusty areas, having a cover for it and storing well when not in use. After using it, make sure that your wipe and clean the reel well, oiling it and allowing it to dry before storage.
9. Should I get a metallic or graphite reel?
As mentioned, you can choose different materials for your musky reel. A metallic reel is a great option for its durability and versatility, but it lacks in flexibility due to its heavier properties. Graphite is also a good option, but they aren't as durable, so you'll need to find out what factor most important based on your fishing technique.
Do you want to learn more about the best musky reels and how to use them properly? Check out this informative video:
Wrapping It Up
When catching muskies, you will need a lot of patience, power, skill, and of course, the right equipment. You'll need to get strong and powerful reels that give you the best chance of hailing in the big ones! As long as you have the right equipment, it increases your chances of a successful catch not just for muskies, but many big gamefish as well.
I hope that my purchasing guide on the best musky reels helped you out! So don't wait any longer and start making the right investments to prepare for the big catch now.