If you're fond of fishing in shallow waters, then you would fall in love with sight fishing!
What's sight fishing, anyway?
Basically, it's pretty much stalking a fish – checking out its every move and then trying to coax and lure it to bite your bait… Then, boom. Fish caught!
But it's not exactly as easy as it may sound. In fact, you would need the best polarized sunglasses for sight fishing to get the job done.
Looking at a fish closely as it swims in the water is not a quick and painless job when the sun is shining bright. Yes, it can be a pain for your eyes with all that glare.
This is why you need to invest in high-quality polarized sunglasses designed specifically for sight fishing to make sure you catch those squirmy buggers once and for all.
Lucky for you, that's what we are here for. Today, we'll talk about the 18 best polarized sunglasses specifically for sight fishing but can also be used for other outdoor activities – like hitting two birds with one stone!
Top 18 Best Polarized Sunglasses for Sight Fishing
Do you wish you could have a nice pair of sunglasses that offer ample coverage, durable, yet lightweight at the same time? If so, then the Flying Fisherman polarized sunglasses are perfect for you. It ticks all the boxes when it comes to practicality and functionality without compromising style and performance.
The Maverick is designed specifically with the fisherman in mind, as it has all the features needed by an average angler. It offers zero glare, scratch-resistance, and a sharp contrast to retain the natural color of the fish underwater. And yes, it is priced reasonably, too! You will love the unbeatable comfort and performance of this pair of sunglasses without breaking the bank.
Just one thing to note about this product, though – there is a logo placed on the sides. Fortunately, it should not be hard to remove these logos, so you can wear it as is – plain and simple. It is a classic pair of sunglasses that you will surely love and treasure for a long time.
Pros
100% protection from UVB and UVA rays
Polarized sunglasses and anti-glare
Lightweight and comfortable
Cons
Logos on the side
The frame is not all black
---
Don't you just wish you can have a reliable pair of sunglasses that is comfortable for use the whole day? Well, this is what the Costa Blackfin is for – it is lightweight and very comfortable for daily wear – no matter how many hours you have to keep it on.
These are high-clarity and impact-resistance sunglasses that are tough as nails but light as a feather – it would never weigh you down! Plus, with the 100% polarization function, you can count on it to give you ample protection from the glare and harmful UV rays at all times.
We definitely like the durability of these glasses. They look expensive but priced quite reasonably. One thing to note, however, is that the lens appears to be greenish-blue on the outside and a bit orange inside. Still, it does not impact its performance.
Pros
Nylon material for the frame keeps it lightweight and durable
Hand-made and designed to perfection
Perfect for harsh lighting
Cons
Has an orange color on the inside
The outer side of the lens is greenish-blue
---
Sight fishing is a tricky thing to do but it is nothing that these Oakley sunglasses cannot handle. This pair of sunglasses is undeniably clear and offers a razor-sharp vision to help you spot your target quickly and easily.
These glasses boast of a three-point fit that keeps the lenses held in perfect alignment. We also like the fact that the frame is lightweight and flexible, thanks to the injection-molded O-matter that's thermoplastic and durable. The last thing you have to worry about is your glasses breaking apart.
When it comes to the fit, Oakley sunglasses are hands down exceptional. The polarized lenses seem quite unreal as they give the colors a sharp and vivid appearance. You can absolutely wear these glasses on overcast days and even during well-lit situations.
Pros
High definition optics for superior clarity
Filters all UVC, UVB, and UVA
The plutonite material for the lens provides maximum comfort
Cons
A tad expensive
Check the fit to make sure it is not too loose or too tight on you
---
Imagine yourself wearing a distortion-free and clear pair of sunglasses that will help you locate your prized game easily. Now, put on the KastKing Skidaway and see that vision turned into reality. This is exactly what the Skidaway offers, which makes it one of the most durable, reliable, and highly comfortable fishing sunglasses.
The frame is crafted from the Grimalid material, which is commonly relied on for medical and military applications. The frames are flexible and lightweight, and you can expect it to be UV and heat-resistant. We also rave about the fact that the shape remains the same – no issue with it being bent or distorted.
But it is worth noting the fact that the inside part of the lens is yellow. It is okay in dim-light situations but if you are wearing your glasses in bright light, there may be issues with some odd glow right in your peripheral view.
Pros
Well protective of your eyes
The right amount of thickness for the lenses
Comes with a camofiber pouch for ease of storage and cleanup
Cons
The yellow inside of the lens can be distracting
Not designed for saltwater exposure
---
When out and about during fishing, the last thing you want is to deal with a pair of sunglasses that tend to fog up. Fortunately, this is never an issue with the Duduma, as it has a nice fog-resistant design that maintains the clarity of your vision.
These sunglasses are durable and stylish – you can wear them not only when fishing but also when you are motorcycling, climbing, skiing, running, and many others. The fit is also superb, and you will love how comfortable it is to your face.
Overall, we think these sunglasses are great for the price you pay. They do tend to smudge a little bit but you can simply wipe it off and it should be perfect once more. Just be careful when wiping the lenses to prevent scratches.
Pros
Ideal for all outdoor activities
Comfortable and secure fit
Stylish and functional
Cons
The paint on the frame tends to fade over time
Requires care when wiping the lens to prevent scratches
---
So you've got your sunglasses, but here's a question – are they resistant to scratches? Or is it easy to see some marks and lines on the lens after some time because it's too delicate? This should never be the case with the Maui Jim sunglasses. These are well-made polarized sunglasses made to last for a long time and protected from scratches and dents.
We are impressed with the thin glass material for the lenses, which keeps your vision clear and distortion-free. There are also flexible and lightweight frames that are flexible and resistant to the harmful rays of the sun.
The only thing worth pointing at about these sunglasses is that the lenses are not actually pure glass. You may notice some scratches on the exterior coating over time, as a result of some small objects hitting it. But other than that, everything else seems to work about these glasses.
Pros
Superior coverage even for the peripheral view
Thin, lightweight, and durable lens material
Grey-colored lens reduces light and glare
Cons
A little bit expensive
May be prone to scratches
---
Move over, bulky and hefty sunglasses. These polarized Hobie Cabo sunglasses are lightweight and well-made – just the way you want them. We like the sleek look of these glasses, so they do not seem to cover your entire face but only your eyes, which is exactly what sunglasses need to do.
These sunglasses are sporty and functional at the same time. There is a protective hydrophobic coating to it, which makes it easy to clean. If you want to wipe away grime and oil, it should be easy to do so with just one pass.
We would give these sunglasses a five-star rating except for the fact that the paint has a tendency to wear off over time. So you need to be careful when cleaning and wiping it to prevent this issue from happening in the future.
Pros
Hydrophobic coating for ease of cleaning
Prescription-ready lightweight lenses
Anti-reflective and protective coating
Cons
The lenses scratch quite easily
Requires great care as the paint fades over time
---
If you are a self-confessed fisholic (you are passionate about fishing), then these sunglasses are suitable for your needs. They are very well made and sturdy, so you can expect these to last for a long time. The lenses are not too dark, which means you can easily catch your prey after stalking them for a few minutes.
These glasses are easy to clean and hard to beat when it comes to the price. You can definitely rely on it not just for fishing but also for other outdoor activities. Great as a gift, this is the kind of sunglasses that is truly an investment for your money.
Be sure to check the size carefully to achieve the right fit you need. The lenses do work in protecting your eyes and making sure you can spot your fish well. With a 30-day guarantee, this is truly a risk-free item to purchase.
Pros
Comes with a hard case and cleaning pouch
100% UV 400 protection
Great for all outdoor activities
Cons
May be a bit too big for some users
Feels a little flimsy
---
Offering superior magnifying power, these polarized sunglasses are one of the best you can find today. We like how durable these glasses are, and they provide excellent UVB and UVA protection to eliminate glare and retain clarity of your vision.
The quality is great for the price you pay. Coverage is also the best for these glasses, and you can count on these to provide your eyes with the protection they need. There are also no bubbles or distortion to your view, making it suitable for fishing and other outdoor activities.
Keep in mind that the polarization is not vertical but 45 degrees. This is not in itself a bad thing but it does require you to tilt your head when you are checking your phone. The price is also a little steep but worth every dollar you pay.
Pros
Great coverage
Outstanding protection to your eyes
Reliable and durable for your everyday use
Cons
Slightly expensive price
Not vertical polarization design
---
Another brand of polarized sunglasses we love that is perfect for sight fishing is this one from Sungait. We like the metal frame, which is very strong yet surprisingly lightweight and comfortable. The color of the lenses and frames are also stylish, and you can choose from several color combinations.
We are very much pleased with the price point of these glasses as they are cheap. However, the quality is not compromised because it remains excellent and worth your dollar. There are also add-ons to your purchase including a case and a soft cleaning cloth.
Sometimes, the nose bridge tends to dig a little bit. But you can solve this problem by simply adjusting your glasses, and they should be perfect once more. Make it a point to choose the right fit for you since the problem with comfort lies in a poor choice of size.
Pros
HD polarized 100% protection from harmful sun's rays
Stylish color combinations
Easy to clean lenses
Cons
Looks cheap
The fit can be a bit of an issue for some users
---
Just because you're buying a pair of polarized sunglasses for fishing, it does not mean that you should only buy one for that purpose. For instance, these sunglasses are highly versatile as you can rely on these not only for use during fishing but also when out and about – cycling, skiing, trekking, running, and many more.
These are very comfortable glasses that are perfect for everyday use and for long hours. You can count on these glasses to give you the comfort you need as there is zero glare to worry about. The color is restored, which allows you to have a crisp and undistorted view of your prized target.
The build is excellent. There are rubber inserts to the metal sides, so these glasses are highly comfortable. But do keep in mind that it does not have a wrap-around-the-head design, so that is something you might look into if this is a concern for you.
Pros
Excellent build with sturdy materials
Comfortable and flexible frame
Versatile and good to wear for various outdoor activities
Cons
The design is not wrap-around-the head
Can be a bit too small for some people
---
When you need a good pair of fishing sunglasses that offer you a natural vision and perfectly clear, this product fits the bill. You can expect these glasses to give you an undistorted and superbly clear and crisp view of your subject at all times. It is definitely stylish and practical – a true value for your money.
Unlike other lenses made of plastic, this one does not scratch too easily. There is also a polarized design to it, which makes it virtually glare-free. You do not have to worry about headaches and eye strain caused by glare.
And since the vision remains natural, you should be able to spot your target right away – no issue with the color contrast lacking crispness. But just take note that the visible light absorbed is only 85%. It does not absorb 100% of harmful rays, unlike other brands. Nevertheless, this product still does a good job in protecting your eyes.
Pros
Crisp and clear vision
Zero glare and distortion
Sport and fishing eyewear
Cons
Does not offer 100% blocking of blue light
Has a flimsy feel to it
---
What we like about these polarized sunglasses is the fact that there are not one but three lenses that you can interchange to match your preference. The protective coating is highly effective in blocking out harmful UVB and UVA rays.
These glasses help maintain the actual color of images, and they also remove the reflected and scattered light perfectly well. With a superlight and durable frame that comes with a rimless design, it is definitely reliable for various activities.
Just one thing worth mentioning about this product is that your hair can get snagged at times. The lenses can also be a bit tricky to change up but they do work for the purpose they serve, so they are a good addition to these glasses.
Pros
A breeze to clean
Provides great blockage from the sun
Does not fog up
Cons
Hair tends to get snagged easily
The lenses can be quite fickle to change
---
Sometimes it can be difficult to buy polarized sunglasses depending on the size of your head. This is an issue encountered by some buyers, so they found this product an excellent solution to their needs. Since this is specifically designed for people with big or medium heads, it fits just right on them.
These glasses also come with outstanding UV protection. For instance, there is a guaranteed 100% protection for UVA and UVB for a maximum of 400nm. This helps minimize eye fatigue for users.
We also like the fact that these glasses come with soft and comfortable nose pads. This portion is adjustable, so there is no problem at all with ensuring the right fit and support for your face shape. These are cheap glasses but luckily, they do not feel or look cheap at all.
Pros
100% UVA and UVB protection
Comfortable and supportive
Guaranteed to fit medium to big heads
Cons
May feel a little flimsy to some
Suitable only for a larger fit
---
For a reliable pair of sunglasses that shield the harmful sun's rays, you can expect this product to meet your needs just fine. These sunglasses are stress-resistant and unbreakable, which means it should be able to last for a long time.
We are very well pleased with the fact that these glasses are lightweight. You should not have to deal with fatigue when you wear them because they are comfortable. The polarized design is also responsible for minimizing haze and glare for clarity of vision.
Just be sure that if you decide to return the product for whatever reason, it needs to meet the policy stated by the manufacturer. Otherwise, it will not be honored for exchange or repair. Other than that, everything else about this product works quite well.
Pros
Offers superior eye protection
Comfortable and shields harmful UV rays
Zero glare and anti-haze
Cons
Limited design
A little pricey for the quality
---
Durable, stylish and practical, the RUNCL sunglasses are a true value for your dollar. These are rugged sunglasses, so you can expect them to maintain their superior quality including the color and coating for a long time. With supportive injected hinges, these are definitely reliable and built to last.
The wrap-style of the frame makes sure that these glasses will fit you perfectly. The design also keeps the sunglasses in place while offering optimum coverage. Plus, with a polarized lens, these glasses are truly effective in blocking intense sunlight and glare.
It is also worth noting that these glasses have interchangeable lens. You may have to read instructions to be able to install them correctly. Also, some people note the fact that lenses tend to scratch easily.
Pros
Comfort-fit wrap style frame
Polarized lens offers optimum protection
Interchangeable lens for maximum versatility
Cons
A little hard to install the interchangeable lenses
Needs extra care as the lenses scratch easily
---
Finding a suitable pair of sunglasses can be tricky. But thanks to this product, you will love how easy it is to put in on and keep it off. These sunglasses come with a sporty style and the so-called "humanized design". This is why you can ensure the right fit on your head and ear.
If you want to hike, drive, climb, trek, and fish – and any other outdoor activity – you will find these glasses suitable to meet your needs.
Just one thing we would like to mention about these glasses – they are a little smaller for some people who have larger heads. So be sure to check the dimensions before you go ahead and purchase this item.
Pros
Versatile and great for various outdoor activities
Supportive and comfortable fit
Offers a non-glare design
Cons
Small for some people who have larger heads
Does not come with many designs
---
Last but not least, we have these well-made and stylish sunglasses for fishing and other outdoor activities. This is made of synthetic materials, yet built to last for a long time. The composite lens is also durable and scratch-resistant.
With a lightweight frame, you should not have any problem with comfort and support. Even if you have to wear these sunglasses for hours, it should not be a problem at all because of the elastic and lightweight design for the frame.
We do like to mention that the fit is not exactly the best for some people. There is not enough arch around the ears, which may not meet the preference of some users.
Pros
Comfortable for long hours of use
Supportive design
Lightweight and durable frame
Cons
Could use more lift on the arch around the ear section
The fit is not quite perfect
---
Buying Guide for Polarized Sunglasses for Sight Fishing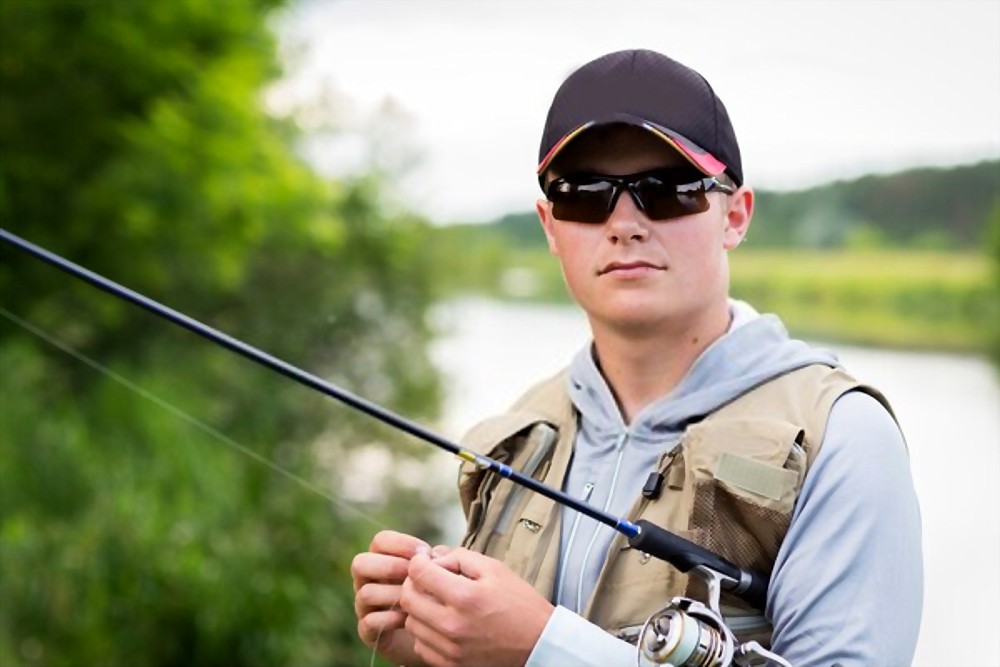 Now you know about the best polarized sunglasses for fishing, specifically sight fishing. The next question is – what should you look for when buying the perfect pair of sunglasses for this purpose?
What exactly do you need to check out about the frame, the lenses, and other parts and functionalities of the sunglasses?
We take a look at these key features that make the finest sight fishing sunglasses to buy for a great value for your money.
1. Frame Design
There are sunglasses with a wrap-around-the-head design while others do not have this feature. If you prefer one that has more support, then something that firmly wraps around your head works better.
You also want to make sure that the frame supports the lenses perfectly well. They should stay in place and not wobble to prevent any issue with durability. Then, there is coverage that you need to think about. With a solid frame design, you can also expect the coverage to be solid to prevent glare to your eyes.
2. Sunglass Coverage
Speaking of coverage, when sight fishing, you need to keep in mind that the greater the coverage the better. There are those that come with an 8-base design for the frame, which is great. This means that the temples are a little thicker than usual, which prevents debris, sunlight, and wind from getting into your eyes.
You will also love the fact that you will hardly know you are wearing sunglasses for maximum comfort. But just be sure that your sunglasses stay in place to prevent you from having to adjust them from time to time.
3. Materials
Next thing you need to check is the materials. What are your sunglasses made of? Is the material used durable, rust-resistant, scratch-resistant, and so on? These are important things to think about when shopping for a pair.
For instance, metal is great in terms of durability but you also want to be sure it is not prone to corrosion? This is why you are better off with nylon that retains its shape and will not corrode or rust easily.
Another good thing about nylon is that it is lightweight. This material can also hold up well to heat and extreme cold, and you will not have to worry about your glasses getting out of shape.
Frequently Asked Questions
How do I ensure the best fit for my sunglasses?
First, check the size of the sunglasses. Are they designed for large, medium, or smaller heads?
You also want to make sure the fit or grip along the nose bridge and temples are great. There should not be a tight and uncomfortable tug right on the line. This way, you can be sure your sunglasses will remain perfect in terms of giving you the support and comfort you need.
What is the best lens technology for sight fishing sunglasses?
Naturally, you want your sunglasses to be polarized. This way, any harmful rays from the sun are filtered out. This also helps retain optical clarity and undistorted vision, which both help in allowing you to catch fish efficiently.
Conclusion
It may seem challenging and overwhelming to buy the best polarized sunglasses for sight fishing considering numerous products and options available.
But after learning more about the top ones out there, you will never make a mistake of buying the wrong pair that is not suitable for the amount of money you pay.
We hope we were able to help you make a practical decision of the right item to purchase that will truly give you total satisfaction and zero regrets.