We get it – you want to double or maybe even triple your catch.
And just like every pro angler, you need to use the perfect tool to make it happen.
The best side imaging fish finder makes angling not just fun but quite rewarding, too. It's what you need to figure out where exactly your game is hiding – and fast!
But with so many brands out there pretty much claiming the same thing (the best, the most accurate, the easiest to use, etc), how can you possibly choose?
Finding the perfect side imaging fish is definitely not a walk in the park. And the last thing you want is to make quite an expensive mistake…
But fret not – we got you covered.
We have personally tried and tested a number of side imaging fish finders and came up with one consensus – only 7 out of the many ones we've used met our standards.
So if you are hoping to up your game in the angling department and want to get things right the first time, all the time, you should check out these 7 top-performing side imaging fish finders. They absolutely rocked our world, and I bet you'd agree after getting your paws on these geniuses.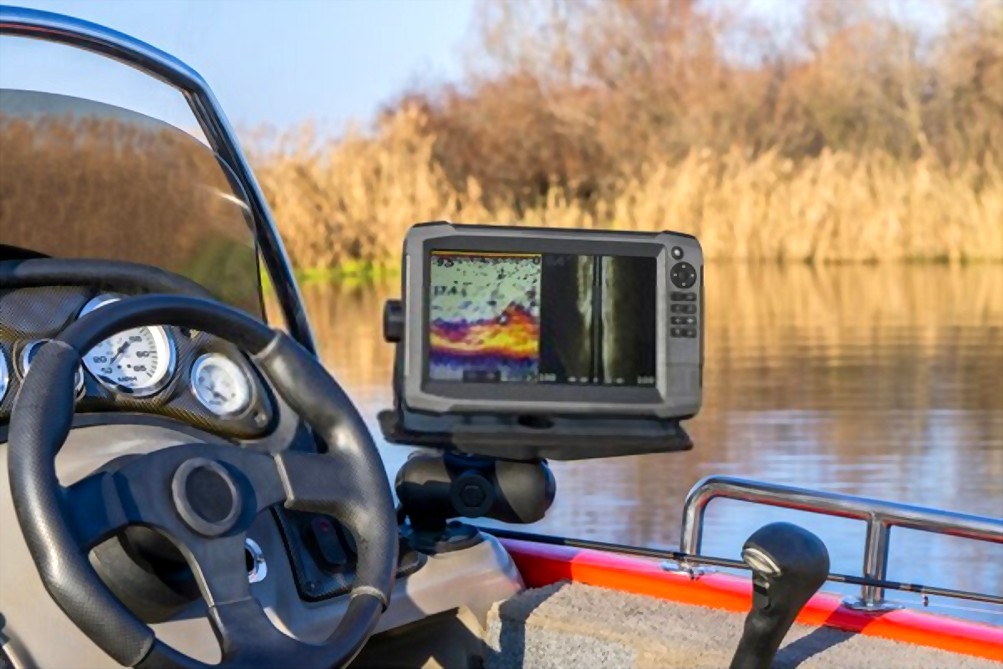 Quick Comparison: Top Side Imaging Fish Finders
**Below, you'll find our more detailed reviews, but you can also click the links above to see current prices or read customer reviews on Amazon.
Top 7 Best Side Imaging Fish Finders
Forget the complications; You just want a sonar that's clean, sleek, and do what it's supposed to. Sure, there are no bells and whistles to the 7SV but it just does not need any – its simplicity is what caught our eyes and got us nodding in approval.
With a keyed interface equipped with dedicated buttons, the 7SV is a breeze to install and use. Everything else is elementary with this unit, and we are very pleased. But that's not all that won our hearts. This handy little unit is super accurate and gives you very detailed images and representations of the marine life underneath your boat and beyond.
It features a chirp sonar, and this is the magic bullet to creating crisper, clearer fish arches with outstanding target separation. And with a built-in flasher, you can find this feature quite handy when you're doing vertical jigging or ice fishing.
Pros
Clear scanning for near-photographic views of fish and structure underwater
Chirp sonar offers superb information
Way point map offers ease of viewing and navigation
Built-in flasher works great for vertical jigging and ice fishing
Cons
The cords tend to unplug easily because of the loose fit
Could use a longer cord
---
You've heard of the 7SV by Garmin that we've featured earlier. Now this one is a bit of an upgrade with some cool add-ons to make your angling experience much more efficient. It's a transducer with the chirp sonar, "ClearVu" and the "SideVu" for optimal precision.
This unit has Quickdraw Contours, which is essentially a mapping software that allows you to create and save your maps with 1 to 2,000,000 acres. The resolution is quite impressive at 800 x 480, so the images remain sharp and crisp. Plus, with a GPS built right into the unit, you can easily mark your waypoints, monitor the boat speed and create routes on the fly.
We particularly love the display, which measures 7 inches. The interface is pretty intuitive and user-friendly, too, so that's another plus point. And there's zero glare when you check your display – even when you are under direct sunlight.
Pros
State-of-the-art side imaging fish finder
Includes a Wi-Fi access to a special app for receiving smart notifications
Readable and clear display
Capability to create and save your maps
Cons
May not be too efficient when used in the farther depths of the water
A bit pricey
---
Every angler only wants one thing – to keep getting better at the art of catching fish. This is why if you like nothing but precision, accuracy, and zero guesswork, the Helix 5 can get the job done for you. It allows you to track fish to make sure you bring home a hefty prize each time – no ifs, no buts.
This scanner has what it takes when it comes to giving you the results you need. For instance, the widescreen display is readable and has color to give you a true-to-life image of the fish. Other features we like about this product include the down imaging to let you see things underneath your boat clearly, a built-in basemap, live auto-chart for creating maps in real-time, and the chirp sonar.
If you are hoping to get better at fishing but without having to deal with too many devices, this product ticks all of the boxes perfectly. It works according to its claims and installs fast and easily.
Pros
Enhanced accuracy in finding fish
Quick and hassle-free installation
Built-in basemap and autochart live
Decent length of cables
Cons
The power button is a bit hard to deal with
You need to hold the power button down to turn the unit on
---
We know you're looking for a side imaging fish finder but what if you can get that exact feature you need… And more? This is exactly what the Helix 7 does, and we are thoroughly impressed with what it does for the price you pay.
This unit comes with a clear and readable 7-inch display with a decent resolution color of 800H x 480V for easy viewing. Speaking of viewing, it lets you see what's happening down your boat and on the side up to 125 feet (bottom and sides). There is a mounting hardware and transducer included, as well as a gimbal mounting bracket and power cable, so it's ready to go.
There is no doubt that this unit does what it's supposed to. The side imaging is mind-blowing and clearly shows what is virtually impossible to see with your naked eye. It's a little too big and bulky, though, but if this is your preference, there's nothing wrong at all with its size.
Pros
Superb side and down imaging up to 125 feet
Fully equipped package
Includes a Navionics SD card that covers more than 21k water bodies and lakes
Clear and readable display
Cons
A little too big for some people
May be a bit bulky
---
When it comes to innovation and practicality, the Helix 5 SI is just what fits the bill. You can count on this unit to enhance your fishing experience and get yourself a couple of nice big catches – or more – efficiently! This brand is one of the leading ones when it comes to fish finders, as well as GPS systems and depth sounders for angling.
This is hands down one of the best side imaging fish finders on the planet today. It works as expected, so you can get your money's worth. It offers accurate information you need to determine the structures and objects underneath and on the sides of your boat, in addition to the fish and other marine creatures.
Overall, this product gets the job done. It would be practical to get yourself a ram mount as an add-on because the base fails to rotate right or left. A mount would be useful to prevent glare from the sun since you don't want to be limited with the way you can flip the unit.
Pros
Innovative and high-tech sonar
Ideal for beginner and pro anglers
Clear images and detailed information
Easy to use and install
Cons
Could use a ram mount for ease of rotating the base
May cause some glare issues because of the limitation in the way you can flip the unit
---
Forget those cheap and inefficient sonars. The Lowrance does what it's supposed to – and more. This fishfinder is one of the most advanced when it comes to technology and features. For instance, it allows you to view the chirp sonar effortlessly using the StructureScan HD or 3D for optimal view of fish and what's underneath or on the sides of your vessel.
This unit comes with a built-in GPS antenna, allowing you to receive accurate trails and exceptional position perfection. There is also a live network sonar for getting a clearer image of the water, and so on. With a color sonar, visibility is excellent for maximum precision.
It is hands down one of the smartest fishfinders out there. The clarity and speed you can expect from this unit are just unbelievable. You can easily rely on this tool to give you that competitive edge above the rest.
Pros
Complete and innovative fishfinder
Efficient touchscreen display
Crystal clear images all the time
Effortless to install and easy to use
Cons
A pricey fishfinder but superb quality
May be a little overwhelming to use for a newbie angler
---
If what you need is more than a fishfinder but also one that you can use for plotting charts, then you can never go wrong with this product. It does exactly what you need, along with some cool add-ons that are worth every dollar you pay. This full-featured fishfinder and chartplotter offer excellent cartography support including CMAP, Navionics, and Insight, among a few others.
The display is outstanding at 7 inches. It even has a brilliant LED backlight for ease of use during dim-light situations. Imaging is always in HD as you please, and the built-in Wi-Fi lets you access the apps anytime and anywhere.
We think that it can be a little hard to set up for first-timers but once you get it going, it pretty much does the job. Sure, it is not at all a big name (yet) but we are surprised to know how efficient it works. It definitely can compete with bigger brands but without the extra buck.
Pros
Full-featured and responsive chartplotter
Large and readable display
Built-in Wi-Fi accessibility
Multi-touch, user-friendly interface
Cons
Looks a little flimsy
Some instances of depth loss concerns
---
Buying Guide for the Best Side Imaging Fish Finder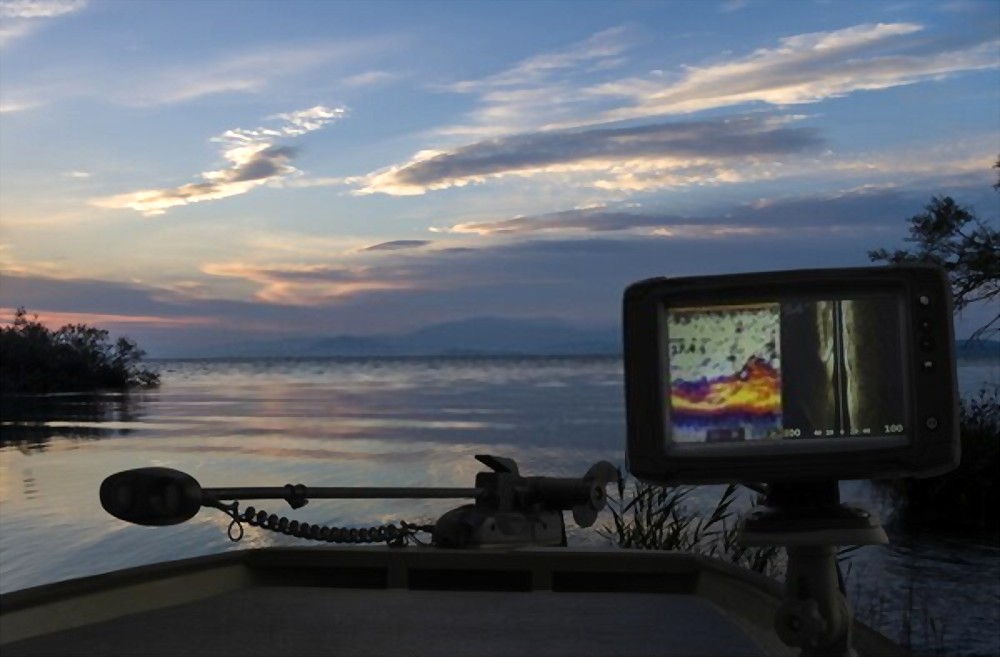 You have just read about 7 of the top-rated side imaging fish finders in stores today. But yes, we get it – it's still a little tricky getting one unless you know exactly what you're looking for, right?
It's important that you know not just the best-selling scanners out there but also the specs you need to be checking out to spare yourself from expensive mistakes. And basically to point yourself to the right direction and make sure what you buy is absolutely worth it.
This is why we present to you these must-have features in a side-imaging fish finder and why they matter.
1. Transducer
You should definitely go for a unit that comes with a transducer. Basically, this helps you achieve better accuracy of your findings for greater efficiency. If it only includes a transom transducer, it surely will not hurt to have it replaced with a through-hull transducer if this works best to your interest.
2. Side Imaging and Down Imaging
Having one is good but both are even better!
Side imaging is a huge plus point because you can find yourself more fish. Other sonars have add-ons and a load of other features, which at first you might think are not even essential.
For instance, if you are used to fishing on the same lakes, then you probably know what to expect already in these parts of the water. Fancy maps and high-tech GPS may no longer serve any purpose to you, and these add-ons also rack up the overall cost of your sonar.
So you need to carefully look into what the unit actually has and whether you actually need them or not. You don't want to end up buying one with cool upgrades when all you really need is the basic function and nothing else.
3. Price
Naturally, you can find a wide range of sonars out there with different brands and features telling you they're the best. But you see, here's the bottom line – you are only limited by what you are willing to spend.
In the end, it all boils down to how much you want to pay for sonar, and no amount of cool features can change your mind.
Quite frankly, this type of tech is not at all cheap. But you can certainly find one that caters more to your budget if you just look carefully and forego the features you don't really need.
Do you really have to get a unit with a widescreen? Or does it really need to be a big and bulky unit?
You need to look into these features and ask yourself what you really require for your angling trip. There are units that go as high as $1000+ while others may be half the price or even less. Just take note that high-end ones also come with more lavish features for navigation and the like, but it may be quite a stretch for your budget.
On the other hand, cheaper units may be easier on the pocket but with compromised results. It may barely do what you really need, which ends up to be an expensive mistake in the long run.
So be sure to check carefully what the unit has to offer. If it has a decent screen, side imaging scanning, then that's good enough. A wider screen, though, is better when you want a longer stretch for the side view, but it can also be pricey.
But it is safe to say that a complete unit should be under $1000, which is not bad at all, in comparison with having to buy another tech separately.
---
Frequently Asked Questions on the Best Side Imaging Fish Finder
How does a side imaging fishfinder work?
This unit has a special kind of a transducer, as well as a couple of sonar beams for both sides of your boat. These beams can cover a few hundred feet on both sides, and the images that appear on your screen provide you information on the structures and fish in these areas.
At first, it may be a little tricky to understand for first-time users. But basically, there is an image shown whether in 2D or sometimes 3D. The items displayed in dark bands tend to be suspended under the boat on either right or left, allowing you to determine if there's fish nearby.
Usually, you can see fish images on these units as either elliptical shapes or white dots. There are also those that tend to cast shadows, which could easily mean they are above the bottom of the water. When the shadow is cast farther, the fish could be in the higher water column.
Why do you need a sonar?
With a side imaging fish finder, you should be able to spot more fish in comparison with conventional sonar.
You can rely on your fishfinder to give you more details and images that you will never be able to get when you just use a basic sonar. For instance, having a fish finder with a special split-screen feature allows you to observe both sides of the boat. This is something you can never see in a standard unit.
Another thing that is great about this unit is that you will be able to scan and check the water from one side of the boat to another. This means you can spot the fish and where exactly it is in relation to the vessel. If you are just starting out in angling, you will find it more convenient to place your bait at the right spot each time for fewer errors.
As a result, you can expect the fish to bite the bait almost all the time you put it at the right place
What coverage can you expect from a side imaging sonar?
Best of all, a side imaging sonar can cover a wide area of water. It is not just what is underneath your boat but on the side, too. In fact, you can even expect the side imaging sonar to reach farther out and easily detect various areas for you. It's that simple!
With a side imaging technology, you can determine what's the difference between the fish and structure as displayed in the unit. A traditional sonar may display a sunken tree branch and make it appear like a fish. But this is nothing to expect from the side imaging sonar. The clarity is just so impressive, it is almost like a shortcut to fishing – even when you're just getting started!
Conclusion
There are indeed so many benefits to using a side imaging sonar than you can imagine.
This is why we recommend that you look closely at our featured items in this post, check out our buying guide and frequently asked questions, and you have all the help you need in finding the perfect item for angling.
With a highly reliable side imaging fish finder, no fish can ever escape from you each time – and you will feel more confident about your skills the more you go out there and use this handy tool to help you out.