If you're planning to start fishing, then you might want to consider targeting the striper, or striped bass. These are one of the most temperamental fish species you can chase, with both beginners and advanced anglers loving the chase. To outsmart them and catch a few of these bad boys successfully, you have to invest in the right gear, starting with the best striper fishing rods.
But with the many options available, which is the most suitable one for you? Read on as I show you my ultimate purchasing guide on the best striper fishing rods!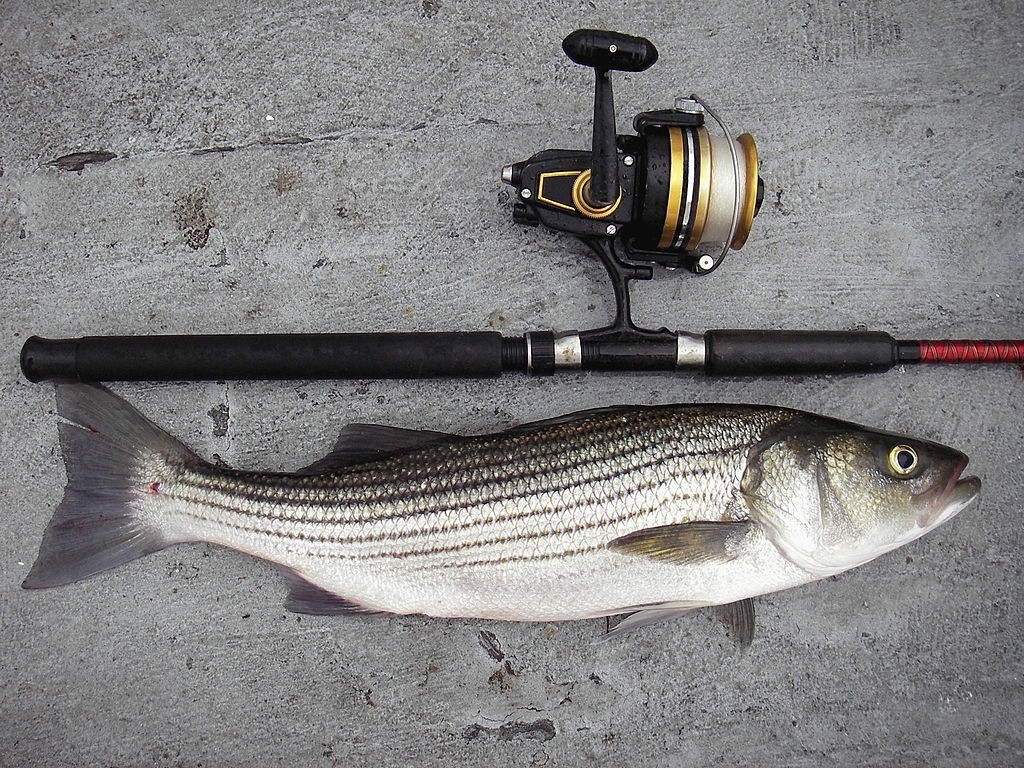 Quick Comparison: Top Striper Fishing Rods
**Below, you'll find our more detailed reviews, but you can also click the links above to see current prices or read customer reviews on Amazon.
The 10 Best Striper Fishing Rods
I'll be mentioning how to select striper fishing rods in the next section, but beforehand, look into these ten best striper fishing rods to help narrow down your options:
One of my favorites is the Ugly Stik Elite Spinning Fishing Rod, which comes from a reputable brand name. It's an efficient and trusty rod known for its strength and durability, featuring a Clear Tip design for extra power in areas you need it.
It's also built with a unique Ugly Tech Construction, having the lightweight graphite for good weight and more sensitivity, as well as the one-piece stainless steel guides for a longer lifespan. While you'll need to take greater care for it when traveling since it isn't compact like a two-piece rod, it does an excellent job when aiming for stripers.
You can feel every bite and won't have trouble trying to land bigger stripers and other fish species, as long as you use the right technique. Overall, this is a great choice if you're eyeing sensitivity and a rod to last for many fishing seasons to come.
Pros
Lightweight yet durable with its better-quality graphite
Can handle large and heavy stripers with ease
Increased sensitivity so bites are easily detected
Cons
Some complaints about the rod not matching braided lines
Has a stiffer spine and some people may feel off-balanced
---
EatMyTackle is another good option if you want more power in your cast. This is a 7-foot rod, allowing you a farther cast with its length and construction. It's made with a strong fiberglass base with plastic fittings, and while that may not be the strongest combination, it still does the job well done.
What makes this one of my top reviewed striper fishing rods is its compactness. I like that this two-piece fishing rod isn't only easy to use, but it's great for traveling with as well. It breaks down easily for storage, so you can fit it in your car or save space at home.
With that in mind, I do believe that with its construction, it's best made for beginners or those who are still learning the ropes and like to travel a lot.
Pros
Two-piece construction for easier storage and traveling
The rod has a longer length for farther casting
Suitable for beginners and lasts long for its materials
Cons
Made with fiberglass and plastic, so questionable durability
A bit on the heavier side compared to graphite rods
---
Okuma is a well-known brand popular for its high-quality fishing rod, with the Rockaway Carbon Saltwater Surf Rod being no exception. This is a medium-action rod that can take up to 10-20 pounds of weight, more than enough for your average striper. Furthermore, it is also at an optimum length for surf fishing, where you need to make longer casts.
I highly appreciate that the surf rod is also very lightweight, and while not as strong compared to other rods, it still does the job in providing enough power for stripers. It also has the rod tip technology to give you a good flex and balance as you wait for stripers and their bites!
Overall, I believe that while this is great for long days of fishing with comfort, do be wary about its durability. As long as you care for it correctly, it can last long for the shore.
Pros
Unique rod tip technology to improve its balance
The lightweight feel and non-slip surface for comfort
Very long length to cast farther distances for surf fishing
Cons
It may not be as durable compared to other fishing rods
Requires more care and maintenance to last long
---
The Daiwa Travel Spinning Rod is the ultimate rod for those who are always on-the-go. It's a bit on the average to the pricier range, but it's worth the investment, as it is made with Daiwa's unique and exclusive High Volume Fiber graphite construction, giving you the optimum balance of a light feel with more strength and flexibility.
Its X45 Bias graphite construction also helps give a zero blank twist to your line as you handle it and take your cast. Furthermore, its multi-piece travel design is easy to assemble and reassemble for efficient traveling and storage. Yet compared to other two-piece rods, it feels like a one-piece and doesn't break under pressure!
For its medium power and fast action made to handle aggressive stripers, I believe it's worth the extra bucks. But, be sure to double-check its reel screw for retightening as needed!
Pros
Multi-piece construction but still feels like a one-piece rod
Unique materials that offer a light weight, strength, and flexibility
Comes with strong joint systems and guides for further casting
Cons
It has a slightly more expensive price
The reel screw feels cheap
---
Are you out to aim for larger stripers or the big one? Then you're going to need the SHIMANO TREVALA Spinning Rod. This spinning rod is part of the brand's Trevala Jigging rod series, where it works best with high speed and high power reels to match its excellent strength.
It has a high carbon butt section and a TC4 tip, giving you less weight but better sensitivity. It also has a quicker recovery rate and will respond better, so you can feel every bite to catch and reel in stripers efficiently.
Besides this, I admire that the SHIMANO uses only the strongest materials, having Fuji aluminum oxide guides, soft EVA foam grips, as well as the strong carbon metal that stays light yet durable.
Made for the heavy stuff, intermediate to advanced anglers will love this for more than just stripers!
Pros
Comfortable EVA foam rubber grips and lighter feel for hours of fishing
Increased sensitivity and response time to reel in fighting stripers
Extra protection for smaller parts to ensure its longevity
Cons
Some complaints about the second line ring
The guides may feel a bit flimsy at first
---
Another popular brand goes out to the Sougayilang, which I trust for their excellent rods and reels. The Spinning Telescopic Fishing Rod is a great choice under their many models if you plan to fish for stripers, as they are made with 24-ton carbon fiber and e-glass, having the composite construction to get a mix of strength and sensitivity.
Besides its better performance with its construction, it also feels lighter and more balanced, so you feel less fatigued even as you spend hours waiting for a bite. As for its entire body, the parts are made with CNC machined aluminum, stainless steel, and comfortable rubber for its handles to add to its durability, performance, and comfort. You get the best of all worlds to catch stripers weighing between 5-10 pounds.
While it may not be suitable for larger stripers or fish species, you can land the small to average stripers just fine, making it suitable for novice anglers, or advanced anglers looking for a high-quality rod for smaller species.
Pros
Increased sensitivity and balance to keep you comfortable
High-quality materials to last for a long time
Two-piece construction good for traveling
Cons
Made best for smaller species, difficult to handle heavy stripers
The handle may be too large for some people
---
I recommend the Fiblink Surf Spinning Fishing Rod if you're on a budget but need something reliable. The rod is made of carbon fiber, with a design suitable for boat fishing. I like that it comes in longer lengths to make casting to the deep waters much easier, though it's a 4-piece construction, so be wary in assembly and caring for it as you bend the rod.
With that in mind, it does perform smoothly, and while it isn't exactly the one-piece feel, it still performs excellently, with stainless steel and ceramic guide to prevent lines sticking in lines and minimizing friction for buttery long casts. It also has better sensitivity, so you can feel bites with the vibrations moving from the line to your hand!
Don't expect stellar results, it will still feel like a 4-piece rod that won't last as long as higher-priced ones. But with proper care, it can last a decent amount of time even as you aim for heavy stripers.
Pros
Built for smoother and longer casts with its length
Comes at a more affordable price for all types of anglers
Sturdy yet sensitive rod to feel even slight bites
Cons
It may not be as durable compared to other rods
4-piece construction may be hard to assemble or disassemble
---
The PLUSINNO Fishing Rod and Reel Combo is another great buy for those who are on a budget, though this is made best for beginners with its construction and design. This comes as a combo, including a rod and reel for starters to lessen the hassle of finding separate gear that matches one another.
However, the PLUSINNO still doesn't scrimp on its materials, as it's made with 24-ton carbon for its frame, CNC machined aluminum base, and SuperPolymer handles, which is slip-resistant, strong, and providing good control.
With its convenient rod setup and adequate length and bearings for the quick and powerful retrieve, I believe beginner and intermediate anglers will enjoy long fishing days with this combo.
Pros
Very affordable rod and reel combo to begin your rod setup
Multi-piece rod for convenient storage and traveling
Strong enough to last long when catching average stripers
Cons
More suitable for beginners and less intense fishing conditions
The durability is questionable with flimsy eyelets
---
The St. Croix Triumph Surf Spinning Rod may come at a more expensive price, but if you have the budget, then you'll enjoy its amazing construction and buttery smooth casting. It's made with a premium SCII graphite construction made for anglers, a mid-modulus graphite fiber that has a higher strain rate for it to last for years of intense fishing seasons.
The 7-foot long rod has moderately fast action and can handle up to 17 pounds, more than enough to catch any kind of striper. With its consistent operation and lighter feel for extra comfort, I can say it's a great buy for any kind of angler, regardless of your skill level. Just make sure to care for it well to prevent any damage, as the warranty is a bit confusing!
Pros
Great value for anglers of all skill levels, made with premium materials
Suitable for all types of stripers with fast action and more power
The rod construction is sensitive and well-balanced to feel every bite
Cons
Complaints about the warranty policies and customer service
The action may be a bit stiff for some anglers
---
Last but not least, we have the Zebco 33 Spincast Reel, one of the stronger ones made suitable for reliability and versatility. I appreciate that it has the changeable retrieve, so you're able to use it with both your left and right hand. It's very comfortable to use, and reliable with its heavy-duty materials.
The rod is made of lightweight graphite with a metal handle and grip-able rubber knobs, with a 3.6:1 retrieve ratio and a ball-bearing drive, giving you a sweet spot in a quick retrieve but is still strong enough to keep your line strong as you fight off aggressive fish.
I also like the fact that this 6-foot fishing rod offers medium action power and light feel, as well as the comfortable EVA handle so you can fish for longer hours without risk of fatigue.
If you're focusing more on comfort and durability, then this fishing rod is for you.
Pros
Made with durable and reliable materials to last longer
Comfortable with its changeable retrieve and EVA handles
Two-piece construction to travel easily
Cons
The bite alert doesn't activate sometimes
The line that comes with it easily tangles
---
How to Buy the Best Striper Fishing Rods
Besides the reviews, you also have to look into the specific factors to consider to help you choose the one for you. To further help you, research and study these features and specifications when getting a quality fishing rod:
What Kind of Striper Rods?
There are different striper rods to choose from, they aren't all similar, as most stripers can be caught using different rod types. The fishing rod you choose depends on your personal preference and skill level you have. Here are the most commonly used fishing rods for stripers:
Spinning rods are used with spinning reels, coming in different shapes and sizes, but are a bit shorter and more flexible compared to the casting rod. They are made more for smooth and long casts on fresh and saltwater.
Baitcasting rods are a good choice for anglers who have more experience in fishing, matched with a baitcasting reel. This takes some skill to master, and when used properly, it provides excellent power and control as you reel in large stripers.
Trolling rods aren't as commonly used for stripers, but they are popularly used for offshore ocean and freshwater. They are heavy-duty and can handle any size of fish.
There are also other rods like ice fishing or fly rods, though these aren't as popular or commonly used when fishing for stripers.
Take account of your skill levels, using something for beginners if you just started, or something more for your advanced skillset. Have a feel of the rod and see if you're able to use it effortlessly for comfort and without confusion.
Freshwater or Saltwater
Another thing to consider is whether you get a fishing rod made with materials for fresh or saltwater. Each has its own differences, with saltwater rods being heavier-duty than those for freshwater, having more protective elements to fight off the salt.
However, take note that stripers are around both fresh and saltwater, so it's best to spend the extra bucks getting a rod made for both. This is because freshwater rods rust, break, and may wear out quickly when exposed to saltwater and harsh conditions.
Length
When investing in a striper rod, it's best to get something between 6-7 feet long. This allows you to cast excellently without needing to deal with the rod. Longer rods would help with farther and more accurate casting, as well as allow you to use light baits.
Shorter rods would have you set your hook quickly, working better in closer waters. This can be beneficial, though it depends on where you want to fish. But take note that you're more likely to fish for stripers in deeper waters.
Action
The action of your rod refers to the speed or taper of your rod's material, be it graphite or fiberglass. The degree of your rod's taper is related to its flexibility and how it bends. Action is referred to as your speed since this is how fast your rod snaps back when it's bent.
A stiff rod would snap back quicker compared to limber ones. There are four categories of action, which are:
Slow action refers to a rod bending from one end to another, making it a bit difficult to cast and set the hook. But, they're useful to add action to your lures. These are made best for ultra-light rods for panfish or perch, not as much for stripers.
Medium action rods are usually rigid on your rod's end but would taper quickly so there's wobbling on the tip. I recommend this most for top-water and striper fishing, which is best with walk-the-dog lures.
Fast action rods are best for jigging, being strong in its butt but with more flexibility at its tip, though not as much as medium action rods.
Extra fast action rods are much quicker, though not as much for striper fishing.
Some tapers are referred to as a backbone, which means that your rod if stiffer and has less flex down its reel. Note that rod action classifications would vary among manufacturers, so it's best to try it out before purchasing your rod.
Power
The power of your fishing rod refers to your lure or line's weight, as well as the weight of the striper you're targeting. The power classifications range from ultra-light to ultra-heavy, with combinations between that.
Power is categorized by your lure and line weight, which is listen on your rod's shank. However, it's best to see power specs as more of a gauge that shows your rod's thickness and strength.
When selecting power made for stripers, it's a personal choice. Some would use heavy-duty ones since they want to prioritize getting stripers to the boat quickly. But something too heavy would defeat the purpose of fishing for light tackle. I recommend using a medium or medium-heavy rod, which allows you to land heavier stripers while still feeling a bite since light rods are sensitive to strikes.
However, while you might believe light rods would break with big stripers, this is actually rare. With proper care, you can catch stripers with light or medium powered rods, so this is all about personal preference as well.
Line Guides
Not many anglers focus on line guides, but these are actually an important consideration when investing in a fishing rod. For starters, you'll need to have guides lined up straight, and this is the first thing to look into.
Sight your rod down to ensure that none of your guides are out of sync with others. High-quality and lightweight rod guides are more sensitive. Furthermore, they also come in either single or double-foot, depending on how the guides are attached to your rod. Most guides are stainless steel with ceramic centers, with the quality depending on the rod, and the harder ceramics are pricier.
Higher-end rods are made with Fuji guides, which are made of premium materials that don't rust quickly. Low-quality guides tend to rust quicker or groove when you use braided lines. Do NOT use guides made with plain steel when saltwater fishing, as this rusts and cuts the line. Have a tip guide on your rod made with rust-proof metal rather than ceramic.
Materials
Striper rods are made with various materials, such as graphite, fiberglass, or a combination of both. Carbon fiber is also used in rods, along with aluminum and/or other materials for your reel seat.
Fiberglass is lighter than graphite, but graphite is on the tougher side. Composite, or a combination of graphite and fiberglass, is a great option for striper fishing rods.
The Cost and Reputation
Striper fishing rods come in different price ranges, so you'll need to set your budget and weigh your options. I recommend that you set your budget to at least $50, which can give you a decent rod without breaking the bank. However, a fishing rod between $100 to $150 can give you excellent and longer-lasting performance, making it worth the price in the long run.
Also, consider if your fishing rod comes with a warranty. They may be limited to manufacturing defects, but some come with money-back guarantees, which adds more value to your investment.
---
Frequently Asked Questions
Beyond my reviews and tips to buying the best striper fishing rods, there is still a lot to know about when getting the right equipment for you. With that said, here are some frequently asked questions to give you an idea of what striper fishing is all about:
Why do I need a fishing rod made for stripers?
Stripers are finicky and would retreat or fight intensely once they realize that there's something suspicious about the bait they bit. If you have the wrong fishing rod, it ends up tipping fish off with its stiffness before you set its hook. Without the right gear optimized for the specific size, weight, and attitude of stripers, you end up with the risk of losing your striper, or any catch for the matter.
What are the average size and weight of stripers?
Stripers weigh around five pounds or less on the smaller end, with medium fish weighing ten pounds. Heavier stripers can weigh up to 20 pounds.
Where and when can I catch striped bass?
Stripers are most likely found in cooler water with temperatures ranging between 55-68 degrees Fahrenheit. They would migrate in both fresh and saltwater, so it's best to aim for areas with vegetation or stirred-up sediment, following baitfish, since stripers aim for these smaller fish species. If it's warmer out, aim for deeper waters.
What is the best line to use for striped bass?
I highly recommend that you use a 10-20 pound monofilament line, which works best for stripers. However, some anglers prefer fluoro leaders or braided lines. It all depends on your preference, as well as the fishing conditions.
What are the top striper rigs for surf fishing?
When fighting waves and currents, most anglers would outfit surfcasting rods for stripers, using weighed rigs like fish finders, aiming for structures and vegetations.
What baits and lures do stripers like?
The best thing you can do when fishing stripers is to use live bait, with popular choices being eels, herring, as well as dead menhaden. With that in mind, you can also use clams, bloodworms, and sandworms, or synthetic lures like a crankbait, deep-running spinners, and spoons. When selecting lures, make sure it matches the environment, using subtle colors in clearer water, and vibrant colors in murkier waters.
What gear should I prepare for when catching stripers?
Other than the fishing rod, make sure that you have the right reel and line selection, among other important fishing accessories made for stripers. Waders, a surf top, neck light, pliers, leaders, lures, and a plug bag are recommended.
What other tips do I follow when fishing stripers?
Besides the right gear, there are other tips to follow, such as:
Use moving lures, as stripers love moving lures with flash
Try to taunt stripers with quicker movements
Allow the stripers to swallow your bait before setting the hook
Avoid leaving tension on your line, as stripers notice this when you bite
Cast past your target, reeling the bait over them
Do you want to learn more about using striper fishing rods? Then check out this interesting video:
Wrapping It Up
It's a known fact that fishing rods are extremely crucial in getting successful catches. As long as you do proper research and know what you need, you can get the perfect striper fishing rod made for getting fish and staying comfortable. That's why it's best to look into the tips and reviews I mentioned to get the best one for YOU.
I hope that my purchasing guide on the best striper fishing rods helped you out! So don't wait any longer and make sure you get the right striper fishing rod now. Good luck with the search and happy fishing!