It's that time of the year once again to go surf fishing. Are you all set for it?
This is a great outdoor activity to bond with your family and friends and relax in nature. But before you get ready to go, don't forget your important gear! Pack up your essential fishing gears and prep them all up for this fun adventure.
Our best surf fishing carts allow you to transport your tools and fishing equipment easily. Since everything is in one cart, you can just lug them all around without running the risk of leaving any behind. Just be sure to buy the right cart that is not just spacious but also with all the right features you need.
What should you look for in the best surf fishing carts? Are there specific features to keep in mind when buying one?
We'll address these questions – and more – in this comprehensive review and buying guide. So hang tight and let's go ahead to take a look at your best options and why they rock our world and yours, too!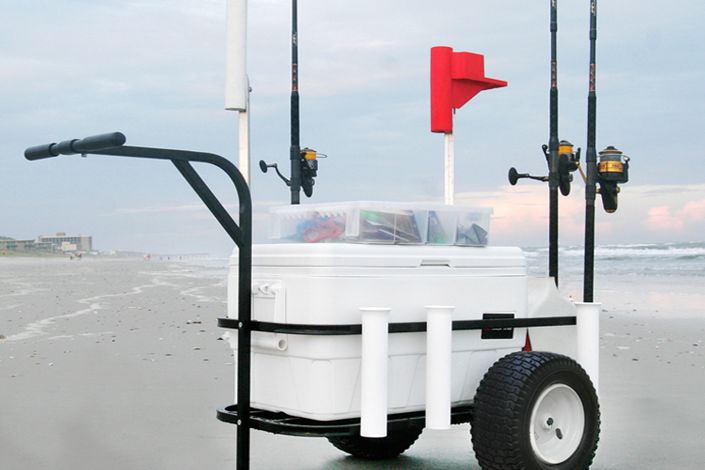 Quick Comparison: Top Surf Fishing Carts
**Below, you'll find our more detailed reviews, but you can also click the links above to see current prices or read customer reviews on Amazon.
Top 8 Best Surf Fishing Carts
When surf fishing, you want to make sure that you've got a dependable and portable cart to put everything in one spot. This is what we love about the Berkley fishing cart. It features a collapsible design, so you can fold it down after use and set it up to take it to your trip.
This cart is spacious and sturdy. It can hold a maximum of 200 pounds, and there's plenty of space for a cooler, a wide range of fishing equipment, chairs, nets, and your rods. You can organize your loop and hook straps and up to 6 rods using the removable holders included. Plus, it comes with wheels for hassle-free transportation.
We are impressed with the convenience and durability of this cart. But one thing to note about it is the rod holders. Just keep in mind that it is made of plastic, so this makes it a little bit flimsy. The holders also seem a tad shallow, depending on the rods you use. So you will have to check the size of your rods to make sure this product is suitable for you.
---
What we like about this fishing cart is its portability. For instance, you can use it not just on the beach or pier for surf fishing, but you can also count on it as a yard cart. Whenever you need to lug things around, this cart should be able to get the job done. There is ample space inside to organize and transport various items with ease.
This practical cart is roomy. You can easily fit in your umbrella, a couple of coolers, your tackle box, and up to 8 pieces of reels and rods. Just get this cart ready with all your essential gears, and you should be ready to go. It is tough, easy to roll, and portable for your needs.
Overall, we think this fishing cart pretty much works well. But the wheels can be a bit noisy when they move. This is why you may either lubricate the wheel when it makes noises or reduces the load as this can be putting too much pressure on the wheels. Otherwise, everything else seems to work fine with this fishing cart.
---
When buying a fishing cart, the last thing you want is complications. This is why you want to make sure that not only is it sturdy and well-made but it should also be quick to assemble. The Sea Striker fishing cart is one of our top choices because it has plenty of room for various items. You can easily fit in a 54-quart cooler or three buckets, your gears, and you're all set!
This cart got your needs covered when transporting your fishing gears from point A to point B. There are pneumatic wheels included, which lets you wheel it around effortlessly. The rod holder is useful, and they definitely hold up quite well – no issue with it being loose or flimsy at all.
Our only gripe about this cart, however, is the wheels. They tend to dig in the soft sand when you tow it around, so that makes it a little tricky to maneuver. If the wheels were wider and softer, this would make it a top-notch cart. But for its size and build, we can honestly say it is fantastic.
---
When you're going out fishing, you need to make sure you have every single thing with you to make the most out of this activity. This is why a cart is a necessity since you can just throw in your gears and tools inside, so you don't leave anything behind. The Muscle Cart is perfect as it is spacious and durable. It can hold as much as 220 pounds of items, which is pretty impressive.
This is a handy cart that you can use on the beach or as a surf fishing cart. You can lug your fishing gear down conveniently in this cart. Plus, the wheels can handle various types of terrains. Push or pull with ease and this cart got your needs for efficient transportation and storage covered.
For the price you pay for this cart, it is quite a great one to purchase. Just make it a point to check the air pressure of the tires before you use it because the wrong gauge can impact its performance. Other than that, a solid buy at a good price!
---
The name itself speaks for the sturdiness and durability of this multi-purpose cart. It is well-made and crafted from aluminum for the frame, and a heavy-duty poly bed and stainless steel hardware. This is a great cart to use when surf fishing, or even when you need to work on your garden.
We like how this cart works for transporting a bunch of loads up to about 200 pounds. You can use it over dirt, gravel, and even sand. There are solid tires about 13 inches in diameter, and these roll over various terrains efficiently. Storing them after use was easy, too, thanks to its compact and portable size.
This is a spectacular cart that has a bed instead of the liner or frame-only that other carts have. But do keep in mind that surf rods that come with long butts may be a bit of a problem since they tend to touch the ground right before you can stop it from happening.
---
Another one of our preferred fishing carts is this one from Fish N Mate. We like how lightweight it is, so you can lug your things around easily without the extra weight from the cart. It can hold as much as 200 pounds of weight and there should be plenty of room for your gears and what not.
Made of aluminum tubing, this cart is compact, portable, and lightweight. The aluminum also has a corrosion-resistant design, which adds to its durability. Transporting this cart is quick and simple, thanks to the wheels. There are also attachments that you can purchase separately, which should come in handy for various recreation activities.
One thing worth noting about this cart is the position of the rod holders. They are placed on the ends instead of on the sides. This is not a big deal, though, but some people might prefer to have them at a certain place. Other than that, everything else works for this fishing cart.
---
When you need a cart that you can rely on for durability and functionality, this fishing cart is a solid choice to consider. This unit is stable and steady, and there are pivoting, large feet that prevent the cart from sinking into soft sand or dirt. With the heavy duty and rugged build of this cart, it should be able to accommodate as much as 300 pounds of weight.
This is an innovative cart that includes 4 rod holders, which are removable for your ease of usage. The cart also comes with a cutting board and a seat, both integrated into the unit. You can sit and relax wherever you want to go. Whether you head out on the lake, the pier, or on the beach, this cart is perfect for all occasions.
For the most part, we think this cart does the job. It is definitely spacious and sturdy, so you can put in your things without any problem. But this cart has a handle that ends up slipping out whenever you drag it right up the stairs. If it had a latch to keep the handle in place, it would be even better.
---
Last but not least, we have this well-made and robust cart that's perfect for surf fishing enthusiasts out there. The Pier fishing cart is crafted from polymer resin blends, which makes it capable of resisting tough weather, moisture, and water. It can also withstand cold and hot temperatures without any problem at all.
The cart wheels are rubber, so there is no problem with rolling it in saltwater or freshwater. There is no metal components to this cart, which means there is no problem with corrosion. We are also well-pleased with how sturdy it is, and it can be used on wet sand or pack sand. With an adjustable, retractable handle, and a capability to spin the cart to 180 degrees, this cart is efficient to use.
There is no doubt about how great this fishing cart works. But then we advise not to use it on deep sand as it cannot handle this type of terrain. As for the rest of the features of this cart, everything is perfect and truly worth the price you pay.
---
Best Surf Fishing Cart Buying Guide and Expert Tips
So, are you ready to start shopping for that surf fishing cart? Before you pick up just about any item on the shelf, be sure to know the features you should be looking for. Fishing carts are not created equal, so it is important that you understand what makes one cart better than the other by taking a look at this shopping guide.
1. Space
You want to make sure your fishing cart is roomy enough. Are you taking your cooler with you? How many rods are you bringing along? What else do you plan on packing up to take with you in your fishing trip?
If you have a decent amount of things to bring, then you need to choose a cart that is spacious and can fit a number of items inside. Check the capacity of the cart to determine whether it is suitable for your needs or not. But alongside the space, you should also consider the…
2. Wheels
What are the wheels made of? Are these corrosion-resistant? Can they handle soft sand?
You need to check the wheels and make sure they are sturdy enough to handle the weight of the cart. Smooth-rolling wheels are perfect since they make it easy for you to transport the cart from point A to point B. It is also important to consider their specifications since some tires are okay to use on various terrains while others are not.
Speaking of wheels…
You can find wheels in different shapes, sizes, number, and materials. We highly recommend that you look for polyurethane tires since these are ideal for various types of sand. Plastic tires are cheaper but it can be a lot of work pulling your cart through the sand. It is also a pain trying to turn and maneuver the cart that has plastic tires.
But with polyurethane tires, they minimize the amount of effort exerted in pulling the cart. They are also oversized and wide, along with a low-pressure style. This adds to the ease of using the cart. While these tires are common with expensive carts, you can be sure that they're worth it.
If you are leaning more towards a mid-price range, you've got your rubber tires. They're a notch higher than plastic but still not the best for use on a soft stand. When you pull a heavy cart, the tires can get stuck in the sand.
Now, carts may have two wheels while others have four. We recommend a four-wheeled cart because it is more durable, more stable, and definitely more versatile than the two-wheeled ones. When working with two wheels, you will have to first lift the front part of the cart as you make your way through the wet or soft sand. You can either pull or push these carts, too.
It is a bit different from a four-wheeled fishing cart, though. These are more of "dragged" carts, and you don't have to exert too much effort when using them. But then again, there are drawbacks to these carts since they are harder to deal with when you're going up and down a steep incline. They are also not very efficient on deep sand.
In terms of versatility, four wheels are more flexible. You can use them for other purposes and other terrains, so it is really all up to what you have in mind for your cart.
---
Surf Fishing Carts: Frequently Asked Questions
Now let's move on to these common questions you may have in mind when shopping for a fishing cart. Let's take a look at each one of them and get them answered one by one.
How many surf fishing rods are you planning to bring?
This is an important thing to consider when choosing a fishing cart. Some anglers require just one, along with a surf pole. Others prefer to bring several fishing rods to use for different setups. This is why you need to consider the number of rods you're bringing to determine the right cart to use.
You should be able to find a cart that comes with rod holders. But in addition to considering how many rods you're bringing, be sure to check the material these holders are made of. Plastic is weather-proof but depending on the type of plastic, it may turn out to be flimsy.
In case you need more holders, you can always build out an extra one or two. Use a PVC pipe to make one and hook it up to the cart, which should also work well for a large pole.
Do you plan on bringing a cooler?
How large or bulky is the cooler you are taking with you? If you're heading out by yourself, you could use just a few drinks, and it should not be a very space-consuming cooler at all. But if it is a fishing trip with a bunch of friends, it is likely to be a large cooler you'll have in tow.
Generally, your cooler will occupy most of the space in your cart. So you need to think about this aspect when picking out a cart to make sure it can hold your cooler perfectly.
What is the type of terrain?
Again, this is an issue with the wheels. You want to be sure that your wheels can handle the type of terrain where your fishing trip is happening. Can it handle piers? Or rocky terrain? Or what about sand, gravel, etc? You need to choose tires that can work on these terrains, which means they need to be wider and larger if you are taking your cart to deeper sand.
It also makes sense to determine how far your fishing spot will be. If you are driving most of the way, then the cart should be mobile enough. But it should be even more portable and compact when you have to transport it to a longer distance since the last thing you want is to struggle with lugging that thing around.
Is the cart easy to use?
This one is a no-brainer for sure. You should consider buying a cart that is easy to deal with and will not require a massive amount of your energy to push and pull.
This is why you want to choose a cart that rolls easily and efficiently. It should not hit the back of your ankles or your front leg when you wheel it around. If you are tall, choose a cart that has the right height suitable for your stride length.
Then, you need to check the handle. It should be just the right height for you. This way, you will not end up pulling your cart in a vertical manner, which can be very uncomfortable. A lightweight cart is also perfect since considering the load you have inside, you don't need extra weight from a heavy cart. The lighter, the better.
Final Thoughts
Choosing a great quality fishing cart is not an easy thing to do. There are things to consider, many products to choose from, and at the end of the day, you need to be sure it is exactly what you need.
After learning more about the different fishing carts out there and their features, it should be easier shopping for the right one to buy.
Just keep in mind out buying tips, take a look at our recommended items, and we hope you are able to decide on the perfect surf fishing cart to invest in after reading this guide to help you make a smart purchasing decision.