A kayak will break your bank due to its high price. However, you can't sacrifice the quality for a low-cost product. So what should you do in this case?
This article will reveal the best time to purchase a kayak. You can also learn some tips for finding the ideal gear. Let's see!
Best Time To Purchase A Kayak
Retailers sell kayaks throughout the year. Interestingly, their prices in every season are different. We will help you determine the time to get the best deal.
Off-season
With almost every good or service, prices change throughout the year. Seasons are the topic of the day.
For instance, just before or during the ski season is likely the worst time to purchase ski gear. The prices are higher during the fall and winter because demand is also extremely high.
On the other hand, prices will drastically drop off during the off-season. Retailers will therefore try to remove the ski equipment as quickly as possible to make room in their storage for summer items. These are times when you can get some very special deals.
If you apply this kayak rule, you will discover that the best time for buying this boat is during the off-season.
People kayak in warm seasons, such as spring and summer. However, the rule won't be the same if you live in the south of the US.
You have a great chance of getting a good deal in August, which is the peak of the kayaking time. Retailers will try to deal with the kayaking equipment they haven't sold over the season.
On the other hand, you will have a narrower selection of kayaks to pick from as the stock sells out. It is the disadvantage of purchasing out of season.
Holidays
Memorial Day and the December holidays are also terrific times to buy kayaking equipment.
Retailers may conduct promotions in May to attract customers just before the season. They may provide discounts in the wintertime to encourage customers to purchase the product that is still available during that promotion period.
Moreover, if you live in a region where the demand for kayaking gear doesn't dramatically fluctuate throughout the year, you may benefit from extra winter and autumn discounts.
If the kayaking season lasts the whole year in your region, taking advantage of sales and holidays (such as Black Friday) may be your only opportunity to get the kayak at a reasonable price.
On sales
After the kayaking season, when retailers try to free up their warehouses and shift into the autumn and winter shopping seasons, kayaks will go on sale.
You can use the information below to determine when kayaks are on sale at some well-known suppliers.
Costco starts its sales campaign for kayaks every August as well as September because they can no longer be appropriate for the season and the warehouses require more room for products.
With Thanksgiving, you may hit it lucky as well as find any unsold kayaks for the discount.
As the store's tagline implies, Walmart offers kayaks for sale at consistently low costs every day. Nevertheless, you could get discount rates on unsold kayaks when the summer ends.
You can buy kayaks at a low price around holidays such as Memorial Day, the Fourth of July, and late-season fall specials.
You will have more options if you browse these earlier deals, but the discounts might not be as considerable as those at the end of the season.
And if you want to strike a balance between price and availability, check out some of the kayak holiday specials at Bass Pro, for example, around Memorial Day and July 4th.
Learn more about the best time to buy a kayak here.
Read more: 10 ft vs 12 ft Kayak (Which is Best For You?)
How To Get The Best Price When Buying A Kayak?
Knowing when to buy a kayak is very helpful. But it would be better to learn some techniques to find the best price.
Look for garage sales.
Moving sales are usually fantastic for finding excellent discounts on gently used kayaks. You often find these sales between March and June.
It should come as no surprise that many people begin their spring cleaning at this season of the year. Depending on when you read this post, you'll notice garage sale ads in your region.
You may also get a terrific deal on a second-hand kayak at these garage sales. For newbie and intermediate kayakers wanting to save money while honing their skills, purchasing a used boat is a terrific idea.
Activate email notifications
Junk mail is sometimes annoying to most of us. However, many kayak producers find it difficult to keep up with all of their updates and product releases.
So, think about receiving email notifications from some reliable manufacturers.
You will receive messages about the availability of new kayaks and special offers in your inbox as soon as they become accessible at a reasonable price.
The mails act as digital assistants for your kayak hunting. Until they arrive in your inbox and catch your interest, you usually do not even think about getting a new kayak or following sale prices.
You can carry out thorough research to discover if there are cheaper models that satisfy your needs.
Attend retails events
As we previously mentioned, throughout the year, trade fairs and exhibitions are where most kayak manufacturers reveal their latest redesigns and new models.
Nevertheless, the models will return and continue to be a practical choice for kayak purchasers to find new designs. One advantage of these exhibits is that some even offer opportunities for you to try particular models.
These events are challenging to recreate elsewhere. You won't be able to test one of their boats without first purchasing at a regular retail outlet.
After one of these events, you won't likely be driving home with a brand-new kayak. However, knowing which designs you are most attracted to can be very useful information.
From there, you can look up online and at nearby stores for the best deal on the boat of your choice.
Check the second-hand marketplace.
Some people offer second-hand kayaks for sale online at surprisingly low costs.
You can take advantage of their desire to sell, whether they are going tomorrow and need to free up their old kayak or whether they really have no idea what it is worth.
The size of the second-hand market in your region will determine how quickly these offers will arrive and go.
For example, this type of market might not be as active as you'd imagine if you live in a landlocked area.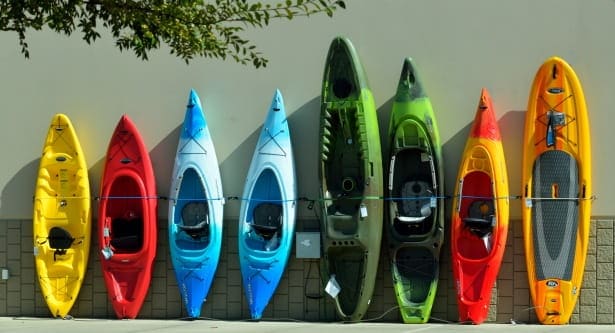 Compare prices online
Once you've limited your selection of kayaks to one model (or perhaps two), start looking for them online. Also, find how much the kayak would cost at retail if you buy it from the manufacturer.
The price difference between third-party retailers and the direct manufacturer is usually quite significant. By using this method, you'll be able to avoid paying too much for the kayak of your goals.
When Should You Avoid Buying a Kayak?
You should avoid the worst time if you can't catch up with the best time to buy a kayak. As a rule of thumb, the paddling season is not suitable for this purchase.
The high season in the United States lasts from about mid-Spring to Summer, with May to September being the best.
During kayaking time, people have a higher demand for kayaks. They are willing to pay money for their gear.
Instead, the off-season is the perfect time to search since you can discover someone who will sell you their unused kayak for a fair price.
Frequently Asked Questions
Q: When do new kayak models come out?
Generally speaking, most kayak manufacturers start releasing their new kayak models in the first months of the year. Their goal is to get their items into the enthusiastic hands of kayakers before the next paddling season really starts.
Q: Where should I purchase a kayak?
You can buy a good kayak from online retailers, outdoor outfitters, sports goods stores, or outdoor recreation shops. They have different costs depending on where and when you buy them.
Q: What should I consider before buying a kayak?
There are five things to think about for this purchase:
Type of kayak
Size
Material
Time
Conclusion
If you are on a tight budget, finding the best time to buy your kayak will be necessary. You can consult our guide, access the retailing sites, and compare the prices before deciding.
Hopefully, you will have the perfect gear for your next excursion. Thank you for reading!