There are so many places we can fish around the world, which is why my goal is to travel as much as I can to find these spots! However, I know how difficult it can be traveling with all your equipment, which is why I highly recommend investing in the best travel fishing rods.
But which is the most ideal travel fishing rod for you out of the dozens of brands and models available? I created this guide to help you find the suitable fishing gear you need to travel lightly and easily while still getting a good catch. So read on to learn my top 12 travel fishing rods and an informative guide!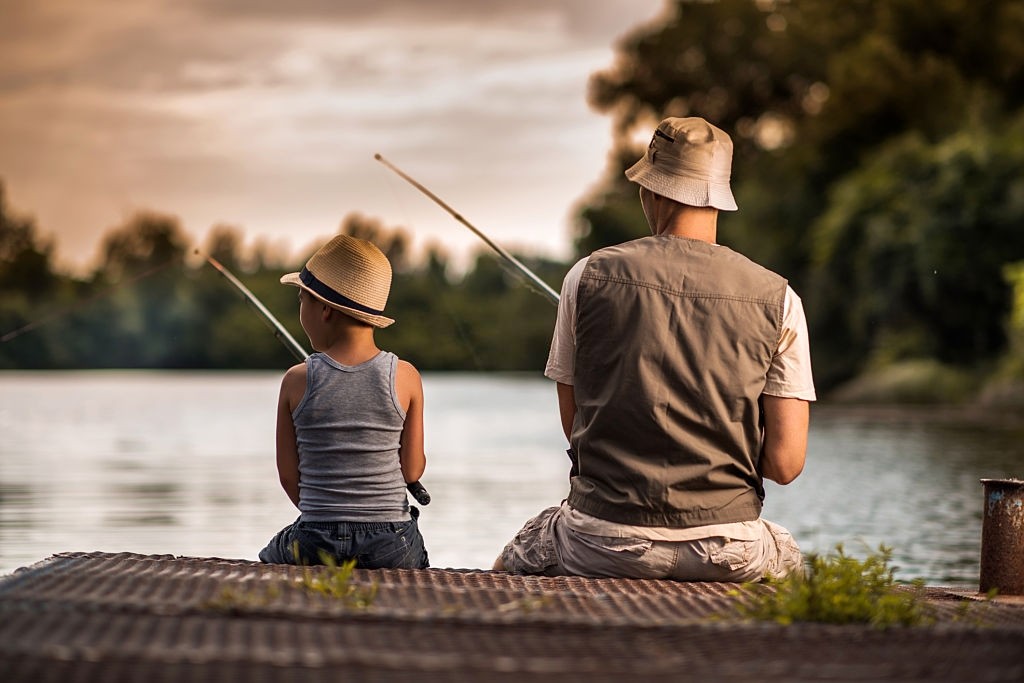 The 12 Best Travel Fishing Rods
What type of travel fishing rod is right for you? Here are my top choices and reviews on travel fishing rods to choose from:
The PLUSINNO Fishing Rod and Reel Combos are the editor's choice because of its affordability! I'm surprised that for an affordable travel fishing rod, it comes with excellent features such as the anti-reverse and strong aluminum spool.
It's made of carbon and fiberglass, so manage your expectations on its strength. But with that said, it's long-lasting as long as you care for it right. It has good elasticity and a good grip, offering medium power for versatility.
While it isn't the absolute best and strongest, it gets the job done at a cheaper price. This is best suited for travelers on a budget or beginners.
Pros
Telescopic fishing rod for beginners offers versatility
Nice backbone on the rod with durable material to last
Clean and quiet, can perform smoothly
Cons
The rod is made of fiberglass, isn't as strong as others
The package only comes with the rod, reel, and case
---
Another affordable option is the KastKing BlackHawk II Telescopic Fishing Rod. It's a bit cheaper than the editor's choice, but still a good choice for beginners. I love its versatility, as you can find various options under the rod model, from different fishing styles to lengths to suit your needs.
Besides this, the rod comes with unique Soloscopic Performance Technology, having the solid glass tip for adequate sensitivity. It's a six-piece rod that ALMOST feels like a one-piece, but not quite (which is understandable). For its multipurpose use and versatility, I believe it's a great choice for most fishing applications.
Pros
It's a 6-piece design for convenience in traveling
Very affordable price for its strength and performance
No snapping sounds and feels almost like a one-piece rod
Can choose between different lengths and applications
Cons
The company doesn't offer the best warranty
Won't be as durable compared to other travel fishing rods
---
The Sougayilang Spinning Fishing Rod comes in six different size kits, with each kit including a pole and reel. They are made best for either freshwater and saltwater fishing, making them versatile and strong for most applications.
The rod is made with high-density carbon fiber and fiberglass, making it affordable but still more durable than rods made of pure fiberglass. It's lightweight yet has a solid feel, so expect smooth performance matched with its reel.
As for its portability, it's light and can easily fit anywhere, though you have to be wary when bringing it in flights! Besides that, I admire this rod for the telescopic design and adequate strength, making it a worthy, cost-effective investment.
Pros
Affordable price that comes with strong construction to last
Smooth performance for most fishing applications
Rod feels strong and flexible, portable enough for cars
Cons
The handle isn't as long as some fishermen will want it
The screws rust easily but still holds up in saltwater
---
Another one from the Okuma, the VS-605-20 Voyager Spinning Travel Kit is specifically made for the travelers out there! It's a convenient package coming with the strong nylon travel bag to protect the rod, as well as a foam insert that's shock-resistant. It even has a tackle box to hold your baits conveniently!
The rod itself is 6-feet long and 5-piece, so it's very portable and easy to assemble as needed. It has the light-action and strong Voyager reel, ideal for catching bass, trout, catfish, among other fish. For its price, don't expect stellar performance, but enough to reel in your catches successfully.
Pros
Comes with a customizable case and tackle box for portability
6-piece design to easily fit in your backpack or suitcase
The rod can be used for fishing bass, panfish, and trout
Cons
The reel has inconsistent performance, a hit, and miss
A bit noisy performance, especially on the reel
---
The Daiwa Mini System Spinning Reel and Rod Combo is a good deal for its brand and strength. While there is no terminal tackle, it comes with a hard case to protect the rod and reel from bumpy trips. As for the rod, it's a bit on the shorter side, with a 4.5-foot length and a 5-piece design.
Even if it's a bit shorter and lighter, it still has an excellent performance with smoothness and strength combined. It's made better for fishing by the docks or in high-altitude areas though! For its lightness and short measurements, this is suitable for any angler on the go.
Pros
Offers great value for the package and quality rod
Everything is light and can fit in a backpack
Very smooth reel and can bend over well without snapping
Cons
Some anglers may not appreciate its shorter length
The rod may not hold loose hooks as well as other rods
---
The Ugly Stick GX2 isn't ugly at all but conveniently designed to make it easy to assemble and disassemble. I love how it's very durable, a 4-piece rod that's made with stainless steel guides to make it feel like a one-piece. Furthermore, it's built with a combination of graphite and fiberglass, making the rod durable and with enough sensitivity for fishing.
It can withstand rougher fishing styles and even if you don't handle it with as much care as recommended, it doesn't snap or break easily. Almost 7-feet long and with the strength for most fishing applications, I can say it's one of the best travel fishing rods one can use for backpacking!
Pros
Extremely strong and durable, it doesn't break easily
Long enough for long distances and can be used with any lure
Perfect action can handle both saltwater and freshwater fishing
Cons
Reel seats may feel a bit flimsy, might break easily
Slightly less quality performance when catching bigger fish
---
The Eagle Claw 5K55SP Pack-It Rod is very simple, and that's what I love about it. Again, a bit more on the cheaper side, but built with the highest quality for any type of angler for its price range. It has excellent glass construction for durability and versatility for all fishing applications.
Expect to get what you pay for, though it feels solid and similar to a one-piece when assembled. As for its size, you can easily fit this in your backpack, car, or suitcase when flying without hassle. The portability and performance at such an affordable price range are what make it one of the best!
Pros
Budget fishing rod but still able to catch medium-sized fish
Packs well and fit in most bags without taking much space
It's lightweight and feels like a one-piece rod
Cons
Rod doesn't come with a travel tube or case
The reel isn't as high-quality as the rod
---
JEKOSEN is one of the ultimate travel fishing rods at a moderate price. But you get more than what you pay for with its high-quality construction and strength. It's made with solid carbon fiber for the power and sensitivity needed for most fishing situations. Besides this, it comes with good guides and reel seats, offering smooth use when casting and reeling in catches.
The 3-piece rod surpasses expectations for its price, looking and feeling like a one-piece when assembled. Even if it's very solid when used, it's lightweight and easy to bring around! I can cast easier with this without it sacrificing power, compared to my normal-sized rods. While you do need to learn a bit when judging its distance and accuracy (it casts farther), you won't be disappointed using it.
Pros
Accurate and strong feel on the bite
Powerful and casts amazingly, suitable for long-distances
Comes with the medium power and flexes well
Cons
Casts farther than other rods and has a learning curve for accuracy
Only faint vibrations when transferring its feel at the bottom
---
The Goture Travel Fishing Rod is moderately-priced and offers a wide array of lengths and rod types for your needs. For the spinning rod that measures 7-feet long, it has excellent strength and sensitivity, balancing all necessary features to ensure smooth performance as you reel in your catch. It also has a comfortable grip that doesn't slide or react to shock.
For its travel-friendliness, this 4-piece rod comes with a strong rod tube to protect it. It's lightweight and easy to carry around, whether you're in the car, plane, or backpacking. With its complete package and lifetime guarantee, you get value in this rod.
Pros
Comes with a case, strong guides, and a lifetime guarantee
Has a comfortable seat and grip for easy handling
Offers the balance of strength, power, and sensitivity
Cons
A bit difficult to take apart with the strong vacuum seal
Eyes may be smaller than some anglers are used to
---
I like the St. Croix Triumph Travel Spinning Rod for its excellent construction and material quality. For its price, you can't expect anything less! While it's a bit expensive for some, I believe it's worth more than its price and can be used for beginners and advanced anglers.
The rod is made with premium quality carbon and the Fuji DPS reel seat and cork handle, ensuring that it's made to last for a very long time with proper maintenance. It's a 4-piece design that comes with a soft case to travel with easily.
As for its performance, it has moderate action and will flex up to the blank's middle with excellent power to catch most types of fish. You can also choose among different actions and power as needed.
Pros
Many style types to choose from for different actions or power
Amazing durability and compact size to last for years
Excellent workmanship for successful fishing
Cons
More expensive than other rods but performs the best
Some complaints about receiving bad-quality tips
---
What I love most about the Okuma NOMAD Travel Spinning Rod are its versatility and lightweight properties. It has a three-section break so you can easily disassemble it for easier traveling. Besides this, it's just as easy to assemble when you're about to fish!
The fishing rod features two tips that come in different actions for each rod, made with the European spigot Ferrule connections. The rod also features guide frames made of Alps 316-SS and strong Zirconium inserts. This gives the rods more versatility and the strong connection when assembled, feeling just like a one-piece rod.
For its strength, I believe it to be well worth the price and will last for a long time. It IS a bit pricey, but you get durability and high-quality for successful fishing trips!
Pros
Lightweight but still durable to last
Breaks down to three pieces but has a one-piece feel
Versatile and can be used for many fishing situations
Cons
They cost a bit more for travel fishing rods
Not the most sensitive feel for trout fishing
---
Last but not the least, we have the Fenwicks HMG Travel Rod, which is seven feet long and offers the light to a medium weight suitable for most fishing applications. It comes in a 4-piece design, making it travel-friendly and easy to bring around. Just like the Okuma, it's easy to assemble and disassemble, made with Fuji guides to prevent pop-outs.
Besides this, the fishing rod also comes with a reel, made of quality materials that lock it in place with the rod. The rod also features a cork handle, which is comfortable to use and has a strong grip on it. With its sensitivity and fast taper, I admire the energy this rod offers and would recommend it for spinning.
Pros
Offers silent performance, even with its braid
Good grip and smooth performance when reeling in fish
Excellent weight and feel for a 4-piece rod
Comes with two tips, both having nice action
Cons
The company doesn't sell extra or spare tips
Not as powerful as expert anglers expect it to be
---
How to Buy the Best Travel Fishing Rods
Now that you know all that the best travel fishing rods are, how can you narrow down your choices a bit more to find the most suitable for you? There are specific factors to consider, such as:
1. Size and Weight
Of course, a travel fishing rod should be smaller and lighter than usual. Regardless if its modular, collapsible, telescopic, or whatever else, it needs to be small and light.
However, your chosen fishing rod shouldn't be TOO small or light to the point it can't be used properly! It should be at an appropriate weight and length that can still be controlled when underwater.
For an all-purpose rod, invest in something that's considered light to medium weight for a travel rod. But if you need something more specific like for saltwater fishing, a heavier fishing rod is a better choice.
2. High-Quality Construction
One thing you need to consider about a fishing rod is how it was made and what it's made of. There are three materials to choose from, which are:
Graphite, which is the most expensive material but also the most lightweight. This makes it easier for traveling fishermen or when the weather isn't the best.
Composite, which is a mix of graphite and fiberglass. They are lightweight and sensitive, but still durable.
Fiberglass, which is one of the cheapest but may not offer as much power and sensitivity you need. They are only for beginners or for those on an extremely tight budget!
3. How Do You Fish?
A convenient way to find out what fishing rod is for you is to match it with the way you fish. There are two common fishing styles:
Slack-line fishing uses dragging tubes, plastic worms, and jigs. With this technique, you're better off with a long and versatile rod with fast action. You should get a stiff rod, which gives you more pressure on the fish for easy catching.
Tight-line fishing uses crankbaits, buzz baits, and more lures, which need to be used quickly for a tighter line. With this style, you'll need a rod that has a soft tip to move smoothly underwater.
4. Rod Length
Travel fishing rods usually have a length between six to seven feet long. When considering the specific size, you need to consider the bait you're using, the casting distance, as well as where you're casting.
The length of your fishing rod is proportional to its casting distance. As for bait, if you use short to medium-sized lures, you can get a shorter travel fishing rod. Larger and heavier lures for bigger bass require longer fishing rods.
If you plan to fish by the docks, shorter rods are a good choice. But if you won't fish in a high-altitude area, you'll need a longer rod.
5. The Rod's Action
Besides this, you also have to think of the action. This refers to your fishing rod's intensity as it flexes, based on the pressure applied. It can go from extra fast to slow, depending on what you need.
Extra fast rods will bend at the top of your fishing rod. The slower the action, the more the rod bends. So for example, if you're fishing for bass, you'll need fast action rods.
Besides this, you need sensitive rods, especially when fishing for bigger catches. This makes your rod even stronger with a better hook set, helpful if you have bigger lures.
Frequently Asked Questions
There's more to know about selecting and using the best fishing rods! These are frequently asked questions from many readers:
How do I maintain and protect my travel fishing rod?
Protecting travel fishing rods are easy as long as you know how to do it right. They can last for years, just follow these tips:
Inspect your rod regularly and do quick wipe downs using a clean and damp rag. Look into any damage on the rod's blank and check the insides as you wipe it down, clearing it off any nicks, debris, or damage that harms the line.
The same maintenance and cleaning go for your reel, though you may want to oil it if it feels rough.
Always clean your fishing rod and reel after a fishing trip, as well as the casing.
Protect your fishing gear with the right type of protective casing or rod tubes. Keep it away from saltwater and handle it with care, avoid overusing or abusing your rod, which can lead to damage or accidents!
If you want to learn more about using travel fishing rods, check out this informative video:
What limits normal-sized rods from being able to travel?
You're probably wondering: Why bother getting a travel fishing rod, can't you use your own?
The size and weight of rods are what makes the normal and travel version so different. Even breakdown fishing rods will take-up space and weight. Travel rods are lighter and smaller, making it easier to pack and bring along.
These rods come with a protective casing, which will hold the entire thing and a bit of tackle. This makes it a bit more cost-effective compared to purchasing separate cases and reels for the "normal" fishing rod.
Why should I get a travel fishing rod?
Why should you invest in a travel rod? Here are some reasons to make that investment:
If you travel often, this is a better choice because it's easier to pack without taking up too much space. It also won't be too heavy, which is ideal for flights
Travel fishing rods still offer the same quality and construction as "normal" fishing rods, as long as you invest in the right one. They handle like fill-sized rods, but even lighter on the hands.
These are affordable and come in different convenient packages suitable for any fisherman. Most come with protective cases, reels, and other useful accessories for an easier time traveling.
You can bring it around with ease, along with other equipment you need. That way, you won't have to worry or hassle yourself lugging around heavier fishing rods that slow you down.
Keep it in your vehicle so you can fish anytime without the need for heavier equipment! No missing out on unexpected fishing opportunities anymore.
What are other helpful tips to follow when traveling with fishing equipment?
Will it be your first time traveling? Regardless of your experience, keep these tips in mind:
If you're flying out, make sure that you check with your airline, if your rods are allowed to be packed as carry-ons. Remember that there is certain equipment you can't bring, such as floatants, knives, or metal holders.
Show up to the airport earlier to give security extra time checking equipment as needed, to avoid being late to your flight. Do NOT argue with staff and keep things light, as they can ban you from flights!
Prepare a fishing rod rack for your car, ensuring they are extended and fitted lengthwise to your car.
For those who can do so, make sure that you invest in equipment insurance, or that your travel rods come with good warranties. This can help you if an accident occurs, saving you a lot on repurchasing equipment.
Before going on a fishing trip abroad, make sure you're familiar with the certain state or country's rules and regulations. Rules vary from place to place, so follow them and obtain a license if it's needed.
Wrapping It Up
If you're the adventurous type who loves to fish and explore different fishing spots, then the best travel fishing rods are for you! As long as you know what rod you need for your goals, you can get a catch and enjoy the new environment. Next up, start looking into other different fishing equipment for your travel needs!
I hope my article on the best travel fishing rods will help you find the fishing equipment you need. Now that you know what kind of brands to trust, select from this list and make the right investment now!