Get ready for a massive catch with the best trolling reels!
If you are leaning more towards catching big fish in the ocean, then trolling is the best way to go.
This technique allows you to reel in that huge target… But as long as you have the right tool for it!
With a trolling reel, you have plenty of pulling power that can easily tolerate the extreme weight your target has. In fact, it has superior gear action that other reels fail to offer.
Now, here's the dilemma – with literally dozens of trolling reels out there on the market, how can you possibly choose the best one to buy?
This is what we are here for – to give you a reasonable selection of trolling reels known for their performance, effectiveness, and value for your money. Take a look at these products to snag the right one you need. And as you keep reading, you'll learn more about our buying guide and some commonly asked questions when shopping for this item. Let's get started!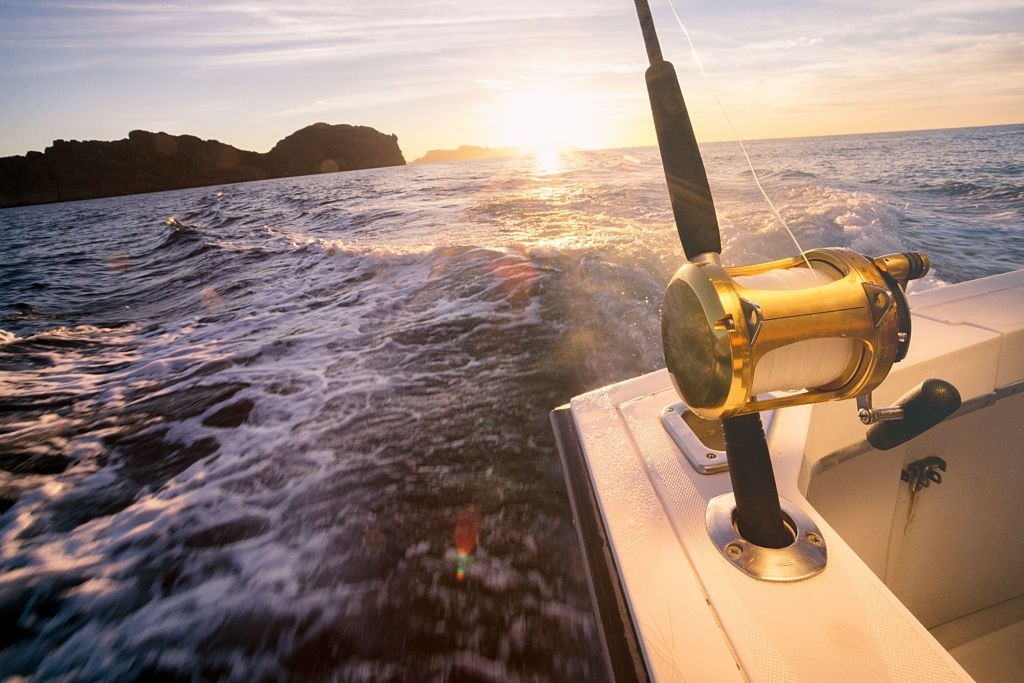 Quick Comparison: Top Trolling Reels
**Below, you'll find our more detailed reviews, but you can also click the links above to see current prices or read customer reviews on Amazon.
Top 11 Best Trolling Reels and Why They're Awesome
Serious anglers who want to dabble into trolling can benefit from the amazing features of the Squall LevelWind from Penn. This trolling reel offers maximum performance in a compact and lightweight package. It is crafted from graphite frame, which is as light as can be, yet heavy-duty and powerful at the same time.
No matter what the saltwater condition is, this trolling fishing reel can handle it all. The unit has a greased drag system, which can tolerate various drag settings. You can expect to handle any type of fish species without any problem. Plus, with the anti-reverse bearing, any back play going on in the handle is the least of your worries.
Overall, this is a well-performing trolling reel with great looks. It does the job perfectly well, so you can expect a bang for your buck and angling success each time.
Pros
Braid-ready aluminum spool
Lightweight reel with graphite side plates and frame
High-strength main gear made of bronze alloy
Suitable for any saltwater condition
Cons
Decent for the price but not as good as the bigger size
Can take some getting used to for first-timers
---
If what you are looking for is a powerful and high-performance trolling reel at a low price, then the Okuma Magda Pro will not disappoint. This trolling reel is a lightweight unit made of stainless steel with a corrosion-resistant protection to ensure a long life span. This bad boy is ready for absolutely anything – no matter how tough the target or difficult the fishing conditions may be.
In terms of the build, this trolling reel has everything you look for in a heavy-duty unit. The ball bearings are stainless steel, the drag system is from carbon, and there are graphite spools capable of withstanding corrosion.
This trolling reel can hold as much as 20 pounds and is capable of extending up to 210 yards. The drag is exceptional, which eliminates your worries of losing your precious catch. For the price you pay for this trolling reel and the success you can expect from it, we can say it is completely worth it.
Pros
Much cheaper than other models with similar features
Enhanced sensitivity for better angling experience
Lightweight, yet powerful
Tested for optimum performance and reliability
Cons
The line counter can be temperamental at times
There are many plastic parts, although it feels solid overall
---
When the conditions are tough, you need a reel that can handle them all. This is why we highly recommend the Okuma Cold Water. This trolling reel is perfect for left and right-hand retrieve as the line counter is available in both ways.
We love the fact that this reel feels solid to the touch. The internal components are encased within the Mechanical Stabilizing System or MSS, which protects the proper alignment of the shafts and gears over time.
When it comes to the bearings, these parts are crafted from stainless steel. There is also a corrosion-resistant frame and side plates. Thus, this feature adds to the durability of the entire unit. With a drag system that is completely carbonite, combined with the anti-reverse system (dual), you can expect to bring home a huge catch each time.
Pros
Corrosion-resistant and lightweight side plates and frame
Precision drag settings
Clicker switch performs well
Tested for quality and efficiency
Cons
The drag could use some improvements
The retrieve would be better when faster
---
A one-of-a-kind trolling reel, the KastKing Spartacus II is a high-performance fishing reel at a competitive price point. This unit is sleek and compact, yet with a low profile. Thus, you will find it easier to use and with promising results each time.
Everything about the build is impeccable. It comes with 7+1 ball bearings made of stainless steel, main gears crafted from aluminum, and a spool with anodized aluminum material for a lightweight and solid feel. There is also a smart brake system with a magnetic feature for maximum efficiency.
The KastKing Spartacus II is designed to wow the crowd each time. From the good looks to its unbeatable performance, it ranks high in terms of popularity from professional and novice anglers worldwide. Lastly, it offers the smoothest casting that makes it a must-have in your tackle collection.
Pros
Lightweight and low profile design
Smooth and flawless casting experience
Comes in right- or left-hand models
Dynamic features for unparalleled performance
Cons
Not too easy to adjust
Some resistance is expected upon reeling in
---
Although it is exceptional for surf fishing, the Penn Warfare is actually a versatile reel. This is why this is one of the best trolling reels you can get for the price. This comes with stainless steel rings that eliminate frame-flex while enhancing the rigidity. There are also drag washers that promote the smoothest drag possible.
If you need a dependable reel for rock fishing or surf fishing, the Penn Warfare will not disappoint. It can perform well even under massive loads because of the smooth drag. And with the line capacity rings, this feature comes in quite handy when you are fighting a huge fish without worrying about the amount of line you have.
The Penn Warfare is hands down one of the best fishing reels you can ever get. With a lightweight material for the side plates and frame, it is easy to use and efficient. You can also quickly get it all set up right out of the box.
Pros
Lightweight and sturdy components
Machined brass for the pinion and main gears
Comes with line capacity rings
Great for various fishing conditions
Cons
The handle can be a little bit flimsy
A bit steep price point
---
Cannot decide between fishing in saltwater or freshwater? If so, the Shimano Tekota is for you. This level wind trolling reel is perfect for trolling for either the saltwater or freshwater fish species. We love the lightweight construction, while at the same time providing tight tolerances. This is the kind of trolling reel that should last for various seasons.
The bearings are anti-rust, which makes it long-lasting. In fact, the corrosion-resistance is 10 times more powerful than stainless steel. Additionally, there is an underbrace in the level-wind system. This offers a more efficient line management possible.
Working with the line counter is easy-peasy. You should be able to reach the similar depth each time you go trolling. With a maximum drag of 12 pounds, this is one powerful reel that does the job perfectly well.
Pros
Easy to read and reset line counter
Great for trolling for various fish species
Tight tolerances and optimum durability
Smooth and flawless line flow
Cons
The line counter is not 100% accurate
Can be tricky to go from free spooling and switch to retrieve
---
The One Bass Level Wind trolling reel is one of the best when it comes to a powerful drag system. This reel can handle as much as 45 pounds and provides the smoothest drag possible. Assembly and disassembly are quick and simple. And with the ergonomic design for the handle, it feels comfortable in your hand.
Another thing we find impressive about this reel is the lightweight design. It is perfect to use for flat fishing inshore and catching bigger fish offshore. You can count on its brake material, which is always on-point and high-performance.
For the price you pay for this reel, you can definitely expect more than you should. The packaging is great and it helps that the instructions are as in-depth and clear as possible. Thus, getting started with using this product is easy and hassle-free.
Pros
Lightweight carbonite material for the drag system
Consistently strong stopping ability
Aircraft-grade aluminum for the spool and frame
Perfect for catching different types and weight of fish
Cons
The click switch can be a bit glitchy at times
The handle is a tad oversized
---
When you want a small and lightweight trolling reel for freshwater fishing, the Shakespeare ATS is one that will not disappoint. It has all the standard features, yet for a price that is unbeatable. You will love the stuff it is made of – all for an inexpensive price tag to match your budget.
We also are impressed with the fact that it comes with a non-line and a line counter option. These features are available for sizes 15, 20, as well as 30. The build is solid and rugged. It has side covers and a frame crafted from graphite for maximum durability.
The bait clicker is quite easy to work with. There is an on and off switch, which makes it a breeze to get it all set up. Plus, there are two pieces of ball bearings. As a result, the gear feel is quite smooth and flawless.
Pros
Sturdy reel with a single piece for the side covers and frame
Corrosion-resistant reel for longevity
Comes at a reasonable price
Has a comfortable handle
Cons
The reel has a slightly rough feel to it
More suitable to use as a back-up reel
---
Every serious angler interested in offshore fishing could use the professional build and performance of the Gomexus trolling reel. This unit comes with an impressive drag system that offers a smooth and seamless startup. Even with the most extreme drag setting, there is no hesitation – only a flawless action for the finest results.
It offers unparalleled performance when you use a heavy line for catching massive fish. Moreover, this is the reel to use for those long-range fishing expeditions. The gears are stainless steel, as well as the springs and clickers. With a maximum strike capacity of 173 pounds, this is the reel that can handle various sea monsters without a doubt!
Lastly, the unit has a solid and lightweight aluminum frame. Yet, at the same time, it is heavy-duty and reliable for various fishing conditions. It is hands down one of the best out there for sure.
Pros
Smooth and nicely-cut gears
Powerful and flawless drag system
Stainless steel and durable bearings
Clean and professional finish
Cons
You need to lube the reel out of the box
Could use larger hardware or screws to hold the pieces together
---
Are you fond of catfishing? Or perhaps catching medium-sized fish? If so, then the C3 Species by Abu Garcia is the way to go. This fishing reel comes with a 6-pin design centrifugal brake and a synchronized type of levelwind system, which offers maximum performance when reeling in your catch.
Right out of the box, this reel is smooth, solid, and definitely one of the most good-looking ones out there. In terms of visual appeal, the C3 Species has so much to offer. But what is even more impressive about it is the performance of the reel. Because of its high level of craftsmanship, it performs excellently well – casting is consistently outstanding and there are no overruns to worry about.
The power handle is impeccable, there is a great capacity for a heavy line, and it simply works. Whether you are a beginner or a pro, you can be sure that this reel will never disappoint.
Pros
Comes with a superior quality drag system
Comfortable and convenient handle
Capable of handling both large and medium fish
3 ball bearings and a roller bearing (stainless steel)
Cons
The bait clicker could be louder
The tension needs improvement when on click-mode
---
This list of the best trolling reels will never be complete without the Daiwa Sealine. This reel is suitable for both freshwater and saltwater applications. It features a line counter built right into the unit, allowing you to keep track of your line. But more than that, it has plenty to offer to boost its performance.
What's great about this bad boy is the triple bearing system. This results in a smooth and reliable operation on a consistent basis. The spool is machined aluminum with some composite frame to keep it lightweight and heavy-duty. Moreover, these features add to the reel's corrosion-resistance, especially when used in saltwater.
With a self-engaging clutch design that is automatic, as well as a spool clicker, getting started to use this reel is fast and easy. It is tough and built to last for a long time.
Pros
Right-hand reel retrieve action
Single piece composite frame
Smooth control for the drag
Automatic clutch design
Cons
The handle could take some getting used to
Best for smaller and medium-sized fish.
---
How to Buy the Best Trolling Reels – Key Features to Look For
Trolling is a fishing technique that appeals to many saltwater anglers. But at the same time, it is mostly reserved for those who use the right pieces of equipment. After all, trolling requires a powerful reel that can handle massive fish without any trouble at all.
This is why the best trolling reels are your best buddies when it comes to this angling technique. If you are looking to catch salmon, tuna, shark, and the like, you can only make it happen with a trolling reel that is up for the task.
Do take note that trolling reels are unlike your traditional reel. The latter has simple components and operating abilities. Thus, you cannot cast with those reels the way you do with a trolling reel.
So, the big question is, what is the best trolling reel for you? Here are the features you should look for to ensure the right decision that is worth your money.
1. Material
The first thing to look for and consider is the material used for the reel.
A great quality trolling reel is one that is free from corrosion and water-resistant. This reel should be able to handle long-distance travel. Thus, there are many trolling reels with chassis and backplates crafted from treated aluminum for maximum strength.
Speaking of corrosion, the reel can never catch rust. Since you will be fishing mostly in saltwater, then you want to be sure that your reel is corrosion-resistant to handle the tough conditions in this fishing situation.
2. Weight
Next up, check the weight.
A good weight is synonymous with outstanding quality. This is why we highly recommend those that are aluminum-made as these are lighter than most, yet without compromising durability.
But if weight is not a concern with you, then you can get away with heftier reels. Naturally, the material used for heavy reels is sturdy. But with the technology in today's world, it is absolutely possible to find a lightweight reel that is durable and solid at the same time.
3. Comfort
Another good consideration to take note of is the handle.
Does the reel have a smooth and comfortable handle?
When you are able to grip steadily and securely on the handle, then you are in a good space. Unfortunately, handles are often overlooked by many anglers, especially newbies.
But this should not be set aside since the handlebar must be comfortable as you will require optimum handling power and grip as you pull your massive catch right out of the tides.
The last thing you want is to end up losing your fish because the handle hurts your hands.
4. Spool Design
This is that portion in your reels when you will have to wrap the lines.
Because of its important function in catching fish, then you must make sure the spool is ultimately durable and efficient to use.
Consider choosing a spool crafted from a solid material that allows you to wrap braided lines securely around it.
We recommend that you inspect the spool before you buy it. Opt for lighter, but more powerful such as an aluminum spool. However, do take note that the material is thick while being effective in handling the pressure.
5. Bearing System
We cannot stress enough the importance of a solid bearing system.
In plain language, the bearing system is the part that allows the lines to keep flowing while making sure the spooling is fast and seamless.
You should be able to find graphite bearing systems that may also be self-lubed.
The latter, however, is a bit on the expensive side. It is worth it, though, since it eliminates the stress of having to lube it yourself each time.
---
Frequently Asked Questions
Here are the commonly asked questions buyers have when purchasing or using a trolling reel. Please take a look at these questions to determine how to properly use this type of reel for your fishing trip.
1. What is the best gear ratio for a trolling reel?
The gear ratio defines the amount of speed you can expect when winding the lines up on your reel. When it comes to gear ratio, you should be able to find certain numbers such as 5:1, 6:1, 3:1 and the like.
To understand what these numbers mean, it is quite simple. Basically, the higher the number, the more strength is applied for you to successfully pull your lines. Thus, if you want to catch a bigger fish, then the gear ratio must be higher.
2. What is a versatile trolling reel?
There are times when you would rather catch fish in the lakes while others may prefer to catch fish in the ocean or the sea.
Thus, you need to check the specifications indicated on your reel. It should be versatile enough to handle different types of fishing situations. This is particularly true if you are only a seasonal angler who wants to catch fish during off-season in a particular location.
You should be able to find reels that can handle both freshwater and saltwater without any issue at all.
3. Can my conventional reel perform well for trolling?
This is a question we often encounter from some anglers.
At first glance, you may notice that conventional and trolling reels appear to be the same. They have the same design, yet there are some differences, as well.
For instance, trolling reels have slightly rounded profiles. Thus, you will be able to line more, which means that they are not used for casting purposes.
Moreover, trolling reels are perfect for catching bigger fish such as the salmon, trout, musky, and walleye. If you want to catch popular saltwater fish species such as the marlin, then you should be able to do so with a trolling reel.
4. How exactly does a trolling reel work?
Trolling reels have better access to the depths of the water. As compared with casting reels, trolling reels go much deeper.
Furthermore, they have a powerful drag system. This is very important when you are trying to catch bigger fish and attempting to do so in higher pressures and levels.
With a more reinforced spool, you can count on the reel to tolerate the intense pressure braided lines have.
Another thing that you can do with a trolling reel is checking information on the amount of line thrown into the water. This is something that is not very typical with your conventional reel.
5. What is the best way of using a trolling reel?
Many newbies who are not used to how a trolling reel works may have a challenging experience with getting started.
In fact, it is not as quick and simple as casting.
When using a trolling reel, it is impossible to cast using this fishing technique.
Initially, you will need to have the bait up to 8 inches from the fishing rod's tip. There, you will need to press the spool button to lower the lines.
As the line is released, so will the moving boat or the waves will end up dragging your fishing line from where you are situated.
Additionally, it is important that you set several baits in various depths and areas around your boat. This way, you can boost your chances of catching fish.
To learn more about using a trolling reel, check out this video:
Conclusion
Trolling reels are indeed a must-have when you are looking for a type of reel that you can use for your deepwater fishing and catching big fish.
With so many choices available, all the more does it make sense to determine the features you should be looking for to make sure that you find the right one. This is why it is important to know the facts on what makes the best trolling reels and the characteristics you should consider before you buy one.
We hope that after reading our reviews and buying guide on the best trolling reels, you were able to figure out the finest one that matches your needs best. Thus, you can make the right decision of selecting a great quality reel that offers a solid bang for your buck.