If there's one thing that's crucial for my fishing escapades, it's the best wading boots for fly fishing. Without it, I'd end up with wet feet and a TON of discomfort as I waded around finding a spot to catch the big one! However, you'd be surprised by the many different kinds of wading boots there are, so it gets confusing as to what to get.
That's why I decided to create a detailed purchasing guide to help you out, so read on! I'll be sharing the best wading boots for fly fishing and what else to learn about them.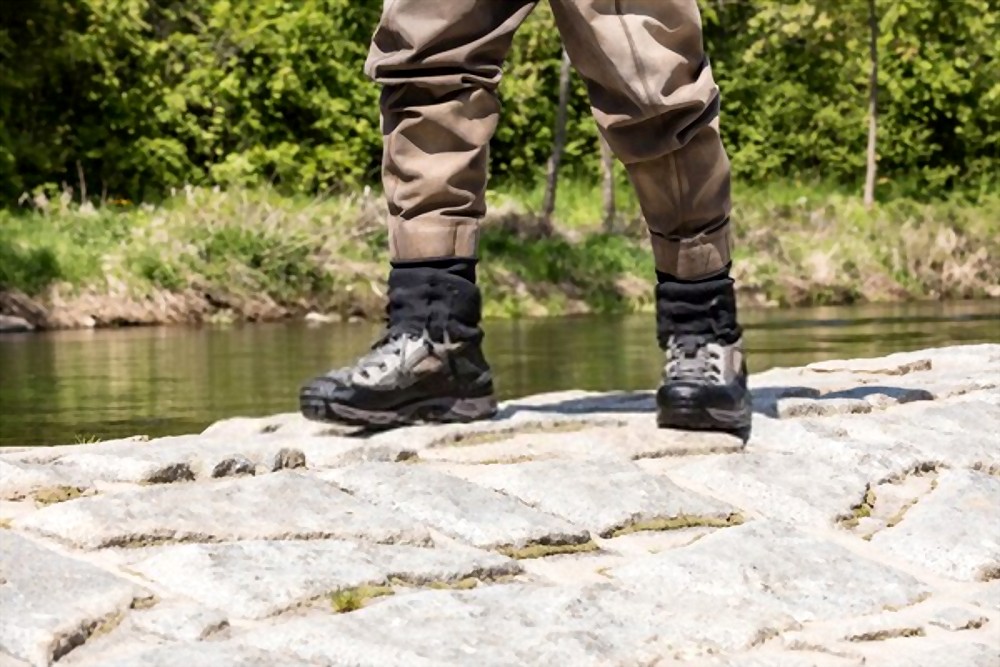 Quick Comparison: Top Wading Boots For Fly Fishing
**Below, you'll find our more detailed reviews, but you can also click the links above to see current prices or read customer reviews on Amazon.
The 11 Best Wading Boots For Fly Fishing
A bit confused with what's best for you? Here are the top 11 choices you can look into:
I love the Chota Outdoor Gear Wading Boots, and it deserves to be my top editor's choice! It's built with top-quality STL plus, which is genuine leather uppers. It also has a cool and laidback style, along with various helpful features such as:
Large micro-screen drain ports
Quick and easy lace systems
Kick-off plates
These shoes have a unique design, which is the polypropylene felt soles in rubber cleats, so you can add or remove cleats as needed. These strong cleats are also included in the package, so you have more traction and grip no matter where you go.
As for its comfort, it has the cushioning midsole, which keeps my feet free from pressure and too much stress. I can wear this all day when wading, so I focus on fishing better than where I walk around in.
Pros
Quick lace system to put it on or off easily
Secure fit that keeps feet comfortable and safe
Micro screen for optimum drainage, blocking off the debris
Cool design to keep feet safe in any area
Cons
The cleats included aren't as high-quality as the boots
Laces will need replacement periodically, not as long-lasting
---
The Caddis Northern Guide Wading Shoes are another great choice for its moderate pricing but sleek style. I love how great it looks when walking to the waters and wading! The material doesn't look like it would fade or wear out easily as well, as it's made with an EcoSmart Sole and nylon uppers.
As for its drainage, it comes with saltwater-proof eyelets, so the shoes are resistant to most bodies of water. They also have a speedy lace system, making it more convenient to take on and off. They are simple, neat, and do a job well done in most wading conditions.
While the laces aren't as durable, the boots look built to last for many fishing trips to come!
Pros
The boots can be used in saltwater conditions
Lightweight and sized a bit large for socks
Comfortable enough with good cushioning inside
The soles feel grippy in mixed water bottoms
Cons
The laces aren't as good quality compared to the shoes
It's slightly slippery when on very slimy rocks
---
Though the Korkers Wading Boots are a bit pricier, they have the best combination of durability and comfort. These wading boots are made with plain felt soles, which also come with Kling-On sticky rubber soles. So depending on what water conditions you'll face, you're prepared for anything!
The OmniTrax 3.0 is the boot's notable feature, and you can purchase even more accessory outsoles to replace previous ones. This makes the boots even more durable and built to last for years.
The boots itself are made of hydrophobic materials for better dry times with fewer chances of reading bacteria or invasive species. If you need something more versatile for different water and surface conditions, then you'll like Korkers.
Pros
They have interchangeable soles for many water conditions
Boots dry quicker and make it easier to clean
Easy to take the soles off, with innovative design
It's supportive and keeps ankles free from pain
Cons
A bit difficult to place soles on the wading boots
They run one size small, need to order larger ones
---
For simplicity and comfort, I recommend the Duck and Fish Wading Shoe. They have one of the top wading boots because of their rubber soles, made with excellent material and quality construction. It will NOT wear out too quickly or fall off, providing great support and traction for slick surfaces.
The boots are also made with textile and lace-up uppers, as well as a waterproof neoprene lining which makes it easy to take on and off. As for its outsole, it's stud-compatible and offers a firm grip, lessening the risk of slips and falls. Plus, it offers extra protection with its thicker toe cap, so you won't have to worry about stubbing your toes.
Pros
Thick toe cap to prevent toe bruises and stubbing
Has triple-padded collar for better ankle support
Wider soles for a stable base and secure, accurate fit
Offers self-cleaning properties with the rubber outsole
Cons
These aren't as durable compared to other boots
Made best for beginner anglers and mild water conditions
---
I admire the rugged design of the Compass 360 Tailwater II Cleated Wading Shoes. They have a strong style, made with a combination of nylon and PU, as well as LSG outsoles. They are best worn with 4mm neoprene booties for maximum protection and comfort, whether you have wading studs or not.
Its notable feature is its locking stud grip, which gives you a better grip even with no felt. Furthermore, it has reinforced caps and padded collars, which ensure extra support and protection for your toes and ankles. All in all, I see it worth the investment, especially if you need something for strength and protection.
Pros
Comes with a one-year warranty to ensure your money's worth
Locking stud grip for extra traction in slippery water conditions
It can be worn with neoprene booties without feeling tight
Light and rugged construction to the last longer
Cons
It may take time to break the boots in
The studs are purchased separately
---
The Redington Skagit River Wading Boots are made for fly fishing! Their main use is for fishing, but they still have great strength and quality soles for hiking before reaching the waters.
I love how rugged its bottoms feel, as they are built with quality rubber and with reinforced caps to protect your feet. Furthermore, they have adequate traction and grip over mossy rocks, though they do slip a bit when on algae. As for its insides, they have a softer bottom, which is comfortable for walking and standing during long hours of fishing.
All in all, they stand out in terms of comfort and I believe it's worth the long-term investment.
Pros
Very soft bottoms and strong soles for comfort
Secure fit and stays true to size with socks
No fatigue felt even when wading for long hours
It dries up quickly and colors don't fade
Cons
May be a bit slippery when dealing with algae
The boots are a bit on the heavier side
---
For its great balance of flexibility and stability, I commend the Frogg Toggs Wading Boots. They are made with lightweight mesh with felt outsoles, as well as PVC uppers to protect your feet from strong currents. Furthermore, they have the design that supports your ankles and keeps your feet stable as you walk around terrains and rocks.
As for its convenience, they are known to have speed laces and have to lock lace clips to make it easier to slip on and secure. They also have Polymer lace loops and speed hooks made of brass to have them last for years of usage.
If you prioritize stability and convenience, then these boots are for you.
Pros
Speed lacing system that takes seconds to put on or take off
Felt soles for comfort and great traction on steep river banks
Safe grip and adequate ankle support to prevent injuries
Cons
The soles are not the best when walking on snow
They aren't as well-cushioned than other boots
---
When focusing more on affordability stout compromising quality, the Hodgman Wade Shoe is an excellent choice. Though cheaper than other boots, they are made with excellent features that make it a great starter wading boot.
It features the rubber outsoles and neoprene upper, protecting your feet from slips and stubs. You're also able to adjust the cuffs on the upper heel for the accurate fit, keeping feet comfortable for hours of wading. But do take note you'll need to order half a size up to accommodate your socks.
There may be a few minor issues but for its price, you get more than what you pay for and have boots to last for regular wading.
Pros
Affordable price with a sturdy and comfortable feel
No sand or debris go into the shoes, can adjust the cuffs
Heavy-duty construction and great grip on paths and waters
Cons
Need to order at least half a size up
Not as much arch support for those with feet conditions
---
The Simms Tributary Wading Boots have the neoprene lining and rubber outsole, which is water-resistant and gives the best traction needed. They are designed with the thick traction outsole, which is compatible for studs for an even firmer grip on slippery surfaces.
The entire boot is made with durability and protection in mind. They ensure that you can walk around with confidence, from the rubber toe cap to prevent pain from studs down to the lace-up upper and ease of taking the boots on or off. I can also see that as long as you care for it right, it can last for years without fail.
Pros
Quality construction made to last for a long time
Protects your feet from debris and slippery areas
Waterproof and keeps your feet dry
Cons
Feels stiff but still offer great support, though not for walking
Not the best for rocky bottom wading for the clunkiness
---
If your main focus is something lightweight and durable, then you'll love the Orvis Ultralight Wading Boots. They're one of the lightest I've experienced, especially considering that they're made with a light yet strong materials.
These boots are made with a Clarion microfiber, which ensures better strength and weight, as well as the quick-drying features for ease of cleaning. The soles are just as strong, coming with abrasion-resistant rubber spray for more protection. I'm able to walk around in high wear areas and tough terrains without it breaking. As for its grip, it feels excellent and I don't worry about slipping, even when in mossy areas.
For those who need something light and built to last, these wading boots are for you.
Pros
It's one of the lightest wading boots available
Made with quick-drying microfiber for strength
Abrasion-resistant for more protection in tough surfaces
Made with a Vibram EVA midsole for better comfort
Cons
The shoelaces might be too short for some users
You need to order two sizes up, the boots run small
---
Last but not least, I want to review the Caddis Taupe Wading Shoes. These are made with felt soles, as well as the extra cushioning in the insoles. They are made best for many wading conditions, though I recommend it for mossy and slippery areas rather than hard terrains.
I like that it also has the comfortable soles and the quick lace system, so I don't have problems with it in terms of keeping my feet well-cushioned. I'm able to wade around waters and fish without feeling fatigued! Furthermore, I like that it stays true to size and still feels lightweight, leaving a bit of wiggle room when I wear socks.
Overall, I think these boots are a great fit for those requiring something in larger sizes. While it may not be as long-lasting as others, it's durable enough to last for many fishing trips, as long as you care for your boots well.
Pros
Best made for many wading conditions and mossy areas
Made with high-quality polyester for durability
Shoes are oversized to accommodate booties and socks
Very comfortable and supportive, offers a great grip
Cons
Some complaints of receiving unequal stitching
Adequate durability but not as long-lasting compared to others
---
How to Purchase the Best Wading Boots For Fly Fishing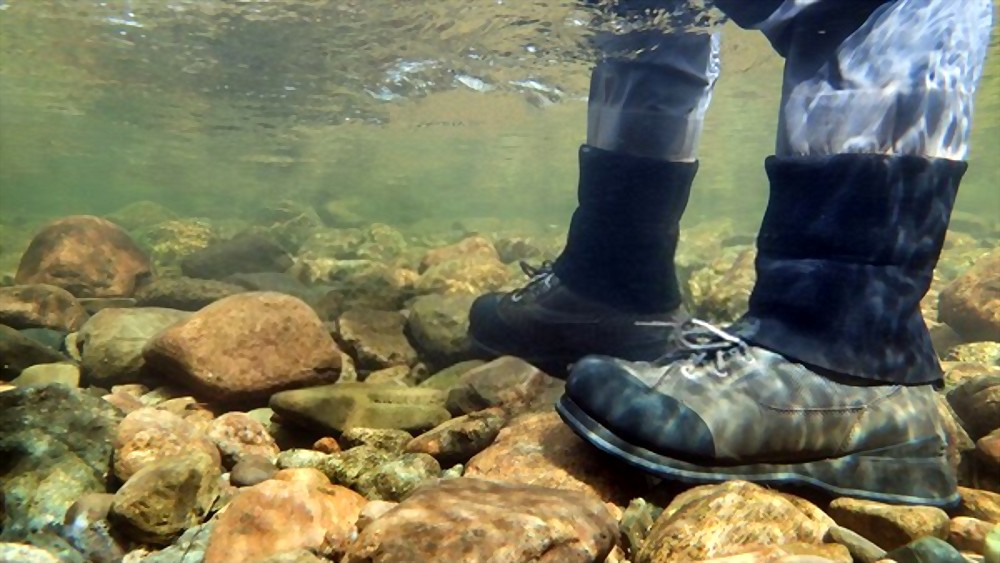 Choosing the best wading boots for fly fishing isn't just selecting the one that looks best. While my reviews are helpful, you need to narrow your choices down based on these important factors to consider:
1. Type of Soles
For starters, you have to look into the different types of soles to choose from. The traction is one of the main qualities any wading boot should have, no matter where you're trudging and wading. May it be around rivers, creeks, streams, etc, the soles should be strong enough to keep your balance, especially when stepping on mud!
These are the three types of soles for wading boots:
Rubber Soles
Rubber soles are similar to the typical hiking boot, offering superior sturdiness and durability. This is why it's one of the optimal footwear choices for anglers that face long treks. I highly recommend it for anglers who would need to take a long hike or walk when heading to their fishing spot.
These soles also give the best traction in muddy water bottoms, as well as the ease of cleaning.
Felt Soles
Some presume that cloth-soled wading boots would perform poorly when met with water. But with felt-soled boots, they also offer just as good traction as rubber soles! They provide the grip needed when walking on moss, debris, and slimy rocks, which prevents serious trips and falls.
But do take note that the felt isn't as durable as rubber, and this material may erode in time.
Cleated Soles
If you need something even sturdier for securer footing, then you can opt for studded or cleated wading boots. These offer efficient traction when in moving waters, as well as when you're walking through areas with moss patches and dead leaf collections.
However, it may not be the best for anglers dealing with muddy rivers, and they are a bit difficult to clean afterward!
2. Superior Support
When you're feeling with the rolling currents, it can take a toll on your feet, especially when barefoot! It's not just about the grip, but the way your boots hold your feet. That's why you need ample support for both ankles and feet, which will ensure more comfort, protection, and less risk of injury when walking around.
The wading boots should have sturdy heel areas and additional padding in the collar to prevent ankle rolling. Furthermore, the toe and heel caps should be there to protect your feet in case you kick hard structures or rocks. These can also help extend your boots' lifespan.
3. The Style and Material
Wading boots would come in various styles and designs based on your preference and the type of water conditions you'll be encountering.
If you're an angler battling the rocky rivers and tough terrains, then you should opt for the king boot-style wading boot. You can also find more extreme options for fishermen, which resemble the work boot.
However, if you plan on visiting slow-moving and debris-free bodies of water, then you can make fo with sneaker-style wading boots. These are a bit more comfortable for anglers that don't require the more intense and stiff work boot.
4. Your Sizing
The sizes for wading boots are a bit different than standard footwear, which is why you should also size your feet beforehand.
To accommodate neoprene stockingfoot waders, you need to opt for a size larger than your typical hiking boots. If you plan on wearing wool or wading socks, then you'll have to go another half-size larger.
However, take note that this depends on the manufacturer. Check the manufacturer's size guide for a more accurate answer. Above everything else, search for a pair that holds and supports your feet securely without it being too tight.
5. Drainage and Coating
A reliable pair of wading boots should drain efficiently. If it doesn't then the boots get heavier, which would affect your comfort. There need to be additional drainage canals around the midsoles, which makes the entire drainage system work better.
Furthermore, it's best to have wading boots that are built with treatments (like DWR, or durable water repellent) to make fabric hydrophobic. That way, your boots won't absorb water as easily, keeping your boots and feet light. The coating does wear off in time, but you can restore its quality with a good waterproofing spray.
---
Frequently Asked Questions
Now that you know how to choose the best wading boots for fly fishing, what else should you know about them? Here are the frequently asked questions many readers have wondered about:
1. How do I clean my wading boots?
To clean your wading boots properly, follow these tips:
Scrub the boots stream-side, removing all mud, debris, and other invasive species. Use a brush and water by the stream, inspecting every nook and cranny to ensure you didn't miss cleaning anything. Rinse the boots inside and out, then allow it to drain and shake the water away
Disinfect the wading boots once you get home to get rid of any species and bacteria that got stuck to it while fishing. I also recommend that you disinfect it weekly, even if you don't use it often. This eliminates bacteria from your home, which may lead to odors, mold, fungus, and the like.
Before storing your wading boots, make sure that you dry them completely, leaving them under the sun or using a boot dryer.
2. Are there ways to maintain and prolong my boots' lifespan?
Besides cleaning your boots regularly, there are ways on how to maintain it to extend its lifespan.
Clean your boots immediately after a fishing trip to prevent it from growing mold and fungus. Add waterproofing spray as well, keeping the boots from absorbing too much water.
Be sure to store your wading boots in a dry and cool area when not in use.
Avoid overusing your wading boots or abusing it while in the waters or tough terrain. Just because it's made of strong materials doesn't mean you should put it to the ultimate test and purposely step on sharp objects! As much as possible, walk carefully and tread waters with safety in mind.
3. Why should I use wading boots instead of sandals?
YES, you can opt for water sandals instead of a pair of wading boots. BUT, sandals work best only in certain conditions. It's not recommended to use water sandals when you're fly fishing in fast-moving and deeper waters.
Sandals are a good choice if you're fishing in low-depth and slow-moving waters, as long as you invest in one with good traction. With that said, I would still opt for wading boots for its versatility in most water and trekking conditions.
4. What are tips to follow to stay safe while wading?
Here are some tips to follow to ensure better safety while wading:
Always stay by the shallow parts, especially when the current is swift-moving. Knee height should be your maximum!
Always have a plan, especially if you're wading into unfamiliar waters. Analyze the entire situation and scout for safe areas to wade and fish in.
Always wear approved floatation devices in case of emergencies, as well as a wading belt and wading staff. These stabilize your body to keep you up and safe.
Pay attention to where you're going and the way you walk. Walk perpendicularly to currents while wading, avoid facing currents or going behind it.
I recommend that you learn how to swim, and if accidents happen, let go of all your equipment and focus on saving yourself!
Wrapping It Up
Staying on your toes doesn't only mean being alert while fish, it should also mean to be balanced and safe. With a good pair of wading boots, you have a better foundation in the waters as you try getting your catch. Plus, it feels much comfier and safer compared to using sandals or the typical pair of boots, ensuring you have the best time in the waters.
Hopefully, my purchasing guide on the best wading boots for fly fishing helped you out! So don't wait any longer and start looking into these boots now.