Florida is one of the four best places to kayak in the U.S, along with California, Hawaii, and Alaska. It must be exciting to plan your trip, but do not forget to bring appropriate clothing.
What to wear when kayaking in Florida? And what should you avoid wearing? If you wonder about these questions, we will help you clear them right now.
This post will give you a list of stuff to wear and bring for your Florida trip. Let's follow us to have a nice excursion!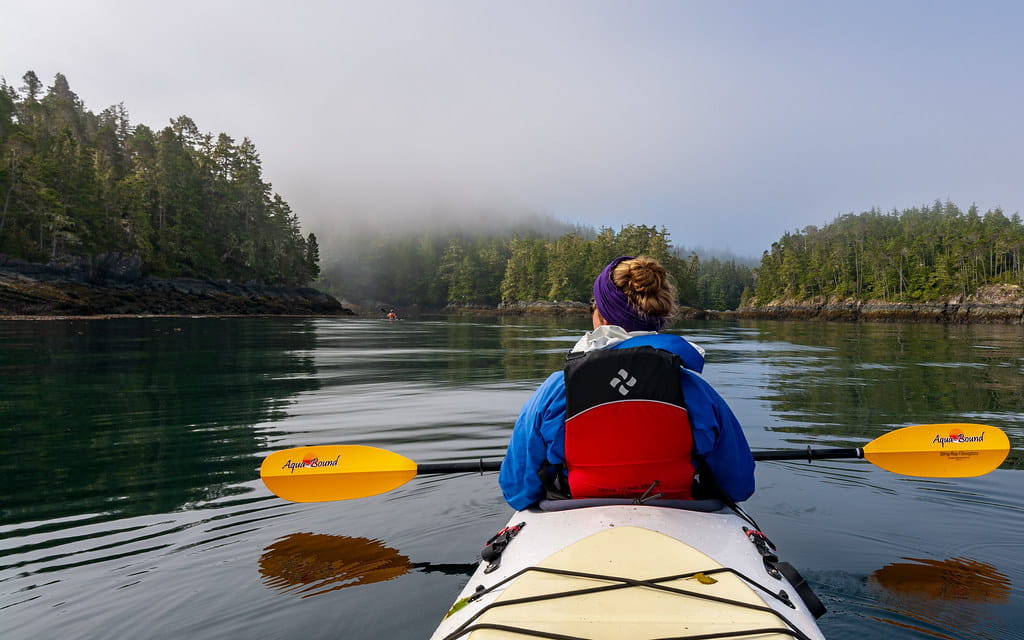 What To Wear Kayaking In Florida?
You may need to choose different items depending on the weather.
In warm conditions, make sure you use light and airy clothing and rash guards.
In cool conditions, you should wear fabrics that keep you dry and can absorb little water.
You also need to bring a light jacket in case it gets colder. Besides, bring a diving suit.
In general, you have more options when kayaking in mild conditions. But when it gets colder, add more layers to keep you warm.
Here are some ideas that help you stay comfortable while kayaking in different weather conditions.
In mild conditions
Such weather is perfect for kayaking. The best items for your trip include:
Underwear
Many kayakers choose to put on a swimsuit as the first layer when paddling in warm weather for shorter sessions.
Alternatively, pick outdoor underpants and non-cotton sports bras.
Tops
Kayaking and other water sports go well with rashguards.
Their materials are nylon or polyester combined with Lycra spandex, offering high UPF ratings to defend against UV radiation damage.
They are also quick drying and can stretch nicely.
Moreover, their form-fitting fabric and flat seams make them very comfortable when worn under a wetsuit.
If you don't like this idea, you can also use your desired base layer made of wool and synthetic materials.
Water shirts
Most of these tops give UPF protection, but they don't fit as snugly as rashguards. They are a great choice if you don't want to swim.
Bottoms
You can wear anything that is both comfy and quick-drying; good choices are board shorts or casual quick-dry trousers.
Something chafe or bind may ruin your trip. Too thin fabrics can't withstand continuous movement in your seat while paddling.
Outer layer
You can use an outer layer in case of rain and wind. A breathable and waterproof jacket will be a nice choice. You can also wear rain pants for extra protection.
Paddling jackets are convenient because they have seals at the neck and wrists to prevent water from leaking. They can also keep out drips that flow down the paddle shaft.
Footwear
Neoprene padding boots are the best choice because they are water-resistant and lightweight. They can protect your feet securely all day.
Water sandals offer less protection than boots and can trap mud, sand, and stones beneath the feet. But if you don't have boots, the sandals will suffice. 
Avoid wearing flip-flops or anything else without a back strap if you don't want to walk barefoot. Strapless shoes will flip off your feet easily.  
Read more: What Size Of Wading Boots Do I Need?
Hats
Look for hats with large brims. If your hat doesn't have a chin strap or another secure way to keep it in place, consider getting a cap leash as well.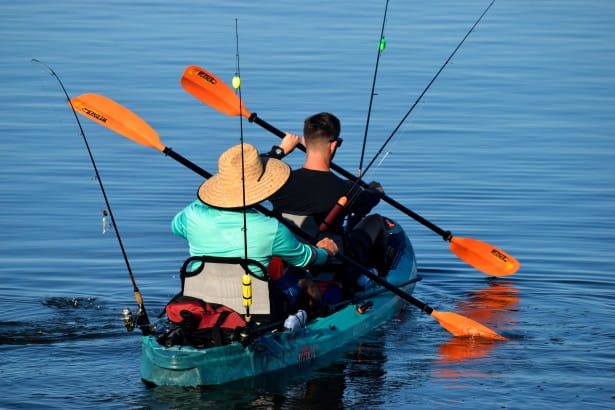 In the cold
A wetsuit and drysuit are advisable. These outfits are still suitable for kayaking in guarded, close-in areas.
Wetsuit
A wetsuit offers the least protection required for cold weather. It keeps you warm by maintaining a thin water layer heated by your body close to your skin.
You'll also need a wetsuit if the water is cold, but the air is hot. When you kayak, you'll feel warm but be well-prepared for swimming.
Drysuit
The drysuit is ideal for paddling in the cold, thanks to its waterproof material.
Besides, it has airtight seals to keep you dry all the time. You can also modify how warm it is by wearing an insulating layer.
Footwear
You can also buy waterproof paddling booties or socks for cold climates when you expect rain and wave splash. For extra warmth, you can also wear thick socks inside the booties.
Gloves
The benefit of paddling gloves is that they help protect you from blisters and windy days. They can help you hold the shaft as they stick to the paddle.
What To Avoid Wearing When Kayaking In Florida?
If the weather is nice, you won't need to try our ideas for cold weather. So feel free to choose your favorite.
Yet, you should avoid wearing some things because they will affect your trip.
Jeans
Jeans come from thick, moisture-wicking fabric. Such heavy materials will make kayaking more challenging.
Cotton clothes
Even if you don't turn your kayak over, splashes, drippings, and sprays will make your clothes get soaked.
Cotton quickly wicks away water and retains moisture, making it very cold and ill-fitting apparel.
Instead, use synthetic materials, like fleece, Gore-Tex, and polyester, which dry quickly and are lightweight.
Things To Bring When Kayaking In Florida
Clothing is not the only thing to care about. Before heading to the water, ensure you have all the essential stuff. Here are three must-pack things:
Safety equipment
You must carry the essential kayak safety gear to ensure that your excursion is both enjoyable and safe.
A snug-fitting PFD, paddle float, spray skirt, safety whistle, bilge pump, and extra paddle are also necessary. 
Also, prepare high SPF sunscreen to protect your skin from sunshine.
You should also bring a first-aid kit in case of landing accidents. Pack your cell phone, a small knife, a map, and a headlamp with you too.
Dry bags
You are traveling on the water. Hence, your belongings will get wet easily.
You can put your things in a dry bag to keep them dry. This tip works nicely, especially when the waves are strong.
The bag must fit your kayak's hull and have sealed seams and folded closures. And the items to put in your bag should be:
Plastic bag
Warm socks
Soft shoes or sandals
Water bottle
Waterproof camera 
Towel, sunglasses, and a hat
Water
You should bring a lot of water when paddling in Crystal River to stay hydrated.
The sun and your kayaking labor will make you sweat profusely; thus, water is essential.
You should pack extra clothing to protect yourself from the sun's rays or the cold. Also, by checking the weather forecast, plan ahead for the types of clothing to bring.
Physical capability
Physical capability is not about what to pack for kayaking but about how much you should kayak.
It means that you must be confident about your health before challenging yourself with this sport.
Conclusion
Kayaking in Florida is an excellent experience. Your trip will be even much more enjoyable if you wear suitable clothing.
Aside from clothing, you need to bring safety gear. Also, kayaking is a sport; you should be confident about your physical capability before trying it.
And now, are you ready for the trip? Recheck our guide to ensure you won't miss any important things. Thank you for reading!