Get ready to shred with the absolute best wakeboard boats in the world for the money. Malibu Boats, and Axis Boats by Malibu, are engineered to provide serious performance with astonishing affordability. Since its founding in just 2009, Axis has seen explosive growth thanks to its original, independent spirit within the Malibu family, designed by board engineers who constantly question the status quo. Each Malibu and Axis boat is handcrafted with incredible quality, ingenuity and one-of-a-kind production techniques.
Axis Boat
When you are looking at buying a wake boat, Axis Wake is a brand that stands out because of its favorable price.
Are Axis made by Malibu ?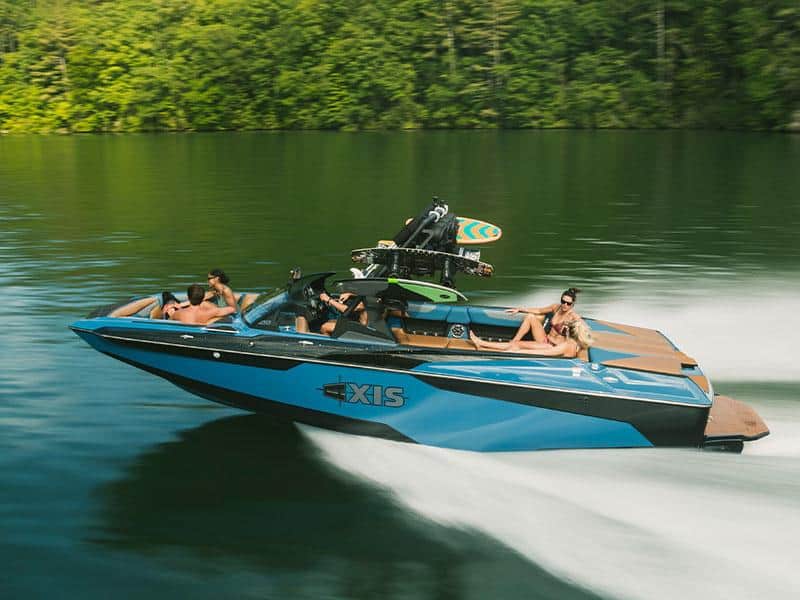 The Axis Wake brand was started by Malibu Boats in 2009.
The objective was to create a great entry-level boat to capitalize on the rising sports of wakeboarding and wake surfing. The same high-quality Malibu design and construction would be used, but anything that wasn't absolutely necessary would be removed.
The range has evolved in response to feedback from both professional and recreational water sports enthusiasts. They eventually integrated iconic Malibu features like the Surf Gate and Power Wedge III.
Axis Wake's Wake Plus Hull design and Performance Surf Package are now on the market (PSP).
The hull is deep and has a high deadrise angle to put as much hull as possible in the water for maximum wave displacement.
The PSP combines the Surf Gate, which lets you alter the quantity and placement of your water ballast, with the Power Wedge III, which lets you change the wave height from steep to mellow at the stroke of a button.
This function was formerly manual on older Axis machines, but owing to feedback, it was changed to electronic.
Are Axis Boats Reliable & Good?
Axis has four different models, the A20, A22, A24, and the T22.
Malibu makes Axis as their less expensive line but still with top notch quality and performance. Axis Wake is a brand that stands out when it comes to wake boats due to its affordable price. Here's how good Axis Wake Boats are: Malibu's Axis wakeboard boats are well-made entry-level wakeboard boats. They're inexpensive because they're pared down to the bare basics, with no bells, whistles, or other frills. The design and production techniques, on the other hand, are still of excellent quality.
How Durable Are Axis Boats?
The common consensus is that Axis Wake boats are long-lasting, and not only in contrast to others in the same price range.
The Malibu factories place a premium on manufacturing quality, since Axis Wake boats are built using the same procedures as the more costly Malibus.
In terms of actual figures, one wakeboarding teacher at a summer camp claims to have used their Axis A20s for an average of 8 hours per day during the summer. They planned to trade them in at the end of the summer, when they would have accumulated 600+ hours of use.
Malibu Boat
Malibu Boats are mostly utilized for water skiing, tubing, and wakeboarding, thus they must always function well. While Malibu Boats are not inexpensive, they have a reputation for being a boat you can trust to perform well every time.
A Brief History Of Malibu Boats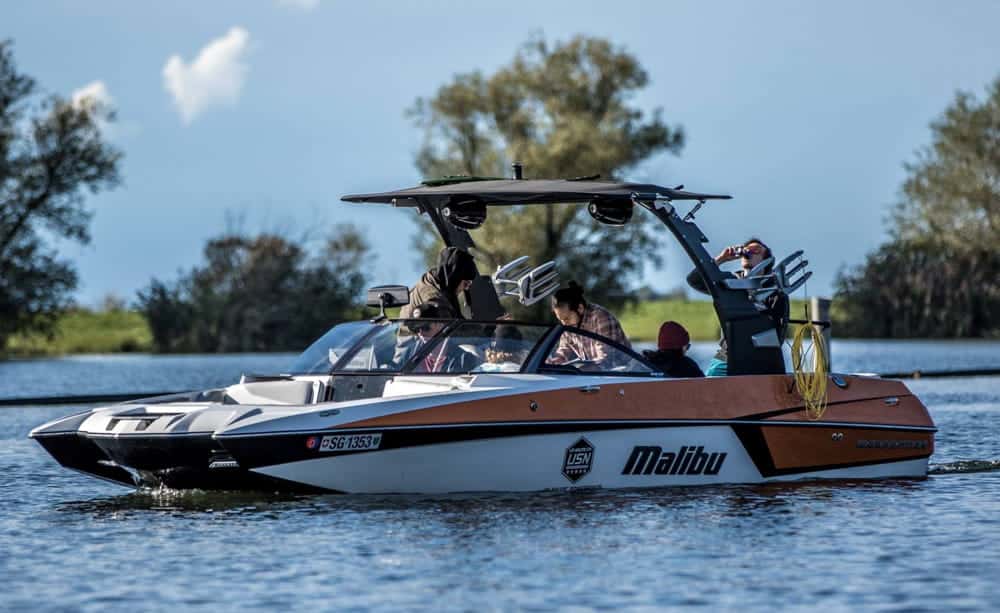 Malibu Boats was founded in 1982 by a group of six friends who shared a love of waterskiing and decided to design and build a new type of water sport boat.
Within their first year of business, they built and sold more than 100 boats.
Malibu developed an Employee Stock Ownership Program in 1986, which secured employee loyalty and helped to produce superior quality workmanship and creative input in the manufacture of their boats.
Malibu had grown to become one of California's major boat manufacturers by 1989, producing 1200 boats per year. Powerboat Magazine presented them with the first of many "Product Excellence Awards for Value."
To meet rising demand east of the Mississippi River, Malibu Boats built a new production plant in Loudon, Tennessee, in 1992, and manufacture in New South Wales, Australia, commenced in 1994.
Malibu was "probably the world's largest bespoke ski boat builder" by 2002. Black Canyon Capital, the firm's principal investor, purchased the company in 2006. The firm employs over 700 people globally and continues to construct boats at its three facilities.
How Reliable Are Malibu Boats?
Malibu makes 10 different boats with 3 series, WakeSetter, Ride, and Response.
As the weather warms, you look forward to going back on the water as a boater or water sports enthusiast.
However, there is always the worry of taking the boat out and running the engine for the first time — will it work?
Malibu takes pride in having one of the most dependable engines available. Malibu Boats come standard with an inboard engine that was built and engineered exclusively for them.
The new Malibu Monsoon engines, the M5Di, M6Di, and the LT4, were developed to offer unparalleled performance, efficient fuel consumption, reliability, and a quieter engine. These new engines are only available when you purchase a Malibu Boat.
How Durable Are Malibu Boats?
Malibu Boats launched its Fiberglass Engine Chassis System (FibECS) in 1993, which eliminated the need for wooden stringers in the construction.
This unique technique combines the strength and durability of fiberglass with the acoustic properties of wood. Malibu claims there have been no structural flaws in their engine chassis system since the introduction of this new technology, despite the fact that over 30,000 boats have been produced!
Furthermore, Malibu Boats was the first boatbuilder to offer a limited lifetime warranty on the hull, decks, and stringers.
However, if you don't maintain your boat, this limited lifetime warranty is useless.
You will have difficulties if you keep it outside in all weathers, don't apply vinyl protectant on the upholstery, don't clean and polish the hull after each use, don't perform the needed maintenance as directed in the handbook, ride it hard, and store it damp.
Should we choose Axis or Malibu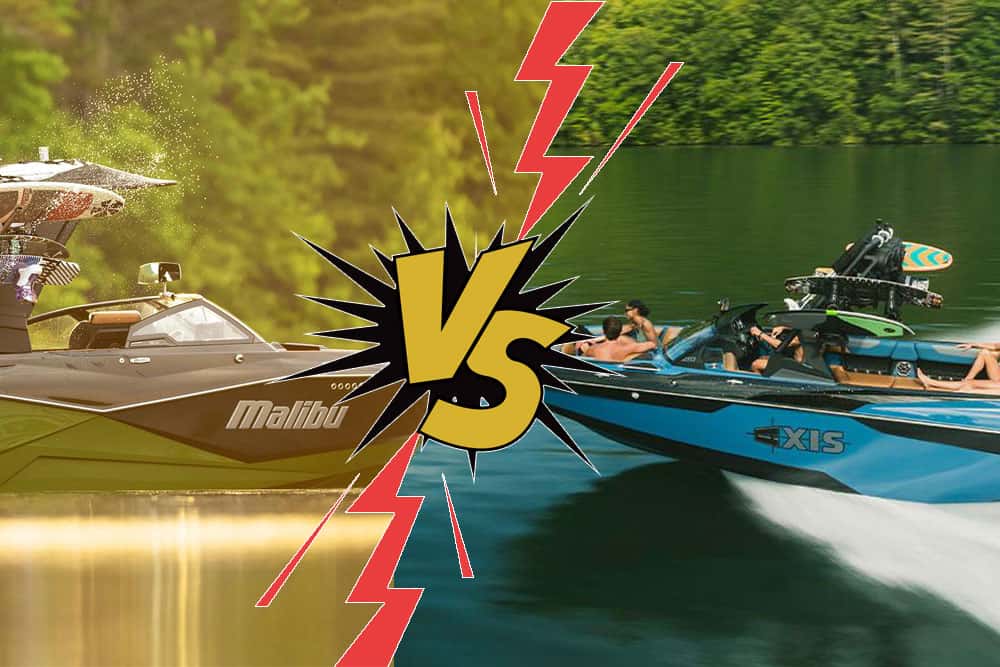 The answer depends on your demand.
If you are a beginner, Axis is not a bad choice. Wakeboarding boats and other products using the Malibu Monsoon Engine are available from Axis. This is constructed at the front of the boat so that it is easier to access if any changes are needed. The A20 is a new model from Axis that is suitable for wakesurfing.
Those with less expertise will be relieved to learn that docking, garageing, and trailering this boat is not difficult. Despite its small size, it can accommodate up to eleven persons. Additionally, there is sufficient storage room for equipment. This brand, which costs $71,995, may be worth considering.
The characteristics that appear most essential to you may have a significant impact on which boat is appropriate for you. The Malibu, in comparison to other boat brands such as Nautique, focuses a little more on sound reduction and fuel economy. The Malibu 24 MXZ is a great Malibu boat for maximum performance.
When wakesurfing with this boat at 112 MPH with the customisable Power Wedge set at 1. The bow thruster also makes driving the boat easier, resulting in a pleasant experience for everyone on board.
Read more: Inboard vs Outboard Saltwater? Which one is better for you
Conclusion
As can be seen, there is a wide range of wakeboarding boats and other boat options to pick from. With all of these aspects taken into account, you should have a better notion of which to purchase for your aquatic activities.
All of these companies are reputable, and the features that are most important to you will determine which boat you choose.