It can't be denied that an outboard engine is an essential component of your vessel and the most expensive component of your investment. As a result, every boater should make it a top priority to ensure that a motor is safeguarded when being towed to and from the sea. You may either pull your boat up or down to ensure your motor is secure.
You should tow a boat with the motor down. To reduce bouncing, most manufacturers' manuals advocate towing boats with the power turned off. If you need to tilt the engine up to tilt mode to acquire the appropriate clearance, you'll need some sort of transom saver mechanism to keep the motor from bouncing.
We will go and analyze this article to find out the best position for outboard motor when towing: up or down.
Best Position For Outboard Motor When Towing
In general, if your trailer has enough ground clearance, you should tow your boat with the motor down. Furthermore, most manufacturers advise that you should lower your boat. However, if you want more ground clearance, you may tow with the engine up.
Most boat manufacturers advocate for downward tow.Trailering your boat with the motor down in the vertical working position is the best option. To keep the prop from spinning freely while being transported, you should pull it down.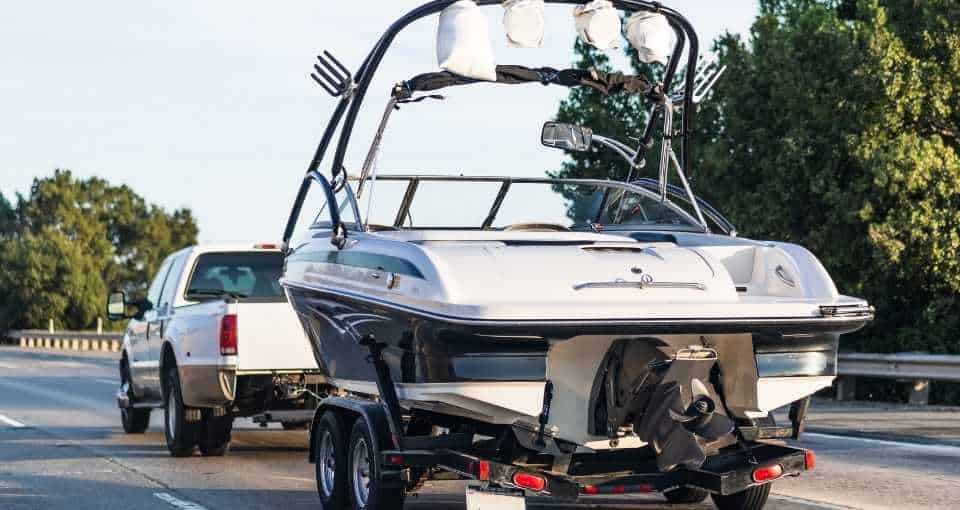 However, if you need more ground clearance, you may tilt the outboard up using an extra outboard support gear such as a transom saver. Railroad crossings, driveways, and trailer bouncing may necessitate additional ground clearance.
Remember not to rely on the power tilt/trim system or the tilt support lever if you want to maintain sufficient ground clearance for trailering. This is because the outboard is not meant to be supported by the motor tilt support lever when trailering.
Read more: What Size Motor for 16 Foot Aluminum Boat?
Why Should You Tow Your Boat With the Motor?
There are a variety of reasons why you should tow your boat with the motor. To protect it from the damage and make sure it works well is the priority. Here is some reasons you should know before you decide which way is the best for your boat when towing with the motor
1. To Protect Your Motor from Damage
Towing your boat down with the motor prevents harm to the motor and other boat components. Your motor tends to bounce and jitter about while hauling the boat. This movement can harm your engine's housing, as well as your steering, among other things.
2. To Ensure Motor Durability
If you want your motor to last as long as possible, tow it down. Even if the boat bounces, your engine will not be ruined if you secure it properly.
3. To Secure A Boat Motor for Travel
If they wish to obtain a boat motor for travel, most individuals pull their boats with a motor. If you're driving by road, you'll need to pull your engine up, but if you're on the water, you'll need to tow your engine down.
4. To Maintain Proper Ground Clearance
Tow your vehicle up if you want to keep appropriate ground clearance for trailering. For railroad crossings, driveways, and trailer bouncing, additional ground clearance may be necessary. As a result, using a motor to tow your boat will assure sufficient ground clearance.
But keep in mind that the power tilt/trim mechanism and tilt support lever are not designed to support the outboard for trailering.
How Do You Secure a Boat Motor for Travel?
A transom saver is one of the finest methods to secure a boat motor for travel. The purpose of this device is to secure your motor in place. By supporting your motor as you cruise, it can help avoid costly damage to the transom.
Maintaining the right security and safety of a boat motor while traveling should be a top priority. As a result, we've conducted research and compiled a list of the best methods to keep your outboard motor safe when traveling.
Use the Motor Mate
One of the best methods to keep your outboard motor safe and secure when trailering is to use a Motor Mate locking system. This locking system is extremely durable, simple to install, and will secure your investment for many years.
Motor Mate is intended to fit in most Evinrude, Johnson, Mercury, and Yamaha outboard engines and performs admirably as a trailer protector and support.
Secure Your Boat Motor with Extreme Max Transom Saver
If you want to protect your boat motor for travel, I would highly recommend an extreme max transom saver.
This style of transom saver is comprised of thick rubber and heavy-duty steel. Under the most difficult toeing situations, these materials will assist keep your motor locked in position and safe. The saver also attaches over the trailer's rear roller and is available in a variety of extension lengths to assist you easily find the appropriate fit for your rig.
This saver is an excellent alternative for trailering your boat to and from the lake. The saver will guarantee that you are confident and worry-free.
Use a Mean Mount Transom Saver
This sort of transom saver is a top-of-the-line and high-end transom saver, especially in terms of quality. It's also a great way to keep your boat and motor safe while being towed.
This boat motor saver relieves the strain on your hydraulic system, reducing the risk of damage. It will also keep your boat safe by preventing any movement when you trailer it.
Adjustable Transom Saver
An adjustable transom saver can also be used to secure your boat motor for transport. The Attwood Adjustable Transom Saver is a great example of an adjustable saver, particularly if you're on a tight budget. The saver is quite universal, fitting on most boat motors. It is also often recognized as a superior overall alternative for securing your boat.
Conclusion
To sum up, downward towing is recommended by the majority of boat builders. The best alternative is to trailer your boat with the motor down in the vertical working position. Pull the prop down to restrict it from spinning freely while being carried.