Why do you need an ice fishing shelter?
Ice angling is a fun activity but only when you are prepared for it. The bitter cold can be quite brutal and unforgiving, so you need to make sure you have a temporary roof over your head. It also helps greatly if that shelter is cozy enough for spending hours in it.
There are many products out there that claim to be the best ice fishing shelters but unless you have done your homework, you would not know for sure. Not all ice shelters are created equally, so you need to be more thorough in checking out which one suits your needs best.
We have collected 10 of the top-rated ice fishing shelters in the market today to help you pick out the right one to buy. With varied features in each product, you should be able to determine the best one that will serve your purpose well.
So whether you are a hardcore ice angler or a newbie in this outdoor activity, this buying guide and review is for you. Have a look at these products that we have carefully selected to help you come up with a reasonable choice that is truly worth every dollar you pay.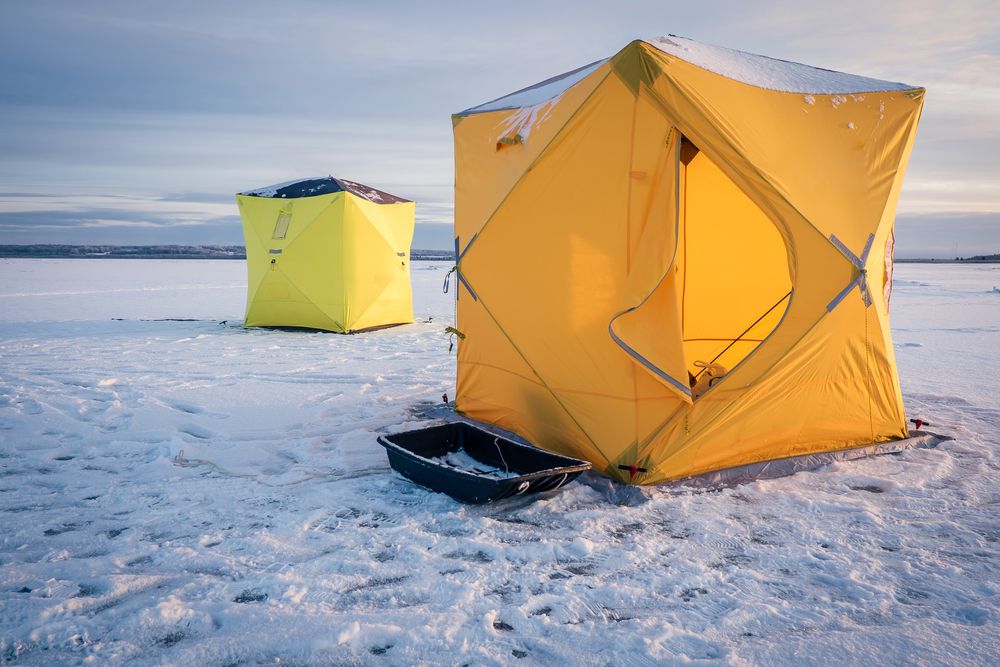 Quick Comparison: Top Ice Fishing Shelters
**Below, you'll find our more detailed reviews, but you can also click the links above to see current prices or read customer reviews on Amazon.
Top 10 Best Ice Fishing Shelters
We are here to make things easier for you by presenting to you these highly-rated and best-selling ice fishing shelters designed to meet your unique needs and standards.
Whether you are heading out to go ice fishing by yourself or with 2 other people, this ice fishing shelter from Happybuy is a fine choice to consider. It is made of 300D oxford for the body and D 9/5 glass fiber for the poles. You can stay warm and properly insulated while sheltered in this cozy tent.
There are removable windows that offer ample ventilation, and you can adjust the size of the opening by working with the loop windows and detachable hook. There are also self-tapping anchors, which offer a secure grip and stay in place even when under pressure.
Overall, this ice fishing shelter appears to be stable and comfortable. There is a bit of condensation when you use heaters inside but it is not at all a deal-breaker considering the sturdy quality you can expect from this ice fishing tent.
If what you look for is a larger and more spacious tent for your ice fishing buddies, this pop-up fishing tent definitely fits the bill. The tent is amply insulated, so you can stay warm for hours. There are ice anchors with a self-tapping system, and these offer a sturdy grip even under pressure.
The tent can accommodate up to 4 people inside. There are two doors that can easily be zipped up and down by durable zippers, and these doors are situated on either side. If you want more ventilation or viewing, you can simply adjust the 6 windows with a removable design.
Setting up this tent is not an issue at all. However, it is only the case when there is no strong wind blowing. Otherwise, the shelter may collapse if the tie-down tent straps are not secured. It would also be better with additional couple of anchors but it is pretty decent without these additions.
The Elkton ice fishing shelter is one of the best when it comes to ice fishing tents for a number of reasons. It is waterproof and insulated, so you can stay warm, dry, and cozy while nestled inside. This tent is also quick to set up and fold down after use – it only takes a few seconds!
Packing up and storing this tent when not in use is a breeze. We love the wide opening of the carrying bag, along with the secure drawstring top to make it easy for you to transport the tent anywhere you need to go. With reasonable interior dimensions, this tent can comfortably fit up to 3 individuals inside.
We can honestly say that this tent holds up quite well in such a strong wind. But the bag could have been sturdier as it does seem to be a bit on the flimsy side. Otherwise, it is a good ice fishing shelter that is just what you need for such freezing cold weather.
Get ready for your upcoming ice angling expedition in this spacious and cozy ice shelter from ThunderBay. The Ice Cube portable shelter features a roomy interior that can easily fit as many as 3 people. The material is thick and durable, which is 300 deniers strong fabric. It also helps block the wind out to keep you warm inside.
This portable ice shelter includes ice anchors, blackout coating for insulation, and adjustable windows. There is also a wide skirting to this tent, which helps to keep the frigid drafts out. With a reasonable height and interior space, it is definitely a great temporary shelter when you go ice fishing.
We are impressed with how well-made this ice fishing shelter is. The stakes do not seem all that sturdy, so be sure to set the tent up with care to ensure the stability of the tent. As for the insulation system, we can say it seems to work quite well.
The Nordic Legend ice fishing shelter is a spacious and comfortable temporary shelter when you are out in the snow for your ice angling trip. This tent is wide and tall, providing plenty of room for up to 2 individuals. We also like how comfortably warm it is inside, thanks to the thick and insulating feature of the 300D polyester material.
There is a blackout, thick coating on the inside that is a nice touch to this tent. This prevents the light from coming out, so the inside stays warm and toasty. As a bonus, there are 2 ice fishing chairs added in to the package. These chairs also fit inside the carrying bag for ease of transportation.
Roomy and comfortable, the ice fishing tent is just as how we expect it to be. It would have been better if the door was larger, particularly for taller individuals. Other than this small flaw, we can truly say it is just right for the price you pay.
The Eskimo Quickfish is an excellent ice fishing shelter that is portable and a breeze to set up. You can set it up and get it ready to use in seconds, and the same holds true with the folding and storage process. Once set up, this tent should be able to accommodate 2 people inside.
The skirt is extra long, and this prevents drafts from coming in, as well as external elements. There are also sturdy materials sewn right over the corner to add to the sturdiness of the shelter. Plus, with adjustable and removable loop and hook windows, there is additional ventilation to this tent for your sheer comfort.
This is without a doubt a well-made ice fishing shelter. It just is not the tallest, and you will not be able to stand straight if you are past 5 feet 10 inches tall. But in terms of its insulation and sturdiness, this ice tent surely has a lot to offer.
With a practical pop-up design, you can easily get this ice shelter going in just minutes, The material is a strong and durable 300D oxford, combined with rods made of solid glass. Although it is a lightweight tent at 22 pounds, it is durable and sturdy and can withstand harsh weather elements.
Assembly is quick and simple with the use of flexible poles added in the package. Tearing it down is also not a hassle at all, as there are clear instructions included. For ease of transport, just put everything in the carrying case, and it should be good to go.
The fabric is undeniably strong, although it does get a bit stretched out when you set up the tent. The zipper is also a bit tricky to work with, so be careful when zipping and unzipping it to prevent it from coming off or incurring damages.
Made of premium quality materials, this ice fishing tent from Goplus is one to look for in stores today. The material is tough and strong, as it is crafted from 300D Oxford. We also like the fact that it is a waterproof ice tent, so you can stay nice and warm inside even when it is frigid cold outside.
The tent is a breeze to carry as there is a bag included. You can also simply put the tent away after folding it down when no longer in use. With a maximum capacity of 3 people, this is certainly a must-have for your ice fishing trips.
Overall, we like how portable and lightweight the ice fishing shelter is. We just think that the tent is a little bit smaller. You may find it slightly too small for use, particularly when the person who intends to use it is 6 feet tall or so.
There are simply so many things to appreciate about this ice fishing tent from Frabill. For instance, it is quite warm and toasty inside. You can keep yourself and your gears safe from freezing as long as you stay inside.
There is a nice little seat added. You can also modify it as deemed necessary. The poles are sturdy and adjustable, and the seat is amazingly comfortable. The windows and the location of these windows are well thought out to give you convenience and comfort.
We have observed that the clips are a tad on the flimsy side. The seat is also rather comfortable for most people but the fact that it sits quite too forward can be a nuisance overall.
Before you head out ice fishing, be sure to have a warm roof over your head. The Popsport ice fishing shelter is a suitable choice as it is sturdy and made of 300D oxford. You will love how cozy it stays in the tent while making sure that it stays upright using the solid glass poles.
The tent is reasonably spacious for its current size. The material is also lightweight to offer you the ease of transporting the tent from one town or another. You can also easily assemble and fold the whole thing down after every use.
When it comes to functionality and performance, we can say that this ice fishing tent meets our standards. The zippers are just a bit challenging to work with because of their bad placement. But other than that, there is nothing but great things to expect about this ice fishing tent that is absolutely perfect for the price.
Professional Buying Tips and Guide – How to Pick the Best Ice Fishing Shelters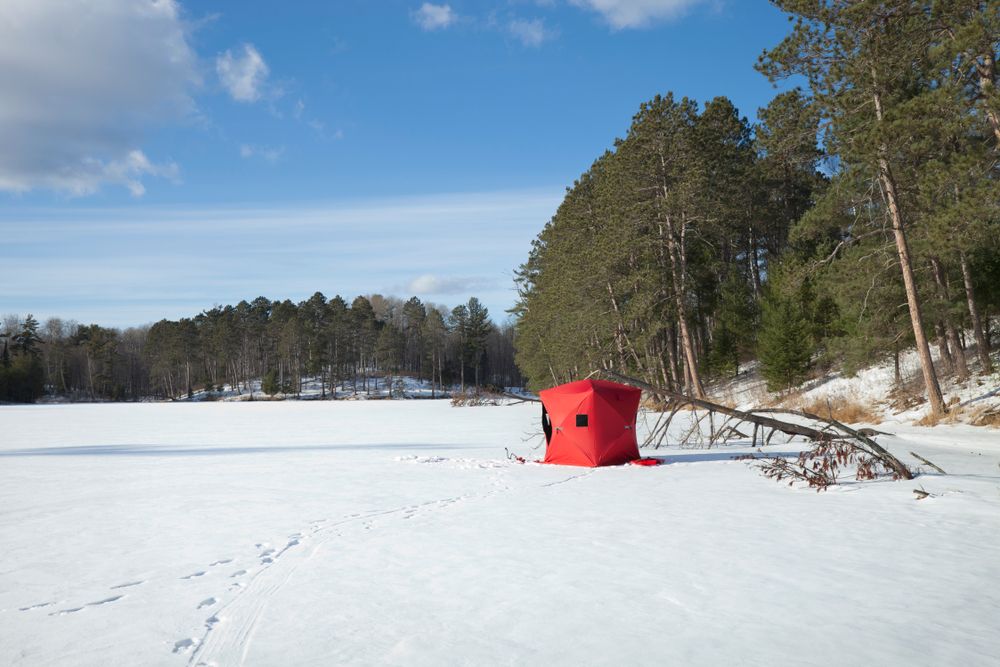 It can be quite a tricky ordeal to buy a portable ice fishing shelter. There are dozens of options around, making it challenging to choose just one for your needs.
We break down the key features you need to look for in the best ice fishing tent, so you can come up with a smart purchasing decision you will not regret.
1. Consider a portable and compact tent.
Portable tents are practical and easy to transport. They are lightweight and come with carrying bags to add convenience in traveling around with these temporary ice shelters. When buying an ice shelter, be sure it does not have unnecessary bulk to it. You want to make sure that the ice shelter is easy to fold down right after use for ease of storage.
2. Check out the materials used.
Popup ice fishing shelters are available in various types of materials such as polyester, nylon, and Oxford fabric or canvas. When buying the right material for the tent, you want to be sure that it is strong and thick. These key features are what separate the best ones from decent to ordinary ones in the market.
A strong, thick, and tear-resistant material is a suitable choice to consider. You can expect the tent to last for a considerable length of time when it is durable.
3. Choose an insulated ice shelter.
The main reason why you need an ice fishing tent is to stay warm and cozy despite the frigid weather. This is why you need to make sure that the material works great in keeping you warm. A feature that can eliminate drafts such as a wide skirt is a nice addition, as this can prevent cold air from coming in.
It is worth looking into a tent that comes with a dark material for the exterior. This adds to the insulating capacity of the tent, which will help take in more warmth from the sun to keep you cozy inside.
4. Breathable material is an important feature to look into.
After staying in the tent for a few hours, you may find yourself getting suffocated unless there is ample ventilation inside. This is why we recommend that you search for an ice fishing shelter that is breathable with adjustable windows.
You need to prioritize this feature as condensation tends to build up when you have your heater inside. It also helps to choose a material that is water-resistant, as well as fire-retardant for safety reasons.
5. Consider the size of the tent.
How many people are going to stay inside the tent? You need to keep this important aspect in mind when choosing the right ice fishing shelter to buy.
Tents come in various sizes. If you are going ice angling alone, then you should be fine with a one-man tent. This is usually lightweight and small, so it is never a hassle to transport this portable tent from one place to another.
But if you are planning on tagging along with a few fellow anglers, then you should check out a larger and more spacious ice fishing shelter. One that comes with a portable chair or two is also great, so you can sit down and relax while you hang out and catch some fish.
Interestingly, there are bigger ice shelters that should be able to fit up to 4, 6 or more people. This is great for families or a larger group of ice anglers. But keep in mind that with extra size comes an additional weight. So, you cannot exactly pack light when you are heading out as a large group.
Ice Fishing Shelter: Frequently Asked Questions
Should I buy a tent-style or a fold-over ice shelter?
You may come across two types of ice fishing shelters, which are the tent-style and the fold-over. Basically, the fold-over lets you set up the shelter with just one pull right over the top. It's the fastest and the simplest you can get when it comes to setting it up.
On the other hand, a tent-style is just what it implies – it works the same way a tent does. There are poles that you need to set up, and these are hinged to create the interior frame. Setting them up takes more time than the fold-over but they are pretty sturdy.
If you want an uncomplicated setup and folding process, you should go for the fold-over style. But if you want something that is a bit more secure and will not topple down too easily, a tent-style is perfect.
Is a chair a good idea to add to your ice shelter?
There is nothing wrong at all with using a portable chair in your ice fishing shelter. It is just a question of how much space you have left in the tent. If you have a cramped and small tent, there is no reason to add more inside such as a chair. However, if you have a roomy tent, by all means, get yourself a portable chair.
Usually, there is a self-contained portable seat added to a flip-style ice shelter. But tents don't normally come with one unless it is a bonus or add-on feature. What's great about a built-in seat is the durability and comfort it offers. There are also seats with onboard rod and cup holders, which are definitely functional.
What should you look for in a window?
This is a standard feature in many portable ice shelters. You should look for a tent that comes with adjustable windows, so you can have better ventilation inside. There are also windows that allow you to cover the shade when it gets cold inside.
It is essential to check the right positioning of the windows. It should be just the perfect height, which makes it easy for you to view the outside. Be sure that you can see eye to eye and not have to stand on tiptoes to see what is happening outside.
Conclusion
There are so many ice fishing tents out there, making the choice a bit more overwhelming.
But this is what we are here for – to lead you toward the best ice fishing shelters that will help you make the most out of your angling experience.
Be sure to compare all the items we have presented in this list and take into consideration the buying guide we have included to help you come up with the right purchasing decision.
An ice shelter can definitely make a huge difference in your overall experience, so make it a point to choose the right one that is suitable for your particular needs and budget.