A fly fishing guide is an excellent career for those who want to share their experience and passion with other anglers. How to become a fly fishing guide?
This journey will take a lot of time and effort as you have to build your skills and gain much experience. But don't worry!
You can achieve your goal by sticking to our guide. Let's refer to it!
What Does a Fishing Guide Do?
A fly fishing guide organizes fishing excursions and shares fishing knowledge with others. The primary duties of this guide include:
Planning for tours
Communicating with customers and instructing them in fishing techniques
Cleaning fish
Maintaining the boat
This job demands broad knowledge of fish, angling, and boat functioning.
For example, if you find the best fishing spot, you must have experience in local waters.
Being a fly-fishing leader is fantastic. We've highlighted some of the most crucial qualities that can characterize a successful fly-fishing guide below:
The best instructor actively teaches others how to fly fish and has a persistent work ethic.
After considering all the factors, a professional guide will always simplify things for his clients to catch fish.
Fishing is fun, and an experienced guide always understands how to make his customers' excursions more enjoyable.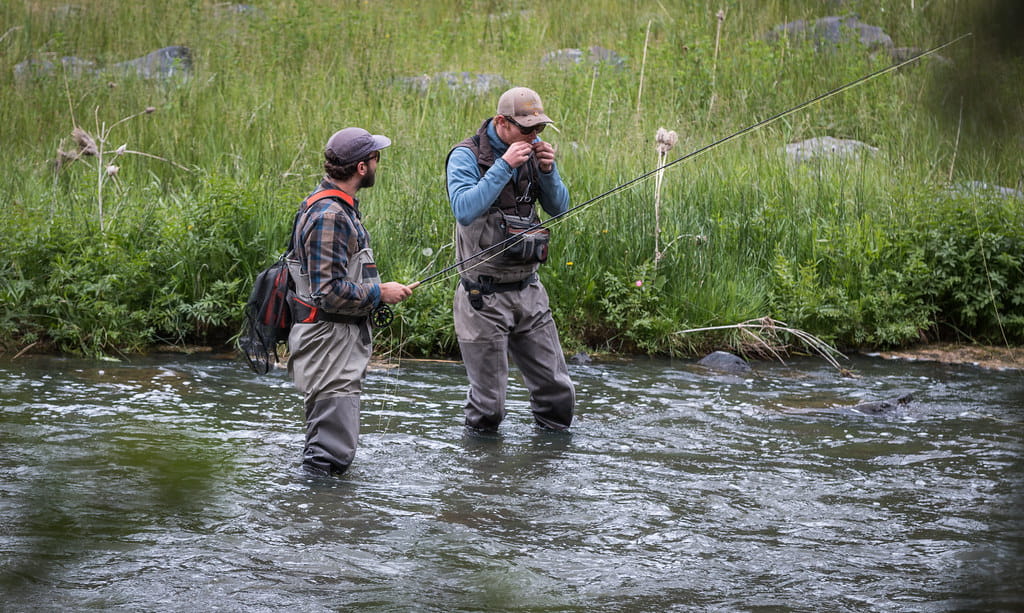 How To Become A Fly Fishing Guide?
To become a fly fishing guide, be a professional angler first. Then, earn more experience and a certificate to qualify for the job.
We will break your preparation into different steps so that you can follow easier.
Build your skills
To train and describe techniques to your clients, you must be able to show your abilities. The main concerns will be your casting, stream craft, presentation, entomology, safety, and environmental stewardship.
Being an experienced angler is essential to working as a fly fishing guide. You can become one by acquiring the following skills.
As visitor interaction is essential, guiding involves more than just helping them catch fish. Many different scenarios will arise during your days of guiding.
However, you can handle all of them with excellent guiding skills.
You are both an instructor and a guide. A lot of your clients will ask for help with their fish casting.
You need to master entomology, fly selection, where fish stay and why they remain there, how to battle and land fish, and fishing etiquette.
Some anglers overlook the importance of knot tying. You'll get in trouble if you lose your fish because of the terrible knot.
Hence, knowing how to tie knots correctly and efficiently is crucial.
It would help if you learned how to tie flies, regardless of your experience level.
Even though the flies you know may not be the most beautiful you've ever seen, they will work.
A fishing guide must be well aware of environmental conservation.
Then, you can tell your clients about it and teach them how to protect the ecosystem and particular wild fisheries.
The comfort and safety of your clients are of utmost priority. Learn how to utilize your safety equipment, correct wading techniques, and other essential safety instructions.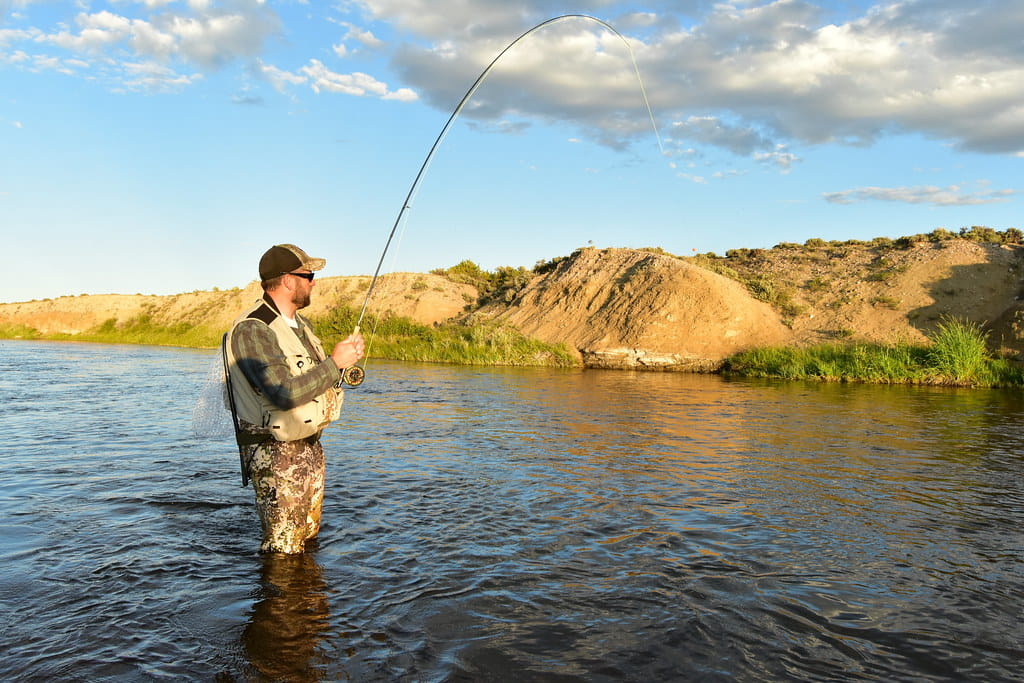 Gain experience
Experience is the toughest to put into practice but the easiest to describe. Simply get out on the water, stay there, and learn from every kind of water and season.
Then, determine what the fish love and hate in the waterways you plan to guide, and you'll perform well on your way to building a solid foundation as a coach.
Choose the right gear.
Fishing gear is an integral part of a successful angling trip. If your clients don't have the right tools, they may not catch any fish and feel disappointed about their experience.
As a result, do not forget to provide your clients with what they need, especially when they are beginners.
Get a license
Every state enacts a standard regulation set about becoming a fly fishing guide.
Mostly, you need to register for a water safety certificate. Otherwise, a CPR class or particular permit for a water ship can also suffice.
In some regions, fly fishing guiding is a freelance job. It's necessary to check your state's rules before entering the water.
Remember to take this step before guiding your first clients.
Build a reputation
It's time to build your reputation when you've either launched your tour service or settled in with one that is already famous.
Nothing but work ethic and customer satisfaction will help you develop your image, attract clients, and promote your brand.
Although the profession of a guide is gratifying, you may quit your job easily. The fish are unpredictable, the fishing hours are long, and the situation is harsh.
So, don't enter this field for the money only because you will be unsatisfied. After a long day of coaching, you'll return home dirty, tired, but wonderfully pleased.
Build your traits
Aside from your knowledge and skills, clients and employees will be impressed with the traits you build. A few critical traits for this job are:
This trait guarantees that you can handle difficult situations without losing your calm. Such things may happen during your trip, but the guide should be the one that deals with them.
As long as you are dependable, your working process can go smoothly.
Make sure to be on time every day, help with cleanup duties at the end of the workday, and dress appropriately for the trip, especially wearing waders.
You can't remain in this category for so long without passion. Employers will be looking for this trait and can quickly tell if an applicant is passionate about their work. It emphasizes your ability to give clients the best experience.
Do not work for tips.
Often, your clients may tip you $50 to $60. However, there isn't any guarantee for it. Some may be generous and give you more, while others pay no tip at all.
This factor depends significantly on your clients. Hence, do not aim for the tip when working. Instead, try to offer your clients the best experience possible.
Once they find the trip rewarding and amazing, they won't mind paying you more.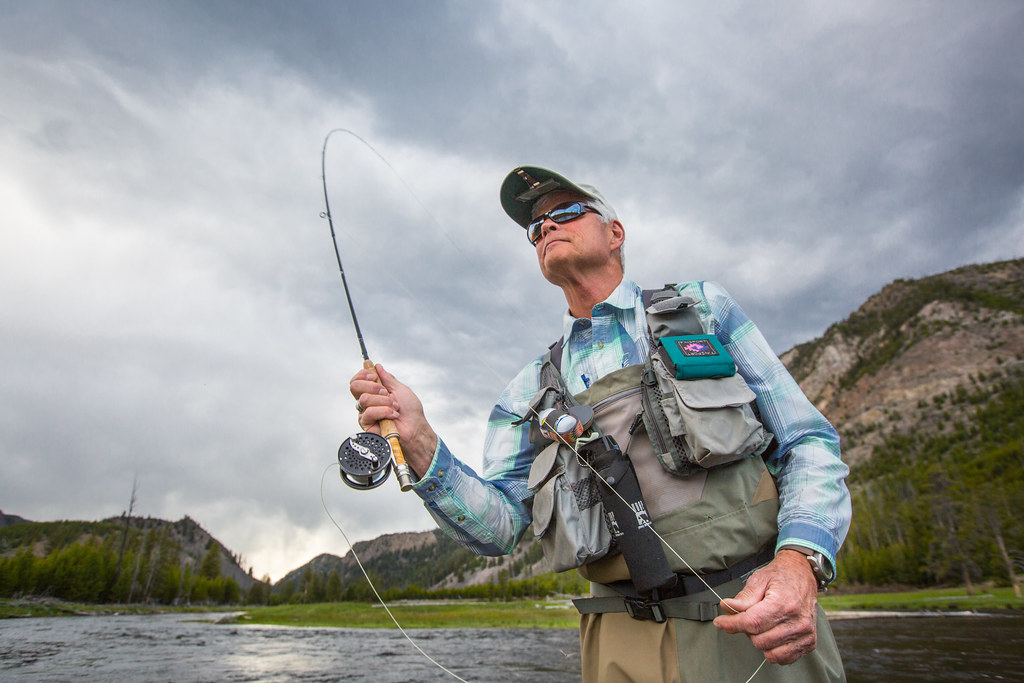 Read more: The 11 Best Wading Boots For Fly Fishing: Keep Your Feet Safe!
How Much Can A Fishing Guide Earn? 
You can get the most out of your duties in fly fishing. Fishing instructors typically guide their clients during a day on the water and assist them in finding the best areas for a fantastic fishing trip.
According to recent research, the average salary for fly-fishing guides in the USA is around $37,130 annually.
However, fishing guides with substantial experience and training earn approximately $55,000 annually. The average wage might, though, also rise significantly if there is high demand.
Even though working as a fly-angling instructor is not an easy job, the effort you put in will definitely pay off in the long run.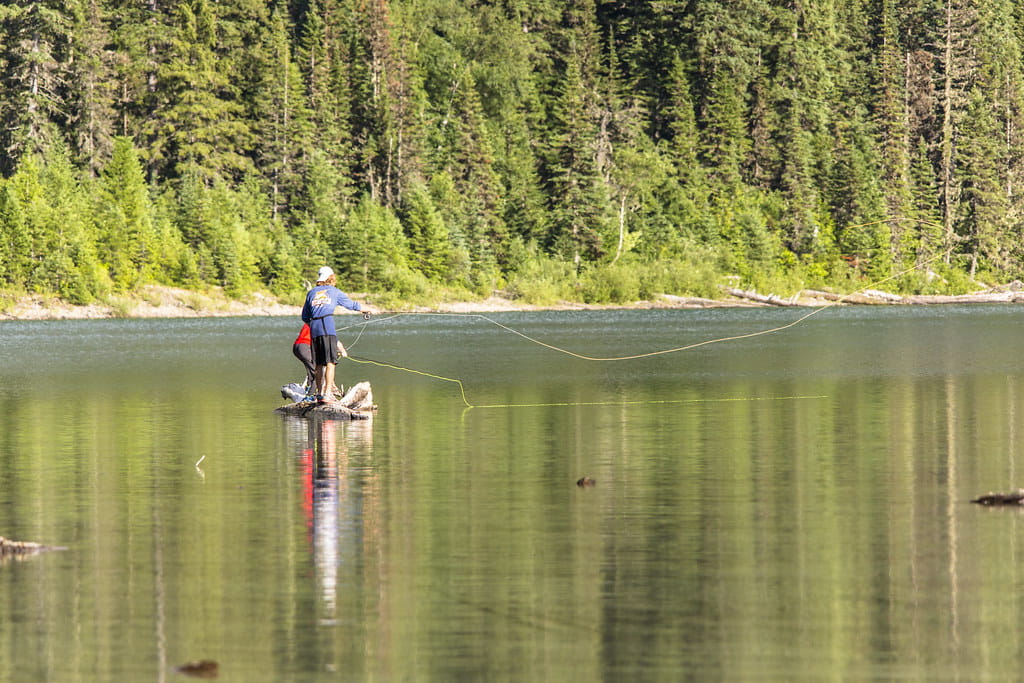 Are Rules For Fly-fishing Guides The Same In Every State?
No. Each state applies a different rule set for fly fishing guides. We will take Colorado and Montana as two examples.
Colorado
In Colorado, being a fishing guide often needs you to have extensive fishing experience. You don't have to earn any certificate to take this job lawfully.
Yet, unlicensed fishing guides need to sign a contract with a licensed company.
Montana
Because of the fly-fishing guide regulations, you can't just leave and start working easily. Every guide works for a certified fly-fishing company in Montana.
A fly-fishing outfitter will reply more enthusiastically if you have prior experience with fly-fishing, boat management, and other vital duties related to fly-fishing leader positions.
The outfitter will then sign a license certifying you. But, you won't be able to do this until you have all the knowledge and skills needed to succeed in Montana.
Conclusion
Not all people can become a fly fishing guide. However, you will soon have your dream job with passion and motivation.
The best thing to do for following this career is to equip yourself with fishing skills. Then, learn how to share them with other people.
Hopefully, you will achieve what you desire. Thanks for reading!