You can't fight and catch fish without a high-quality fishing rod! This is why you'll need the right rod to help you get to success and have successful catches. That's where the best 2-piece spinning rod comes along, which can offer a lot of benefits compared to a 1-piece rod.
But with all the different brands and types of 2-piece fishing rods available, which one is most suitable for you? Read on as I show you my top eight reviews and a purchasing guide on the best 2-piece spinning rod!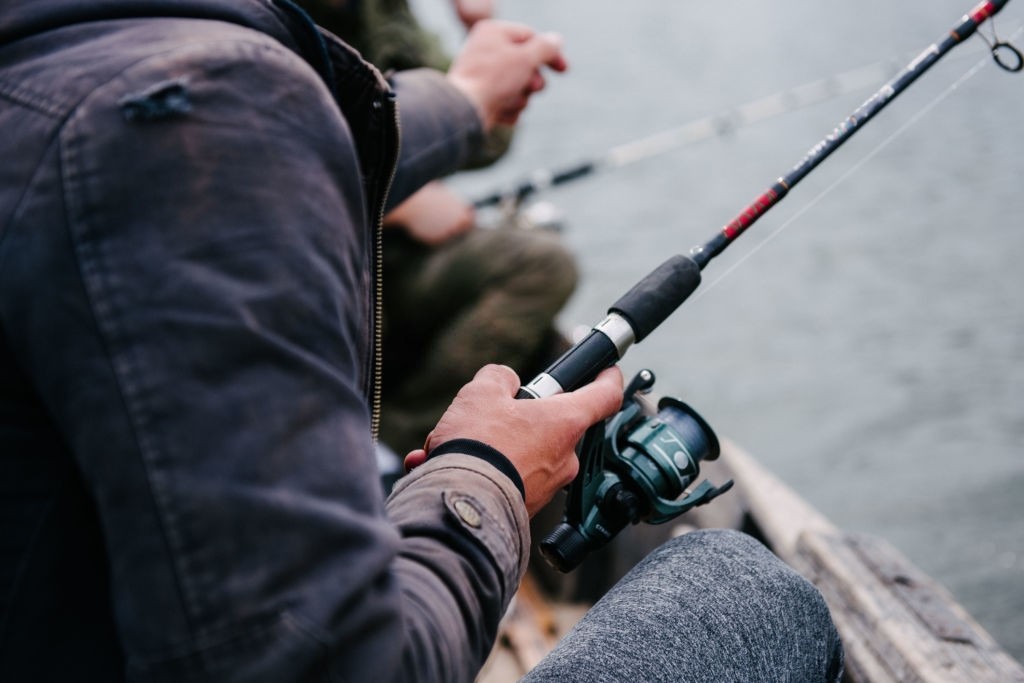 Quick Comparison: Top 2-Piece Spinning Rod
**Below, you'll find our more detailed reviews, but you can also click the links above to see current prices or read customer reviews on Amazon.
The Eight Best 2-Piece Spinning Rod Reviews
After much reviews and testing, these are my top choices on the best 2-piece spinning rod:
The St. Croix Triumph Spinning Rod is my editor's choice for the combination of all necessary (and extra) features it offers! This is their ultra-lightweight and fast action 2-piece spinning rod which has amazing sensitivity and flex that will NOT break down even with the feistiest of fish!
It's made with strong graphite and hard aluminum-oxide guides for protection and durability. The rod even has two coasts of Flex-Coat for the slow cure finish and to prevent it from snapping!
From its strength down to its sensitivity and power, you get your money's worth and more. Whether you are a novice or experienced angler, this spinning rod will not disappoint.
What Makes This 2-Piece Spinning Fishing Rod Stand Out
Premium graphite construction for excellent performance and sensitivity
Lightweight body and comfortable cork handle grip to reduce fatigue
Amazing construction and materials to ensure durability no matter where and what you fish
Model and Accessory Specs
Weight: 2.1 ounces
Material: Mid-modulus graphite fiber
Length: 5 feet
---
The KastKing Perigee II Fishing Rods has excellent value as you basically receive two fishing rods in one. This is because it includes two kinds of rod tips, one that is medium and another with medium-heavy or light power.
Besides that, the body is made with carbon matrix KastFlex technology, offering excellent power and flex without it breaking. Plus, it's installed with a KastKing Power Transition System to keep it performing well even when tackling larger and/or aggressive fish.
If you want something that feels like a one-piece spinning rod but is very easy to pack and use, this one is for you!
What Makes This 2-Piece Spinning Fishing Rod Stand Out
You get to have two fishing rods in one, coming with two rod tips for versatility
Very smooth power with unique technology to transition power with ease
Accurate and durable, made with KastFlex technology
Model and Accessory Specs
Weight: 2 pounds
Material: Carbon fiber and graphite
Length: 7 feet
---
The Entsport E-Series Spinning Rod is made best for those who want to focus more on sensitivity. It's built with high tensile strength carbon blanks to reduce its weight but still stay strong.
It feels light and comfortable on the hands but as you use it, you'll be surprised with how responsive it is! You can sense even the slightest hits and easily reel your catch in without worrying about it breaking. Sure, it isn't perfect and there is some room for improvement (like the handle shape), but it still does a great job with average-sized fish.
Also, the fishing rod comes with a good warranty to ensure that it can last for a long time. For its price and inclusions, you get more than what you pay for!
What Makes This 2-Piece Spinning Fishing Rod Stand Out
Includes a one-year warranty and affordable price to get your money's worth
Comfortable EVA handles for less fatigue and secure grip when reeling fish
Reduced weight but still offers great strength to withstand pressure well
Model and Accessory Specs
Weight: 4 ounces
Material: Carbon
Length: 7 feet
---
The Abu Garcia Vendetta Spinning Fishing Rod may come at a slightly higher price, but you get excellent performance from it. They are a bit more delicate compared to "unbreakable" fiberglass rods, but they do the job well done in catching average-sized fish with great sensitivity and flex.
I also appreciate its comfortable handle the most, and when combined with the lighter weight, it makes the rod much more comfortable. I can spend a few hours with the rod without getting tired easily!
If you want something to use for the long-term and not feel fatigued, this is a good choice.
What Makes This 2-Piece Spinning Fishing Rod Stand Out
Made with 30-ton graphite for balanced performance and lightweight feel
Offers unique IntraCarbon technology for durability and sensitivity
Has a contour curved handle to lessen fatigue and increase comfort
Model and Accessory Specs
Weight: 4.8 ounces
Material: Graphite
Length: 7 feet
---
The Fiblink Surf Spinning Fishing Rod is a great choice for those who need a lengthier rod. It measures 10 feet long and is made with carbon and stainless steel with ceramic. With all this, it provides good action and sensitivity without compromising its weight and power.
It also features a good non-slip shrink tube handle for better strength and comfort as you grip it. You can cast over a mile long and it's still sensitive enough to feel bites to reel in. Plus, I can see it's sturdy to last for years!
What Makes This 2-Piece Spinning Fishing Rod Stand Out
Has long length for excellent casting and to reach farther distances
Excellent performance to offer smooth power as you make long casts
Everything works harmoniously to prevent line entangling and rod snapping
Model and Accessory Specs
Weight: 13.26 ounces
Material: Carbon Fiber
Length: 10 feet
---
What makes the Ugly Stick GX2 Spinning Rod unique is the way it's made. It has the Ugly Tuff one-piece stainless steel guides yet the two-piece construction that's very easy to use and fix up. It's built with a mix of graphite and fiberglass as well to stay sensitive while feeling balanced and strong!
I appreciate its Clear Tip design that can detect even the lightest nibbles or strikes, while it can stay strong as you try to fight off the big fish. Overall, it's for those who value sensitivity and want to aim for the bigger fish!
What Makes This 2-Piece Spinning Fishing Rod Stand Out
Made with both graphite and fiberglass for the combination of sensitivity and lightweight
Good sensitivity and durable EVA grips for comfort
Comes with a seven-year warranty to ensure its long life span
Model and Accessory Specs
Weight: 12.6 ounces
Material: Graphite and fiberglass
Length: 7 feet
---
7. The Affordable and Beginner-Friendly: Kalex XR3 Rod
If you're on an extreme budget, you will like the Kalex XR3 Rod. While it isn't the absolute premium class rod, it does a job well done for its price range, giving you more than what you paid for! It's made with a carbon composite construction for adequate strength and sensitivity.
Furthermore, it offers smooth casting, and medium-heavy action meant to catch big fish. It holds up well and can fight decent fish with no problem. I highly recommend this rod to beginner anglers who want to take their shot in spinning rods.
What Makes This 2-Piece Spinning Fishing Rod Stand Out
Excellent value at a cheaper price, great for beginner anglers
Adequate performance for catching big fish species without a huge risk of snapping
Cool bright blue design that looks great while fishing
Model and Accessory Specs
Weight: 1.4 pounds
Material: Carbon composite
Length: 6 feet
---
Last but not least, there is the Daiwa Beefstick Fishing Rod, which is made with strong carbon fiberglass for strength. However, it still gives you the sensitivity needed to detect any bites! It withstands larger fish species well and holds up properly, lasting for more than a fishing season.
For its affordable price, you do get what you pay for and there are some slight cons that you can easily fix. The tip may not be as firm and there have been a few complaints about shipping, but other than that, you will be impressed. Entry-level anglers won't know the difference, making it a great starter spinning fishing rod for leveling up!
What Makes This 2-Piece Spinning Fishing Rod Stand Out
Comes at an affordable price with good value for entry-level anglers
Stainless steel reel seat hoods and guides for strength and durability
Sensitive and strong enough to catch larger fish species
Model and Accessory Specs
Weight: 1.1 pounds
Material: Carbon fiberglass
Length: 9 feet
---
How to Choose the Best 2-Piece Spinning Rod
How can you narrow down the best eight reviews to one choice? You need to look into other specific factors to find the best 2-piece spinning fishing rod for YOU! With that in mind, consider the following major aspects before making the final choice:
Ease of Assembly and Operation
The weight is considered when you think of its ease of use. You wouldn't want to lug and carry a heavy fishing rod for hours as you wait for a bite! You have to find the right balance between the weight and strength to ensure good performance without getting easily fatigued.
You also need to look into the comfort of the grip and how you handle the rod. It should have a soft and ergonomic grip design, with you being able to handle it even with wet hands.
Also, the rod should be easy to assemble, taking less than half an hour to do so. It shouldn't be too complicated to build, requiring extra time or help!
What's It Made Of?
There are various materials used to make spinning rods, such as fiberglass, graphite, or composite materials. Each has different attributes that have the spinning rod perform in various ways.
Fiberglass is strong, durable, and easier to maintain, but not as sensitive and is heavier compared to graphite
Graphite is lighter and very sensitive but may be prone to damage if flexed too hard
Composite materials are made with both fiberglass and graphite, having the mix of both characteristics mentioned above
Carbon fiber offers superior performance with a balance of sensitivity and strength, but they come at a higher price. These are meant for more advanced anglers for its performance and price range
Length and Weight
The length of your spinning rod depends on both your fishing technique and where you will fish. When fishing in major streams and bodies of water, then you are better off with a lengthier rod. For those fishing in smaller streams, then you can get something shorter and adaptable.
Short spinning rods (5-7 feet) provide more accuracy, capturing fish with more precision and strength. However, you will need to move with the rod when covering wider areas. Solid and shorter rods are best for heavier line weight class and can handle bigger species, but isn't as ideal for casting.
For longer rods (7-10 feet), they cover wider areas when fishing, though it won't be as accurate because of its length. Longer, thinner, and lighter rods are best for smaller species and better casting from farther distances.
You can choose something between 6-7 feet, which is a good balance of power and action.
Consider the weight class as well, which is classified as the maximum line weight recommended. For example, a 5kg weighted rod shows you are targeting fish that weigh up to 5kg.
As for your rod's weight, you'll want something lighter, which is better for comfort and ease of use!
Rod Power and Action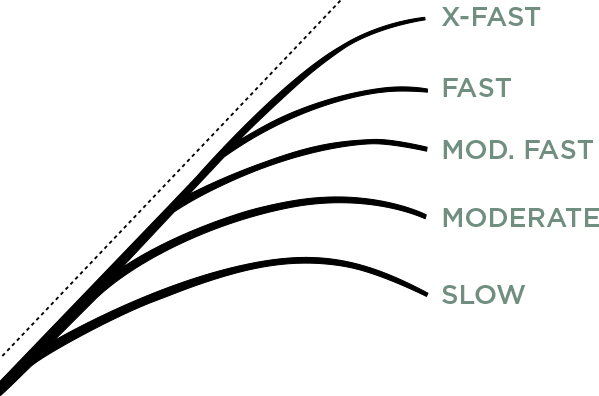 The action refers to how much rods would flex along its own length and how quickly the rod tip returns to the neutral position. The heavier the action, the faster and more flex it has.
Many anglers are better off using medium-action spinning rods, though that depends on the type of fish they want to catch! Slow or fast action ones are made for fish depending on how strong, big, and aggressive they can be.
Besides this, you may want high-powered rods designed to capture most types of fish species, especially heavy ones.
However, you don't want something too powerful if you plan to fish for only smaller species, which is a waste of money. Again, you have to look into the type of fish you want and what's available in your local fishing spots.
Price and Warranty
What's great about 2-piece spinning fishing rods is that they don't need to come at such high prices. You can get an excellent spinning rod between $30 to $120, with the higher range being extremely powerful and durable already.
It isn't required to get the most expensive one, but avoid getting anything lower than $20, which may be more suitable for beginners or children starting out. Instead, find a middle ground and something that suits your personal budget.
Get your money's worth by finding rods with good warranties that offer refunds or repairs for a certain time. Also, make sure that the spare parts are available locally to prevent any difficulty in repairs as needed.
---
Frequently Asked Questions
What else is there to learn about with 2-piece fishing rods? These are frequently asked questions to further understand how they work and why they are worth the purchase:
1. What's the difference between a 1-piece and 2-piece rod?
A one-piece rod is a common style for shorter rods, known as one of the most sensitive with better craftsmanship because it isn't collapsible. These are made best for advanced anglers who want to focus more on superior sensitivity and have no worries about transporting rods.
A two-piece rod is easier to transport with because you can easily assemble and disassemble them to make them shorter or in "full form." It is still sensitive enough and high-quality two-piece rods won't have a major difference compared to one-piece ones. You just have to be wary in assembling it to ensure that everything is properly placed and secured.
2. Why is the 2-piece rod better for you?
I believe that the two-piece spinning fishing rod holds a lot of benefits and is best suited for:
Those who use public transportation when traveling or need something to easily pack their rods in smaller packs
If you don't have much storage space for traveling or when at home
Anglers who need longer fishing rods that measure at least six to seven feet
If you want to target large fish and use it for trolling
They are quite beneficial in terms of how easy they are to bring around compared to one-piece rods. You won't have to worry about it snapping if you laid it down in cars or had to check it in airports.
3. How do I care for my 2-piece fishing rod properly?
Here are some quick tips to properly care for your 2-piece spinning fishing rod:
Disassemble and store your rod in a soft casing and a dark area at room temperature, without any humidity or direct sunlight. You can also use a rack system to prevent it from bending or getting tripped over
When transporting the fishing rod, place it inside a safe area of your transportation to prevent anything from falling on or bumping into it
Carry your rod horizontally, the tip pointing behind you to prevent breakage
Do NOT lay the rod flat on surfaces
Avoid striking your rod, hanging lures and hooks from guides, and don't let lures bang the tip-top. Furthermore, do not do a high-stick and over-flex your rod, which usually happens when fighting fish. Avoid lifting your rod over 90 degrees when catching large fish to prevent it from snapping
4. Don't 2-piece rod guides rust easily?
This depends on the materials and construction of your fishing rod. All the two-piece spinning fishing rods I mentioned above do NOT rust and are made with corrosion-resistant material and a protective finish. This ensures protection and rust-free use.
However, if you assembled it incorrectly or abuse it in harsh saltwater, then there is a chance of rusting, which isn't the fault of the rod. That's why you will need to care for it well and ensure the parts are secure. If you want, you can coat the rod after purchasing it for an extra layer of protection.
5. How do I assemble the 2-piece rod and can it fit in my bag?
Assembling your two-piece spinning fishing rod is simple, following the manufacturer's instructions. It will only take less than 15-30 minutes if you followed the instructions from the manual. This all depends on your experience and unique spinning fishing rod style.
A two-piece rod can fit in your bag depending on its dimensions. You will need to check with the length of your fishing rod (when disassembled), as well as your typical fishing pack. Usually, they fit in golf bags easily, making them hassle-free to travel with.
Do you want to learn even more about using a 2-piece spinning fishing rod? Check out this interesting video for more information:
Wrapping It Up
There are a lot of things to consider as you find the right fishing rod according to your style and fish you want to catch. If you feel like the 2-piece spinning rod is the one for you, you will still need to look into the right brands and other aspects of the rod to ensure you have the right one! That way, you can ensure better chances of getting a few catches without any problems.
Hopefully, these reviews and helpful guides on the best 2-piece spinning rod gave you more insight. Now that you have all the knowledge and narrowed your choices, look into these products, and make that investment today.