Salmon is tasty, nutritious and just a whole lot of fun to catch!
And if you want to get the finest catch, the best salmon fishing reels can make that happen.
The thing is, there are literally hundreds of options out there. To make it even tougher, these products claim to be the best.
So, how can you possibly pick out just one from a sea of confusing and overwhelming choices?
That's where we are here for – to help you choose the perfect fit just for you. That is why we scoured the internet and came up with this list to help you out. Check out these options and learn more about their features and specs. Everything you need to know is right here!
Let's dive right into it!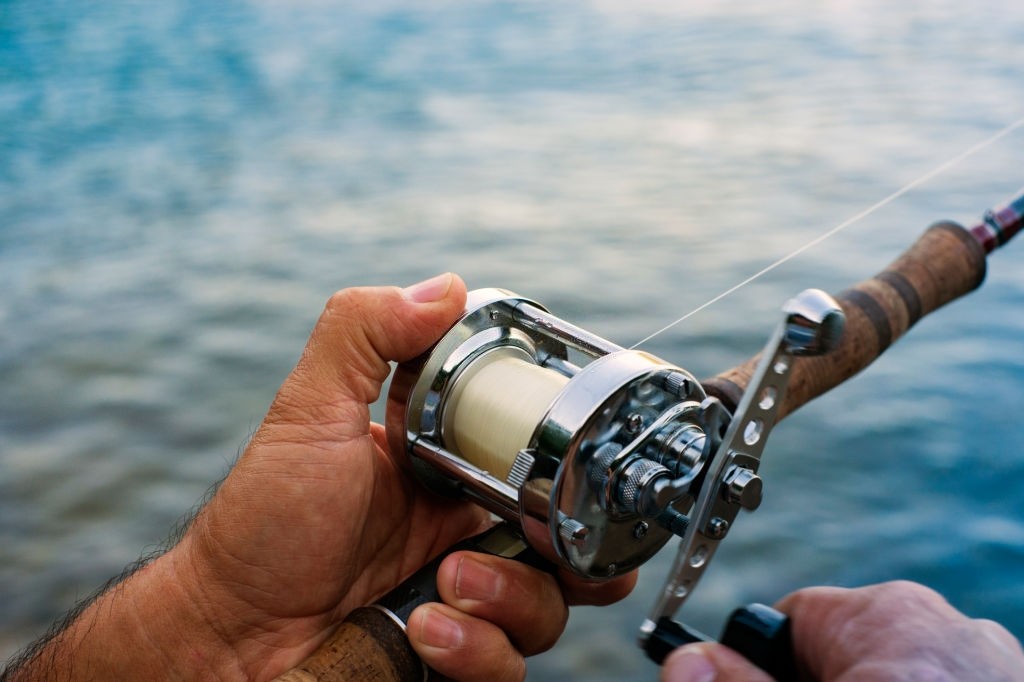 Quick Comparison: Top Salmon Fishing Reels
**Below, you'll find our more detailed reviews, but you can also click the links above to see current prices or read customer reviews on Amazon.
Top 10 Best Salmon Fishing Reels
When it comes to the best salmon fishing reels, durability is of the essence. This is why we recommend the KastKing Rover Round. This baitcasting reel is heavy-duty. It is made of anodized aluminum for the side plates while the gears are precision-cut brass. The shaft is stainless steel and corrosion-resistant to last for a long time.
It is a bullet-proof, super strong reel. The Rover Round offers a maximum drag of 30 pounds, and it's undeniably smooth, seamless, and precise. It is the kind of reel you would use for several purposes. This bad boy can handle bottom fishing, trolling, and just about any freshwater or saltwater fishing techniques.
Lastly, we love the comfortable grips, thanks to the EVA material. It's easy on the hands, yet tough for the fish. There's a clicker alarm, smooth operation, and a power that's hard to beat. And most of all, it's got a classy look that will fit right into your fishing gear set.
What Makes This Salmon Reel Stand Out
Superior power and operation
High-quality materials and craftsmanship
Versatile and convenient to use
Model & Accessory Specs
Reel weight: 21.8 ounces
Gear ratio: 3.6:1
Max drag: 30 lbs
---
Salmon fishing is tough…. But the President fishing reel is much tougher! This is why it is built for the job – from the construction to the performance, it is a perfect 10. The reel is sturdy, solid, and can take on the challenging task of catching that salmon (and more!)
As for the build, it is a heavy-duty graphite with stainless steel, corrosion-resistant ball bearings. The body and rotor are both graphite, which keeps this reel durable, yet lightweight. A perfect combo you want for your go-to reel.
And dig this – it comes with a tightly sealed drag system. This keeps your drag washers lubricated and smooth all the time. As a bonus, it has a slow oscillation design that reduces annoying line twist while enhancing line lay.
What Makes This Salmon Reel Stand Out
Lightweight design
Sealed and secure drag system
Minimized line twisting issues
Model & Accessory Specs
Reel weight: 8.80 ounces
Gear ratio: 5.2:1
Max drag: 10 lbs.
---
PENN has always been a renowned brand of fishing gears, and the Fierce li is not an exception. It is one of the best salmon fishing reels in the market when it comes to performance and top-notch value for your money.
This reel has 4 ball bearings crafted from premium-quality stainless steel. They are all shielded, which optimizes operation while eliminating risks of premature damages. The rotor boasts of the Techno Balanced technology that offers maximum torque and leverage. And with a solid bail wire and full metal construction for the side plates and body, this reel is indestructible.
Now, this reel is pretty much ready to rock and roll right out of the box. The Superline Spool is braid-ready and does not need any backing. It works for your light tackle, and rest assured it will last a long time. Want to catch those big fish? This reel can carry the weight, guaranteed!
What Makes This Salmon Reel Stand Out
Reasonably priced, high-performance reel
Efficient and convenient to use
Heavy-duty build for a long lifespan.
Model & Accessory Specs
Reel weight: 14.8 ounces
Gear ratio: 6.2:1
Max drag: 6 – 10 lbs
---
Whether you are heading out to go saltwater or freshwater fishing, the Rapid reel from SeaKnight is up for the challenge. It can handle the demanding conditions of the saltwater, thanks to its corrosion-resistant coating.
When it comes to toughness, the Rapid spinning reel does not disappoint. It has stainless steel-made ball bearings, a drag system made of carbon fiber, and a thick and heavy-duty main shaft. It is sure to handle the largest and the heftiest game fish – no problem!
The rotor and spool are sealed. This prevents water and debris from entering and wreaking havoc to the gearing. As for its operation, it's perfectly smooth and effortless. Thanks to this reel, you won't ever have missed opportunities for bagging that Northern Pike, Catfish, Salmon, Bass, and so on!
What Makes This Salmon Reel Stand Out
Ideal for inshore fishing, freshwater, and saltwater fishing
Sealed and protected spool and rotor
Heavy-duty and tough construction
MODEL & ACCESSORY SPECS
Reel weight: 13.79 ounces
Gear ratio: 6.2:1
Max drag: 33 lbs
---
Smooth and efficient, the Daiwa BG is another big name when it comes to the best salmon fishing reels. It comes with a heavy-duty body crafted from machined anodized aluminum, which is the same material for the side cover. The handle is solid with a screw-in design, and the spool is aluminum ABS.
This reel feels smooth in your hands. But don't underestimate the smoothness – it is actually amazingly powerful. For the price you pay and the quality you get, it is baffling how such a reel can be this excellent. It offers a maximum drag that's a little over 15 pounds, making it perfect for your big fish.
When you need a powerful, heavy-duty reel for salmon fishing, the Daiwa BG will not disappoint. It satisfies every newbie, pros, and everyone else in between. Definitely a must-have in your go-to fishing gear.
What Makes This Salmon Reel Stand Out
Smooth performance
Great for medium to heavy fish
Outstanding construction and build
MODEL & ACCESSORY SPECS
Reel weight: 8.5 to 14.1 ounces
Gear ratio: 5.6:1
Max drag: 15.4 lbs
---
Nobody wants those nasty missed opportunities while fishing. Thanks to this fishing reel from Piscifun, it is supposed to be a thing of the past. This reel is solid, sturdy, and just undeniably heavy-duty. It features a durable drag system made of stainless steel that's corrosion resistant and long-lasting. No question it can outlive many in the same price range.
As for the drag, it's smooth as butter. Watch this reel score those smooth, almost instantaneous drag engagements. Every retrieve is accurate and flawless. The mid-arbor design also minimizes line memory while at the same time boosting line pickup speed.
If you want a salmon fishing reel that does not disappoint, the Piscifun is a solid choice. It has a large spool for ease in cranking and controlling your huge target. And yes, it is lightweight and durable, too.
What Makes This Salmon Reel Stand Out
Capable of handling bigger fish
Long-lasting and heavy-duty build
Quick and flawless drag engagements
Model & Accessory Specs
Reel weight: 4.1 ounces
Gear ratio: 5.6:1
Max drag: 20 lbs
---
If you prefer a fishing reel that works for right-hand or left hand retrieve, you will love the Okuma Ceymar. This is an ambidextrous reel that is perfect for saltwater fishing. You can expect this reel to help you land that big fish you've been eyeing. Snook, salmon, redfish, bass… It's all too easy to catch your game with this reel!
It has a solid bail wire that's heavy-duty and aluminum-made. As for the rotor system, it features state-of-the-art computer balancing. Thus, you can guarantee that this reel will spin even at the highest speed. And yes, there is virtually zero wobble to it.
The handle knobs are crazy comfortable and secure. You can ensure maximum control over your reel, thanks to the aluminum handle. This is the reel that lets you stay focused and with guaranteed success.
What Makes This Salmon Reel Stand Out
Ambidextrous design
Great for catching big fish in saltwater
Super comfortable handle
Model & Accessory Specs
Reel weight: 1 lb
Gear ratio: 5.0:1
Max drag: 18 lbs
---
Before you head out to the waters to catch that plump salmon, be sure to have the right reel for your game. This baitcasting fishing reel from 13 Fishing Concept is excellent in every way. It is ideal for use whether for freshwater or saltwater purposes. No more switching of reels – this bad boy can handle both conditions, worry-free!
Another thing we like about this reel is the optimum quality material. It is polymer that's space-age and lightweight, yet absolutely indestructible. It also has the proprietary CZB Technology that eliminates all those ball bearings. Yes, zero bearings is what keeps this reel unique, yet highly impressive.
It allows you to cast at a longer distance compared with reels that come with conventional ball bearings. This is perfect when your target is at a very distant location. It also comes with a powerful braking system and a heavy-duty side plate. Overall, it is a highly durable reel for your huge, heavy fish!
What Makes This Salmon Reel Stand Out
Zero bearing for longer casting
Durable and well-made reel
Perfect for freshwater and saltwater
Model & Accessory Specs
Reel weight: 6.4 ounces
Gear ratio: 6.6:1
Max drag: 22 lbs.
---
Next up in our best salmon fishing reels list is this one from Yoshikawa. It is a powerful reel with a corrosion-resistant design that should last for years. The graphite material for the body and the side plate is impressive. Yet, it comes with a lightweight and solid spool crafted from aluminum for reduced fatigue.
When it comes to the aesthetics, this reel is second to none. It has a smooth and sexy gray finish that is an outstanding match for your fishing rods. And most importantly, it is versatile. You can use it for rock fishing, catfishing, salmon fishing, and surf fishing, to name a few.
As for the maximum drag, it has a lot to offer. It can handle up to 30 pounds, so that should be more than enough for your big game. You can also switch easily from left to right-hand retrieve, depending on your preference.
What Makes This Salmon Reel Stand Out
Superior drag performance
Lightweight and heavy-duty
Cool aesthetics
MODEL & ACCESSORY SPECS
Reel weight: 18.6 ounces
Gear ratio: 5.5:1
Max drag: 30 lbs
---
This list of the top-rated salmon fishing reels will never be complete without the Shimano Stradic HG. We love so many things about this fishing reel, starting with its construction, build, and design. For instance, it comes with the proprietary X-ship technology. This boosts gear durability while removing friction between your shaft and spool. It just offers the smoothest performance.
Additionally, casting capabilities are immense. It eliminates line management problems for enhanced efficiency. It features 6 ball bearings for the smoothest operation each time.
In terms of the build, this reel is sleek. It makes things easy, effortless, and effective each time. Most importantly, you can expect to get all of these for a reasonable price. Win-win!
What Makes This Salmon Reel Stand Out
Excellent casting capability
Best for salmon fishing
Smooth and flawless performance
Model & Accessory Specs
Reel weight: 7.1 ounces
Gear ratio: 6.0:1
Max drag: 7 lbs
---
Guide to Buying the Best Salmon Fishing Reels
There is no doubt that salmon fishing reel brands and models are abundant. But this also makes it tough to choose just the right one to buy.
This is why we will cover the basics on how to look for the finest salmon fishing reel. Let us first talk about the parts and systems in place. This will help buyers dial in to what they need to look for in the ultimate reel to use for salmon fishing.
The Basics of a Fishing Reel
The following are among the key parts that make up a fishing reel to get you started.
1. Frame
This is the body of your reel. You can find frames made from a wide range of materials such as graphite or aluminum.
Between the two, aluminum is much stronger. However, there is an even better version of aluminum, which is the anodized and machined one.
On the other hand, graphite is a bit weaker than aluminum. But the reason why some people opt to buy a graphite reel is the price point. It is much cheaper, which makes it suitable for people who like to save money.
In terms of the weight, graphite is also lighter. This is why it is usually the choice of beginners in the fishing realm. Unfortunately, it does not have the strength to hold up well to heavier fish.
2. Spool
The spool cradles your line.
This is a key part of the reel since, without it, your line will come loose.
Spools are either aluminum or graphite in terms of construction. As discussed earlier, graphite is lighter and cheaper while aluminum is heavier and pricier.
When choosing a reel, you can also find one that is bronze-plated or anodized. This is a good design that fights corrosion. With graphite, you do not have these protective features. Thus, a graphite spool and reel may not last a long time.
3. Gear Ratio
As you look for different fishing reel models, you may come across the gear ratio.
It is important to know the meaning of these numbers before you buy. After all, you can pretty much tell what a reel can or cannot do by simply checking out the numbers and their value.
For instance, you have a reel with a 4:1 gear ratio. What this means is that each rotation of your handle allows the spool to wind up the line to a maximum number of 4 times. In other words, the numbers tell you how much fighting power your reel has.
With a lower gear ratio, this usually means there is a higher torque value. But then again, this can lead to a slack line. In simpler terms, you would not want a slack line for the risk of losing your precious salmon.
There are also reels that allow you to shift from one gear ratio to another. This means that you can have the best of both worlds from your reel. But the downside of that is it comes at a heftier price tag. It may be worth it, though, if this reel can last a long time and with enhanced functionalities.
When you want to fish for salmon in freshwater, you need to keep the gear ratio in check. You want a lower ratio for enhanced power. This is very important when you want to bring home that salmon. But if the numbers are high, it means retrieving more lines. Experts agree, though, that better crank power is smarter.
4. Drag
Since you are dealing with a heavy fish, you need to make sure the drag is a perfect match.
Drag refers to the reel's ability to control how much resistance is present between the salmon and the angler.
With a smoother drag, this offers better movement control for the rod tip. In other words, this gives you better control of your catch.
Now, there are two components that impact the drag in reels – the front adjustment and the rear adjustment.
Basically, you can have better results from front drags if you are looking to land a big fish. With a more powerful front drag, you can slow down a big fish. As for the rear drag, this lets you refine the tension as you fight with your target.
Since you are looking to catch a salmon, you want to make sure the front adjusted drag has an efficient performance. You also want to make sure the front portion of the reel has a larger drag surface. This is important because you want to wear out that big fish.
Overall, check the drag and make sure it is easy to adjust. You need a drag that stays tight once adjusted. This way, it will not come loose just when you are battling with a crazy tough fish.
5. Ball Bearings
Next up, the ball bearings.
Why does this matter?
First of all, your reel's ball bearings impact the smooth operation. This portion of your reel supports pretty much all the moving parts.
With this in mind, you want to get more bearings as possible. This way, your reel will work smoothly and flawlessly.
This is why it is worth checking out reels with a good number of ball bearings. But other than the number, be sure the quality is there.
Go for stainless steel ball bearings at all times. This is an outstanding material that is long-lasting, durable, and highly efficient. You can expect it to do a great job that will last for years and years to come.
6. Handle
Now, the handle is often overlooked by many anglers but it shouldn't be…
In fact, it is important that you choose a reel with a comfortable handle that is easy on the hand. It must be able to help you last while preventing the reel from slipping away.
This is why if you are salmon fishing in freshwater, you want to get a highly comfortable handle. Check for EVA grips that are always good to have because of security, ease and comfort.
Choosing the Best Reel for Salmon Fishing
There are many features and factors to consider when buying your salmon fishing reel.
But to keep it nice and short, here are some of the things you need to look for to ensure your total satisfaction with your purchase.
Consider the drag system you buy. Be sure it is the right drag you need for the type of fishing you have in mind.
Check the type of reel. There are different reel styles such as the closed face, center-pin, free spool, and fixed spool. Your choice largely depends on the kind of fish you are trying to catch.
The retrieve ratio should be ideal for salmon fishing. You can tell so much about the reel's speed by looking at these numbers. The lower the number, the higher the power.
Go for a comfortable and secure reel handle. Now, this one is a matter of personal preference. But what is basic is that you need to make sure there is a nice, comfortable grip to help you stay in control.
Determine how many bearings the reel has. The rule of thumb is that you want to get one with many bearings. The reason for this is that more bearings lead to a smoother operation.
Take a look at the line lay. Ideally, you want the line to lay flatter on the spool. This is what you need to achieve a great performance when you cast.
Watch this video for pro tips on how to catch salmon:
Frequently Asked Questions
Q: Why should I buy a salmon fishing reel?
A: A salmon is hard to catch. But what makes it easier to land this big fish is with the right tools. This is why you need to make sure your reel can handle the weight and speed of this fish to help you catch it efficiently.
Q: What is the best rod to use with a salmon fishing reel?
A: Aside from buying the right reel, you need a good rod to go with it. If you are hoping to catch a salmon, choose a rod not shorter than 8 feet. Generally, the longer, the better.
Conclusion
Salmon fishing is a tough, yet highly rewarding thing to do.
So, before you head out into the waters, be sure to have all your tools ready for this exciting activity.
We hope we were able to help you select the best salmon fishing reels to get you snagging that big fish in no time!