Do you want to up your game in bowfishing and bring home a bigger catch?
Figure out easily where the fish are by using the best bowfishing lights that can illuminate even the darkest sections in the water. This is an essential tool to include in your bowfishing tool chest that can make a difference in your overall fishing experience.
With a powerful radiance, you can spot easily your target and get a better aim. Just be sure you have reliable bowfishing lights for murky water with a consistent illumination power and a longer lifespan.
From high-end to budget LED lights and everything in between, we present to you our top picks for the finest bowfishing lights today. Check out our featured items and choose the right one that suits your needs and expectations.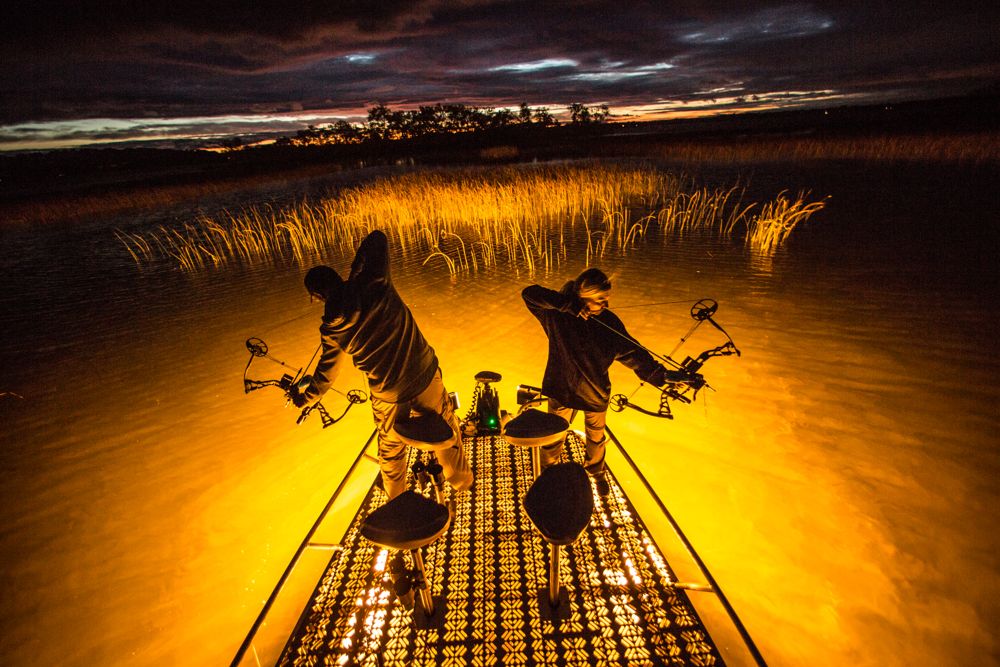 Top 14 Best Bowfishing Lights – A Look at Our Highly Recommended Products
If what you look for are the best bowfishing lights for muddy water, the Ustellar LED lights may be just what fits the bill. This product comes with two bulbs per pack, which is a great deal for the money. Each pack has 60 watts, which is quite bright and nearly comparable with a traditional 300-watt halogen bulb.
Bowfishing is a tough outdoor activity that requires rugged tools. These lights are definitely suitable for an unpredictable environment as these are durable and waterproof with an IP66 rating. They can provide you with the level of illumination you need to brighten any dark corner in an instant.
Overall, we think these LED lights are bright and clear. They do seem to match up to a conventional 300-watt halogen, which is impressive. One thing to note about this product, though, is the mounting bracket. It would have been better if this part is attached to the center of the bulb but it does not quite impact its performance, so it's not a deal-breaker.
---
Bowfishing requires a number of tools and pieces of equipment to ensure the best results. But one thing we like the most about the Viugreum LED lights is the design. These lights have a slim profile and a lightweight design, so there's no excess bulk. Packing up your tools should not be an issue even when you have to include these space-saving lights.
Another thing we like about these floodlights is the higher wattage. With a 50-watt rating and 5,000 lumens, these lights are bright. They also have a long lifespan and will not burn out too quickly. With die-cast aluminum construction and an IP65 rating, these are long-lasting, waterproof bowfishing LED lights that do the job well.
These lights come with a durable design, which makes them perfect for a rugged environment. The light also appears to be as bright as claimed but they work okay for the amount of light generated. The lens is made of plastic, though, which is a tad flimsy. For the price, it is more than enough.
---
With a 100-watt rating, these lights mean business when it comes to brightness. You can count on these in terms of their energy-efficient quality, which makes them a good replacement for your HID fixtures of 500-watt HPS. They offer up to 85 percent energy savings that are definitely a great value for your money.
Speaking of energy savings, these lights have a photocell sensor built right into the unit. These sensors are responsible for turning the lights on at dusk and turn them off automatically at dawn to boost efficiency. Installation is also quick and easy with a simple wiring process to help you get started.
There is no doubt that these are bright and efficient LED lights. The color is a little on the greenish hue, though. However, this is not an entirely negative thing because of the immense brightness you can expect for these reasonably-priced and energy-efficient bulbs.
---
Do you sometimes struggle with nailing your target because of insufficient lighting? If this is the case, this LE outdoor light is the answer to your problem. These lights offer a whopping 22,000 lumens, which is amazingly brilliant for optimum illuminating power. With a beam angle at 110 degrees, there is no glare or shadow but just steady, bright light.
We are impressed with the versatility of these LED lights. You can easily mount them on the wall, the ground, or the ceiling by using the metal bracket. Adjusting the lamp body at 150 degrees is also hassle-free, which is another outstanding plus point.
Perfect for indoor or outdoor use, this is a multi-purpose floodlight. We like the build, as well, as it is made of aluminum that is not only durable but heat-dissipating at the same time. But some people might prefer a different light color. It has a daylight hue that others may not be too fond of.
---
5. Nilight LED Light – Best High-Visibility Bowfishing Lights
Choosing the right bowfishing lights can be a confusing ordeal because of numerous options out there. But in terms of durability and performance, this LED light from Nilight is one of the best we recommend. It offers a more effective heat dissipation with a combination of aluminum alloy for the housing, stainless steel mounting brackets, and silicone gel to enhance heat conduction.
The mounting bracket is adjustable. You can tilt the light to 45 degrees and change the light beam's direction in a snap. Plus, with a slidable block on the bottom, you can mount the light with ease on the bar's existing holes. This is definitely one of the finest when it comes to clear visibility and performance.
For the most part, this LED light is a great value for the price. They are a tad heavy but this only means that they are rugged and durable lights for tough weather conditions.
---
When buying a bowfishing LED light, brightness is not the only feature to look for. You also need to make sure that it is durable and solid. This is what we like about the LEPOWER LED light. The body is FCC-qualified and built to last for a long time. With premium-quality aluminum for the body and tempered glass with a cross design allows for better heat dissipation.
The light comes with an IP66 rating for waterproof capabilities. It offers a maximum of 120 degrees beam angle, which offers you a shadow-free and anti-glare features. With 100 watts of brightness, these bulbs can make a huge difference in your bowfishing expedition.
When it comes to illumination power, we can say that this light can suffice in providing proper lighting to a medium-sized area. But one may not suffice for a wider location as it may end up being slightly underpowered. Otherwise, these lights seem to be bright just as claimed.
---
When buying LED light for bowfishing purposes, the Nilight flood light will not disappoint. It offers maximum brightness and an expansive illumination range, so nothing escapes your sight. There is a specially-designed cup for the lamp that increases the illumination range for maximum visibility.
Made of aluminum alloy with a quick cooling design, the bulb lasts long and does not burn out easily. It would take more than 30,000 hours of usage before this bulb ends up in the trash. What a sweet deal! With a waterproof capacity of up to 1 meter, this is the kind of light you can take with you during bowfishing.
There is no doubt that these are great lights for the price you pay. They do last long and offer a brilliant amount of light. They just seem to have less scope of illumination, as compared with higher end models.
---
If you are fascinated with night fishing, this LED light may be perfect for you. This light is submersible, so there is no risk when using the light underwater to illuminate the area where your target may be hiding. Once you light it up, insects and zooplanktons swim right up to the surface as they are attracted to the light… And then your game fish will soon follow!
With a brightness level of 1000 lumens, these lights are quite bright. They are also rated 10.5 watts, which means low consumption of battery life. This is why you can expect this light to last up to 8 times longer than a halogen bulb. Lastly, they are good to use for up to 50,000 hours.
Our only gripe about this LED light is that it does not sink too easily. If you want to put it down lower in the water, it would help to tie it to an anchor since this light floats. Other than that, everything else about this product seems to work fine.
---
Save energy and get the best value for your money with the SOLLA LED light. This powerful light offers 100 watts of energy and very bright light that does not create any glare or shadow. It is an excellent replacement for your 550-watt halogen incandescent bulb that can reduce your electricity bill by up to 82 percent.
We are awed with its wider LED chip design, which helps minimize heat concentration. It also boosts heat dissipation that supports the longevity of the bulb. It should be able to sustain a lifespan of more than 50,000 hours until you would need to replace the bulb. With a solid rating of IP66, this light is dustproof and waterproof, so you can use it outdoors or indoors.
This light does not come with a light sensor, which may be a bit of an inconvenience for some people. But it does not impact the performance of this light in any shape or form, so it is not a deal-breaker. You will have to buy your own screw, washer, and nuts, though as these are not included in the package.
---
Do you wish you can bring home great quality bowfishing lights that are a breeze to use and maintain? The Quans LED light may just be the thing you need, thanks to its brilliant light and maintenance-free design. You can expect it to provide a steady bright light for hours while providing an energy saving of up to 85 percent.
These lights are undeniably bright. They work well even in the rain, making them perfect for your fishing adventures. These are also solar-powered lights, although you can plug them in to charge. As for the voltage, it is low for maximum energy savings.
One qualm that we have about this light is the flat bar. It is a tad thin, so you may want to redesign this portion and make it a bit thicker and more heavy-duty. Otherwise, the rest of the features of this item seems to work quite well.
---
Bowfishing is an exciting outdoor activity that involves exposure to unpredictable weather elements. This is why we highly recommend the Dimgogo LED lights that can withstand sleet, snow, rain, and other intense external conditions. These lights are perfect for outdoor use, as it is IP-65 rated for its waterproof capabilities.
Mounting the lights is plain and simple. You can also adjust the mounting bracket to set the light up on the wall, ground, or the ceiling, depending on your requirements. With a long lifespan of 50,000 hours, this product is a great deal for the price.
These are brilliant lights that do their job well. The mounting bracket could have been sturdier, though. We think it is a tad flimsy but the rest of the features and elements of the bulb appear to be quite impressive.
---
When you need a dependable light for bowfishing, these SUCOOL LED lights may be just what suits your requirements. These are ultra bright lights with an efficient heat dissipation system to prevent overheating. This helps prolong the lifespan of the bulb.
Another thing we like is how they seem to work well even in murky water. No matter how muddy or unclear the water may be, this is not an issue at all with these lights. They deserve a 5-star rating for cost and functionality.
We can honestly say that these lights are not as bright as more expensive LED lights out there. But for a cheap price, it is amazing how you can get a great value for these lights that simply get the job done.
---
It can be an overwhelming experience trying to find a suitable light for your bowfishing needs. There are several brands out there that claim to be the best but the question is in how truly reliable these are. These LED lights from CuteQueen is a solid choice as these are quite bright, have a long lifespan, and with a sturdy mounting bracket.
The housing is die-cast aluminum while the mounting bracket is stainless steel-made. These are premium materials that can last for years. With a flood beam at 60 degrees and lumens of 3,600, these lights are as brilliant as how you want them to be. And did we say these lights are condensation-resistant? With an IP67 rating, the lights resist moisture, dust, condensation, and water.
The only not-so-good thing about this product is the confusing set of instructions. Everything else works but they could sure do a better job at writing down better instructions that are easy to understand.
---
We are yet to find a better value for bowfishing lights than this product from TMH. There are 10 pieces per pack, which gives you such outstanding value for the dollar. These lights are sturdy and bright, and they allow for a longer range by simply having you choose another light pattern that matches your needs.
With a long lifespan of 50,000 hours and a flood beam at 60 degrees, this product is spectacular. The light is bright and clear, and it helps you get closer to your target and reduce missed opportunities.
Our only observation on these lights that does not seem to impress us is the narrow beam. It is not quite a spotlight if that is what you are looking for. But in terms of brightness level. It sure matches that description well.
---
Guide to Choosing the Best Bowfishing Lights
It is a tough ordeal to successful catch your target when the water is murky, muddy, and just plain unclear. This is why you need bowfishing lights to help you illuminate the water to spot your target fast and easily.
Here are some features you need to look for when buying the best bowfishing LED lights.
1. Easy On and Off Switch
While others may think of this feature as just an extra, it is an important factor to consider depending on the fish you are trying to catch. For instance, you could use an LED light with a sensor when attempting to catch a bighead carp, which is a light-sensitive fish. You can activate the light once near the target, which illuminates the entire area immediately to get your catch.
2. Color Tone
If you can find a bowfishing light with an adjustable color tone, this should be excellent. This is a major plus point when you plan on fishing in water with different conditions. In the case of clear water, cool white should work best. But warm white is better for murky or muddy water.
3. Brightness Level
This is a no-brainer when choosing the best bowfishing lights to buy. Naturally, you want to get a massive amount of brightness from the light to illuminate designated areas better. This is why we recommend that you pay attention to the lumens as this gives you an idea about the level of brightness to expect from the light.
4. Durability
Naturally, you want lights that can last for a long time without intricate maintenance. LED lights made of durable housing such as aluminum alloy are more solid than those made of flimsy and cheaper materials. You also need to check the mounting bracket, which needs to be equally durable. Stainless steel is your best bet as it will not rust or corrode too easily.
---
Bowfishing Lights: Frequently Asked Questions
What is the best type of bulb should I get for bowfishing light?
There are a plethora of materials to choose from with bowfishing lights. For instance, you can find halogen lights and LEDs. Most anglers prefer to use LED lights as these are easy to install and capable of penetrating various waters without any hassle.
LED lights are battery-operated and they can provide a wide selection of light options. They may be a bit more expensive upfront than halogen lights but they last longer. In fact, LEDs can last for up to 50,000 hours. In the end, they turn out to be more efficient and more practical to buy than halogens.
There is also the High-Pressure Sodium or HPS lights. They work for murky and muddy waters really well, and they are lightweight, too. But they require more energy, so it won't be too long until these lights fade out.
What is the best brightness level do you need for bowfishing?
There is no hard and fast rule when it comes to the brightness level. But one thing is for sure – the more lumens, the brighter the light is. If the rating is in wattage, you can simply convert it to determine the brightness level. For instance, 100 watts is equivalent to 1500 lumens. This is actually a good number that should illuminate the water quite well.
Is voltage important?
Yes, it is. You need to check the voltage of your bowfishing light to help you decide whether it is suitable for your needs or not.
For instance, if you are using a small boat, you will require just a few bulbs to use. In this case, a 12-volt DC light should suffice for your needs. On the other hand, more light means more voltage. You can thrive better with a 24-volt DC if this is the situation you are in.
Lastly, larger boats and a much longer fishing expedition would require more power. A 120-volt DC is a necessity for this case. The installation process is more intricate but once you have it all set up, this amount of voltage should be perfect.
Is it possible to add additional bulbs if you only have a setup for a 12-DC voltage?
What we recommend in this case is that you increase the voltage if you need additional lights. A 12-DC setup requires less light and by adding more bulbs, this drives up the energy. It can be an issue in the long run.
Can you replace different color tones for your LED lights?
If you are using LED lights, then this is absolutely possible to do. DIY enthusiasts can easily replace their bulbs with a different color depending on their preference when it comes to LED lights. This can be tough with a halogen bulb, though.
When is it fine to use warm white for bowfishing?
Amber lights or lights with a tinge of yellow in them are what we call warm-colored lights. These are essential for stained or murky waters. These lights allow them to penetrate deeper into unclear water, so you can see your target better.
Final Words
Choosing the perfect bowfishing lights can be a confusing ordeal when there are so many options available out there.
The exhausting list of features and limitations can make your head spin, particularly when it is your first time to buy a light for this purpose. This is why we have prepared for you this list to make things much easier for you and to determine the different factors you need to look into when shopping for the right item.
By learning more about your best options after checking our best bowfishing lights review and buying guide, you are not well-armed with knowledge and ideas on how to shop for the perfect model of lights with all the essential features. Now, you can go ahead and purchase the item that suits your needs to have a more meaningful and worthwhile bowfishing experience!