Fly fishing is a challenging but very rewarding experience.
It takes some serious skills to snag your target but the secret to success also lies in using the right pieces of equipment.
You need the best fly fishing nets that are not only well-made but specifically designed for the kind of fish you are attempting to catch. And trust us, it's not all that simple.
There are different brands, models, and types of fly fishing nets out there, and the last thing you want is to end up bringing home the wrong kind.
So we'll take the guesswork out of buying the right net for fly fishing by presenting to you our buying guide and our top picks for this category. Read our expert tips on how to choose the best net and our answers to commonly asked questions by fly fishing enthusiasts.
Let's get on with our review and check out which among these items suit your needs best to net your ultimate trophy fish!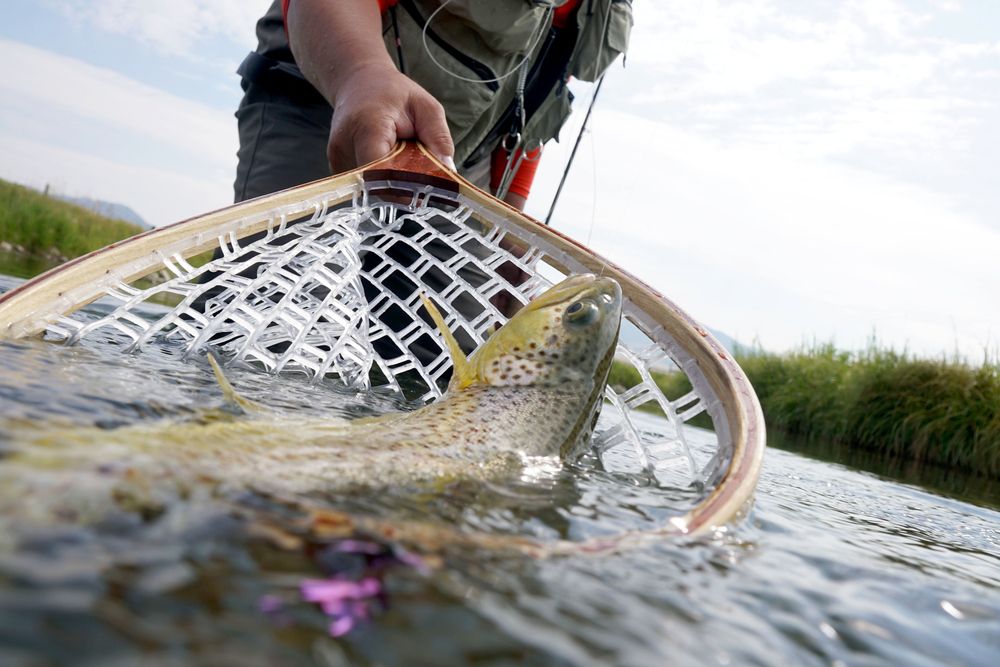 Top 14 Best Fly Fishing Nets and Their Features
Whether you are a pro or a beginner in fly fishing, this fly fishing set is just the right choice for you. This product includes a rubber mesh fishing net with a magnetic release feature for ease of use. We like how sturdy the net is while preventing any tangling issues. It is also clear, allowing you to see your catch easily.
The material is sturdy and will not harm the fish. This is perfect as it makes it easy for you to catch and release the fish when necessary. As a plus point to this item, it comes with a solid hardwood frame. It will not decay easily, mold, or form mildew. With a teardrop design, this is a classic feature you want in a good fly fishing net.
Overall, we think this net works. It is not exactly your premium fly fishing net but for the price you pay, it is worth a purchase. Some people may think this net is a tad wide but it is a matter of your preference. It may work for you, depending on the fish you are attempting to catch.
---
When choosing the perfect fly fishing net to buy, you want to make sure it is portable and lightweight. This is why we like this folding net from KastKing. It is compact and foldable, so you should not have any issues with taking it with you. The net is also retractable to help you achieve your desired length.
As for the net, it is tangle-free and supple. It is sure to catch your target easily no matter how big or small it may be. With a special coating, your hook points will not get stuck and harm the fish through the net. This makes it easy to release the fish, too, and transfer it to your container. With a non-absorbent coating. The net remains lightweight even in the water.
There is no doubt that this fishing net is one of the best there is in the market today. It worked for a number of lures, although it can be a challenge with treble hooks. Still, it works fine, but having a larger hole would have been better.
---
The secret to a great catch is in the net you use. This is why we like this fly fishing net from SF. It is clear and soft, yet tangle-free. This is the kind of net you want for catching fish such as Trout. Since it is made of rubber, it is soft and will not rot or form molds. This can surely hold up well no matter how many times you use it.
The bamboo and hardwood combo for the frame adds to the durability of the net. This also lets you lift it up easily as it is lightweight. With a copper swivel located at the handle's end, this net is a breeze to use. There is an added magnetic clip release, which prevents you from losing your net accidentally.
For the price you pay, it is definitely an excellent fly fishing net to buy. The holes are just the right size, which is perfect. But then if you are into brook fishing, you may have a bit of a hard time with this net. It is best for bigger fish and tricky for smaller ones. Otherwise, the rest of the features seem to work.
---
When it comes to portability and weight, we think this fly fishing net from Crystal River fits the bill. It is well-made and lightweight, so you can easily add it to your fishing tools without any problem. You can hold it for long hours as you stand in the middle of the river or the creek.
The netting seems quite impressive. It is soft and durable, and there are no tangling issues at all. You don't have to worry about snagging your lure's hooks on the net, which is a great feature. As for the size, it works great. This is the kind of net you want for catching big or small fish.
At the same time, we have some minor concerns with this net. One, you'll have to add polyurethane to the wood because it is untreated. The cord located on the handle would also need modification if you prefer one that is easier to grab and grip. But as for the quality and build of the net, it is hands down an excellent item.
---
At a glance, you can tell right away that this fly fishing net means business. This premium net has a pole made of fiberglass and mesh EVA for the handle. You can maintain a strong grip while you fight for that prized target. The nylon material for the mesh is also solid and sturdy, which means it will not rip easily.
With its collapsible design, this net should never be a problem to take with you. You can store and carry it around with ease. It even has a belt clip specifically designed for your convenience during transportation. Plus, the pole has a telescopic design, which allows you to achieve your desired length for it.
Although the pole seems to be quite fine with most users, there are those who might prefer it to be a tad longer. This will make things easier for those who prefer to net as they stand. But in terms of the net quality and durability of the pole, this product is absolutely priceless.
---
If it is your first time to go fly fishing, the whole experience may be a mixture of excitement and intimidation. It may seem rather confusing to get things right, which is why you need the right net for someone like you. The Wakeman fly fishing net is our choice because of how durable and well-made it is – great for newbies and pros alike.
The handle offers a good, solid grip. Made of wood, the frame sits perfectly in your hand and offers the right balance you need to catch and release that fish. As for the frame, we like the fact that it is crafted from hardwood for optimum durability. It also has an elegant, natural finish that looks good and keeps the frame in good condition longer.
This is the kind of net you could take with you in salt or freshwater. We also like how easy it is to net a large bass or even something even bigger, thanks to its wide base. But when it comes to the net design, we would have wanted this item to have less "give". It tends to stretch out a tiny bit when used with larger fish.
---
Fly fishing nets sold in stores can be a bit on the expensive side. But budget should never be a limiting factor when you want to buy a dependable net. This is why we like this product from Trademark Innovations. It features a decent quality handle and frame made of wood. You can expect it to fit your tight budget without compromising value and performance.
The net is just as good as the handle. It comes in a rubber material that is snag-free and perfect for Trout fishing. The bag also disappears underwater, which will never spook your target. Once you have spotted your fish, you can easily catch it stealthily with this net.
We think the burl wood for the frame is durable and solid. The length also works quite well. But the bowl hoop is a bit lacking in thickness. If it were beefier, we think this product can compete easily with the more expensive ones out there. It does work, though, and it is great as an alternative fishing net or as a beginner net.
---
There are so many fishing nets out there but they are not created equal. When it comes to optimum durability, you can never go wrong with the Nomad nets. We like the sturdy materials used for the frame, which are fiberglass and carbon fiber. It is not only sturdy but it is lightweight at the same time for your ease of use.
The material is buoyant and weatherproof. No matter how tough the conditions may be, you can count on this net to withstand them all. The net, on the other hand, is made of rubber, which is clear and waterproof. This is why it does not get heavy with water. There is no added weight that sometimes is an issue with other fishers out there.
Perhaps one thing to note about this product is the price point. We have to say that it is a bit on the steep side. This is not much of a concern for many buyers, though, because for the price you pay, you can expect the finest quality. It is a lightweight, durable, and high-performance net that can last for a long time.
---
When you need a fly fishing net specifically for freshwater, this one from ODDSPRO is a good choice to consider. We are impressed with the handle construction, which is sturdy and non-slip to give you a firm and solid grip. Even when the handle gets wet, you can still hold on to it perfectly well.
This is the kind of net that you want for freshwater fishing such as in the lake or river. You can easily catch your Trout, no matter how big or small it is. The net also works for fly fishing when you are on the shore, thanks to its shorter handle.
If you are attempting to do saltwater fishing, this may not be a great net for you. But for its designated purpose, it is more than enough. The net is gentle on the fish' scales and slime coating while preventing any damage to their body for easy release.
---
Many fly fishing enthusiasts worry about buying the kind of net that adds to the challenge in this activity. Luckily, this is not an issue with this net as it is smooth, lightweight, and portable for your ease of use. The net also includes a magnetic clip with a quick-release design. This allows you to clip the net right to your pack or vest without any problem.
The net is crafted from rubber mesh, which is soft, smooth, and clear. It does not tangle up, and it disappears quickly once placed in the water. This helps with the proper handling of the fish while preventing damages to their scales. Catching and releasing the fish are quick and simple.
This is a high-quality net that is easy to bring and use. But we do not recommend this product if you are trying to catch smaller trouts. The net appears to be a bit too big with equally larger holes. Smaller fish can escape easily through the holes, which is one downside of this item.
---
Fly fishing aficionados will absolutely love this net that is easy to use and hassle-free to maintain. The material used is carbon fiber with a mixture of fiberglass for optimum durability. The carbon is high-density, which makes it resistant to wear and tear. It also has a nice handle that offers a comfortable and solid grip.
The mesh is non-absorbent nylon. It remains lightweight even with water. Once submerged in water, the net disappears and is invisible to your target. This increases your chances of catching them easily. With a foldable design, this makes it easy and quick for storage purposes.
The handle does not quite have a telescopic feature. It is not a deal-breaker at all as we can honestly say that the product lives up to our expectations and delivers its promises.
---
Do you need the perfect fly fishing net for your trout fishing trip? Or perhaps you are attempting to catch that bass? If so, this fly fishing net from Mounchain is a suitable choice to consider. This is the kind of net that you can use in the stream or river while ensuring a great catch. With the size and build of this net, it sure can handle bigger and heavier fish easily.
We are well-pleased with the build of the net. It is very soft and gentle to the fish, which will keep your catch in great shape. The nylon material is also smooth and lightweight. Once in the water, it does not get heavy because of its non-absorbent feature.
If there is one thing we would like to improve on this net, it would be the length of the handle. Having it a bit longer may be more ideal for some people since this item does not have an extendable length. Other than than, we are pleased with what this product has to offer.
---
The main striking feature of this Restcloud net is the telescoping handle. We like how you can easily extend it to 32 inches, which is a great length for pros and beginners. This is also a versatile net that kids and adults can use. In fact, if you are still getting well-versed with this activity, you can easily train yourself using this net.
The material used is aluminum, which is sturdy and lightweight at the same time. As for the net material, it is sturdy and soft. It will never harm the fish you catch. With a foldable handle, you will have no problem with fitting this unit in your rod locker or storage.
Whether you are hoping to fish in freshwater or saltwater, this product should work for you. But our only gripe about it is that it seems a bit flimsy once fully extended. Fortunately, you can easily retract it to give you a desirable length.
---
Put the fun and ease in fly fishing with this folding fly fishing net from Yvleen. This product is a great net that you can use on a regular basis without worrying about it breaking out easily. Made of aluminum with a corrosion-resistant feature, the pole handle remains sturdy for years. It is crack-resistant, too, so you can expect to use it in tough weather conditions.
The net is a good size for landing fish. The material is nylon, which is durable and tangle-free. There is also a special non-absorbent coating added in to keep it easy to carry around and will not get heavy.
Perfect for boat fishing, fly fishing, and so much more, this is a versatile fly fishing net to own. The key ring at the base that connects the pole to the net just seems a little oddly-designed. But it does work well, which is the main thing about this product.
Best Fly Fishing Nets Buying Guide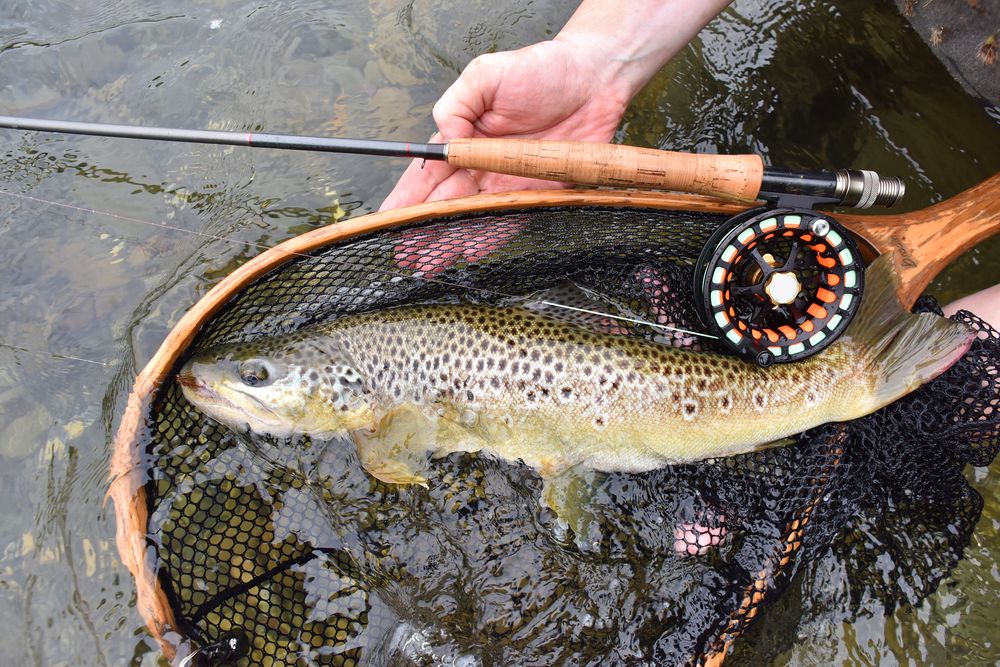 So you think you are ready to go fly fishing?
Before you go on your fishing expedition, it makes sense to take a look at the different options in store for you. There are numerous types and brands of nets out there, and it can get overwhelming to choose just one.
This is why we have prepared this buying guide that should help you snag the perfect fly fishing net suitable for your needs and budget.
Let's go ahead and check them out now.
1. Determine the net material.
The material used for the net impacts the fish you catch. For instance, Trouts have a delicate slime coat. It is important to not cause any damage to the coat to keep the fish in good condition.
However, traditional coats may rub up against the slime and ruin it. This is why we prefer a rubber netting material that is soft and smooth. On the other hand, you may be okay with a nylon net when your target is a Pike. With its rugged exterior, it is impossible to cause damage to it too easily even with an abrasive net.
A number of fly fisherman prefers rubber because it does not catch the hooks of their lures. There is even a so-called ghost-style, and this is even better because of the clear bag that is invisible in the water. You won't spook your fish with it, which allows you to catch it with ease.
As for a mesh net, it is typically lightweight and soft. It is non-abrasive but not quite easy on your catch as a rubber. Still, you can do a good job catching fish with a mesh net since it is lightweight and snag-proof.
2. Consider the handle and net design.
There are many fishing net designs but it is best to consider your specific needs when choosing the right one.
For instance, we recommend nets with a telescoping or expandable handle. It is a good product that allows you to use it for boat fishing or also for wading once retraced. But you want to make sure that the handle is sturdy since some nets with a telescoping handle can be flimsy once fully extended. You would not want to risk losing the fish once it breaks or cracks unexpectedly.
There are also collapsible nets in the market, yet we cannot quite vouch on their durability. These are perfect when you need to pack light and store your net in a tight and cramped space. If you are going on a backpacking trip or a river rafting adventure, a collapsible net is perfect.
You can also count on the performance of a collapsible net when hiking, and there is only shallow water and exposed bank for landing your fish. But again, never compromise durability with the price and performance of your net.
Fly Fishing Nets: Frequently Asked Questions
How should I choose the right fly fishing net to buy?
You need to ask yourself what fish species you are trying to catch. The size and weight of the fish will impact your decision on which net to buy since there are nets designed for smaller, bigger, lighter, or heavier fish.
I am going saltwater fly fishing. Which net is ideal for it?
We recommend that you buy a fishing net with an anti-corrosion coating to it. This way, the frame is well-protected from rust and keeps it in a good condition for a longer time.
What is the most suitable length to buy for the handle?
If you are doing boat fishing, you will need a longer handle. This way, you can extend the reach and increase your chances of catching your target. It also works for landing fish or team landing since it tends to drop off rather quickly.
On the other hand, you are better off with a shorter handle when you are looking to fish in a shallow bank or body of water. A shorter handle offers better control and stability for this type of condition.
Final Thoughts
Buying the best fly fishing nets can end up as a confusing ordeal for someone who lacks experience and information on the right item to get.
But after learning more about your top options, the features to look for, and some concerns that impact your decision of buying a net, you have a better chance at finding a great product that really suits you.
So go ahead and check out these highly recommended items that will give you an outstanding fly fishing experience you will not forget!