Do you want to take your angling skills to the next level?
Time to jump into the exciting world of surf fishing, a fun activity that's been gaining more popularity these days. With the best surf fishing rod and reel combo, you should be all set to snag that big fish!
But as any surf fishing pro would say, you can't just pick up a random gear and assume it will suffice to do the job. Buy the wrong rod and reel, and you're up for major frustrations. Not to mention plenty of missed opportunities in the water…
At the same time, you don't really need to burn a hole in your pocket just to get the finest fishing gear. There are plenty of options out there no matter what budget you have, and it's all about doing your homework to know what's great and what's not.
To spare you from the lengthy research, we're here to give you our top recommendations for the best surf fishing rod and reel combo! From high-end to budget-friendly to anything in between, we've lined up a good selection of gears that received our nod of approval.
Let's go ahead and round up our top picks for the ultimate surf fishing gears that deserve a spot in your tool chest.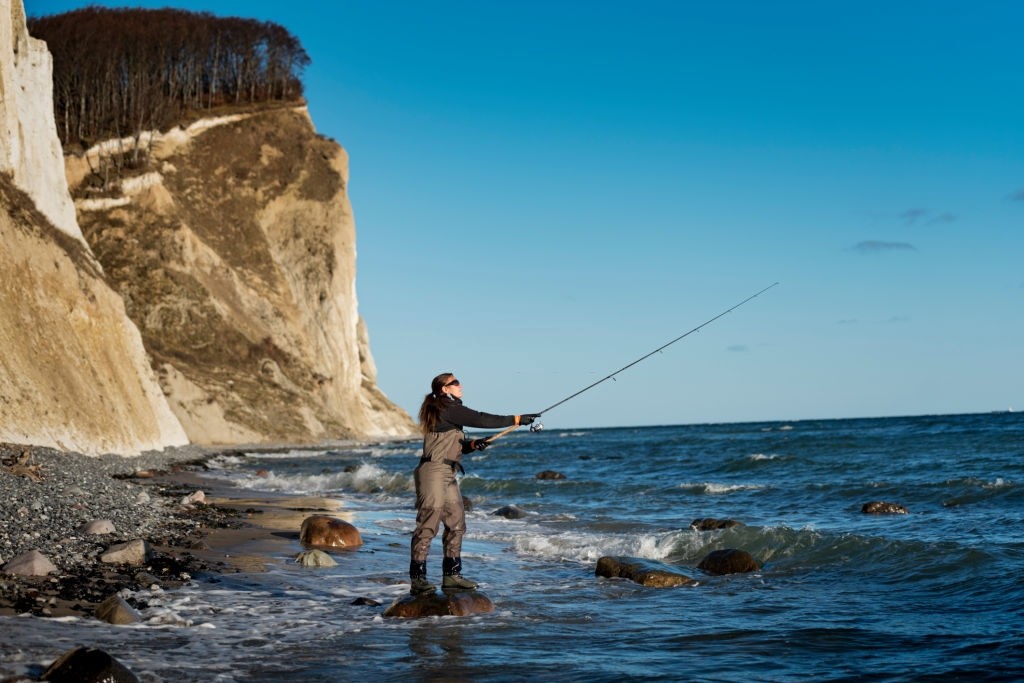 7 Best Surf Fishing Rod and Reel Combo
If you want a fishing gear that will not fail on you after a couple of uses, the PENN Battle II should be the perfect choice for you. This full metal rod and reel combo is sturdy and rugged, which is just what you need to win even the toughest saltwater battles. Made of stainless steel and with a carbon fiber "Versa-Drag" system, this ensures maximum drag all the time.
We like the ultra-responsive feature of this fishing reel, so you get just the right mix of sensitivity and strength. The drag washers are greased for optimum performance, which is definitely a nice touch. As for the rod, it's graphite composite with guide crafted from aluminum oxide for superior responsiveness and durability.
This is an outstanding reel and rod for the price. Sure, they're far from being the lightest reels out there, but they do hold up well and tough it up in salt. The rod is pretty decent, although it could use more sensitivity and perhaps a more specific action depending on your style. Otherwise, this combo should leave you feeling like a happy camper.
---
Another contender for the best surf fishing rod and reel combo is the Okuma Tundra. The TU-1002-80 features a 10-foot long rod with an 80-sized spinning reel. The rod blank is glass fiber and the reel has a 1BB drive for that fantastic smoothness and precision. You can get a firm, comfortable grip, thanks to the EVA foam – no slips and misses!
Let's talk about the spinning reel. This portion can hold up to 260 yards, and it has passed the 25-pound test. What that translates to is the superior capability to snag that large catch. Plus, the spool has a corrosion-resistant feature to help keep it smooth and prolong its lifespan.
Catching a Red Drum at under 30 pounds is not a biggie for this fishing combo. Even at that weight, the rod will hardly bend or show signs of wear. But there's some room for improvement for the reel's drag. Muscling a massive fish can be a challenge but this thing still does the job for the price you pay.
---
Whether you're taking this combo for a spin in saltwater and freshwater, it won't leave you disappointed. This is a reasonably-priced fishing combo that does the job well on the open water… And one that you can take with you on various occasions. With an anti-corrosion feature, it can handle salt without any problem at all.
This combo is surprisingly tough for the price. The blank is fiberglass for outstanding strength and enhanced sensitivity. As for the rod, it has a nice EVA foam for a secure grip. We are also impressed with the reel seats made of stainless steel while the guides feature aluminum oxides for maximum protection.
When you need a budget fishing combo that's got a sturdy quality and versatility for use in various applications, the Daiwa D-Wave is a decent bet. It lacks the bells and whistles of a high-end model but it sure gets the job done. We recommend this as an additional fishing gear to take during surf fishing or as a back-up to your existing ones.
---
Lightweight, sensitive and durable, the Centron fishing spinning reel and rod combo is one of the finest there is out there. Perfect for all angling skill level, this gear includes 2 pieces with a 6-inch and an 8-inch, depending on what fish you're shooting for. For your comfort and ease, the rods have EVA handles contoured to ensure a maximum grip when battling in the water.
This combo comes with a Centron spinning reel that goes perfectly with the rod and fish species you are attempting to catch. There are also O-ring premium quality inserts that work well with your braided and mono lines. As for the frame, it's stainless steel and lightweight while keeping the rod blank balanced.
No matter what type of fish comes in your way, they are no match for the KastKing Centron. It can handle catfish, striped bass, blue fill, and crappie without a problem. But the reel design is not always responsive as it fails to lock down completely into the clamps. Well, this does not impact its overall performance except for some minor nuisance. But overall, it is fit to become your go-to pole for surf fishing.
---
If you are looking to go surf fishing, boat fishing, or in-shore fishing, the PENN Pursuit II and III is a suitable option to consider. This is a great combo that offers an outstanding setup in terms of durability, affordability, and versatility. With a smooth drag, lightweight body made of graphite, and stainless steel hooded bearings, it performs smoothly at all times.
Saltwater anglers will fall in love with the performance of this responsive fishing combo. Even beginners who are still trying to get their feet wet in the surf fishing game will find this gear easy to use. It features Dura-Guides crafted from stainless steel and a corrosion-resistant body that ensures its long lifespan.
Overall, we think this fishing combo is a great value for its price tag. Just be sure to avoid getting a bunch of sand inside it since you'll have to take everything apart to clean it well. This can affect its performance, so it is best to refrain from having to disassemble and rebuild the components.
---
This is a great fishing combo that brings fun and excitement to surf fishing. The pole is durable and tough with its fiberglass and carbon fiber build that resists breakage and damage. For your ease of use, there are power drive gears with an anti-reverse function. All your saltwater battles are guaranteed to be a win with this responsive gear in your hand.
As for the reel seat, it's stainless steel with a hood. This feature helps protect it from the salt that can eventually lead to corrosion. There's also an EVA grip to ensure comfort and balance. Do take note that this gear offers a medium power, so you should be able to battle average-sized fish in the surf.
For its price, we can say this gear is a good choice for anglers who are keen on trying surf fishing. The rod is a tad whippy, though, and it could use some additional sensitivity to it. You may have to cast at a shorter distance but it definitely won't stop you from catching fish whether you're on saltwater or freshwater.
---
Last but not least, if you need a fishing gear combo that you can use whenever and wherever the Sea Striker is a fantastic one for you. It features an 8-foot rod that's as sturdy as how you want it to be. The rotor is computer-balanced for maximum efficiency and performance, and there is a responsive ball-bearing system that maintains smoothness.
Great for fresh and saltwater, this combo simply won't disappoint. The reels are undeniably smooth, thanks to the exceptional construction. And have you seen the color combination? Ladies who are fond of angling will find it a perfect match for them because of the beautiful design that adds to this pole's performance.
One thing to note about this pole is that it is a tad bigger as compared with some of the ones on this list. The colors may eventually chip off, too, but it does not – in any way – impact the performance of this excellent rod and reel combo at all.
---
Guide to Buying the Best Surf Fishing Rod and Reel Combo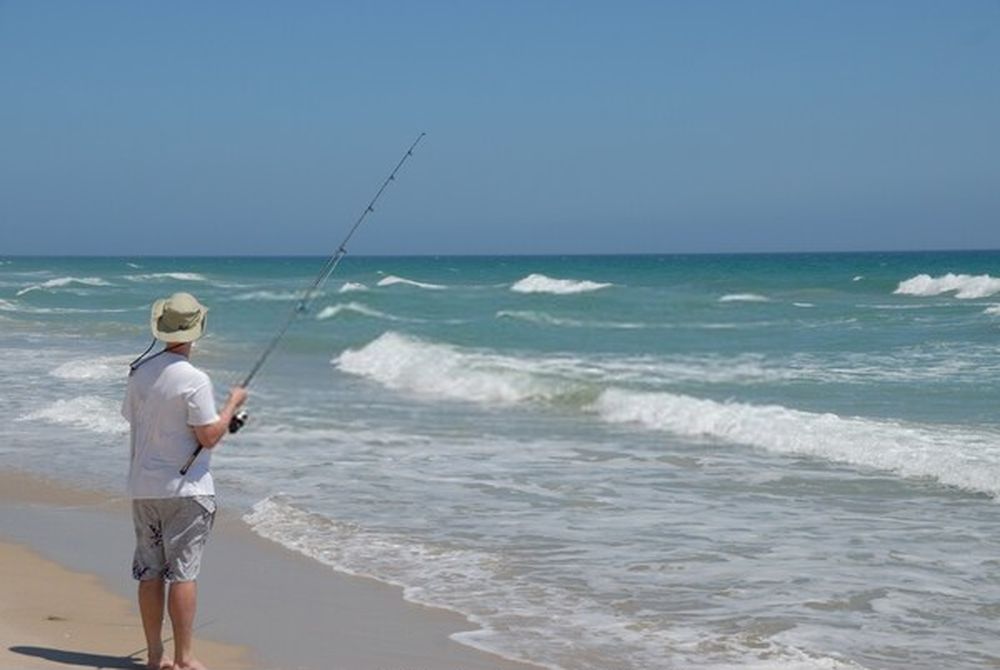 Before you pick up just about any fishing rod and reel combo on the shelf… Wait up! You have to be sure that what you buy is exactly the right kind you need. There are several features you need to keep in mind when buying surf fishing rod and reel combo. Here is our expert buying guide to help you make sure that you buy only the best that's worth your dollar.
When buying a fishing rod, you need to determine important factors such as the length, material, handle, weight, and the reel seat. The reel also comes in different types and aside from choosing the right one, you want to make sure that the weight, bearing system, and the drag suits your needs.
Let's talk about each feature and a brief explanation of each.
1. Length
Ideally, you want to get a rod that is between 9 or 10 inches long. With a longer rod, you can cast a little further and keep your line right out of the shore or surf. If you buy a rod with a short end with a butt type, you can still cast far when you maintain the right distance of the reel to the rod's end.
There are rods that can go as long as 15 feet. Is this a good choice for you? The answer depends on certain factors, and mainly, it's up to the condition you are in. KastKing has shorter rods, which offer better accuracy than longer ones. But is it useful when casting long distances? Not quite.
You are better off using shorter rods on the beach or when you're fishing from a jetty or dock.
But with a longer rod that ranges between 12 and 15 feet, you can easily cast into the waves no matter what the distance. Controlling where the hook winds up is a bit tougher.
If you are looking to catch larger fish, you can get that extra leverage from a longer rod. But if you are shooting for smaller fish species, it shouldn't be an issue working with a rod that's not as long.
2. Power
Basically, this refers to the pressure level that can cause the rod to bend. When you have a more powerful rod, it will take a massive fish to generate a certain response from the rod. The more power you can get from a rod, the more efficient is the catching capability. It's easy to catch a Bull Red or Tarpon when you have a greater boost of rod power. But a medium power rating is more suitable for smaller fish such as a Whiting, Flounder, and Trout.
3. Weight
A good rod is both sturdy and lightweight. When it does not weigh a ton, this maintains the sensitivity of the rod. This makes it easy for you to detect a strike each time, as compared with a heavier model. Another plus point to a reduced weight is it spares you from getting all worn out after hours of surf fishing.
4. Material
Choose a durable material for your rod. This is a no-brainer when buying a surf fishing rod. We recommend sturdy and solid materials including fiberglass or graphite composite. Not only are these materials known for their durability but these also offer flexibility and efficiency. You can ensure a longer lifespan for your rod, which adds value to your money.
5. Reel Seat
When you happen to buy a cheap rod, then you're likely to get a cheap reel. Like attracts like, remember? So you want to choose a reel seat that's secure and can keep your reel locked tightly.
6. Handle Design
A good rod is not only sturdy but it must be easy on your hands, too. This is why you need to consider buying a rod with a comfortable and secure grip. A nicely-designed handle with an EVA grip is a good choice, so you can hold the rod for however long it takes while fishing. Inferior handles can result in blisters, which sucks the fun out of fishing.
7. Drag
It is essential to check the drag system of your reel. In fact, it is preferred more over the capability to cast long and far. You want to make sure that the drag is excellent in addition to getting a long-spool fishing reel. A conventional choice also works, as long as the drag system is smooth and efficient.
8. Bearing System
When it comes to surf fishing, the last thing you want is to exert too much effort in keeping your reel at a reasonable speed and a high-functioning condition. So what do you need to do to prevent this issue? Check the bearing system.
You need a reel with at least 4 or even 5 bearings as this is a good number that impacts its smooth performance. The more bearings there are, the smoother the operation. But aside from the smoothness and flawless of the performance, more bearing also give you better control.
There is one concern, though, with having several bearings – an added weight. Naturally, this adds more heft to the reel when there are more bearings. Frequent jamming is also likely to happen as a result of a more complex bearing system.
​Frequently Asked Questions
Why is corrosion resistance an important feature to look for in a good quality fishing gear?
If you are going saltwater fishing or surf fishing, you want to make sure that your rod can hold up well to these conditions. Salt can be nasty to your gears and cause damage and deterioration over time. You would not ever wish to witness your fishing gears diminish in power as corrosion eat it away slowly and consistently. Eventually, the rust will render the gear unfit and inferior for use.
You need to invest a bit more money in a fishing rod and reel set that has an anti-corrosion design for a long lifespan. This also helps improve its performance and spare it from falling apart due to corrosion.
Is a waterproof design important?
We would say, absolutely yes.
Sadly, this is a commonly overlooked factor that determines the quality and performance of a surf fishing reel and rod. But you need to be more conscious of the fact that waterproof is always a viable feature of your fishing gear. When it resists water, this eliminates the chances of corrosion forming and building up.
What does that give you?
Long years of usage and enjoyment of your rod and reel, that's what! You can keep problems at bay since your rod can handle water without any hassle.
What can you say about the manufacturer's warranty?
No matter how expensive or good-looking your fishing rod and reel combo may be, it will always deteriorate in the long run. Well, at least not right away!
This is why you need to make it a point to check the manufacturer's warranty included in the package. The goal is to delay these issues instead of experiencing them sooner than later.
With a good warranty, you can simply take your gear to a service center authorized by the manufacturer. This is a good place to check for defects and issues instead of having to pay it out of your pocket.
Final Words
Surf fishing is without a doubt one of the most relaxing and rewarding hobbies out there.
You can simply cast the rod off into the waves while feeling the sand right between your toes. And don't forget about the gorgeous horizon facing you…
While it may be possible to use a standard rod for this exciting water activity, there are dedicated rod and reel combos specifically designed for surf fishing. Using the right gear specifically for this sport will surely go a long way in terms of your success in the water.
We hope that after learning about your options in this review, as well as the buying guide we have shared, you were able to learn a thing or two on the right product to get. It sure is a tad tricky to choose the perfect surf fishing gear but just a little education and tips should help you get started on the right foot.