Maybe you are a beginner in the angling world or a pro looking to improve your game.
No matter where you are in your fishing career, the best ultralight spinning reels deserve a solid spot in your tool chest.
Why?
Because nothing beats the power and efficiency that a strong and sturdy reel has to offer. With this piece of equipment in your arsenal of fishing tools, you can snag that big game anytime. And the best part? Missed opportunities are the least of your worries.
Sounds good?
This is why it pays to learn a thing or two about what an ultralight spinning reel really does and why you need to invest in a great one.
If you think that the best way to go is to head straight to high-end ones, pause and think again. You don't necessarily have to go down that route. Seriously.
In fact, we have tested a few products in stores today and discovered those good ones are not at all that pricey. Even with a modest budget, you can bring home an ultralight spinning reel that won't let you down.
Have a look at our recommended products below that are suitable for every angler with varying budgets and demands. We got you covered right here!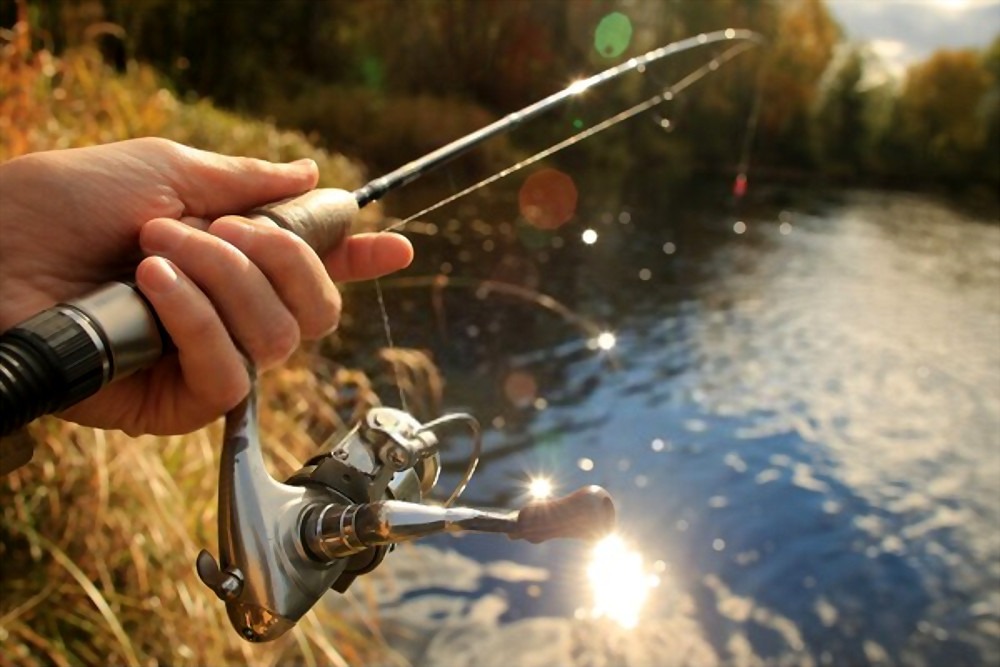 Quick Comparison: Top Ultralight Spinning Reels
**Below, you'll find our more detailed reviews, but you can also click the links above to see current prices or read customer reviews on Amazon.
Top 11 Best Ultralight Spinning Reels
Sometimes you just don't know exactly if your next fishing expedition will be in freshwater or saltwater. So it works to have a versatile tool that you can use in either type of water. The KastKing Sharky III is great for rivers, lakes, seas, anywhere you might find yourself catching that big game!
It has 10 + 1 ball bearings made of stainless steel for optimum durability and carbon fiber for the reel to ensure longevity. This thing is a beast and can handle a maximum of 39.5 pounds for greater fishing muscle. With an oversized main shaft crafted from stainless steel, this spinning reel means serious business.
Whether you want to bring home a large bass, trout, salmon, or any other big fish, this thing does the job. But it does have a bit of a bulky feel, which can take some getting used to. Still, you cannot beat this guy for the price range.
Pros
Smooth and flawless retrieve
Great for saltwater and freshwater
Powerful body yet lightweight at the same time
Cons
The drag can be improved on
Has a slightly bulky feel
Model and Accessory Specs
Material:

Stainless Steel, Aluminum, Graphite

Weight: 7.4 oz
Gear ratio: 5.2:1
Bearings: 10+1
Max Drag: 33 LBs
Warranty: 1-year
---
Your freshwater trophy is no match with the Stradic HG by Shimano. This spinning reel uses state-of-the-art technology that enhances your overall angling experience. With enhanced durability and reduced gear and spool shaft friction, casting is smoother – even for a longer cast.
There is a proprietary Dyna Balance rotor built right in it that boosts smoothness while minimizing line management concerns. You can count on this reel to achieve long-lasting power and performance whether you are engaged in offshore or inshore action.
This spinning reel may not be comparable with the performance of higher-end ones out there, but it is definitely pretty close. The smoothness is quite visible, and we like how you can make longer casts without limiting angling success.
Pros
Zero friction between gear and spool shaft
Impressive casting capabilities
Evident gear durability and robust build
Cons
Occasional glitches but nothing major
Requires a bit of a learning curve for beginners
Model and Accessory Specs
Material: Metal
Weight: 8.3 oz
Gear ratio: 6.0:1
Bearings: 6+1
Max Drag: 20 LBs
---
If what you look for is an ultralight spinning reel that is built to last for a long time, the Pflueger President is a solid option to consider. Made of graphite for both the rotor and the body, this reel is like a tank. It is robust and powerful – perfect for muscling your way around big, powerful fish.
We like the sealed drag system to this reel. This keeps the drag system unfailingly smooth and always lubricated to enhance performance. The slow oscillation gearing is also quite impressive and reduces line twist issues.
In terms of smoothness, you cannot go wrong with this spinning reel. But setting the drag can be a bit tricky. You need to find the sweet spot that is not too tight and taut, so you won't miss that prized bass. Thankfully, the line twist is manageable, which is always a good thing. After all, nobody wants to get caught in a tangled line mess!
Pros
Corrosion-resistant and sturdy ball bearings
Sealed and well-lubricated drag system
Decent drag for the size
Cons
Takes some getting used to when setting the drag
Not the best but good enough for the price
Model and Accessory Specs
Material: Graphite
Weight: 7.36 oz
Gear ratio: 5.2:1
Bearings: 7
Max Drag: 12 LBs
---
When your main focus is on saltwater fishing, this Penn Battle II spinning reel is worth giving a try and will not disappoint. This reel has a full metal, robust body, which guarantees durability and longevity. The carbon fiber material for the drag system is powerful and comes with an anti-reverse instant bearing that simply never fails.
We are impressed with the superline spool that is a breeze to work with. There is no backing required, plus, it is braid-ready. You will love the performance this reel offers to meet you where you are at in the saltwater fishing game.
While this is not a high-end spinning reel, it sure works pretty good when you are on a budget. You will not be hard-pressed to discover a sweet deal with this tool. It is cheap but performs decently, so it should be a nice switch from low-quality, inexpensive reels that break on you.
Pros
Solid build and easy to maintain
Inexpensive yet performs well
Smoothness is consistent
Cons
Not ideal for throwing lures
An entry-level spinning reel
Model and Accessory Specs
Material: Stainless Steel, Metal
Weight: 9.6 oz
Gear ratio: 6.2:1
Bearings: 5+1
Max Drag: 30 LBs
---
Another prized spinning fishing reel from Penn, the Pursuit III has plenty of bragging rights on its own. This unit features an anodized aluminum spool – machined and built to last for a long time. There is an instant anti-reverse system that makes hook-ups quick and simple while preventing rotor back play.
This reel is lightweight, which makes it easy to work with even for angling newbies. The 4 + 1 bearing system is crafted from stainless steel, so it is durable and performs well. As a bonus, this component is corrosion-resistant, too, so you can use it in saltwater. With six different sizes to choose from, there is a reel for every angler.
We recommend this reel is you are not in search of a 4000-sized spinning reel. The spool right on the top is a smidge smaller than some 4000's, so that is something worth looking into. So depending on what you are trying to catch or the line you are going to use, this may or may not be the right choice for you.
Pros
Corrosion-resistant and sturdy body made of graphite
The powerful and uncompromised drag system
Smooth and flawless retrieves
Cons
Not the best choice for a 4000 reel
Smaller reel than most 4000 size ones
Model and Accessory Specs
Material: Stainless Steel, Aluminum, Graphite
Weight: 12 oz
Gear ratio: 6.2:1
Bearings: 4+1
Max Drag: 34 LBs
---
Ever wanted a solid reel without the excess heft? Enter the Daiwa Bg, and you get the best of both worlds. Made of machined aluminum for the body, this reel is robust yet lightweight at the same time. The Air Rotor makes it possible for it to weigh 15 percent less than your average rotor, so it is easy to handle.
The Carbon ATD is designed to handle water really well. It is waterproof, which helps enhance its performance. We also like the scratch-resistant quality of this reel, and this boosts its longevity to give you a solid bang for your buck.
Another thing worth noting about this reel is the enhanced core diameter of the spool. This reduces friction while casting, so it is never a drag to cast. It also works for longer casting! With a braid-ready design, this reel is pretty much ready to go without the steep learning curve.
Pros
High-quality construction for the side cover and body
Lighter than most rotors
Anti-reverse design for efficiency
Cons
Heavier compared to pricier reels
The shank found on the reel is a tad short
Model and Accessory Specs
Material: Synthetic
Weight: 12.8 oz
Gear ratio: 5.6:1
Bearings: 6+1
Max Drag: 33 LBs
---
If catching smaller to average-sized fish is right up your alley, the Okuma Ceymar is worth a try. It features an 8-bearing drive and precision elliptical gear, which enhances the performance and keeps it on par with reels in the same price range.
The solid aluminum material and oversized design for the line roller help boost its performance over time – for a long time. And with the Okuma RESII-enhanced rotor system, the reel spins at an impressive speed without that nasty wobble. Control is also guaranteed, thanks to the forged aluminum handle.
There is a slight slowness to the gear ratio when compared with other reels of the same size range. The reel foot also has a noticeable flex when you use it with other rods. If you are reeling in smaller to medium fish, it should not be a problem. But it is quite visible with bigger fish.
Pros
Performance is good enough for its price
Robust build and design
Fast speed for the reel
Cons
Better used when catching smaller fish
A slight flex and reduced speed when paired with other rods
Model and Accessory Specs
Material: Graphite
Weight: 8.8 oz
Gear ratio: 5.0:1
Bearings: 7+1
---
Great for both saltwater and freshwater fishing, the SeaKnight spinning reel is a treat to use without the massive price point. It comes with a corrosive-resistant coating that is perfect for saltwater use. The main shaft is also thicker, so this helps enhance its durability and power.
The exquisite craftsmanship of this reel is quite evident. There are 10 + 1 stainless steel shielded ball bearings that smooth out the reel and making it more efficient. Durable and sturdy, this spinning reel works pretty well. You can count on it for your inshore fishing and also for catching Northern Pike, catfish, stripers, and bass, to name a few.
When it comes to smoothness and precision, the Rapid impresses every angler. But it does better in freshwater than saltwater and only time will tell how the seal can hold up over time. For the price, it is good enough.
Pros
Powerful reel
Thick build for the main shaft enhances durability
Good for inshore fishing
Cons
May not work for longer casting
Better for freshwater use
Model and Accessory Specs
Material: Stainless Steel, Aluminum
Weight: 9.6 oz
Gear ratio: 6.2:1
Bearings: 10+1
Max Drag: 33 LBs
---
We are quite amazed by the performance and power that Revo X has to offer. It is designed for all fishing line types, thanks to the superior line management system. Drag performance is also smooth and reliable.
The body is made of carbon, yet it is lightweight. This is all made possible by the IM-c6 and an X-crafty gearbox system to keeps the gears well-aligned in one spot without the excess heft. The rotor is also pretty light and solid as it is made of graphite.
One thing to note about this reel is that it is a smidge heavier, in comparison with the Revo Ike. This makes it tougher to jig for hours. But it still does the job amidst this slight flaw.
Pros
Great for any types of fishing line
Drag performance is excellent
Lightweight and robust body
Model and Accessory Specs
Material: Graphite
Weight: 8.8 oz
Gear ratio: 6.2:1
Bearings: 6+1
---
Your Walleye, Trout, and Bass are no match for the Cadence CS7 fishing reel. It features 9 superior quality ball bearings and an instant anti-reverse design bearing to keep it smooth and responsive. The EVA handle offers optimum grip and the main shaft is stainless steel for exceptional strength.
This is the best spinning reel for the price point when it comes to catching game fish in freshwater, as well as inshore fish species. You will love its performance without the steep price tag.
Overall, the Cadence CS7 works pretty well for its value. It is not as smooth as higher-end ones and it is not suitable for saltwater fishing considering its build. But if freshwater is what you are after, this reel works.
Pros
Great for freshwater and inshore fishing
Comfortable grip
Built to last for a long time
Cons
Not ideal for saltwater fishing
Smoothness is decent but not comparable to higher-priced reels
Model and Accessory Specs
Material: Aluminum, Stainless Steel
Weight: 8.5 oz
Gear ratio: 6.2:1
Bearings: 9+1
Max Drag: 29 LBs
---
Who says you can never find a decent spinning reel on a cheap? The MCS50 proves you wrong as this unit does the job without a hefty price point. It is solid, smooth, and there is a premium 6-pound Mr. Crappie mono line pre-spooled to it.
The gearbox has a thin and compact design, which eliminates the heft. We love the robust material for the spool, rotor, and body, which the latter is made of graphite for optimum strength.
It is a good reel to get when you need a 5.2:1 gear ratio. Smoothness is not the best but it is not exactly a rough reel, though. It should be good as a backup reel but it is not our go-to for a primary reel.
Pros
Thin and lightweight gearbox
Robust body made of graphite
Inexpensive reel
Cons
Not exactly the smoothest reel
Better as a backup reel at a cheap price
Model and Accessory Specs
Material: Synthetic
Weight: 6.4 oz
Gear ratio: 5.2:1
Bearings: 2
---
Buying Guide on How to Choose Best Ultralight Spinning Reels
Now that you know more about our top picks for ultralight spinning reels, let us talk a little bit about features. What should you look for when buying a good spinning reel?
Here are our recommendations:
1. Material
You want to make sure that the spool material is sturdy and crack-resistant. We recommend aluminum as it resists cracks and damages. Graphite is heavy but it tends to deform whenever your line's grip is tighter. It is also not a good choice for monofilament because it shrinks with regular use.
2. Design
Choose a design that eliminates friction. The size and spool lip design must be made in a way that does not cause friction, which means the spool should be large enough. On the other hand, regular size for the spool with an angled lip keeps things smoother. This is why we suggest you look for a beveled lip or angled lip instead of a larger spool that tends to cost more.
3. Bearings
The more bearings, the better the elevation. You should be able to find one that is 10 + 1 or 9 + 1, which are both great options. But this also adds to the overall heft. So you should go for stainless steel if you will choose many bearings instead of ceramic to minimize the weight.
---
Frequently Asked Questions
Do you really need a braided type of grip?
If you are using a braided style for the fishing line, then yes, you could use a braided grip. What it means is that this works well for your braided lines and even other line types. There are usually rubber inserts to this type of line spool that boosts the grip while preventing rotation issues.
What is the best gear ratio?
Some people prefer a quicker speed for the gear ratio because this lets you turn it faster, which works great when your kayak is under attack by a big fish or other instances. The usual options for you include a 6.2:1 or 5.2:1, as well as a 7.0:1 if speed is very important for you.
How do you choose the best handle for a spinning reel?
Naturally, you want the handle to be comfortable and grippy. Whether you are a beginner or a pro, you want to make sure these features for the handle are evident. Reels that come with an EVA grip are great because you can expect optimum comfort. This is good when you are fishing for a longer period. On the other hand, cheaper handles cause friction and lead to fatigue.
Is graphite better than aluminum?
When it comes to framing design and material, we recommend aluminum because of its strength and longevity. Graphite is lightweight and corrosion-resistant but sturdiness is not quite evident. This is why there are now graphite frames with magnesium that keeps it lighter, resistant to corrosion, and heavy-duty at the same time.
What other things do I need to keep in mind when buying a spinning reel?
It is important that you determine where you will use your reel. If you are doing saltwater fishing, the ultralight spinning reel must be made for this purpose. It should be corrosion-resistant and shielded for protection from saltwater. There are reels made for both types of water but it can be a bit expensive, so you should consider where you will be fishing most to avoid the unnecessary expense.
Conclusion
Buying the best ultralight spinning reels require some research to make sure you snag the right one.
With many brands and models out there, it can get overwhelming to buy the best among the rest. But after learning more about our featured and recommended items, as well as the different things you need to look into when buying this item, you should be ready to get started!
We hope we were able to help you pick out the perfect ultralight spinning reel for your needs that is suitable for your budget and standards.