Angling can be done in many ways.
You can simply cast your line from the riverbank, on the beach, or while on a boat at sea.
But if you want to try something different – and equally effective – you can use a sit on top (SOT) fishing kayak to catch your fish.
Choosing the best sit on top fishing kayaks can be tricky. There are dozens of brands and models out there, and the last thing you want is to make an expensive mistake.
What are the features you should look for? Which brand is the best?
How can you tell a great kayak brand from a cheap, low-quality one?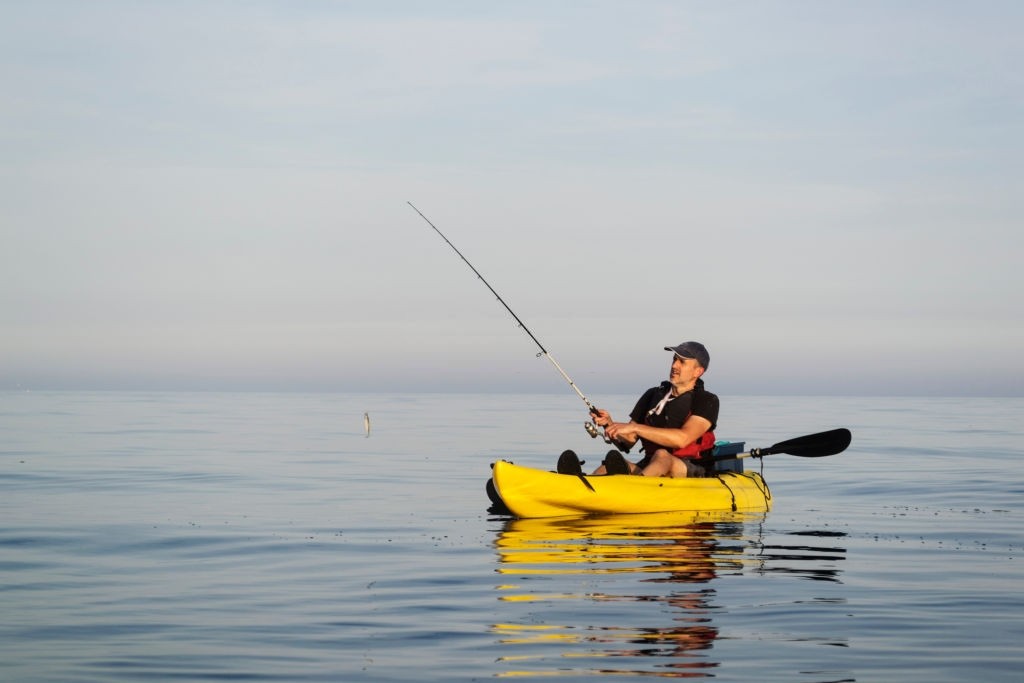 We answer these questions including a few more concerns shoppers have when buying this type of kayak for fishing.
So go ahead and keep reading as we shed light on this topic and present to you our top picks and buying guide on the finest sit on top kayak that's worth your money.
9 Best Sit On Top Fishing Kayak – Features and Limitations to Consider
Whether you are a beginner or a pro angler, the Perception Pescador Pro 12 will not disappoint. We think this is an excellent fishing kayak that is not just comfortable but well-made at the same time. It is packed with a punch, making it a true value for your dollar.
For instance, it comes with a mesh seat just like a lawn chair. You can adjust this chair in two ways to get the level of comfort you want. The breathable mesh is added in as some kind of ventilation, allowing your skin to breathe. It is a comfortable and supportive chair that gives you comfort all day long and with zero pain.
As for the kayak's build, it is a one-piece type of construction with an impressive built-in buoyancy. It is leak-proof, and there is open storage on the rear and the front for your tackle, cooler, and miscellaneous items. Overall, the design is simple yet practical – a great USA-made kayak.
Pros
Comfortable and adjustable chair
USA-made (design and assembly)
Spacious storage in the rear and front part
Cons
The rear hatch is a bit tight and hard to get things easily
The tackle box sometimes causes the water to fill up more
Model and Accessory Specs
Length: 12 feet
Width: 32-1/2 inches
Weight capacity: 64 pounds
Max Capacity: 375 pounds
If what you look for is a basic, yet highly functional fishing kayak, then the Lifetime Tamarack Angler is our perfect pick for you. It is simple, practical, and effective for anyone looking to do some kayak fishing. The design works, and while it does not have all the bells and whistles fancy kayaks have, we can say this is a decent product for the price.
It features various footrest positions to suit the needs of tall, short, or average-sized riders. There are two fishing rod holders flush-mounted on the kayak, two storage compartments (one in the center and the rear), and a paddle keeper complete with shock cords. The T-handles are great for ease of transport.
This kayak is crafted from superior quality HDPE for optimum durability. As a nice value, it comes with a 5-year (limited) warranty. With an adjustable seat with padding and stability rails, this sit on top fishing kayak works for the purpose it serves.
Pros
Has a stable and flat design for the bottom
Padded and comfortable seat
Durable construction and a warranty
Cons
Not a fancy-looking fishing kayak
May need an extra cushion to make the seat more comfortable
Model and Accessory Specs
Length: 10 feet
Width: 31 inches
Weight capacity: 52 pounds
Max Capacity: 275 pounds
Is it your first time doing kayak fishing? Or perhaps you want to replace an old one that does not seem to work too well anymore? No matter what your reason is for looking for a new kayak, this product is for you. The Ocean Kayak Frenzy is sturdy, stable, and comfortable to use.
We like the fact that it has the basics every angler looks for in a fishing kayak. For instance, it includes ample storage space, a comfortable and adjustable chair that can be repositioned in four ways, and a decent length to suit all types of riders.
But the best selling point of this product is the stabilization feature. The Tri-Form hull is the brand's proprietary design that offers a primary and secondary source of stability to the kayak. This is why it will not wobble and it behaves well when you paddle on flat water.
Pros
Stable and responsive design
Four-way adjustable seat
Easy to transport on the top of your car
Cons
The seat can be a bit too straight, depending on your preference
Heavy to lug around
Model and Accessory Specs
Length: 9 feet
Width: 31 inches
Weight capacity: 43 pounds
Max Capacity: 325 pounds
Fishing on a kayak can be a fun and rewarding activity. If you need a great kayak to use for fishing, then the Bali SS from Sundolphin should be a suitable choice to consider. There are paddles and tracks that keep it stable, storage space is outstanding, and entry is fast and easy.
There are thigh pads on the seating area to keep your legs protected. The foot braces can be adjustable, and there is simply plenty of legroom for tall riders. We also appreciate the paddle holder that comes with this kayak to prevent the paddles from falling into the water.
Mainly, storage is the most impressive thing about this kayak. You can organize multiple items, so you don't end up leaving anything important. For the price, it is a truly practical and functional kayak that meets your budget.
Pros
Very spacious storage (and lots of them)
Comfortable and large seating area
There is a Portable Accessory Carrier as an added storage
Cons
Handles are insufficient
Foot rests are not adequate for people over 5'10"
Model and Accessory Specs
Length: 10 feet
Width: 30 inches
Weight capacity: 48 pounds
Max Capacity: 395 pounds
We understand that riding a kayak can be a bit tricky for some people. But with the cool features of this kayak, you no longer have to worry about it. This kayak comes with a rudder control, which is operated using a foot pedal to help you stay in control even in not-so-calm waters. You also don't need to use a paddle to steer to make it easy.
If you want to stand up, you can do so for your long casts. This is a stable kayak with a solid platform for you to stand on. There are no risks of falling overboard or wobbling while you stand. With plenty of waterproof storage, your precious belongings are protected from moisture.
We like the spacious cargo area this kayak has. You can simply secure the paddle right on to the hull using the rests for the bungee paddle. It is definitely a great deal worth the price you pay.
Pros
Rudder offers maximum control
Spacious waterproof storage
Very stable even when you are standing
Cons
Not suitable for long-distance use
There appear to be more drain holes than usual
Model and Accessory Specs
Length: 11 feet 6 inches
Width: 34 inches
Weight capacity: 68 pounds
Max Capacity: 450 pounds
A true value for your money, Vibe Kayaks Sea Ghost is durable, comfortable, and has all the accessories you need to get started. There is a toe-controlled, pre-installed rudder system, which saves you from having to exert too much energy each time you paddle for long hours. Strong currents and windy days are much easier to deal with now with this unique feature.
We also like the numerous storage options available. You can place your cargo on the rear, front, and center storage space. The front hatch has a 20-inch space for multiple items you want to take with you. As for the seat, it is quite comfortable and supportive – perfect for long kayaking days.
This is an 11-foot kayak that weighs 62 pounds. It is relatively easy to load on top of your car, so there is no hassle with transporting it. Indeed, it is a good value for the price you pay.
Pros
Comes with two rod holders and four gear tracks
Dual-position design for the seat
Excellent for use for day and long trips on the water
Cons
The locking mechanisms seem to be easy to unfasten
It takes some getting used to when adjusting the seat
Model and Accessory Specs
Length: 11 feet
Width: 33 inches
Weight capacity: 62 pounds
Max Capacity: 425 pounds
Sometimes, you just want a relatively lightweight kayak that is easy to transport yet stable and will not tip over. This is what we like about the Skipjack by Vibe Kayaks. It is a sit on top kayak for fishing that is suitable for one person. It measures 9 feet long and weighs 42 pounds, making it hassle-free to take with you on your trips.
This kayak comes with four rod holders with a flush mount design, as well as storage options. You can place your cargo in the V-wave hatch and there are storage wells located in the stern and the bow of the kayak.
There are a cushion and a backrest to the seat, so it is comfortable even for long hours of kayaking. It is indeed a good item for first-timers, as well as for pro anglers who need a new kayak to use for fishing.
Pros
Many storage options available
Good for fishing and recreational purposes
It offers decent tracking
Cons
The nobs for the feet rest do not seem to work quite well
It may be a bit too short for some people
Model and Accessory Specs
Length: 9 feet
Width: 32 inches
Weight capacity: 42 pounds
Max Capacity: 300 pounds
When it comes to setting up this kayak, it is absolutely quick and easy. In fact, it only takes about 5 minutes, and it should be ready to go! This is a durable and reliable fishing kayak that includes a backpack system. Simply release it, and it turns into a comfortable seat.
This kayak is made of the finest PVC 21-gauge that is great for lake use. It is rugged enough to handle tough weather conditions without a problem. There is a tarpaulin bottom, which is durable and can handle punctures well. As for the air chambers, there are several of them that add to the safety and durability of the kayak.
Perfect for lakes, oceans, and other bodies of water, this kayak is a breeze to use anywhere. You can simply deflate, inflate, or pack and store it after use. This is undeniably a solid item for a decent price.
Pros
Easy to set up and store
Stable and protected against punctures
The seat is compact and comfortable
Cons
Tracking is not as excellent as what a real kayak offers
You still have to paddle when turning because of poor tracking
Model and Accessory Specs
Length: 8 feet 7 inches
Width: 36 inches
Weight capacity: 19.6 pounds
Max Capacity: 400 pounds
Last but not least, we have the Bonafide fishing kayak. It is a good quality kayak made of the finest materials that can handle abuse and tough weather. You can count on it for your fishing needs or even for recreational uses.
There is a DryPod that keeps your items safe and dry, as well as GearTracs, rod tip holders, and traction pads. These angling features add to the ease and comfort each time you get on this kayak to do your fishing.
Whenever you need a suitable angling kayak, you can count on this ride to give you just what you need. As it was designed and built for anglers, you can count on it to offer you just what you need. Lastly, there is a foldable seat frame, which helps to keep it lower as you prefer.
Pros
Excellent stability for your peace of mind
Efficient paddling and superb turning and glide power
Plenty of storage space to keep your items safe
Cons
A notable hand dolly is a must-have
A bit steep price
Model and Accessory Specs
Length: 10 feet 7 inches
Width: 34.5 inches
Weight capacity: 67 pounds
Max Capacity: 425 pounds
Complete Guide on How to Buy the Best Sit on Top Fishing Kayaks
Now that you have some ideas on the different fishing kayaks available in stores, let us talk about features. What should you look for when buying your first or perhaps your replacement kayak for fishing?
Here, we bring to you a number of features worth looking into when choosing the right item to purchase.
1. Size
You want to make sure that the kayak is just the right size for you.
Is it long enough or is it too short? What is its weight capacity?
You need to think about these features since the last thing you want is to end up buying a kayak that is much too short for you. It should also be able to handle not just your weight but also the weight of your cargo.
Consider your ability to transport the kayak before buying it. For instance, you should be able to lug around a 13-foot kayak, if this is your desired length. Otherwise, it defeats the purpose of buying a long and heavy kayak if it will always be a pain to take it with you.
2. Material
We highly recommend that you check the material used for the kayak.
Good ones are mostly made of HDPE or high-density polyethylene. This is a reliable material that is tough and capable of handling tough weather and waves. By choosing a kayak made of this robust material, you can ease your worries about your ride's durability.
Since a kayak is not at all cheap (and it is best to always go for high-quality ones), you might as well get one that can last for a long time. This way, you can get a good return on your investment.
3. Storage or Cargo Space
When kayak fishing, you will have to take with you a decent number of items during your trip. This is why cargo space is an important thing to look for when buying a kayak designed for fishing.
For the most part, sit on top fishing kayaks have either a watertight or sealed storage and a recess lined with a good old bungee cord.
If you prefer a bungee cord storage area, this should be okay if you are only planning on putting a waterproof bag. You should be able to store a good amount of things on the deck without risking the items from getting soaked. They will also not fall overboard since the bungee cords hold them in place.
But if you are taking valuable things that you would not want to lose or get wet, then you should look for a kayak with waterproof cargo space. This is a good spot to store your important belongings such as your mobile phone, camera, keys, and wallet. It may be a bit tougher getting them out if the compartment is sealed well and watertight but you can be sure they are well-protected.
4. Balance
Naturally, you want a kayak that is stable and balanced.
You would not want it to keep wobbling, which can also impact your overall experience in using this kayak.
Choose a kayak that has a nice, flat bottom with a good amount of width. This way, you can determine how much rocking the boat is expected to make whenever you haul items over on one side.
Frequently Asked Questions
What exactly is a sit on top kayak and why do you need one?
As the name implies, a sit on top kayak allows you to sit right on top. There is an open design, which means there is plenty of storage.
Another thing that is good about this type of kayak is the stability. It is very stable, so this is a good kayak to use for fishing. There are also rod holders on the side and back, making it highly accessible and easy to grab whenever needed.
What are the different accessories needed for a fishing kayak?
Most kayaks come complete with accessories. But if ever you want to buy additional ones, it would be worth looking for a waterproof bag to keep your belongings dry.
Some kayaks include a paddle while some do not. You should check well what the item includes such as a buoyancy aid and a racking system, the latter allowing you to set up the kayak on top of your car for ease of transportation.
How can you prolong the lifespan of your kayak?
It is fairly easy and simple to care for a kayak.
The most important thing is that you rinse the saltwater off in case you decide to take it to the sea. Once you reach land, simply hose the salt off, especially if you are not planning on using the kayak for a long period.
If you will place your kayak indoors (and this is what we recommend), be sure to place it in a covered area that stays dry. This way, it will be free from damages caused by harsh external elements.
Conclusion
A fishing kayak is a lot of fun to use and is a great way to add variety to your fishing experience.
By checking out our recommended items and following our buying guide, you should be able to snag the perfect sit on top fishing kayak that is worth your dollar.
We hope we were able to help you choose the right product, and let us know your experience in using our featured kayaks in this post.