Fly fishing is one of the coolest hobbies you can take up, and if you're starting, then great! You've got a lot in store for you along the way, though you need to prepare a lot, too. While you're set on getting fly fishing rods, don't forget the best fly fishing vests as well.
Sure, fly fishing vests seem like a boring investment, but researching to get the right one will help you loads. And no, you shouldn't get the cheapest one you see just to get it over with.
With that said, this article will tackle the best fly fishing vests and an informative guide to narrow down your choices. So read on!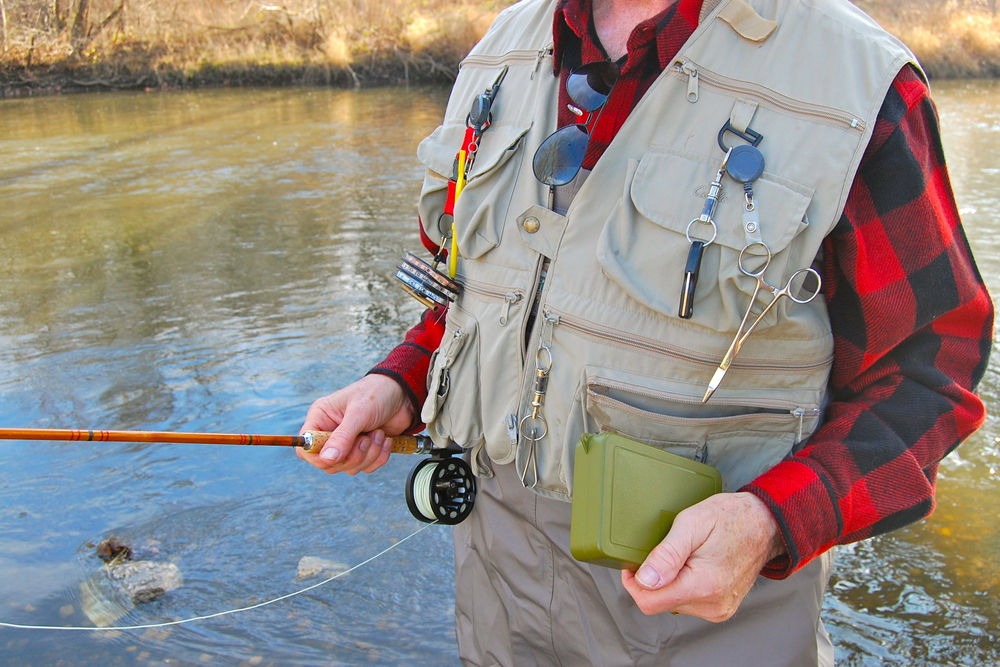 Quick Comparison: Top Fly Fishing Vests
**Below, you'll find our more detailed reviews, but you can also click the links above to see current prices or read customer reviews on Amazon.
The 12 Best Fly Fishing Vests
Based on various tests, research, and overall customer reviews, these are the 12 best fly fishing vests to choose from:
What makes the Anglatech Fly Fishing Vest one of the best in its mix of all necessary features. You get a lot of storage, ease of adjustability, AND comfort as you wear it for long hours.
It comes with a host of pockets and storage bags in front, as well as a jug compartment on the side. These are big enough for different accessories and also bigger items like your lunch and rain gear. It even has a strap to attach your fly rod!
The vest is also made with mesh for better breathability and a lighter feel, allowing you to move more even during hot days. You can also adjust it as needed, with adjustable shoulder and waist straps to cater to your needs.
The Lixada Fly Fishing Vest is best known for its wide variety of pockets and zippers. It even has a ton of colors and patterns to choose from, depending on your preference and style. The vest doesn't have different sizes, only coming in a universal adult size that firs adults that weigh less than 210 pounds.
While the sizing is limited, it's made with quality material built to last. It's built with EPE foam and premium textile for both comfort and buoyancy, ensuring that it's water-resistant, protecting your upper body and accessories inside.
Besides this, it has 11 multi-zipped pockets, four on the chest, four on the front, two on the side, and a big one at the back.
The M MAXIMUMCATCH Fly Fishing Vest is a great choice for its heavy-duty construction and abundance of larger pockets. Also, being a very reputable company for over a decade, you can trust them with their quality fly fishing equipment. The vest, along with their other products, comes with a one-year warranty and lifetime repair warranty for assurance.
Besides this, this heavy-duty vest pack comes with everything you need to hold your equipment. It's extremely versatile, accommodating multiple fly boxes of different sizes, as well as fly benches and mesh expansions, as well as other pockets for more gear.
It's lightweight but only comes in one size, though judging by its adjustability and construction, it can fit most adults and will last long.
The Allen Gallatin Ultra Light Fishing Vest is best suited for those on a budget. It's simply designed without the frills, only used for small storage capabilities. So don't expect it to protect your upper body or have a host of storage space for a lot of equipment!
But since it comes at such an affordable price, you get a bit more than what you pay for with its strong materials and construction. It's also very lightweight and with different storage capacities, from large front pockets to mesh pockets and exterior pockets for various items. Plus, it has a padded neck strap to keep your neck and shoulders supported for hours of fishing.
What's great about the Flygo Fishing Vest is its versatility and breathability, made with a combination of nylon and mesh. Because of its breathable material, it makes the vest lightweight and durable, as well as quick-drying for easy cleaning. You'll feel cool and comfortable wearing it, especially when you're fishing during hot summer days.
The vest also comes with a practical design, having 16 functional pockets to fit most, if not all, your small and medium-sized fishing gear. One would also appreciate the different colors to choose from and the fact that you can use it in any outdoor activity other than fishing. That way, you get your money's worth and stay in style whenever you're out.
The NRS Chinook Fishing FPD may look a tad bulky, but it has the professional style to it. There are also different dark shades to avail according to your style.
It's a great option for those who want very high-quality vests made with 200 deniers urethane-coated ripstop nylon. For better comfort and breathability, its lower back area is made with mesh.
This vest is also suitable for those who want both a vest and floatation device, as it has 16.5 pounds of design floatation. While it makes the vest heavier, it's worth it if you're unable to swim very well. It also comes with all the pockets, loops, and rings to attach equipment.
If your main focus is versatility and adjustability, then you'll appreciate the Kylebrooker Fly Fishing Vest. It comes in one universal size, which odes fit most adults because of its ease of adjustability. You can set the shoulder and waist straps within seconds, finding the sweet spot.
The entire vest is made of light mesh fabric and is built with a D-ring net lash, a Hemostat keeper, and cord loops for your fishing equipment. The back is made of more breathable mesh for a cooler time and better freedom of movement.
Furthermore, it comes with a lot of pockets on the vest's front and side for the organization. You won't have a problem fitting everything you need.
The Autumn Ridge Fly Fishing Vest is very simple and comes at such an affordable price. It's best suited for those on a budget but with high-quality construction, having a back outer shell. However, it doesn't have as many pockets as one would expect, though it's sizeable enough to fit some major fishing equipment.
The vest is made with a balanced structure to distribute weight evenly around your neck and shoulders. It also has the padded shoulders and soft (enough) material to keep you feeling comforted no matter the weather. There are 16 pockets, though some are very small, they have the velcro action that sticks well even when wet.
Many are impressed with the Stohlquist Fisherman Vest, complete with quality construction and used as a flotation device. It's made with 200 denier Oxford liner and a 500 denier corder shell, along with Neoprene pads on the shoulders, lower back, and sides for extra comfort. Its back and sides are also breathable, promoting ventilation to keep your upper body cool throughout the fishing trip.
It comes with a host of appropriate and sizeable pockets to store your items in. These pockets and straps are big enough to fit most of what you need for fishing, too. The only con is that you need to hand wash it with soap and water!
Piscifun Fishing Vest isn't only moderately-priced, but complete and built to last for a long time. It has 17 pockets all around the vest to organize your fishing equipment and accessories easily.
Furthermore, it's built with durable materials to ensure that your items and upper body are protected from the rain or any water. The entire vest is waterproof and lightweight as well, only weighing less than 26 ounces.
The vest also has an adjustable size, with up to 18 inches adjustable around the waist strap, and almost 8 inches in your shoulder strap. It's secured with strong and durable buckles so it won't lose its shape as you wear it.
Another simple and affordable fly fishing vest goes out to the Redington Clark. It's a mesh vest made with a mix pot polyester and cotton, as well as mesh body fabric for a mix of strength and comfort. The mesh makes the entire vest fast-wicking and quick-drying, so it's water-resistant and easier to clean.
Besides this, the simply-designed vest comes with 11 useful storage pockets all located in the front. The storage is convenient and the pockets come in different sizes to fit a variety of items. While it could improve in terms of how you close it (it uses a bucket and not zippers), it's still worth the cheap price.
Last but not least, we have the Maser Sportsman Fishing Vest. This is another very simple and cheap vest, a great choice for those on a budget without scrimping on quality. Its outer area is made of a polyester and cotton mix, while it's built with different pockets and rings to attach and store everything you need.
The vest comes with removable fly patches and a host of convenient pockets, including a large rear pocket for easy organization. With a whopping 26 pockets, you won't need to worry about packing and getting confused as to where you put everything. While it isn't adjustable according to your size, it still does a job well done for storing items at a more affordable cost.
How to Choose the Best Fly Fishing Vest
Fly fishing vests are an absolute necessity, something to complete your look for safety and protection. It isn't just about getting fly rod combos, carrying cases, and fancy equipment! You also need to have a fly fishing vest that offers functionality and style.
You'll be surprised to see that there are a host of fly fishing vests available from popular manufacturers! It can get quite confusing choosing a suitable one, so you can narrow your options by considering these factors:
1. You Need Pockets and Storage!
The main reason why fly anglers invest in vests is for its storage, namely, their abundance of pockets. Because of that, the number one priority is the number of pockets and storage the vest offers, as well as how big these pockets are.
You don't want to have TOO many pockets though, as it ends up being confusing and may have you bring more than what you need. This weighs you down!
Instead, you need a multitude of QUALITY pockets that only fit what you need, nothing more, nothing less. The ideal number of pockets a fly fishing vest should have is between 10 to 20, though this is up to debate. Consider how much you usually bring and its weight to see what you need.
Also, take note of the sizes of your pockets as well. You want a variety of small and big-sized pockets to hold different items and for better organization.
2. Traditional or Mesh Vests?
There are two main types of fly fishing vests to choose from: A mesh or non-mesh (also known as traditional) vest.
Mesh vests are made with stretch mesh and fabric sewn as pockets. Since they're made of mesh, the vest is lighter and is best for hot summer days for its breathability. Also, they're a bit more flexible compared to non-mesh materials, though this is a personal choice.
Non-mesh vests are usually more durable and a bit heavier but made of solid construction. It's made best for fly anglers living and fishing in colder weather.
3. Focus On Your Comfort and Adjustability
Your next priority should be a comfort, which is EVERYTHING as a fly angler. Because you'll be fishing for hours at times, you'll want something sturdy and will keep you snug. Make sure that the fly fishing vest you choose is constructed wisely, having a system that reduces the weight on your neck and shoulders.
It should have even weight distribution and be at the right size, preventing pressure and stress, which leads to pain. You can try it out and see if it's the right size and fit for you, adjusting it according to your needs.
4. What's The Fly Fishing Vest Made Of?
The type of material made will determine the durability and comfort of a fly fishing vest. You need to see if the vest you choose is made with good construction, holding up well regardless of the location and weather, as well as the accessories you put into it. That way, you get your money's worth!
Furthermore, invest in a waterproof vest and won't have you uncomfortably soaked during the rain! Reputable and popular manufacturers like Allen, Redington, and more mentioned in the reviews offer the material and vests you can trust.
5. How Much Can You Spend?
Lastly, how much can you spend on a fly fishing vest? Remember, you pay for what you get, so it's recommended that you spend a bit more on fishing equipment, including your vest. While you don't need to spend hundreds of dollars on a vest, avoid scrimping and getting the cheapest just to save money.
High-quality fly fishing vests range between $30 to $90, while high-end ones go a bit over that. Set a reasonable budget, which has you see what exactly you can get.
Besides these tips, you can also refer to this informative video on how to select the best fly fishing vests:
Tips on How to Use Your Fly Fishing Vest
Now that you're familiar with how to select a suitable fly fishing vest, the next question is: How can you use it properly? From organization down to wearing and adjusting it, here are some helpful tips to follow:
Organizing Your Fly Fishing Vest
When organizing your fly fishing vests, you might be confused with the many pockets and storage spaces. There are different ways to store your accessories though, depending on your preference.
You should have one "working" fly box which holds all the frequently used flies. Place it in the large pocket that's easy to access using your dominant hand. For those who like to carry more flies with you, use smaller boxes in the size-appropriate pockets of your vest.
There are smaller pockets that aren't just for design. They can be used for smaller accessories like desiccant powder, leaders, knot-tying tools and knives, as well as lip balm and more! Place these things in small pockets that are closest to the outside of your fly fishing vest. The rule is, if you use the item less often, then the farther away from your vest it should be.
Fly fishing vests usually come with tool tabs you can use to place your tools in, such as zingers or retractable leashes. For tippets, place it in an axle to attach to your vest.
Organize your food as well by placing your lunch and drink at the back of your fly fishing vest, if it has the storage for it! Some even come with backpacks built into it for other bigger gear for rain, food, and the like.
How to Adjust and Rearrange Your Vest
Besides learning where you should place your tools and accessories, you also have to know how to adjust it. This helps you stay secure and comfortable no matter your fishing methods.
You can refer to your vest's manual for it if it comes with one. However, it's fairly easy to adjust according to your measurements. Some come with straps and locks to make it a bit tighter around the shoulders, especially when it comes with storage at the back.
Be sure to adjust it accordingly, not too tight or too loose that it sags down. That way, you have easier access to your items and won't risk it from falling. Zip your vest and pockets up tightly before you head on to the waters!
Keeping It Clean and Long-Lasting
Your fly fishing vest should also be cleaned and maintained like your other fishing equipment. That way, it stays in great condition to use over the years without worrying of wear and tear.
Washing it depends on what the vest is made of and the manufacturer's instructions. Fortunately, most vests are machine-washable. Just make sure that you use a mild detergent and wash it with like-colored clothes with cold water and on low-intensity.
While it may be dryer-friendly too, it's suggested that you air-dry it instead under the sun and/or outside during good weather conditions. This prevents the vest from wearing out because of the tumbling and heat.
Besides this, maintain your vest and avoid adding too heavy or sharp objects which can break the pockets and materials. Try to stay away from sharp areas and don't bump into areas which may damage your vest.
Fly Fishing Vests: Frequently Asked Questions
Besides helpful tips on choosing and using a fly fishing vest, there is more to learn about this fishing equipment! Again, they aren't JUST an article of clothing, but a helpful vest for your excursions. To learn more about these vests, here are frequently asked questions many readers have wondered about:
1. Why do I need a quality fly fishing vest?
Quality fly fishing vests are extremely important to beginner and expert fishermen because:
They keep weight on your shoulders for the better weight distribution of equipment
There are pockets for just about everything you need when fly fishing for convenient
You don't have as much casting interference and experience a better range of motion
It's been used by fly anglers for years, a classic choice with a variety of types to choose from
2. Can I use the fly fishing vest in other situations?
YES, you can use your fly fishing vests in other outdoor adventures and not just for fishing! Because they're made with strong materials that are meant for the outdoors, you can also use it in other situations, like:
Camping and other forms of fishing
Hiking and trail walks
Excursions and traveling
You still reap the same benefits and get to keep different accessories in the pockets and storage areas.
3. What exactly can I store in fly fishing vests?
You can store just about anything in your fly fishing vest as long as it fits the pockets and other storage space. You can store various fly fishing gears in the vest like your clipper, lure, lines, tippets, line cleaners, hooks, weights, flies, float ants, and other small tools. Some vests even come with bigger storage packs to place ran gear or food and drinks in.
4. Do these fly fishing vests have floatation systems? Are they waterproof and heavy?
While some fly fishing vests are equipped with floatation features, not all of them have it. Most fly fishing vests are made for storing fishing gears and are simply waterproof, made for your storage convenience and to keep your upper body protected from rain or waters. If you don't know how to swim, you can select a vest that also acts as a floatation device, though it may have storage restrictions.
Furthermore, these fishing vests MAY be heavy, depending on the type of vest you have. Some are lightweight (like mesh vests with fewer pockets) while others are very heavy (like non-mesh vests with a lot of storage space).
5. Will it be uncomfortable using a fly fishing vest while I fish?
Many fly anglers think that fishing vests feel uncomfortable while they move around. That's NOT the case at all, as these vests are made with great quality material that keeps you comfortable and flexible.
You have freedom of movement and won't have to worry about it feeling too tight or restricted. Just make sure that you adjust it accordingly.
Wrapping It Up
When fly fishing, all the different equipment you get are extremely important, including what you wear. With a quality vest, your upper body stays protected and you won't fumble around with small accessories needed while fishing. Plus, you stay comfortable for long hours, which is a must when fly fishing.
Hopefully, this article on the best fly fishing vests gave you an idea on what to invest in. So don't wait any longer and choose the right one from these reviews now!
If you have any questions or want to share your reviews on any of these fly fishing vests, then comment below. Your thoughts are much appreciated.