Fly fishing gives many people a thrill, from taking your cast and getting that huge one to take home! There are so many ways you can fly fish as well, making it even more of an adventure. But if there's one thing you absolutely need before actually starting fly fishing, it's the right equipment.
One thing many people overlook is the best fly fishing waders, which is actually an absolute necessity for all fly anglers! But of the many, which one suits you and your needs the most? A lot of people know how confusing it can be, which is why this is THE comprehensive purchasing guide to help you out.
So read on for the top 11 choices on the best fly fishing waders and how to choose the right one!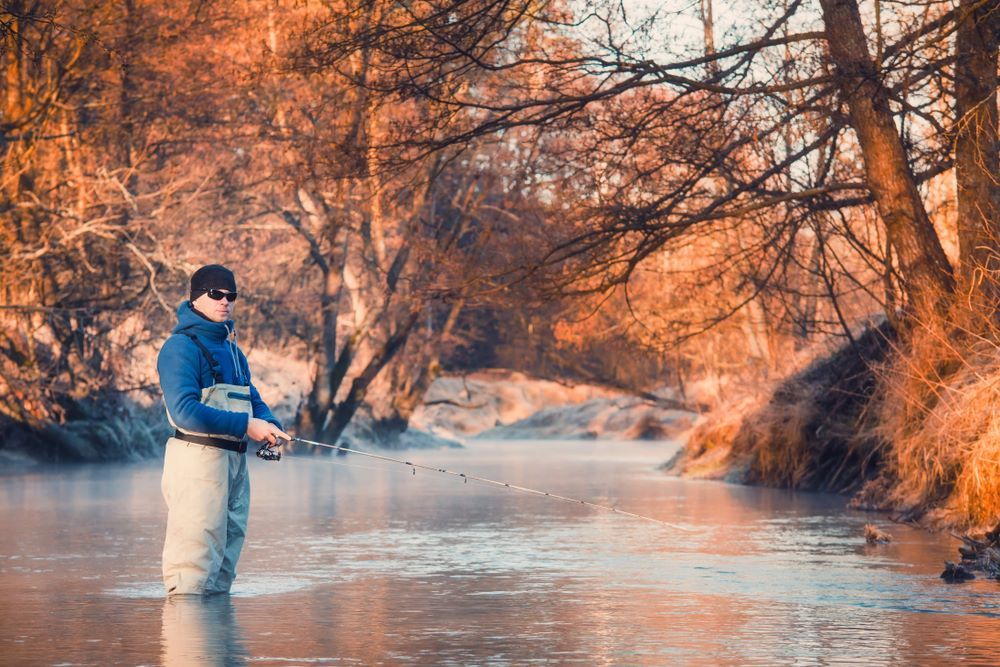 Quick Comparison: Top Fly Fishing Waders
**Below, you'll find our more detailed reviews, but you can also click the links above to see current prices or read customer reviews on Amazon.
The 11 Best Fly Fishing Waders
Based on research and tests, these are the 11 best fly fishing waders to look into:
The TideWe Bootfoot Chest Wader offers the best in terms of material and durability. It comes in a variety of sizes to choose from according to gender and individual size, so you can get something that suits you even better without worrying about looseness or tightness.
Besides this, the waders are up to 35% lighter than most traditional waders, making it easier to move around when worn. It also makes it easier to pack and fold, not having to deal with weight issues when bringing your pack.
As for its material, it's 100% waterproof, made with the nylon PVC upper and a waterproof boot attachment, ensuring that no water heads inside the waders. These waders look like they can last for long, constructed with heavy-duty materials and taped seams to keep it from ripping or damaging easily. With its overall price, it provides amazing value!
For those who want something strong and made to last, the FISHINGSIR Chest Waders are a great option. While it isn't the fanciest, it covers you up and offers better adjustability and a longer lifespan compared to other waders. Also, these waders are known for their excellent construction and material quality!
It's made with nylon and two-ply waterproof fabric, making it rugged but with a much softer feel. The nylon fabric has better knitting density, making it last even longer while keeping you comfortable during all your trips. Besides the softness, it's also up to 10% lighter compared to other traditional nylon waders.
From its waterproof abilities down to the breathable and soft touch, it's a great option for any fly angler who wants the best value for their money. Expect it to stick with your fishing trips for a very long time!
One of the lighter waders with excellent value goes out to the Dark Lightning Waders. It's about 35% lighter than the typical rubber waders, built with nylon PVS uppers and a two-ply waterproof material, making it both waterproof and strong. It isn't the most breathable, but it does the job well in keeping you adequately warm or cooler, depending on the climate.
However, what many like most about these waders is how easy it is to put on and adjust. It comes with H-back adjustable suspenders with buckles you can quickly fasten or release. The waders also include a large chest pocket for convenience AND a free boot hanger for easier drying and maintenance.
It's one of the more affordable waders on the market today but still offers a good amount of features to take advantage of.
The Foxelli Neoprene Chest Waders offer full coverage and the cool design that many fly anglers will appreciate. I also like how versatile these waders are since they aren't only for fly fishing, but for hunting on the fields as well, with its camo design.
These waders, though a bit more expensive, offers amazing comfort, constructed to keep your body breathing well. It provides excellent flexibility and protection for your fishing needs, from the ease of adjustability, chest pocket and warmer, as well as extra knee padding to keep your knees safe. The waders even come with other advantages like D-rings to clip gear, as well as two pockets to store personal belongings and other accessories.
Also, you get more value because of its damage-resistance features, lasting longer regardless of how long and intense your fishing trips are.
The KOMEX Chest Waders are very simple and affordable, and while it isn't exactly the highest quality waders, it still offers one great benefits at its affordable price. These are waterproof chest waders made with tough nylon and waterproof wading boots. It's also lighter than other traditional rubber waders because of its nylon and two-ply fabric, easily fitting packs without excess weight to lug.
They are also comfortable with the ease of adjustability, having H-back suspenders and quick-release buckles, though it isn't as breathable as expected. The waders also come with a waist belt and convenient pocket to store small items and personal belongings! For those on a budget and focusing more on waterproof properties than breathability, you'll like this.
6. The Convenient and Easy-to-Use: OXYVAN Waders
For convenience and ease of use, OCYVAN Waders are a good option, offering a variety of features at a more affordable price. It's built with neoprene, nylon, and PVC mixed material, the optimum combination to make everything stronger and more waterproof for your fly fishing needs.
Besides this, the material makes it lighter than the traditional fabrics on waders, which has it feel more flexible as you move around. It's even safer as the soles are made with thicker PVC, with the lightweight material also improving your balance as you wade around.
What makes the waders so convenient is that it has the easy-to-use buckles and straps, which has you slip it on and off quicker. Besides this, it has a hook and loop with inside pockets for storing belongings.
The Outee Fishing Waders are another excellent choice for its affordability, suitable for those on a budget. While it's a bit cheaper, they don't scrimp on the material, as it has better weight and waterproof construction many fly anglers will appreciate. It's 35% lighter than most traditional rubber waders and 100% waterproof, made of nylon PVC uppers and a waterproof boot attachment.
The waders are constructed with boots, which have the anti-abrasion and anti-slipping material. That way, you have a secure footing on slippery surfaces, as well as protection from sharp objects because of its thick padding. It's the wader's soles that make it more of a good option, and while the body isn't as breathable, it still does a fine job in wicking moisture.
If you plan to go fly fishing in areas known to have slippery surfaces, you'll like these waders.
The Frogg Toggs Canyon II is the ultimate waders, though they do come at a price! While a bit more expensive than others, they hold a lot of value in terms of convenience, construction, and material quality.
It's built with a 4-ply nylon upper, making it waterproof and protective. These waders really keep you dry but still wick away moisture from perspiration, all the while keeping you cool or warm depending on the weather! It's not the softest feel, but still comfortable enough to move around with ease.
The waders are also very convenient and easy to use, as it has the zippered chest pocket and adjustable belt, gravel guards, and suspenders. These all have the quick-release buckles to slip in and out of or to adjust according to your size. From its robust construction down to its ease of adjustment, it's worth the investment!
The Hodgman Caster Neoprene Waders are another slightly more expensive option, but one of the strongest and handiest to use! Not only can you use them for fly fishing, but hunting and outdoor expeditions as well. Yes, neoprene isn't the absolute best type of material, though it does the adequate job AND lasts even longer than other waders, all because of its construction.
It's made with double-layer knees for extra protection, as well as a rubber boot with cleated soles for extra traction and grip while on slippery surfaces. As for its adjustability, it's made with suspender straps and very strong buckles, making it durable and a perfect fit to your size and comfort. Overall, this is the optimum choice if you want something simple that lasts long.
10. The Cool Design For Outdoorsmen: Hiesa Chest Waders
For those who want the ultimate outdoor waders for fishing, hunts, and other expeditions, then the Hisea Chest Waders are best. These were designed to be one of the most protective and durable waders for all-around purposes. Advertised for active outdoorsmen, it's made with neoprene and waterproof materials, protecting you from the waters and other elements.
Because of its material and construction, it has the warmth and flexibility for any kind of weather. It also traps and holds body heat to keep you warm from colder waters, blocking out the cold with its Thinsulate Ultra Insulation. Furthermore, it's made with Water Intrusion Resistance, paired with the double-stitched and taped seams for strength and extreme resistance.
Many also rave about its user-friendliness, as it comes with the solid suspenders, quick-release buckles, and even shell holders to reload fast! It's all-around and definitely a good option at its moderate price range.
The Caddis Stockingfoot Waders don't only have a cool design, but they're also extremely comfortable! It's a 2-tone taupe wader with double knees and a variety of extra features to take advantage of. Not only does it have the quality material, but breathable gravel guards, adjustable suspenders, and a pocket to keep your small accessories when fly fishing!
The material is extremely breathable, made with a mix of polyester and CaddisDry technology, allowing perspiration to move out. However, it still keeps water out of the body while doing so. Besides this, the feet area are double-taped, glued, and stitched to ensure the feet keep warm and dry, though you need to purchase the boots separately.
If your main focus is comfort with breathability and water-resistance in mind, this is the best choice.
How to Buy the Best Fly Fishing Waders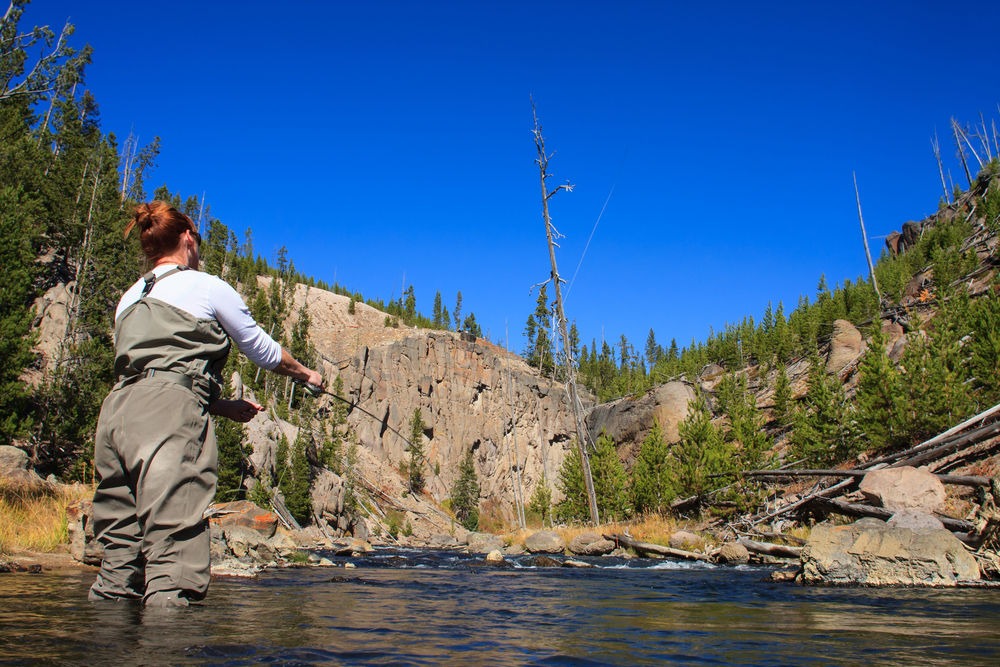 Did you know that before fly fishing waders, people had to wear rubber and heavy waders that weren't breathable? As a result, anglers felt stiff and couldn't perform as well as they could without it. Fortunately, modern technology made it easier with specialized waders, though with the many manufacturers, it gets confusing as to what brand to choose!
With that said, here are the following factors to consider when investing in the best fly fishing waders:
1. Types of Waders
There are actually different types of waders to choose from, such as:
Bootfoot Waders
These are fly fishing waders which extend from the angler's feet up to their chest. With these fishing waders, the boots are attached to these waders permanently, which doesn't have you need to get separate boots. However, it's quite heavier and a bit difficult to put on.
Stockingfoot Waders
Stockingfoot waders don't have attached boots like the Bootfoot ones. Rather, it has neoprene socks on the wader's feet. They're lighter and easier to pack and get into, though, you'll need to purchase separate wading boots.
Hip Waders and Wading Pants
These are made for slow-moving waters, extending only from the feet to upper legs. They may or may not have wading boots built into it, chosen for comfort and ease of slipping in and out from. It's made best for those who usually fish in very shallow water and chilly weather, not best for deeper ones.
2. What's It Made Of?
Besides the types of waders available, there are also different materials to consider, such as:
Neoprene Waders
Neoprene has been a material used on waders for a long time, especially for cold water fly anglers. That's because it has the waterproof insulating benefits, as well as the stretchy and durable feel for comfort to last. However, it isn't breathable, making it unsuitable for hotter days since moisture from sweat stays trapped.
If you choose neoprene, get one with 3mm thickness for moderate weather and cooler days. If you fish in colder climates, then 5-7mm is best.
Nylon Waders
Nylon waders are beneficial for its lightweight properties and more affordable price, most suitable for beginner fly fishers.
However, it's similar to neoprene and isn't as breathable, warming up quickly. This can be a problem for warm days and cooler weather, as the water may soak your base layer, chilling your insides! That's why it's recommended it more so for those on a budget.
Rubber Waders
Rubber waders are also another more affordable option, also being 100% waterproof. However, it's heavier and bulkier, also lacking the flexibility and overall comfort. If you're in an extreme budget and want something for moderate weather, choose rubber.
Waterproof-Breathable Waders
These are the most versatile material for the various season, made of either nylon or various synthetic materials. It comes with air-permeable membranes, which allows sweat and moisture to escape, whether you're out or in waters.
You can wear this with a shirt and shorts and stay cool during the summer, or with added layers in the winter while staying dry. It's more flexible and loose, offering maximum breathability without risk of water getting into your clothes.
The material makes the best choice, though it comes at a more expensive price!
3. The Wader Outsoles
If you're selecting waders that come with boots or even outsoles, then you should also consider the outsole material. This is important as it affects the fishing performance and safety as you wade around.
Felt Soles
Felt was one of the most popular materials used for fishing. While they aren't the best for long-distance walks and muddy surfaces, they have the best traction on rock-covered and slick river beds.
However, there are some issues on felt spreading invasive species, with some states in the US banning the use of such outsoles when freshwater fly fishing! Before you consider felt for fly fishing, look into your local state laws.
Rubber Outsoles
Felt outsoles have a grippy advantage for slippery, algae-covered rocks, having the aggressive tread design. With this design, it offers a ton of stability and traction used for many fishing situations. They're easier to clean and won't spread invasive species as much as other outsoles, great for walking on saltwater turfs or muddy marshlands.
Hiking Outsoles
Hiking outsoles are usually manufactured for Stockingfoot wading boots, a good choice for many. Similar to the traditional rubber outsoles on waders, these outsoles are extremely durable. Furthermore, they have decent traction on slick surfaces, made best for anglers who use the boots while hiking or walking long distances when fishing.
Screw-In Cleats
These aren't the most ideal for muddy terrain, though they help with traction on slippery rivers that have boulders and rocks covered with algae. These cleats can be made for either rubber or felt-soled boots, just avoid using it on a boat, since it can scratch and damage your boat deck!
Fishing Sandals
If you're focused on something lighter, then fishing sandals are a good alternative. These are sold separately and feature quick-draining and flexible material. Furthermore, these have rubber outsoles with side port cutouts, making it easy to shake away sand and pebbles that enter your sandals due to moving current.
4. Size and Fit
You should have waders that fit you best according to your size. Choosing wader sizes is similar to clothes like pants or overalls, while others come in a universal size with adjustable straps. It's recommended you get one that's hassle-free to adjust.
5. How Much Does It Weigh?
When you're looking for the optimum wader, you have to focus on getting the lightest one available. Note that the lighter, the more comfortable it feels and the easier it is to use. Besides this, having lighter waders make it more convenient to bring around.
6. Extra Features and Design
There are also other different wader features, such as pockets to conveniently place your accessories needed when fishing. Also, consider the design, as some come in different colors and patterns, though it doesn't matter when fishing since fish won't notice the difference!
If you want to learn even more details on choosing fly fishing waders, here's an informative video to check out:
Bonus Tips to Care For Fly Fishing Waders
Besides knowing how to purchase the suitable fly fishing waders, you also need to learn how to use them! Here are the following tips on how to use and clean your fly fishing waders properly to make it last longer:
Do NOT leave them under direct sunlight for long periods, and don't leave it folded or rolled, which damages the fabric easily
Always wash off all mud and dirt once you reach the house to prevent caking. The rule of thumb is to rinse after use, then wash after every two to three trips, depending on how much you sweat or the mud on the waders!
When you do wash your waders, make sure you use approved wader-cleaning detergents, though most mild and powdered laundry detergents do just fine, as long as they are free from additives. Place it in the washing machine on delicate cycle if allowed, and if not, hand wash it in a bucket or tub. Use cold water when washing to prevent it from shrinking
Air dry your waders and avoid using the dryer, hanging them in a safe place instead. When the exterior is dry, turn your waders inside out, letting the interiors dry this time
Frequently Asked Questions: Fly Fishing Waders
Besides learning how to choose and use fly fishing waders, here are other frequently asked questions to learn:
1. Why are waterproof waders so important to use?
It's highly recommended that you focus on waterproof waders, as it won't allow any water to enter your body. The wader protects your body and prevents water engrossing, keeping you safe and comfortable. That's why it's best to focus more on getting water-resistant or 100% waterproof waders made with quality material.
2. What are the uses of wading belts?
Waders come in universal sizes sometimes, which is why it's important to have adjustable straps and wading belts. These prevent the air inside waders from getting out, allowing you to float while in the water. Furthermore, it keeps you both safe and comfortable while fly fishing, improving your overall experience!
3. Should you focus on breathable waders, too?
Besides waterproof waders, many people also prefer breathable ones, which are lighter and have better comfort. They also provide more warmth and moisture absorption, which allows your body to either stay warm or cool depending on the weather. It's the reason why one should get breathable and waterproof waders despite the price!
4. Will I need to purchase separate boots with the waders?
If your waders don't come with wading boots constructed with it, then yes, you must get appropriate footwear. This is important as your feet will be exposed to the water the most, and you wouldn't want to slip on rocky surfaces or deal with wet feet on dry ground!
5. What clothes and footwear do I wear with fly fishing waders?
This depends on the weather and your comfort, especially if you wear waders that have no insulation on its own. So if it's cold, bundle up with a few moisture-wicking layers. If it's hot, wear a breathable base layer under your waders, and do NOT try wearing a birthday suit!
As for footwear, invest in wading boots if it doesn't come made with the waders. Like mentioned above, you can choose wading sandals as well.
Wrapping It Up
When fly fishing, expect to be in the waters trying to get the right spot when making a cast. Sure, walking in waters may feel awkward, but with the waders, you won't have issues in getting you and your clothes wet! With a ton of benefits to offer, you can go fly fishing comfortably and enjoy the day ahead.
Of all the different fly fishing waders available, the best among everything goes to the TideWe Bootfoot Chest Waders. What makes it my editor's choice is because of its excellent quality material, which is even lighter than the typical waders. Besides this, it also has the user-friendly design with extreme strength to last.
Hopefully, this article on the best fly fishing waders helped you find the right one! So don't wait any longer and look into any of these choices now.
If you have any questions or want to share your experiences and reviews on these fly fishing waders, then comment below. All your thoughts are much appreciated!