In fly fishing, one of the most crucial gears is your reel, the most basic equipment to help you catch fish! While basic, it's an important element and you need the best fly fishing reels to ensure you have the right one suitable for the way you fish and what you plan to catch. But with the many types available, which one is the right choice for you?
Surely, you know how confusing it gets figuring out what to get among the hundreds of reels available. This article tackles not only the top ten best fly fishing reels but a comprehensive purchasing and care guide for it as well. That way, you have an easier time choosing and you're ensured a fly fishing reel to last with proper care.
So read on to learn more about these products and how to select a good one from the list!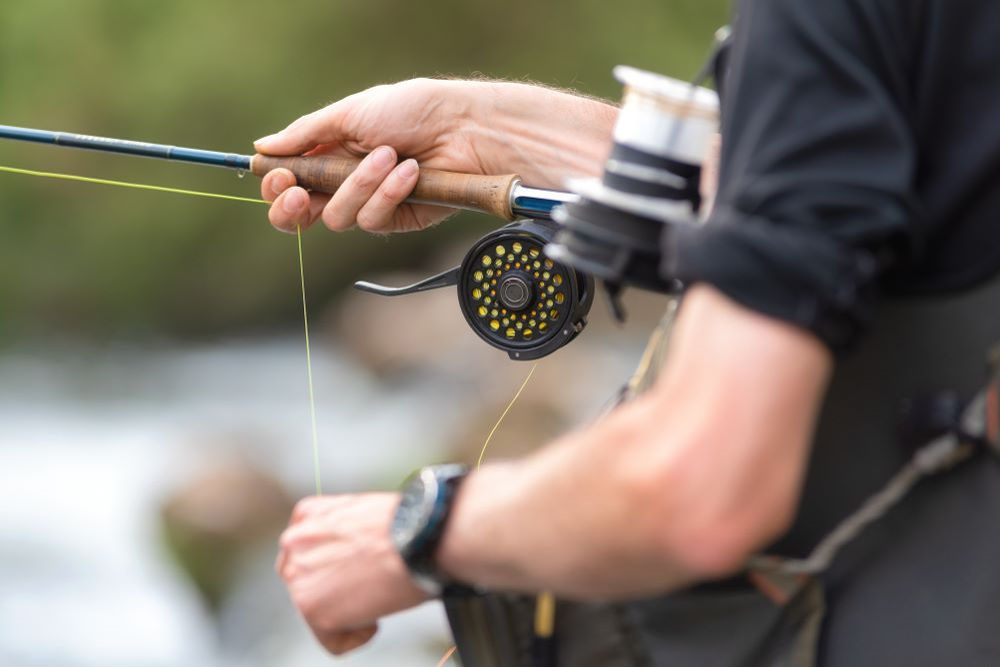 Quick Comparison: Top Fly Fishing Reels
IMAGE
PRODUCT
DETAILS


1. Piscifun Sword Fly Fishing Reel

Arbor: Mid-arbor
Construction: Aluminum Alloy
Color: Black, Gunmetal, Pink, Space Gray
Warranty: 3-year

Check On Amazon


2. Reddington Zero Fly Reel

Arbor: Large
Construction: Aluminum
Color: Avocado, Black, Sand, Teal
Warranty: Lifetime

Check On Amazon


3. Croch Fly Fishing Reel

Arbor: Mid-arbor
Construction: Aluminum Alloy
Color: Black, Gold, Gun Green, Silver

Check On Amazon


4. Sougayilang Fly Fishing Reel

Arbor: Large
Construction: Aluminum Alloy
Color: Gold
Warranty: 5-year

Check On Amazon


5. Okuma SLV Diecast Aluminum Fly Reel

Arbor: Large
Construction: Aluminum
Color: Silver

Check On Amazon


6. M MAXIMUMCATCH Maxcatch Fly Fishing Reel

Arbor: Mid-arbor
Construction: Aluminum Alloy
Color: Black, Green, Blue, Silver, Black&Silver
Warranty: 3-year

Check On Amazon


7. Pflueger Automatic Fly Reel

Arbor: Standard
Construction: Aluminum Alloy
Color: Black

Check On Amazon


8. OKUMA Sierra Diecast Aluminum Fly Reel

Arbor: Large
Construction: Aluminum
Color: Black

Check On Amazon


9. Fiblink Fly Fishing Reel

Arbor: Large
Construction: Aluminum
Color: Orange, Silver

Check On Amazon


10. Goture Fly Fishing Reel

Arbor: Large
Construction: Aluminum Alloy
Color: Silver
Warranty: 30-day

Check On Amazon
**Below, you'll find our more detailed reviews, but you can also click the links above to see current prices or read customer reviews on Amazon.
The Ten Best Fly Fishing Reels
Based on tests and research, these are the ten best fly fishing reels you can invest in today:
The Piscifun Sword Fly Reel is the editor's choice because of its combination of all necessary features at affordable prices.
It has the smooth drag system made with stainless steel and multi-disc cork, along with a one-way clutch bearing to immediately drag your catch. Dragging is also comfortable, as it has the click drag and quieter retrieve, keeping the waters still as you get the big one. Take note that it has the mid-arbor design, the middle ground for traditional and "modern" fly anglers.
Besides that, it has solid construction, CNC-machined with aluminum alloy for extra durability compared to die-cast alternatives. Because of its construction, it's corrosion-resistant and made for any weather, so long as it's taken cared for.
For those focusing on something lightweight, the Redington Zero Fly Reel is an excellent choice. It's the lightest reel of its class, having the ultra-lightweight design and a quick-change spool for ease of use.
This is a die-cast reel with a large arbor design, suitable for bigger fish and with speedier retrieve without much of the line memory. It also has the spring-loaded clicker drag system, a traditional one that's still easy to reel in fish. This one is highly recommended for its comfort because of how light it is, though be wary of your fly rod weight as well, ensuring it's balanced!
The Croch Fly Fishing Reel has the strong aluminum body made for durability to last for years to come! It's CNC-machined and made with the high-grade materials for best quality, withstanding corrosion and offering added surface protection. It can last for years of intense use and still keep its shape with minimal damage, provided you care for it well, too.
It comes with the stainless steel drag system and a one-way clutch, which feels smooth as you reel your catch in. Furthermore, it has the mid-arbor design for a good retrieve, whether using your left or right hand. Expect better retrieval rates and strength with this reel!
If you're more budget conscious and want something affordable but with the attractive design, you'll like the Sougayilang Fly Fishing Reel. For something at such an affordable price, you'll be surprised that it's CNC-machined and made with quality aluminum alloy. It isn't the highest quality and maybe a bit more prone to corrosion compared to higher-priced reels, but still has good durability for long fishing trips.
It has a good quality spool, which has knurled metal screw caps that easily loosen it to change to your dominant hand. It also has a large arbor design for a smoother drag and retrieval. However, take note it's made for freshwater, not salt water!
The Okuma SLV Diecast Aluminum Fly Reel is very simply designed without any of the frills. However, it's appreciated for the way it operates for its price. It comes with a variety of types and sizes to fit your rod and fly line weight, adding versatility and more choices for all fly anglers.
The fly reel itself has stainless steel drag washers and a multi-disk cork for adequate retrieval. Though not the smoothest, enough to have you catch and retrieve your fish. It also has a roller bearing which ensures that the drag comes in one direction.
The fly reel uses a brass bushing drive system to capture fish well. It may not be the strongest, but does its job in control and retrieval ad an affordable price.
The M MAXIMUMCATCH Maxcatch Fly Fishing Reel comes at a price range, though still affordable to moderately-priced. It's a mid-arbor design that's lightweight and made with durable aluminum, though note that it isn't the absolute strongest!
What makes it worth the investment is that it comes with a three-year warranty so you're assured durability for years of fishing.
Besides this, the fly fishing reel has a unique drag design, having a hidden drag knob screw to make it easier to retrieve fish. It also improves the smoothness and reliability of reeling in fish, as it's made with a stainless steel disc drag system with a quality cork and Teflon disc. You can easily loosen its spool to change the settings to your dominant hand.
The Pflueger Fly Reel is one of the most affordable fly fishing reels available on the market today. It's a die-cast fly reel made with aluminum alloy and with stainless steel mainspring, foot, and line guard.
However, do take note that with a fly fishing reel like this, don't expect it to be the longest lasting. It's best used on freshwater and should be taken cared for very well for it to last for a few seasons. It isn't the absolute best in performance, but it does the job and you get good value from it, best for beginners.
OKUMA is a popular and reputable brand, with their die-cast fly fishing reel an optimum option for its ease of use and control. It has the adjustable stainless dray system made with Teflon. Also, it has a strong roller bearing which ensures it only goes on one direction when dragging and reeling in your catch. Yes, it's die-cast so it requires a bit more care than CNC-machined ones, but isn't as difficult to maintain compared to cheaper alternatives.
It's easy to change the retrieval conversion and has a brass brushing drive system for smoother and quieter retrieval. You get more than what you pay for with this wide arbor designed reel!
The Fiblink Fly Fishing Reel is great for both freshwater and saltwater fishing, making it versatile and durable. It's extremely lightweight and with the aesthetic design that many fly anglers will appreciate. Furthermore, it's CNC-machined, made with high-grade aluminum for the durability and corrosion resistance to last longer compared to other reels at its price range.
There are fewer line stackings and it has the strength and performance to improve the retrieval rates. You can also easily switch hands with its one-way bearing, though it may be confusing for beginners at first! Besides this, you get a decent fly reel at a more affordable price, with some imperfections on its finish that you can easily ignore.
Last but not least, the Goture Fly Fishing Reel is a great option for those who want something smooth at a moderate price. This CNC-machined reel offers amazing performance at its value, made with lightweight properties and with different sizes to choose from.
It's built with an aluminum handle for better comfort, as well as the strong drag system for a smoother, consistent performance regardless of the type of fish you catch. One can see this lasting for years of intense fishing trips to come, especially with its brass gear and corrosion-resistant materials.
How to Choose the Best Fly Fishing Reels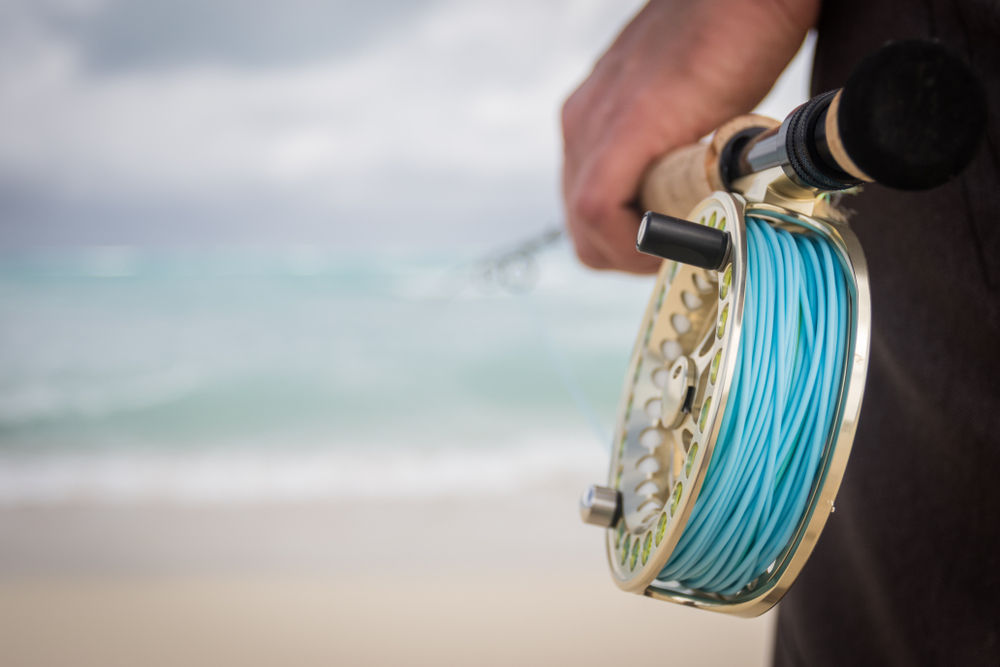 As I said, there are hundreds of fly reels available, and you'll be surprised that each one has unique characteristics made for certain fly anglers! There are a ton of factors to consider when selecting one, and you want to make sure you have the best quality matched with good valued prices. With that said, consider the following factors when choosing the best fly fishing reel:
1. Your Rod's Line Weight
There is no such thing as a one-size-fits-all fly fishing reel, with reels made for specific line weights. As you fly line weight increases, so does the diameter, which is why you need to consider this when selecting a fly reel. Note that the thicker your fly line is, the more space it takes up in a reel.
Fly reels accommodate ranges of line weights for versatility and to save money from purchasing even more reels according to the different line weights you use. This can help you select something more suitable for the lines you prefer using most, providing the best performance.
2. How Much Backing Is Needed
Another thing to consider is the amount of backing you need, which is a part of your fly line. This fly line backing is what goes on your reel before a thick fly line is attached, which helps prevent runaway fish. You'll want to make sure that you have more backing, as much as your reel can hold.
The amount of backing you need depends on the size and strength of fish you plan to catch. Remember to consider how much backing you'll need, along with the line weight, to choose the perfect reel size.
3. A Reel Size to Balance the Rod
Now that you've already considered your fly line weight and backing, it's time to consider how it balances your fly rod! You can test this out by placing the reel on the rod reel seat, then finding the rod's pivot point, located about an inch below your cork grip's top edge.
Hold your rod up using one index finger at its pivot point. If it's perfectly balanced and parallel to the ground, this is most likely the right reel for line control and casting performance without much arm fatigue. If the rod's tip drops to the ground, the reel's too light and might decrease the casting performance while increasing arm fatigue. If the butt drops, it's too heavy and may cause more arm fatigue and casting issues.
4. Your Fly Reel's Arbor Size
The arbor size, or reel design, is chosen depending on the type of fishing you aim to do. These are the three main types of reel designs:
Standard Arbor Fly Reels have a spool base located in the middle of your reel. It's a traditional design a few anglers like for smaller river rods or traditional cane fly rods. It has good backing but the frames are narrow
Mid Arbor Fly Reels is the middle ground among the there, with the reel's based moved and with a widened reel. They have the good backing capacity and maintain a larger loop for your line
Large Arbor Fly Reels are the most modern among the three, larger than the last two. They have a wider and bigger diameter, allowing better backing capacity, quick retrieval rates, and less line memory. Some traditional anglers find it too big, though they are lightweight without compromising the rod's structure
5. Drag System
A drag system is what applies resistance and would regulate your reel speed when your catch is trying to run and take your line off the reel. There are two main kinds of drag systems, which are:
Spring and Pawl, or the Click Drag, are the traditional types. It's a simple cog mechanism, which alters the pressure amount on the spindle. It's lightweight, though it has little stopping power when dealing with large fish. It's best for small or still waters.
A Disc Drag is the more modern and popular drag system type, working as a break. This system increases the tension on your reel when the fish tries to pull its line off, still maintaining low pressure as you wind it in. They're made of various materials, with Rulon and Teflon being a popular choice
Under the Disc Drag system are sealed and non-sealed. Sealed is watertight and requires zero maintenance, while non-sealed requires greasing and oiling for better performance.
6. Your Reel's "Click"
It might sound funny considering this, but the click is a great aesthetic of a fly fishing reel! A quality fly reel, when you rotate it, would have that pleasing and smooth clicking sound. But if you hear it sound a bit tinny or erratic, then consider another reel.
7. What's It Made Of?
Most fly fishing reels today are usually made with machined bar-stock aluminum. This is a solid piece of aluminum, carved using a machine to take shape of a reel. To be more specific, they are known as the CNC machined reels. CNC machined reels are carved from solid chunks of bar-stock aluminum, providing more strength and durability with fewer chances of corrosion and damage.
There are also cast-aluminum reels, which are formed from liquid metal then poured into molds. They are known as die-cast reels. These are made from injecting or pouring molten metal alloy into dies or molds. These work well and can last long. But if you want higher-quality and a longer lifespan, machined aluminum is your best choice, though a bit more expensive!
8. How Much Is It?
Last but not least, you also have to consider the price. Depending on the manufacturer and quality of your reel, the prices can range as low as $40 up to over $900! Don't worry, you won't need to get the most expensive one, as good reels range between $100-$150 and still give you great performance.
If you want something long-lasting to the point you can give it to your kids, then consider shelling out about $400-$500, depending on its size! You get your money's worth, though there's no point of overspending if you can't afford it yet!
Here's the simple rule of thumb: Good reels cost between $100-$150. Great reels cost about $250-$400. For large saltwater reels, expect to shell our $200-$300 for good ones, while better ones go for $350-$500. If you want something even more magnificent and all the frills, then that's going to cost you a lot more!
How to Use and Maintain Fly Fishing Reels
Now that you're familiar with how to select the best fly fishing reel, the next thing to figure out is how to care for it. It's crucial to learn how to clean and maintain your fly fishing reel to have it last for years to come. So make sure that you follow these reel care and maintenance tips for a long-lasting and well-performing reel:
1. Take Care Of It While Fishing
You should use your fly fishing reel properly when it's in your hands. This means you should avoid being reckless and accidentally hitting it, or abusing it to the point it starts to slowly break.
It's easy to operate your fishing reel and still have it last long, just avoid hitting it or having it meet with the water, which prevents it from scrapes that increase the caches of corrosion.
2. Avoid Sand and Dirt
Remember that the number one enemy of fly fishing reels is sand and dirt. When changing flies or placing your reel down for a moment, never place it on surfaces with dirt and sand. It can result in small particles making its way in your reel, causing damage in the long run.
Instead, have it sit on something clean and soft, like a cloth or towel, when you aren't holding it yet.
3. Rinse Reels Immediately
Once you've finished your fishing trip, make sure that you rinse your reel with fresh water as soon as possible. This is especially crucial if you just finished fishing in saltwater.
It's best to bring a bottle of fresh water with you to rinse your reel right away. If you plan to use a hose or tap, avoid rinsing it on high pressure to prevent damaging your reel. Once you've rinsed everything, remove its spool, shake the excess water out, and allow everything to dry out before you reassemble it.
4. Clean It Properly
Follow these steps to clean your fly fishing reel properly:
Remove your reel's back and lining, disassembling all the removable parts
Scrub all parts thoroughly using warm and soapy water
Rinse it with freshwater properly and make sure all suds are out. Do NOT soak the reel, which can cause rust!
Dry everything using a warm cloth and reassembles only once everything is completely dry
Once dried, you might want to consider applying new grease or lubricating it with a light coating of car polish or oil, following the manufacturer's instructions
5. Store It Well
When storing your reel after a long fishing trip, make sure that you clean and lubricate it beforehand
Stow your reels preferably empty. You can leave the backing on your reel as long as it's dry and desalinated
When not in use, you should loosen the drag
Avoid placing your reel in the pouch when stowing it, it's better to place it in a shelf or cabinet in room temperature
6. More Reel Care and Maintenance Tips
Do NOT dip your reel in water and avoid doing so as much as you can, especially in saltwater. Your reel shouldn't be exposed to spray as well when using it on a boat above seawater!
Avoid knocking your reel against hard surfaces, which causes scratches and dents that corrode its metals. Place your rod butt and reel on a damp cloth to prevent sliding and scratching
To learn more about using and caring for fly fishing reels, check out this informative video:
Fly Fishing Reels: Frequently Asked Questions
Besides what I mentioned above there are other frequently asked questions readers have wondered about. Here are the top four to think of:
1. Why are fly fishing reels so important?
Having high-quality fly fishing reels is very advantageous (and important!) for the following reasons:
They are extremely easy to control and promote better positioning and comfort, with a good hand-feeling and lightweight feel. They're best for faster services like fly fishing for perfect control
Good reels offer better deed and bait presentation, which attract fish to come to you
A quality reel can handle larger fish better so you can catch that big one with less effort
2. Which is more important to prioritize: the fly rod, reel, or line?
All these parts are crucial to your fly fishing goals, but those on a budget might be wary about which to prioritize. I recommend that you should proportion your budget well, focusing more on your line. Yes, the rod and reel are crucial, though beginners will appreciate quality lines to make casts and fishing easier until they're able to upgrade the reels!
3. What's the difference between a fly fishing and spinning fishing reel?
These are two very different types of main reels for anglers. Fly fishing reels are usually used for fly and lure fishing, having a brighter appearance with accurate positioning and ease of control. They are also very lightweight and comfortable, making it suitable for faster operation (like fly fishing!).
For spinning fishing reels, they are easy to operate and start with, made for beginners for simple throwing practices. They are cheaper and durable, also being easy to maintain and clean.
4. Do I need a disc drag reel?
This depends on what you'll use the fly fishing reel for!
For those fishing for small to medium-sized fish, you wouldn't need one. However, if you're chasing tarpon or bonefish on saltwater, then you should get one! For those who are looking into salmon, sea trout, big pike, muskies, or steel heads, then you MAY want to consider it.
Note that these are expensive reels and if you're a beginner, you may not need it. If you do choose such a reel, just make sure it has a very strong drag reel system to match.
Wrapping It Up
After you invested in fly rods, the next step is to choose your fly fishing reel, which is still a crucial aspect of your gear. It's what stands between you and the fish you're about to catch, and getting a strong one will help hold the backing and fly line well. Sure, it can be pricey, but if you're taking fly fishing seriously, all your gear should be in the best conditions suitable for YOUR individual needs!
Hopefully, this article on the best fly fishing reels gave you an idea on what you should invest in now. So don't wait any longer and start looking into any of these reels today!
If you have any questions or want to share your reviews and experiences with these fly fishing reels, then comment below. Your thoughts are much appreciated!