A cooler for kayaking is an excellent treat during the hot summer. But how to carry a cooler on a kayak?
There are several ways to do it properly. Some items, like straps and holders, will help you handle your stuff with ease.
This post will recommend the best methods for securing the coolers. Let's check them all and determine which one works best for you!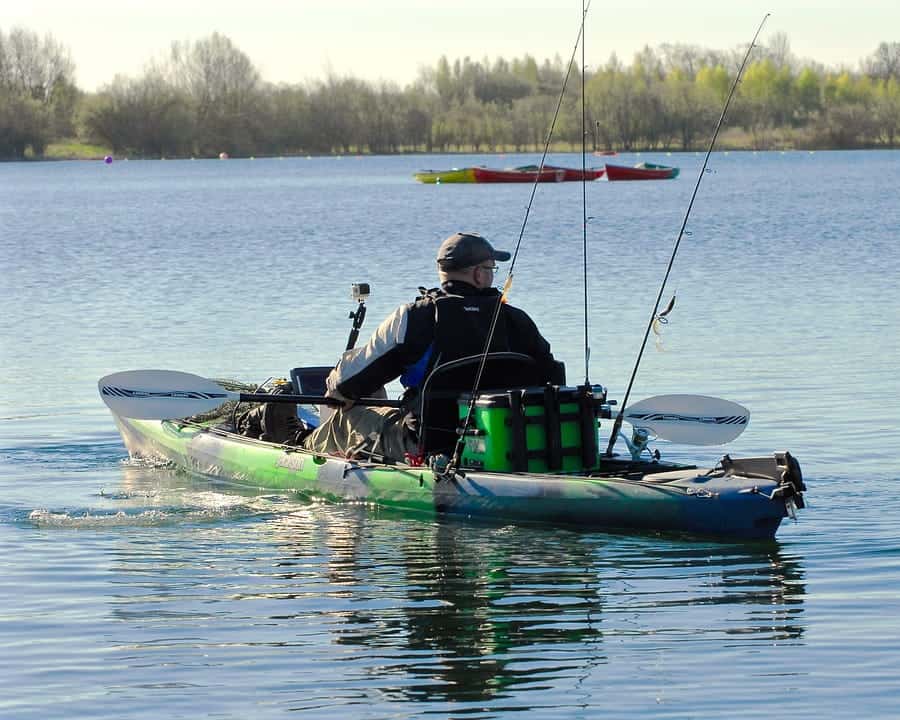 How To Carry A Cooler On A Kayak?
The correct answer varies depending on which type of cooler you use and how big your kayak is. Here are the four most common solutions for this job.
Behind the seat
You would want a free front space when paddling the kayak for sufficient padding or easy fishing. Hence, the best method for carrying your cooler is to place it behind your seats. 
Depending on the available space, you can use a soft cooler bag or an ice chest.
You must secure the cooler with straps and lay a rubber cloth underneath it for the most resistance and the least movement.
Below the seat
A soft cooler bag is easy to keep due to its flexibility. If you have one, you can place it under the seats securely.
This method works best if you have a large kayak with adjustable seats. There will be ample space beneath for your cooler. 
Yet, the soft bag still has some drawbacks. You should only store drinks in it because food items will crush in the crowded space somewhere under the seat.
On the side deck
If your kayak is too small, you can place your cooler on the side deck. It wouldn't take up any space in your seats.
You must be careful with the weight balance in this situation. If the cooler is too heavy, your kayak will end up tipping over while still on the water.
With a floating holder
A small kayak and an ice chest cooler are a tricky combination because the boat seems too small for a rough item like this cooler. In this case, you can use a cooler holder to do the trick.
We recommend tying the holder with your kayak's sail. You should only pack necessary items as the excessive weight will cause unfavorable circumstances.
Four Types of Kayak Coolers
Kayak coolers come in different types, each requiring a different method for loading on your kayak.
Hard-sided coolers
Compared to their soft-sided versions, square hard-sided coolers are bigger.
With more space inside, you can put more items and ice packs so that they will stay cool.
Although these versions are the biggest and heaviest of all the available alternatives, kayakers still love them because their food, such as sandwiches, won't get crushed.
Soft-sided coolers
The most popular kinds of coolers are soft-sided ones. They are smaller than their hard-sided counterparts, but you can also get them in bigger sizes.
Since the bags are soft, they can fit into tight corners where hard coolers can't even find their way in.
Catch coolers
Catch coolers are a type of soft-sided coolers. You can secure them to the front of the kayak and keep your caught fish there.
These coolers are excellent for fishing. Some manufacturers offer tailor-designed containers for specific kayaks.
Tow-behind coolers
A growing number of people have become interested in tow-behind coolers. You can pull them behind your kayak instead of keeping them inside.
The tow-behind cooler looks like a small kayak. Compared to other versions, it's bigger and has more carrying capacity.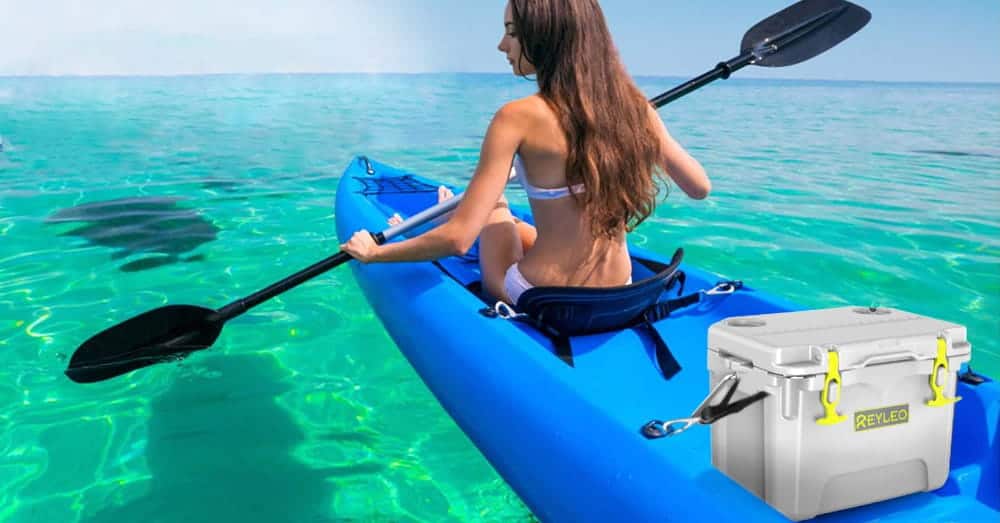 How To Choose The Best Kayak Cooler?
Kayak coolers are simple items, and they mostly work the same way.
However, a few things separate a well-built, waterproof cooler from one that has poor construction.
So, how to choose the best one for your kayaking? Please check this guide for ultimate tips.
Size
Your cooler should be big enough to hold everything you intend to carry on your kayaking excursion.
However, you don't want to pack a cooler that is too large to fit in your boat.
Even more critical is the cooler's size if you use a sit-inside kayak and intend to stow it in a hatch.
For shorter excursions lasting no longer than one day, a cooler with a 10-quart capacity will suffice.
If you prefer weekend-long adventures, you might want to carry up to 30 quarts.
Material
Kayak coolers are available in both soft- and hard-sided varieties. Hence, expect that their construction materials will differ as well.
Soft-sided coolers: Common materials for soft coolers include foam, rubber, and laminated fabrics. These models are flexible, lightweight, relatively durable, and cheap while still giving sufficient insulation thanks to the materials.
Hard-sided coolers: Manufacturers use high-density rubber or plastic to make the coolers. They might not be as lightweight and flexible as their soft-shell versions, but they are much more robust and more suitable for heavy-duty use.
It comes down to your personal preference regarding the material you choose.
Consider your intended usage and, whenever possible, try to achieve a balance between lightweight construction, flexibility, sturdiness, and insulation.
Cold retention
A cooler can't keep your stuff cool forever. However, it should maintain its temperature for a long time.
Kayakers use coolers to keep their beverages cold, or at least cool. The cooler must have reliable cold retention and insulation to make it possible.
Even when subjected to direct sunshine, the best coolers should be capable of maintaining their temperatures for up to 72 hours.
For example, expanded polystyrene is famous for its exceptional insulating properties. Ice chests with hard shells are usually superior in this regard.
Whether you're preparing for multi-day excursions or brief outings, consider your requirements and pick the degree of cold retention suitably.
Waterproof
You will bring your cooler to the water. So, it's obvious that the item must be waterproof. Some models are even airtight.
If you, unfortunately, buy a product with terrible waterproof characteristics, it can't withstand paddle splashes, waves, and other elements.
Then, the water leaked inside the container will destroy your stuff.
In addition to being "waterproof," coolers that are leak-proof and airtight can keep their cold much longer.
It is significantly simpler to keep the correct temperature when there is no cold air departing the cooler or hot air leaking, for that matter.
Frequently Asked Questions
Q: Can you put a cooler on a kayak?
Yes. There are numerous spots for soft-sided coolers in your kayak.
You can keep them under your seat, behind your backrest, or inside the dry hatches of your kayak.
Q: How can I secure a kayak cooler?
You must use multiple straps to hold a kayak cooler in place.
The cooler typically has hooks for fastening straps. You have to run the straps through your cooler's buckle and tighten it to your kayak.
Q: What size cooler can fit a kayak?
It depends on how big your kayak is. If it has extra space, you can use an ice chest cooler. Yet, a soft cooler bag will be better for your boat in a small kayak.
Q: How can I store a catch on a kayak?
The best solution for storing the catch while fishing in a kayak is to use a fish bag or a cooler. The fish can stay cold and fresh for a long time if the cooler has good ice retention or insulation.
Conclusion
A big kayak allows you to keep your cooler easier. However, if you have a small one, choose a soft-sided container or buy a holder to carry your stuff easily.
Even when you know how to stow your cooler, it can still be a terrible experience if your item is low quality.
Hence, spend some time choosing a good one for your excursion.
Thank you for reading!