Kayak fishing is a fun activity, but it requires more than just your typical fishing gear. You will also need the best kayak paddles for fishing so you can get the right one suitable for your trips. But of the many different paddles available, which one should you get?
Read on as I show you the ten best kayak paddles for fishing and how to choose the best one!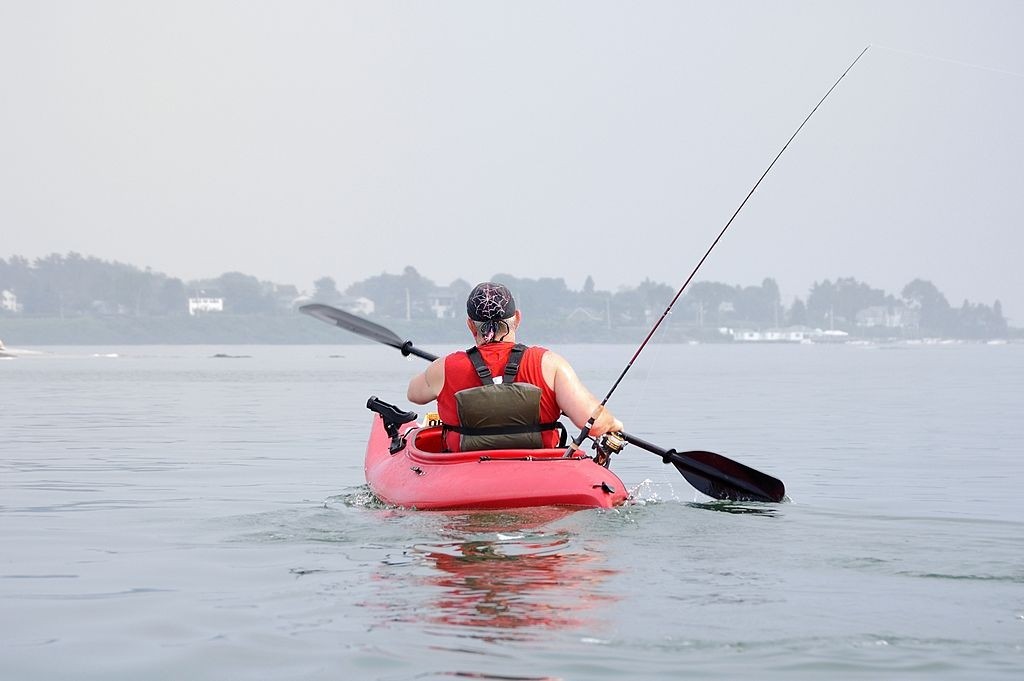 Quick Comparison: Top Kayak Paddles For Fishing
IMAGE
PRODUCT
DETAILS

The Simple and Solid

The Simple and Solid



1. SeaSense Kayak Paddle

Length: 96 in
Shaft Material: Aluminum
Blade Material: Fiberglass filled nylon
Sharft Type: 2-piece
Colors: Black, Military Green/Black, Red/Black

Check On Amazon

The Compact and Lightweight

The Compact and Lightweight



2. Backwater Paddles Assault Hand Paddle

Length: 22 in
Material: Strong, fade resistant plastic
Sharft Type: 1-piece

Check On Amazon

The Durable and Easy to Clean

The Durable and Easy to Clean



3. Bending Branches Whisper Kayak Paddle

Length: 230cm
Shaft Material: Aluminium
Blade Material: Plastic
Sharft Type: 2-Piece

Check On Amazon

The Easy Storage and Strong

The Easy Storage and Strong



4. Naviskin Kayak Paddles

Length: 87 in, 96 in
Shaft Material: Aluminum
Blade Material: Polypropylene
Sharft Type: 2-piece
Colors: Black, Yellow, White, Orange and Blue

Check On Amazon

The Well-Designed and Water-Resistant

The Well-Designed and Water-Resistant



5. Leader Accessories Kayak Paddle

Length: 84.7 in, 87 in
Shaft Material: Aluminum, carbon, fiberglass
Blade Material: Polypropylene
Sharft Type: 2-piece
Colors: Blue, White/Green

Check On Amazon

The Robust and High-Quality

The Robust and High-Quality



6. Werner Camano Kayak Paddle

Length: 220cm, 225cm, 230cm, 240cm, 250cm, 260cm
Shaft Material: Carbon
Blade Material: Continuous Weave Fiberglass
Sharft Type: 2-piece
Colors: 10 colors

Check On Amazon

The Packable and Light

The Packable and Light



7. Advanced Elements Ultralite Kayak Paddle

Length: 224cm
Shaft Material: Aluminium
Blade Material: Plastic
Sharft Type: 2-piece

Check On Amazon

The Versatile and Smooth

The Versatile and Smooth



8. Carlisle Day Tripper Kayak Paddle

Length: 220cm, 230cm, 240cm
Shaft Material: Aluminum
Blade Material: Polypropylene
Sharft Type: 2-piece

Check On Amazon

The Adjustable and Professional

The Adjustable and Professional



9. Crooked Creek Kayak Paddle

Length: 9′
Shaft Material: Fiberglass
Blade Material: Poly-fiver composite
Sharft Type: 2-piece

Check On Amazon

The Well-Constructed and Attractive

The Well-Constructed and Attractive



10. XGEAR Kayak Paddles

Length: 87 in, 96 in
Shaft Material: Plastic and metal/aluminum
Blade Material: Marine-grade materials
Sharft Type: 2-piece
Colors: Black, Blue, White, Yellow, Orange

Check On Amazon
**Below, you'll find our more detailed reviews, but you can also click the links above to see current prices or read customer reviews on Amazon.
Ten Best Kayak Paddles For Fishing
So, what are the best kayak paddles for fishing? Here are the ten best reviews you should check out to select the right one:
The SeaSense Kayak Paddle is my top editor's choice for its extreme strength for an aluminum paddle. It's made with a lightweight anodized aluminum shaft, a two-piece design with three locking floats or positions. It assembles well and breaks down to pieces easily for quick transport and carrying, so I have no trouble handling it at all.
Furthermore, the paddles have an excellent grip and don't slip off my hands easily. For a lightweight paddle, it also withstands daily use well, not wearing out or rusting as I expected. I haven't experienced any deformations on both paddle or shaft, and as long as I rinse and clean it after use, it seems like it can last for at least a year or so.
It's no fiberglass or carbon fiber paddle, but for its high-quality construction and ease of use at its price range, you get more than what you pay for!
Pros
Lightweight and you can use it for hours without getting tired
Easy to assemble and disassemble for convenience and storage
Comfortable grip and long-lasting, made of quality aluminum
Cons
The paddles are a bit too short for paddlers taller than 6-feet
The shafts fit well but sometimes feel loose or wobbly
---
If your main focus is something compact and extremely lightweight, then I suggest investing in the Backwater Paddles Hand Paddle. It isn't like your typical long-shafted paddle, but is only as long as your hand!
You can use this paddle with one hand comfortably, as it comes with a slim and lightweight profile. This is suitable for kayak fishers as well since it has the hook feature for you to grab your dock or line. It also has a serrated edge so you can launch the kayak away from solid surfaces.
As for its build, it's made of plastic but doesn't be afraid of its material, as it's strong and fade-resistant. I don't recommend for daily and intense paddling, but it's a good choice if you want to paddle in another direction quietly and at a short distance.
Pros
Strong and fade-resistant plastic that can still do the job well
Good teeth to push off and has a hook to grab items out of reach
It's lightweight and portable, best used as a spare paddle
Cons
Has no shaft, will be difficult to move around in long distances
The paddle is made of plastic, may wear out in a shorter time
---
The BENDING BRANCHES Kayak Paddle is better made for those who are recreational kayak fishers. It's made of an aluminum shaft with two-piece construction, ensuring strength and durability.
I also appreciate the fact that it has a good design, which is comfortable to hold and maneuver. Furthermore, I don't have any major problems with its lifespan, as it seems to pack a punch and won't rust or snap easily. It also has the plastic ferrule, which won't collect sand or saltwater, making it easy to clean.
It comes at a higher price compared to other paddles, but for an entry-level paddle at premium quality, I see it worth the long-term investment.
Pros
It's lightweight and requires less work and minimal fatigue
The paddles splash less and feel smoother as you stroke
Sturdy enough for an aluminum shaft, having a nice grip
Cons
The paddles have smaller blades
A bit more expensive compared to other entry-level paddles
---
The Naviskin Kayak Paddles are one of the most affordable ones I invested in with good features. It's built with an aluminum shaft and features PP blades, with feathered blade design.
The two-piece shaft is easy to use and convenient to store, having the lightweight properties yet durable enough construction. It even has anti-slip material and an extra gasket piece for a better grip. Its duck palm arc blades also help make it less resistant as you stroke, decreasing fatigue so you can focus on your fishing more.
For its affordable price, it's quite durable but made for the entry-level kayak fisher rather than more advance and intense users.
Pros
It comes at a very affordable price for a strong kayak paddle
Lightweight and sturdy enough to last for entry-level kayakers
Offers a great grip and doesn't slip as you perform strokes
Cons
Not the most durable and not for intense kayak fishers
Be wary about the length, might be too short for some
---
The Leader Accessories Kayak Paddle is another affordable yet high-quality product made with a combination of aluminum, carbon, and fiberglass. With these materials, you're assured strength and durability, far more than the typical aluminum shaft! It has PP and PC blades with a water-resistant ring design so nothing flows down your shaft tube, keeping it dry and easy to maintain.
Furthermore, the entire kayak paddle and its blades are lightweight and less resistant to the waters, feeling smooth as I stroke with less effort. Plus, it's very easy to assemble or remove, having the push-button connection to lock or detach from one another.
All in all, the paddle does an excellent job for its price and I see it lasting for a long time, which is surprising at its price!
Pros
Comes at an affordable price for its material and construction
There are different sizes to choose from for your preference
It's less resistant to water so it's easier to stroke and paddle
Cons
The paddle's a bit heavier compared to other kayak paddles
Its shaft is a bit thicker, not the best for small hands
---
The Werner Camano Kayak Paddle is another premium paddle made with the strongest high-quality materials. It's constructed with fiberglass blades and a carbon blend shaft to ensure its durability and performance. You can select its different lengths, while the blade measures 52×17 centimeters, just right for the average to tall build.
While it comes at a more expensive price, you'll be surprised at how amazing it performs. You truly get what you pay for, as it gives you the smoothest stroke without causing fatigue or struggles. It's one of the lightest paddles for carbon and fiberglass construction, and if you're upgrading from the usual aluminum, you WILL be surprised.
If you have the extra budget and are sure about frequent kayak fishing trips, then this paddle is worth the long-term investment.
Pros
It gives the amazing performance with lightweight properties
Smooth and even strokes, you can maneuver the kayak easily
Slices through water without resistance lasts for a long time
Cons
It comes at a more expensive price for a kayak paddle
Sometimes oscillates up and down if you're pulling light
---
The Advanced Elements Kayak Paddle is made for the backpacker and fishermen who want to pack and carry light. It weighs less than 24 ounces and has a packable length of only 60 centimeters, perfect to fit in your pack! However, you can easily assemble it and it becomes a length of 224 centimeters, suitable for the average built.
The kayak paddle feels lightweight for carrying and performance without the high price. It's usable and can help you with smoother and more efficient strokes, but its durability is still questionable. With that said, it works as long as you're using it on flat water and if you care for it well.
For the beginner or intermediate kayaker, you can feel the quality of this paddle without having to spend too much. I recommend it if you plan on kayaking in flat waters only and need something more compact.
Pros
Very lightweight and easy to carry around for backpacking
Strong and well-constructed, can last long with proper care
Has a sleek design and easy to use with minimal fatigue
Cons
It's designed with small blades and a small pole diameter
Not made for stronger currents, only for flat waters
---
The Carlisle Day Tripper is made for the beginner to intermediate kayak fisherman. It's a moderately-priced paddle that comes with more strength than the typical entry-level product, having the polypropylene blades and anodized aluminum shaft. The entire paddle is lightweight enough and can slice through waters with minimal resistance and a comfortable grip.
I do get somewhat fatigued after a few hours, but it still continues to perform efficiently with smooth strokes. Plus, it has a push-button takedown to allow your blades to feather at about 60-degrees for more adjustment and control according to what YOU want.
This kayak paddle can last as long as any premium paddle as long as you use it correctly. However, it's best for casual paddling for the afternoon rather than whole days with intense use.
Pros
It performs excellently for its price range with smooth strokes
Clicks together and is lightweight, easy to use and store
Comparable to more expensive paddles with its good control
Cons
It's not the best for professional or advances kayak fishers
The paddle won't be as long-lasting than premium paddles
---
The Crooked Creek Kayak Paddle is made for the advanced and serious kayak fishermen for its quality and price. It's made with a fiberglass shaft and poly-fiber composite blade, making it for the professional and competitive kayakers. However, if you have the budget for it, you can greatly benefit from it when kayak fishing.
This paddle is also made for the fisherman, as it has a lure retrieval slot for removing stuck lines and lures from any debris or logs. Furthermore, it has an angle adjustment with 3-position push-button settings for the blade. It makes it easier to adjust and make your strokes, as well as pulling your kayak from the edge and pushing off.
Pros
Extremely durable and made to last for years of intense use
Made of fiberglass for strength and awesome performance
It has a lure retrieval slot and blade tips for push-off
Cons
It comes at a very expensive price, made for professionals
The paddles are smaller than usual for its price range
---
10. The Well-Constructed and Attractive: XGEAR Kayak Paddles
Lastly, I commend the XGEAR Kaya Paddles, which are built for the beginner kayak angler. This is a two-piece shaft built with aluminum construction, strong enough to withstand the waters at a more affordable price. It has the marine-grade aluminum and materials to ensure that it won't degrade as you use it in the waters.
I appreciate its strength and the way it's easy to use, having the ergonomic design and good grip, even if it's a straight shaft design. The shaft won't slip from your hands and can have you easily maneuver around, adjusting to your dominant hand.
However, I do with the paddles were a bit longer, making it less suitable for taller people. Regardless, I can see that this is durable enough to last for the average kayak angler, making it well worth the investment.
Pros
Anti-slip and ergonomic design for a comfortable grip
Easy to snap on and off, as well as keep for future use
Made of strong aluminum that doesn't wear out easily
Cons
The paddles may be too short for taller kayak fishers
It feels heavier than other similar aluminum paddles
---
How to Buy the Best Kayak Paddles For Fishing
Purchasing a kayak paddle isn't just about the brand and price. There's more to it than you think! These are the other crucial factors to consider when selecting a kayak paddle for your fishing trips:
1. Paddle Length
This is the first thing you need to consider when choosing a paddle. If your paddles aren't sized correctly, then paddling feels less efficient and awkward, and you risk banging your paddle on the kayak if it's short, spooking fish.
Your paddle size depends on your kayak's height and width. The wider and taller your kayak is, the longer paddles it needs. Each manufacturer will have different paddle lengths and recommendations based on your height and boat width, so you'll need to check out the brand's sizing chart for more accurate information.
On average, someone who's about 5'5 to 5'11 with a kayak width between 24-48 inches will require a paddle length of 230 centimeters.
Also take note that if you paddle from a higher seating position, it's best to add an extra ten centimeters of paddle length.
2. What's It Made Of?
The weight of your paddle is determined by what it's made out of.
An entry-level paddle is usually made with aluminum or plastic blades and shafts. These are heavy and not as well-performing as higher-quality materials. However, they get the job done and will go easier on the wallet.
Aluminum is the most-waller friendly material as they still do a good job and is more durable than plastic. Just be wary as it can get very cold or hot, depending on the weather! Plastic is honestly the least favored, as it degrades if left under the sun and cracks easily. Plus, the flexibility prevents the paddle from performing as efficiently as other materials.
I recommend these for beginners who still need to get a grasp of kayak paddling to avoid wasting money if kayaking isn't the best fishing method for you. They are also suitable for beginners who want to improve their kayaking skills, as they can upgrade their paddles down the line.
As for intermediate or advanced paddles, they are made with fiberglass or carbon fiber.
These materials make your paddles lighter and well-performing, as well as last longer. People prefer carbon fiber better but it comes at a more expensive price. Fiberglass is a great choice as it's still lightweight and more affordable.
3. Paddle Design
There are different blade shapes to look into when selecting a kayak paddle for fishing, which are:
Low-angle paddles are long and narrow, which are best for a more relaxed paddling style. You won't have as much power per stroke, but they are optimal when cruising in flat waters. It's better to use if you want to cover more ground while you fish or set rods up when trolling.
High-angle paddles are short and wide, generating even more power per stroke and has you moving with just a few strokes. These are great for fishing kayaks as they're heavier and wider than the typical kayak. If you paddle from higher seating positions or need quick maneuvering as you navigate waters, this is a good choice.
4. Blade Type
Many paddle blades have an asymmetrical dihedral shape.
Asymmetrical blades are narrower and shorter on one side, so the blade's surface area is uniform as it pushes through waters.
Dihedral blades have a rib down the center, which allows water to smoothly and evenly flow over the blades' halves. Without the rib, it flutters more, making it a bit tough to track the kayak straight.
Narrower blades are more comfortable if you plan to paddle for longer stretches, such as a multi-day or full-day trip. Wider blades are a good idea if you want quick and powerful strokes for faster acceleration. They are made for kayaking surfers, though there are also specialized fishing blades with J-notches on the blade, retrieving snared hooks and lines.
There are also feathered or matched blades to think about.
Matched (or unfeathered) blades align with one another while feathered blades aren't on the same plane, being offset at certain angles towards each other to reduce wind resistance on the blade out of waters.
Paddle shafts would allow paddlers to rotate them, so you can get either feathered or matched. This has you adjusting the feathering easily, whether at any angle or in 15-degree increments.
5. Weight
Of course, you'll want the lightest paddle that foes easy on your wallet. But if you just want to test out kayak fishing and don't feel committed yet, then I recommend getting a budget paddle without worrying about the weight too much.
But if you plan to go kayak fishing for the long term, get a paddle worth the investment at a good weight. Again, the lighter, the better, even if you'll have to pay a bit more upfront.
With a lighter paddle, you exert less effort and keeps you free from fast fatigue. That way, you enjoy your time in the waters better and can focus more of your efforts on fishing rather than trying to carry the weight of your paddle as you go around the water. Plus, you perform better with a lighter paddle, as you only need fewer strokes compared to a heavier paddle for the same distance.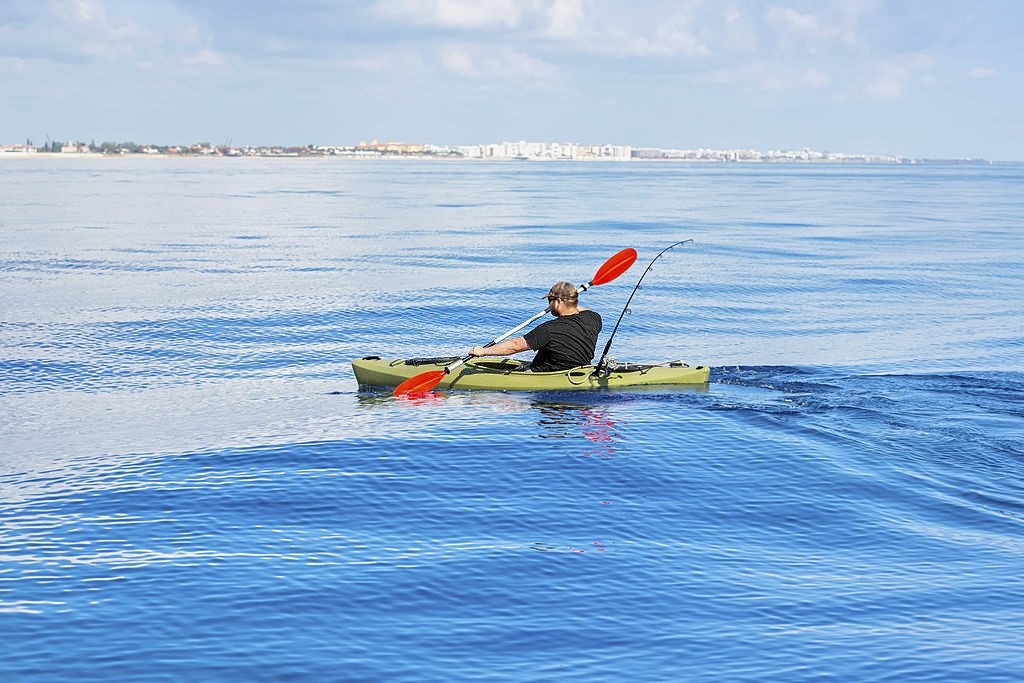 6. Shaft Design
Do you need a straight shaft or a bent shaft? Bent shaft paddles have a slightly kinked section to position your hands more comfortably as you create strokes. This minimizes fatigue and discomfort, which may be more beneficial than the straight shaft.
Do you need a two-piece or four-piece shaft? Both of these would break down for better storage, with a four-piece shaft offering shorter sections for portability and ease of packing and carrying. However, they can be a bit of a hassle to assemble and clean!
Furthermore, you may want to get small-diameter shafts, which offer less tiring grips for those with small hands. For those who aren't able to touch their thumb and index finger together when grabbing paddles, go for a small-diameter shaft. If not, standard diameters are a good choice.
7. Price and Brand
And finally, you should always consider your budget and the paddle brand's reputation.
Take note that the more you pay, the lighter and the more well-constructed the paddle is, with more features. However, this doesn't mean that more affordable paddles don't offer the features you need.
If you're a beginner, there are entry-level paddles that come at more affordable prices so you can work your way up once you practice.
Also, look into the brand's reputation by looking into the paddle's legitimate customer reviews. The more positive reviews posted, the better you can trust the paddles into doing the job right!
You can learn more about selecting a good kayak paddle for your fishing trips in this informative video:
---
Frequently Asked Questions
Now that you know more about purchasing the best kayak paddles for fishing, what else is there to know about it? Here are frequently asked questions from our readers:
1. What are the basics of using a kayak paddle?
Paddling a kayak doesn't need to be so difficult as long as you know the basics. Follow these tips:
When griping your kayak paddle, be sure that your hands are at a similar distance as your elbow width. You can change your grip occasionally to ensure you use your muscles evenly and efficiently. You may want a wide grip for more control or a narrower grip for comfort and ease of use for longer paddling.
Consider your dominant hand as your control, with a fixed-grip that shouldn't change as you stroke. Control the blade angle by grasping the paddle shaft with your other hand, allowing the dominant hand to twist your paddle in your wanted direction.
The right-hand grip should be steady but not too tight to prevent touring your hands. It may take some time and experimenting, but find what suits best for your arms without it fatiguing too quickly.
Learn about the basic strokes and practice them at home or in calm waters, such as the forward, reverse, sweep, and draw stroke.
2. How can I clean and care for a kayak paddle?
It's easy to care for your paddle, just follow these tips:
After using your paddle, separate the paddle halves and runs them with clean and freshwater. Rinse your ferrule too, ensuring that everything is rinsed off saltwater and grime.
Examine the shaft's internal parts frequently, clearing it from any water and debris.
The best way to clean your blades is with warm water and mild detergent. Wipe it with a soft cloth and rinse afterward. Do this after each use as well.
If you need to do advanced blade cleaning, then wash it as normal with mild detergent and clean it with a polishing system and scratch remover. These will restore the blade's shine and remove any scratches and abrasions.
Store your paddle well by keeping disassembling it and keeping it in a clean and dry place inside your home or storage area.
3. Can I still repair a broken kayak paddle?
YES, it's possible to repair your paddle as needed, with the tips depending on the paddle material.
For wooden paddles, it may take quite a beating with cracks and gouges around its edgings. You can repair it using boat-building epoxy with fiberglass or a Kevlar cloth. Afterward, sand and varnish them, and lightly sand and polish until smooth afterward to prevent blisters.
If you have composite paddle blades, you'll have to sand it first until both paddles are balanced. If the fiberglass is chipped or broken, create a tape dam at the blade's back edge, filling the chip using epoxy or graphite powder. Once it's hardened, sand it until smooth.
For broken paddle shafts, you'll need to clean the two broken ends, cutting the shaft perpendicularly with a hack saw. Sand with sandpaper and use epoxy glue, leaving it to harden for up to 20 minutes. Apply another layer of epoxy for surer sealing and waterproofness.
4. Why is a kayak paddle important for kayak fishing?
The kayak paddle is one of the most important components when going kayak fishing, compared to pedaling your kayak.
With paddling kayaks, it gives you more stealth. You get to quietly dip the paddle in waters, making less noise or movement so fish can swim without detecting anything.
You are able to fish in more shallow waters and remain undetected. No need to worry about kicking your fins or removing your pedal drive before fishing, which can create a ruckus and scare your potential catches.
You can make adjustments and have more control over the direction you are kayaking towards. You're also able to make adjustments and move while standing on the kayak, giving you the advantage of moving while chasing different fish species. You can maintain or adjust your position quietly and with more of a view on what you plan to fish.
---
Wrapping It Up
When it comes to having better control during kayak fishing trips, you need proper paddles. With the best kayak paddles, you're able to go kayaking without the worry of getting stranded or not going where you need to be. Just be sure to care and clean your kayak and paddles well for years of fun fishing trips to come.
I hope that this article on the best kayak paddles for fishing helped you out. So don't wait any longer and look into getting any of these paddles now.