You have your baits and rods ready for saltwater fishing. That's fantastic!
But where do you store your tackles? Are they protected from the harsh conditions in saltwater?
Do you have ample space to organize everything you need for fishing?
In our best tackle bag for saltwater fishing reviews, we feature our top picks for this product category to help you select the right one to purchase. With varied styles and sizes to choose from, the choice can be quite overwhelming!
So if you are confused or uncertain about which tackle bag to buy, you've come to the right place. Have a look at these tackle bags designed for saltwater and what each has to offer. Then, keep reading to check out our expert buying guide with practical tips you could use before you start shopping.
Let's get to our featured items and learn why they have made it to our list below.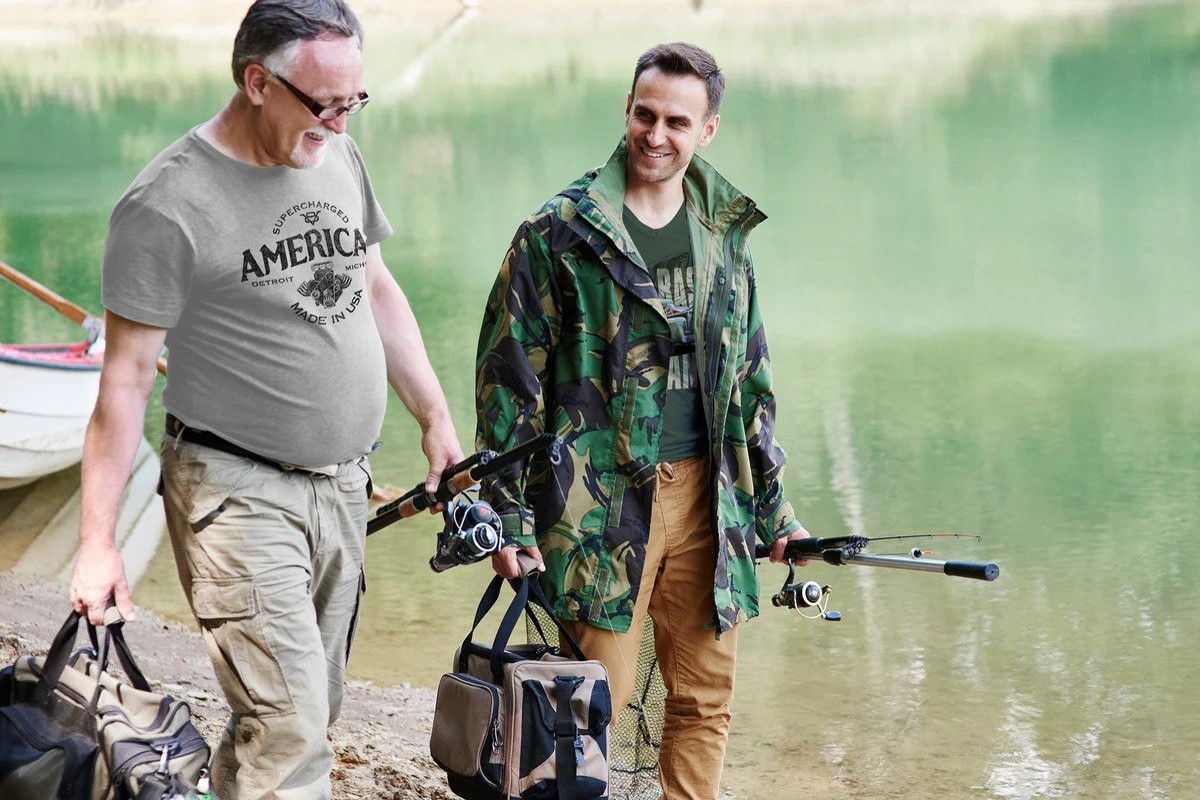 12 Best Tackle Bags for Saltwater Fishing
When buying a tackle bag to take in saltwater, you need to make sure that it is resistant to water. This will help keep your tackles in excellent condition during the tough environment. KastKing offers these high-quality tackle bags featuring a special hydrophobic coating. It prevents moisture from seeping inside, so your tackles stay nice and dry.
This bag is sturdy and reliable for the harsh weather. It is crafted from 420D nylon material with a rip-stop feature that protects it from wear and tear. The non-slip waterproof compression design at the bottom also helps keep moisture away. Plus, the zippers are rust-proof and made to last for a long time.
There is plenty of space to organize your tackles. You can also fit some tools, trays, and so much more. For additional storage, there are mesh pockets on the exterior of the bag where you can keep your rain gear, leader line, pliers, and so much more.
---
The best tackle bag for fishing is strong and long-lasting – just like this bag from Okeechobee. With tough and well-done seams in double stitches, they stay intact even if you use this bag regularly. The material used is a blend of polyester and canvas, which are both naturally heavy-duty to take a hard beating.
Do you have an issue keeping your tackles organized? This is never the case with this deluxe quality tackle bag. The main compartment is roomy enough for your tackles while the tool holders are perfect for stowing your knives, gloves, fishing line, and similar items. There is even a special compartment for your sunglasses for better accessibility.
This may be a very big bag but it should not be a problem carrying it. There is a good quality carry handle that is gentle on your hands. For additional support, the shoulder strap helps you handle the load with ease, thanks to the generous padding. Lugging it around should never be an issue at all with the strap and carry handle included.
---
Sometimes you just need a bag that can hold up a good amount of load for your fishing expedition. This is what we love the most about this tackle bag from Ugly Stik. It has a 15-liter capacity that provides excellent storage options. The soft side is non-slip and with a compression-molded design for the bottom to help retain the shape and prevent sagging.
This is one, very spacious bag! It can fit as many as four tackle boxes – large ones – so you can stay organized. There are three accessory pockets inside, as well as a tool holster that can easily be removed for versatility. With all that storage space in this bag, it is impossible to leave out anything essential!
Made of premium quality polyester, this bag is sturdy and secure. You can conveniently carry it around with the mesh top handle and shoulder strap with ample padding. This is definitely a must-have for your saltwater fishing needs.
---
Don't you just wish you have the right tackle bag with pockets and compartments to keep you organized easily? The Spiderwire Wolf has exactly what you need as it has more compartments than most of the other tackle bags in this price range have to offer. In fact, it can hold as much as 38 liters of load, and that is more than enough for a day fishing trip.
But that is not all. Aside from offering great organization, this bag is undeniably sturdy. It is made of rugged polyester that can handle tough weather conditions. The PVC backing is all-weather and there is a molded bottom that retains the shape of the bag even when it is not fully-packed. No more sagging issues typical with a cheap, flimsy tackle bag!
In addition to the roomy main compartment, this bag has two pockets on the front for your smaller tools and what-not. You can organize miscellaneous fishing supplies such as your knife, pliers, a flashlight, among a couple of other things. As a bonus, there are fishing line dispensers on the side that are easy to grab. This bag is absolutely brilliant and well-made!
---
If there is one thing that is a clear feature of this tackle bag, it is portability. This bag makes it easy for you to take it with you during your fishing trip. There are reinforced, padded, and wide shoulder straps, PLUS a waist strap for better support. By lengthening the strap, you can also use this as a sling bag or a shoulder messenger bag – super versatile!
There are three trays you can use to organize your accessories and fishing lures. The biggest box has adjustable dividers for customizability while the small box is just the right size for your tools. The exterior pockets are spacious enough for additional items that are easy for you to grab right on the outside.
Another thing we like about this bag is the zippers. They are perfectly strong and sturdy! By adopting the YKK zipper design, you can vouch on their smooth action. Closing and opening are a breeze, and yes, the zipper is highly durable, too!
---
Have you ever wondered how convenient it would be to have a spacious and portable rolling tackle bag? The Okuma Nomad bag allows you to take the bag with you anywhere you want in a convenient manner. With wheels for ease of transport, just roll it on the ground, and this instantly takes the load off your shoulders.
This is one spacious bag that can hold as many as four reel and rod combos easily, in addition to your fishing tackles. As for the lower section of the bag, there is a section for four utility boxes – all included. Organize your tools and gear efficiently, so you do not end up leaving any essential item behind.
Great for fishing or when hauling heavy fishing gear, this bag saves you a lot of work from lugging things around. The wheels are hassle-free to use on dry land, and there is a collapsible handle making things very efficient and convenient for you.
---
Are you in search of a good tackle bag that can hold ample supplies while keeping your hands free? If this is your preference, then a fishing backpack is just the perfect solution for your needs. The Shimano Blackmoon is a portable and heavy-duty fishing backpack that can help you stay organized with this grab-and-go bag.
We are impressed with the durable material used for this backpack. It is crafted from thick and heavy-duty fabric, so you can be sure that it is not going to rip easily. There are side and front pockets with zipper for accessibility while keeping these items secure and protected. These are good spaces to keep your keys, small tools, and other personal belongings all in one spot.
As for carrying the bag, it should be fairly easy and convenient. Like we have mentioned, this is a backpack, so you have your hands free the whole time. The straps have thick padding, which minimizes fatigue. You should be able to take a hike or walk to your fishing spot without getting exhausted easily.
---
The Calissa Offshore tackle bag is one dependable bag that can handle use and abuse very well. It is easy to get organized with this backpack, as there are various compartments and pockets to keep everything you need all in their designated spots. With a generous space for your fishing essentials, you can take all your fishing tools with you.
We like the corrosion-resistant quality of this bag. It is suitable for saltwater and freshwater for versatility. The bag is sturdy, yet lightweight at the same time. There is a breathable material used for it, which is breathable and rugged. As an additional feature, there is a rain cover included that keeps the bag protected very well from moisture.
Last but not least, this is quite a spacious bag. The trapdoor at the front is roomy enough to fit up to five containers. The backpack measures 19 inches in height and 16 inches in width. It is one heavy-duty backpack for serious anglers who want only the best tackle bag for their needs.
---
A great tackle bag is not just heavy-duty but it must also be lightweight to reduce fatigue and exhaustion. This is what we like about the Plano Weekend fishing bag, which is easy to carry around for your fishing adventure. The bag is roomy and durable, yet without the extra heft to it.
There is a spacious storage area on the lid, as well as an extra zippered pocket for your essentials. For added functionality, there are a bunch of D-rings thrown in and two multi-purpose tool holders for your hook removers, pliers, and so much more. With side panels for extra storage, you can use these to organize items or as carrying handles.
This is a soft bag, which makes it lightweight and functional. You can easily fit this bag on the deck of your kayak or in a milk crate. You can also remove the different sections as you please for better customization to suit your unique needs.
---
This is one bag that you can adjust according to your preferred style. It can function as a backpack, chest bag, traveling bag, or fishing tackle bag. Just adjust or detach the strap, and you can turn it into a style that you prefer. This makes it highly functional and versatile without restricting you to just one bag design.
We are pleased with the amount of space this bag has to offer. There are three spacious compartments found in the major pocket. The zipper pockets on the exterior are handy for organizing your daily essentials such as sunglasses, keys, phone, and so on. On the left side of the bag, there is a pocket for your water bottle while on the right size there is a space for your tools.
Made of water-resistant nylon material, this bag is sure to last for years. There is also an abrasion-resistant buckle and high-quality double zippers that can withstand abuse. Lastly, it is a good bag that can be used by kids and adults alike.
---
For eco-conscious anglers out there, the BLISSWILL fishing backpack is a notable choice to consider. It features a durable and environmental-friendly material that will make you feel good about your decision of buying a bag with minimal impact on the planet.
But that is not all. This is also a multifunctional bag, which allows you to use it as a handbag, shoulder bag, and backpack. You can easily adjust the strap to make it suit your preference. Plus, it has a widened design that reduces shoulder fatigue naturally.
Storage is never a problem with this bag. There are several storage compartments and pockets to keep you organized. You should be able to fit in your keys, wallet, fishing boxes, pole, and pliers without any trouble at all.
---
Rounding up our best tackle bag list is this one from Custom Leather Craft. The Wild River tackle bag is spacious, convenient, and multi-purpose. It is easy to carry, thanks to the shoulder straps with a generous amount of padding for zero fatigue. As a nice touch, there is a sternum strap that reduces the weight on your shoulders.
There is a front pocket cover that you can simply fold down, which serves as a work surface on the go. This is a unique feature of this bag that increases its functionality and customizability. With a clear internal pocket, you can easily spot what you need. This is also waterproof to protect your personal belongings from moisture.
The upper portion has a spacious area for your larger items, and you can remove the divider to add more room to this part of the bag. The web loops on the front also enhance the organization for your convenience.
---
Buying Guide for the Best Tackle Bag for Saltwater Fishing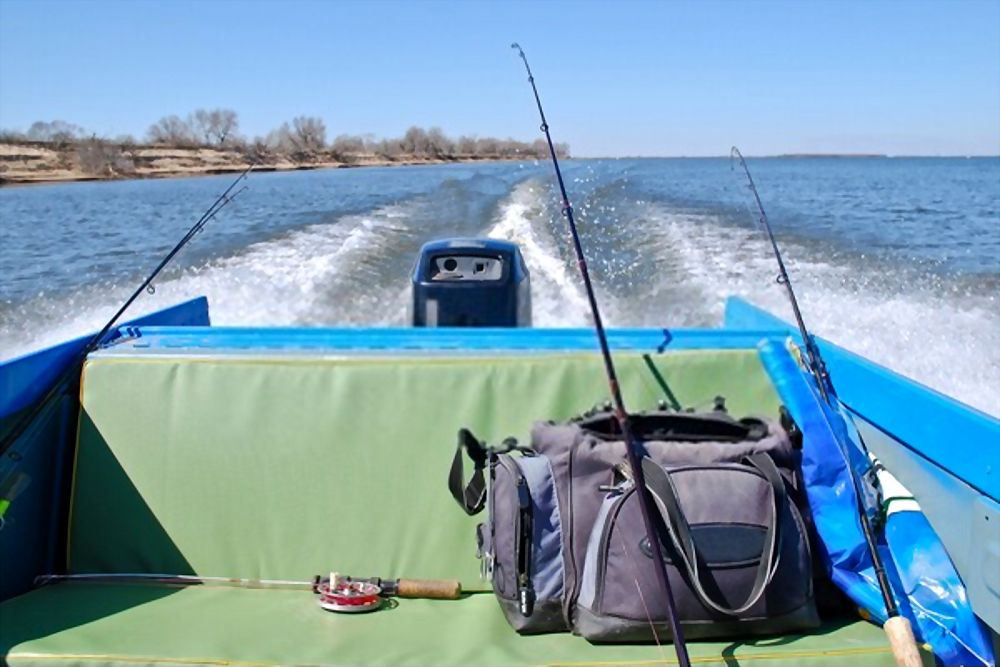 Whether you are in search of a good tackle bag for commercial or recreational fishing, you need to make sure that it has all the right features to ensure your total satisfaction with your surface. This is why we bring to you this list of must-have features to look for when shopping for the perfect tackle bag for your fishing trip.
1. Bag Design
Tackle bags either come in a hard or soft shell. The difference lies in the weight of the bag, and it is all up to you to decide which one of the two suits you best.
The striking concern with a soft bag is the sagging problem. Unless there is a solid material that keeps it upright, you may be better off with a hard tackle bag. It is generally easy to use since the trays can slide out conveniently. But if you want minimal weight, a soft bag is the right choice for you.
2. Size
Tackle bags vary in sizes. You can find a bag that can only fit in a couple of trays while others fit four, five, or more.
But along with a spacious size is the weight.
If the massive size will compromise the weight, then you want the bag to have some kind of wheels for ease of lugging it around. Otherwise, you may want to choose an average-sized bag that can still fit some things without fatigue.
3. Water Resistance
Your main concern when buying a tackle bag is how water-resistant it is.
It is important that your tackles stay dry and protected from the salt water to keep them in excellent condition for a long time. This is why you need to check the bag material, to make sure it is indeed protected from moisture and splashes.
Saltwater is also harsh on your fishing tools because it exposes these items to potential corrosion problems. Mold formation is another concern, which could render your tools no longer suitable for use.
With this in mind, make it a point to choose a tackle bag that is not only waterproof but weather-resistant at the same time.
Choosing a waterproof or water-resistant bag can take a long way when it comes to saltwater fishing.
4. Convenience
Another thing you need to ask yourself is how comfortable it is to carry the bag.
Fatigue is the last thing you want to go through when lugging your fishing tools around. This is why we recommend that you look for a bag that is easy to bring along such as a backpack or one that has wheels. These designs offer portability and maneuverability to help you get from point A to point B with less effort.
5. Organization
Lastly, choose a tackle bag that helps you stay organized.
There needs to be ample pockets and compartments that allow you to place essential fishing items in their own spots. This does not only make it easy for you but you should be able to spot easily the thing you need for fishing.
Some fishing backpacks and tackle boxes have multiple pockets on the exterior, in addition to the major and minor compartment inside the bag. This is something you would want to look for to make sure that there is a space for everything you need in the tackle bag you are hoping to purchase.
---
Frequently Asked Questions
How many compartments do you need for your tackle bag?
The answer to this question depends on a number of things such as the length of your fishing trip and your personal preference.
If you are a beginner or a casual angler, you could use a couple of compartments to fit in your tackles and fishing tools. A good style is a hip-roof design, which features trays on either side of the bag, as well as a large compartment found at the base.
Other anglers prefer more storage and compartments. If this is the kind you want, then you should look for a bag that has dividers for better customization. You should be able to separate your small and big tackles easily with this kind of design.
Should you buy a backpack as a tackle bag?
The good thing about a fishing backpack is that it allows you to have better ease of movement by keeping your hands free. There are backpacks that offer you the ease of converting it into a fanny pack or even as a shoulder messenger bag.
If you are carrying a heavy load, it is best to choose a backpack that comes with a sternum strap or lumbar support. This offers you reduced fatigue when lugging your heavy load around.
What is the ideal size of a tackle bag?
Size always matters when it comes to choosing the right tackle bag. It should be just the right size, so you have to think about the tools you want to bring and the fishing trip you are going to.
If you are aiming to catch larger fish such as a Pike or Muskie, you need to have long lures ready, which is over 6 inches in most cases. A big tackle box is essential in this case, as well as when you are going on an extended fishing trip.
But if you only wish to catch a panfish, then it is more than enough to bring a smaller bag. The amount of space in your bag should suffice for your small lures and terminal tackle.
Final Thoughts
The search for the perfect tackle bag for saltwater fishing may seem like a tough ordeal for many people.
But by knowing the right features to look for, aside from great options in stores, this task of choosing a good quality bag should not be that difficult.
We hope that by presenting to you the top-rated tackle bags in the market, you were able to determine the best one to buy according to your needs. Our helpful buying guide should be able to clarify confusion on what makes a good tackle bag to help you out in buying the right item suitable for your particular needs.