If there is one piece of fishing equipment vital to fishing tuna, it's the best tuna fishing reels. For those who have fished for tuna in the past, you know what difference a quality reel would make when taking in those huge fish. Did you know that Yellowfin Tuna can weigh up to 400 pounds, while the Pacific and Atlantic Bluefin Tuna can weigh up to 1,000 pounds?
For those high weights and sizes, you need to have the right equipment, particularly quality reels. But of the many different reels available today, which is the best for small and big tuna? Read on as I show you the ultimate purchasing guide!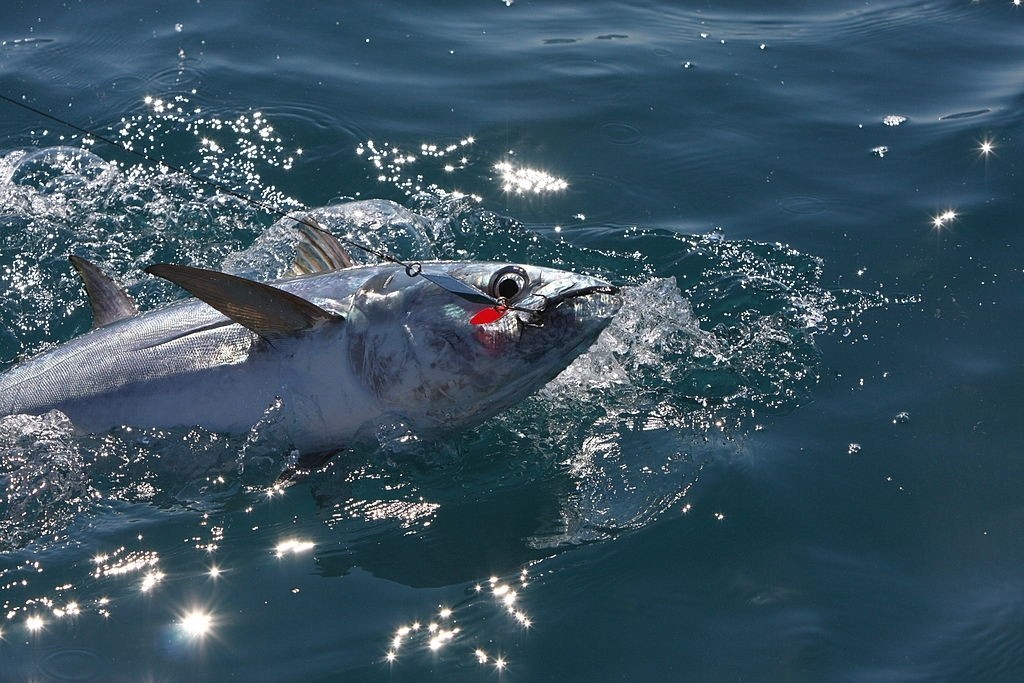 Quick Comparison: Top Tuna Fishing Reels
**Below, you'll find our more detailed reviews, but you can also click the links above to see current prices or read customer reviews on Amazon.
The Eight Best Tuna Fishing Reels
To help narrow down your choices, these are the eight best tuna fishing reels you can invest in today:
I really love the Penn Fathom 40N Lever 2-Speed Fishing Reel. It's not only made for beginners but is versatile to work for advanced anglers. This is all thanks to its complete features and highest-quality materials to last for the long run.
The reel is made with a heavy-duty and full metal body and sideplates, all made with die-cast aluminum for solid and rugged construction. What makes this unique is its quick-shift 2-speed system to shift into two different gears, making it versatile for most fishing situations other than tuna.
Furthermore, it has a double dog watched the anti-reverse system and dual drag system, which would eliminate any snags or other issues. Even during the harshest drag settings and situations, you can reel in your tuna well. Plus, it features one of the smoothest ball bearings as well, with five shielded stainless steel ball bearings to ensure comfort and convenience.
Pros
It features a DuraDrag System to eliminate any snags or hesitation
Fluid cranking that has five strong ball bearings for smoothness
Two-speed system for more versatility and power when needed
Cons
The fishing reel might be a bit difficult to cast with at first
It might feel a bit heavier than others, but still manageable
---
The GOMEXUS Saltwater Trolling Reel is one of the ultimate choices for tuna fishing, especially when you want strength and comfort. What's so cool about it is that it also has an interesting gold style, making fishing more fun!
This trolling reel is also made for the serious offshore anglers and even captains who want to catch huge fish like tuna. It has the HT100 drag system for the smoother startup, eliminating any form of hesitation, even during extreme drag settings.
Besides this, it's built with the solid aluminum frame, as well as a great line capacity and drag system for sea monsters! With its 1,000-yard line capacity and 130-lb drag, you definitely won't have issues with long-distance fishing for beasts.
Pros
Slow gear ratio for extreme power to catch the biggest tuna
Excellent line capacity and drag to fight aggressive tuna
It features a solid built that can last for years of tuna fishing
Cons
This is not the best reel for beginner anglers when catching tuna
It's very heavy-duty but heavier than most reels, may feel uncomfortable
---
The Penn Squall Lever Trolling Fishing Reel is another heavy-duty reel made for huge tuna. Similar to the GOMEXUS, it has the amazing line capacity, drag system, and the strength to withstand some of the biggest sea monsters.
It features a three ball bearing system with one anti-reverse bearing, so you can expect the right amount of smoothness. To be more exact with the numbers, it's braided line ready with a whopping 2,485-yard line capacity and 65-lb drag system. Despite the long line capacity and drag, it's still lightweight and with comfortable handles that make it easy to use as you reel in the tuna.
Furthermore, it has a quick shift two-speed system that would easily shift to whatever gear you need. You can use either high or low gear, which still gives off good power as you fight off any kind of fish, really.
Pros
The reel is lightweight and comfortable with its good handle
Double dog ratchet system that prevents your handle from reversing
Made with the powerful lever drag with great line capacity for tuna
Cons
Some anglers prefer it if the drag were set a bit higher
The lever may not stop on strike and might go to full on its own
---
SHIMANO is another reputable brand, offering the Saragosa SW Saltwater Spinning Seafishing Reel. This is made for some of the toughest species, including tuna, thanks to its Propulsion Line Management System. This system allows longer casting distances with fewer chances of backlashes and wind knots.
Furthermore, it has unique X-Ship technology, giving better gear durability and lessened friction for better casting performance. It even has the protected roller bearings and a great drag of around 22-lbs. Besides that, it has the optimum gear ration for fast retrieval and torque, as well as the five ball bearings and one anti-reverse bearing for smooth casting and reeling.
If your main priority is casting performance, you'll love this one.
Pros
Strong build, it has the drag and ball bearings to reel big tuna
Great endurance and will last for a long time with its metal body
It feels smooth like butter, casting well with long casting distances
Cons
Some anglers say that it might be stiff and feel uncomfortable
The anti-reverse bearing may not work as well as one would want
---
Daiwa is well-known for its high-quality fishing reels, and their SGT40H Seagate Star Drag Saltwater Reel is no exception. It is made with an anodized aluminum spool and corrosion-resistant composite frame, as well as an aluminum frame and sideplate for more strength and longer-lasting body.
Besides this, it has an infinite anti-reverse and four-bearing system, which is enough for smooth reeling and overall performance. It even has the power handle to make it more comfortable to reel in your catch or wait as you fish for a bite.
However, it does have a few limitations, which is why I believe that this one is best for beginners. It has a high gear ratio for faster retrieval, meant for smaller tuna species and other fish, making it versatile.
If you are an advanced angler looking for big tuna, this may not be for you. But for beginners and average anglers looking for something with a learning curve and to catch small to medium-size tuna and other fish species, you'll like this.
Pros
Great value with more strength and durability to last for years
Strong enough to withstand medium-sized tuna, puts up a fight
The reel has a great drag system with a loud bait clicker
Cons
It may not be the best for tuna anglers with the high gear ratio
Some complaints of the line getting caught in the spool when casting
---
The Okuma Azores Spinning Reel is another more advanced spinning reel made for catching tuna and other bigger and heavier fish species. It is made with high-quality material featuring a unique dual force drag system, having better control and stopping power while you reel in your catch.
Furthermore, it has the click-drag adjustment so you have customized settings according to what kind of fish you plan to get.
As for its ball bearings, you have six stainless steel bearings and one anti-reverse bearing for buttery smooth operation. They also feature an anti-reverse roller bearing, which has a ratchet system to balance your reeling when getting aggressive tuna. I think it's the smooth operation that impressed me the most!
All its parts and the frame itself is corrosion-resistant and waterproof for your convenience. I recommend this for beginners and advanced anglers alike, making it well worth the investment.
Pros
It has 400-yard line capacity and 20-lb drag system for performance
Made with carbonate and corrosion-resistant materials for strength
Offers one of the smoothest reelings with quality ball bearings
Cons
It's difficult to get replacement parts for the reel if required
Has some complaints of saltwater getting inside the reel
---
While the Daiwa Bg Spinning Reel isn't the cheapest one, it definitely doesn't skimp on features. You may think that spinning reels are meant for beginners only, but the Daiwa packs a punch with its versatility and strength.
It features an anodized-machined aluminum housing as well as an over-sized Digigear system. Furthermore, it has a strong screw-in handle, air rotor, and even a dynamic cut aluminum ABS spool that's braided line ready to ensure reeling in is easy and comfortable.
Don't worry about its solidness, as it has a waterproof drag system and anti-reverse system for smoother performance. It feels buttery smooth with its six ball bearings and a good gear ratio of 5.6:1. The gear ratio may be a bit higher than expected, but it's still a good balance of torque and faster retrieval for fighting tuna.
All in all, it's a great buy for medium-sized tuna who would fight a LOT.
Pros
The reel is made with high-quality materials for better durability
Strong and smooth operation with quality ball bearing system
Solid reel that feels comfortable to hold, big-sized with the Digigear
Cons
The reel feels a bit heavier compared to pricier reels
The bail wire may be a bit thinner than expected
---
Lastly, we have the KastKing Rekon Trolling Fishing Reel, which comes in two sizes for you to choose from. This reel is optimum for big catches in saltwater, having the mechanical line counter to consistently keep your bait in the area you want it to stay in.
Furthermore, the reel comes with high-performance components, which are made for tough-trolling conditions like large tuna. It's made with three double-shielded and stainless steel ball bearings, as well as the anti-reverse bearing. While not as many ball bearings I recommend, I'm still surprised by how smooth it feels.
I chose the size 10 reel, which has the recommended stopping power and gear ratio for tuna. It has the great drag power, having the 25-lbs of stopping power and a gear ratio of 5.1:1. Overall, I believe this is a great trolling reel and while not as smooth compared to others, it's still comfortable and lined with features I need to catch large saltwater species.
Pros
It has a great line capacity and holds more line than required
Solid and made with durable materials to last for a long time
The trolling reel comes in two sizes and styles for better comfort
Cons
Not enough ball bearings and may not feel as smooth as expected
There are some complaints about poor packaging due to bad shipments
---
How to Buy the Best Tuna Fishing Reels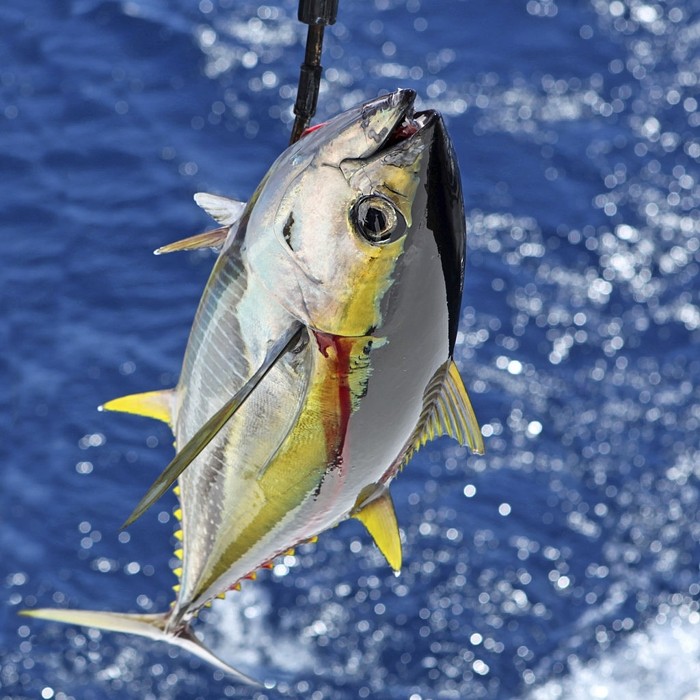 Now that you're familiar with the best tuna fishing reels, the next thing to help you narrow down your choices further is by understanding the factors to consider. These are the features you must look into and how to select a fishing reel based on these factors and individual preference:
1. The Bearing Number
The smoothness is a crucial factor all anglers want in their reels. For tuna fishing, it's even more important as you fight heavy fish. When you fight heavy fish like tuna using a less smooth reel, then the fun can end up being painful, even risking the loss of the big one!
That's why you should have a smooth reel that fits you. You can determine the smoothness of the reel depending on its bearing number. The more bearings a reel has, the smoother it is.
It's best that you get at least five bearings on tuna fishing reels, so you can bring them to your boat easily.
2. Size and Weight
Your reel's size and weight are crucial for tuna fishing, as you wouldn't know how much time you can hold the reel and tuna. There are two types of reels for tuna, which is the trolling rig reel and the spinning reel.
The trolling rig size and weight won't matter as much since they would stay on for longer and you wouldn't need to carry it on hand every time. However, select a lighter and medium-sized one to minimize the risk of losing your catch.
As for spinning reels, you need to pay attention to its size and weight, as you'll be holding this the entire time. I recommend getting a medium-sized and lightweight spinning reel, which prevents hand pain.
You want a robust reel that's heavy-duty, but that doesn't necessarily mean it has to be extremely heavy. With a light yet strong reel, it can help you stay comfortable as you hold it all the time when waiting for the bite. The size should also be well-balanced to its weight, fitting your hand just right according to your preference.
3. Line Capacity
Line capacity on any fishing reel refers to the measurement of how long of a line your reel can handle for casting. Selecting line capacity would depend on the kind of fish you target.
If you don't have enough line capacity if the reel, you may end up losing your tuna easily. When fishing for tuna, you require longer line capacity, since they are bigger, heavier, and would fight and run longer distances.
I recommend you get a 300-yard line capacity for tuna fishing or even go as far as 400-yards. You can go longer, but do NOT go under 200-yards, since this can cost you.
4. Braided Line Capacity
The braided line capacity is actually usually used for catching tuna! The line would have no memory, so you don't deal with any lien twists when doing so.
Braid lines are usually very thin, allowing you to fur more braid to the reel. Using more braid line in the reel will allow you to cast further, even with a smaller and lighter reel.
However, putting the braided line in the reel isn't easy unless your reel offers enough braided line capability. That's why your chosen reel needs to have the braided line capability for tuna fishing.
5. Drag System
A high-quality drag system is just as crucial as the entire reel, otherwise, it ruins your chances of catching tuna.
A drag would help give you a clear observation of how the line reacts when you get any kind of fish hooked. This is the most important factor to consider when you fish in the deep sea.
Good drag systems would keep your reel damage-free. Furthermore, since tuna fishing is a bit different than fishing for other species, it doesn't need the highest drag. You can get drag systems that range between 15-40 pounds, which can do the trick and help you battle tuna with more control and stopping power.
6. Quality Materials and Construction
Fishing for tuna is a bit costly, as you require high-quality equipment to help reel in huge fish successfully. Your reel is one of the gears that need to be strong.
If your fishing reel isn't made with quality materials and only ordinary components, it won't last long, nor will it perform well.
I recommend that you get lightweight fishing reels made with aluminum, which is great for offshore fishing. You can also choose high-quality graphite, which is just as light and strong, resisting corrosion well. As for its internal parts, it should be made of strong and corrosion-resistant materials like stainless steel.
You should also consider the material of the frame, which would show how strong and effective your reel is. This should be made of lightweight yet strong materials like graphite, aluminum, or other composite materials. It's best that you get a one-piece construction to prevent easy damage and having it break apart on its own.
The spool should also have a solid construction, having high-strength materials like cold-forged and machined aluminum
7. Corrosion-Resistant and Waterproof
Remember that tuna is a saltwater fish, making your gear susceptible to corrosion because of salt. This can greatly affect the durability of your metals, which is what the reels are mostly made of!
That's why when you're going tuna fishing, you need a reel that offers excellent corrosion-resistant materials and extra protection, which will increase its durability.
Furthermore, your chosen reel should also be waterproof, keeping the reel's internal parts safe from the water, salt, and sand.
If ever your reel isn't corrosion-resistant and waterproof, you may face problems fishing for tuna. It reduces the reel's durability and may even cause it to get damage WHILE fishing.
8. Handle and Knob
The fishing reel's handle and the knob would play a crucial factor when fishing for tuna, compared to targeting other species. It's uncomfortable using small handles on fishing reels, which is why you want a big one.
As for the knob, make sure that it's properly shaped. I recommend circular knobs, which are suitable for a large swimmer like tuna. There should also be anti-reverse handles to allow the reel to release a bit of line as you fight with the fish, so you don't lose tuna easily.
While handles and knobs may not directly affect the chances of catching tuna, they do make or break your comfort. You'll be handling the reel for hours on end, which is why you want something comfortable to prevent fatigue, which, in turn, affects the way you fish and reel in your catch.
9. Gear Ratio and Power
The fear ratio is a measurement of how much line the spool can collect for every action, or turn. This is also known as the power of your fishing reel.
When it comes to tuna fishing, I recommend that you Geta. The gear ratio between 4.9 to 5.1, which is optimum for big fish such as tuna.
You won't want to force TOO much power on the tuna you're going to catch, especially when you want them in the boat. High gear ratios can cause your line to break, losing both your tuna and bait. A good balance in gear ratios is crucial.
I also recommend that you get a 2-speed fishing reel that has a quick and easy shifting feature from low-to-high and vice versa. This won't only be helpful for tuna, but it makes the reel versatile to catch other fish species. That way, you can have speedier line retrieval when going high gear, or if you need more torque and power to haul tuna to your boat.
10. Price Range and Your Budget
Of course, you also have to consider the overall price of your chosen tuna reel. Prices can range as low as $50 below, or up to a whopping $500 and above!
With the $50 to $150 range, these are budget options that are great for beginners on a tight budget. However, these are only meant for the medium-sized fish tuna, as they might not be as strong.
For the $150 to $500 reels, this is a decent price range for stronger tuna, where you can find many useful features needed for large tuna fishing. This is a great price range and though a bit pricy, it comes with everything you need.
You can opt for $500 reels (and even more expensive ones), but you don't need to go all out as the more expensive doesn't always mean the better. If money is no issue, you can try these types of reels out, and you can expect them to last and withstand even the strongest tuna.
Frequently Asked Questions
Are you wondering about tuna fishing reels, such as how to use them and more information regarding its components? Check out these frequently asked questions to get a gist on how these heavy-duty fishing reels work:
1. What other gear do I need for tuna fishing?
Besides your tuna fishing reel, there is also other gear you should prepare as well. The two most important ones are your fishing rod and reel, as well as lures and baits, balloons and sinkers, as well as a strong fishing line. Furthermore, you may want to get a fishing gaff, which can easily help you lift your big tuna onto the boat!
2. What kind of fishing reels work for wicked tuna?
Tuna species can get VERY heavy, and as I mentioned, they can weigh up to a whopping 1,000 pounds! Because you'll be hunting for them, you need some of the heaviest-duty tuna reels, special ones that are made for strong fish. This is because such reels can handle any pressure when fighting, dragging, and reeling in aggressive fish trying to get away.
3. Does a colored fishing line matter?
Colored fish lines will help make it easier to notice slight bights, as well as give you a clear line of sight because of its brighter color. However, tuna fish may end up seeing the line too, which will have them swim away. Instead, you can opt for a colored line if the water isn't too clear, so it's less visible to tuna.
4. What other tuna fishing tips will help?
Besides investing in the right fishing gear, there are also other tips that can help you fish and catch tuna efficiently. When fishing for tuna, I recommend that you either use drafting or trolling, which are popular fishing techniques, keeping your speed in eight knots. Furthermore, you may want to fish closer during the summertime in your area, which is when fish are nearer to the surface.
5. How do you clean a tuna reel?
Cleaning a tuna reels is straightforward, and you need to do so right after a fishing trip, especially when using it in saltwater. Simply sponge your tuna reel using a mix of warm water and gentle soap, NOT submerging it completely. Then rinse it with fresh water, removing all salt and sand particles, leaving it to dry in a cool and dry area.
6. Why get a spinning reel instead of a conventional one for tuna?
The reason why spinning reels are preferred over conventional ones is that they are easier to use and beginner-friendly. Furthermore, they are affordable BUT only made for normal to medium-sized tuna, not the huge snappers. Conventional reels are great as well, though it's pricey and better suited for advanced anglers that know how to use the reel and fish for bigger tuna.
7. What's the difference between tuna reels and normal spinning reels?
The main difference between a "tuna reel" and a normal spinning reel is its line capacity and drag system. With tuna, you require a higher line capacity and amazing drag system spinning reel, which you won't normally require for normal fishing. Furthermore, "normal" spinning reels are made best for medium-sized fish, while tuna reels are made to catch small or huge sizes!
8. Do I need a bait clicker on tuna reels?
You most likely don't need a bait clicker for your tuna reel, as you can easily feel the bite of the large tuna fish. However, that's under your discretion and you can use it to go without it. I personally go without it as even the smallest extra weight on my rod and reel can throw me off!
If you want to learn more about tuna fishing reels, check out this informative video about catching the big one:
Wrapping It Up
When it comes to tuna fishing, you need strong and durable equipment to handle the huge sizes and weights. With the best tuna fishing reels, you can confidently take a bite and reel in your catch, no matter how small or large your tuna is. Just make sure that you have the fishing rod and lines to match!
Hopefully, my purchasing guide on the best tuna reels helped you out. So don't wait any longer and invest in any of these fishing reels now.