Are you looking to do bass fishing at night?
It sounds like a tough challenge for the newbies but it's not that hard, surprisingly!
In fact, even beginners can be successful with catching bass at night. You just need to be prepared and knowledgeable about what needs to be done.
Preparation is key in every angling activity. It is essential that you have all the right tools and techniques to give you the finest catch.
So, we bring to you these insider pro tips on how to boost your bass fishing skills at night. Take a look at these recommendations and elevate your fishing success!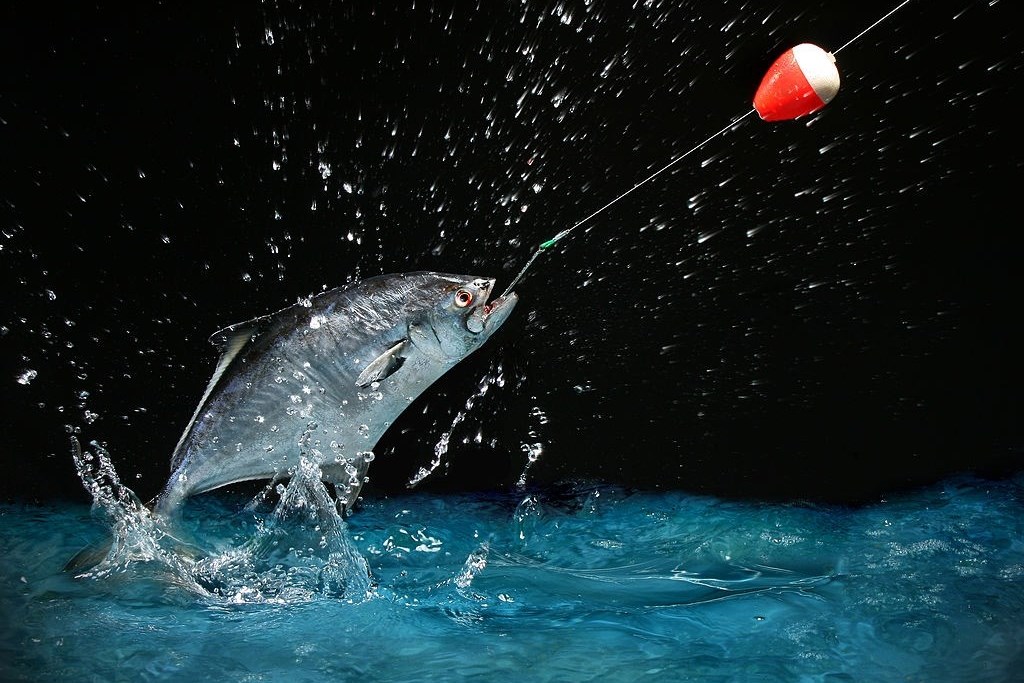 Is it Good to Catch Bass Fish at Night?
First, the most important question – is bass fishing best at night?
The short answer to this question is yes.
In fact, there is no better time to do bass fishing than at night. It is when the sky is dark that bass fish are in action. They love the water condition once the sunsets. This is why you need to be prepared with all the tools to help you increase your angling success.
Factors that Impact Success When Bass Fishing at Night
Just because it is great to catch bass at night, that does not mean you should just go ahead and start fishing.
There are certain things you need to take note of before you head out. These are the factors that affect how successful you will be in catching that bass at night.
1. Weather
This is a primary factor that influences your chances of a big catch.
In spring, the best time to do bass fishing is during the full or new moon. We recommend that you go 3 days prior to the new moon or the full moon. You can also go 3 days after.
It is also worth noting that consistency is king when trying to catch that nighttime bass. In the Midwest, for instance, late March is the perfect time to do bass fishing at night.
Pro anglers suggest that you keep a record of the temperature daily at day and night during this time of the year. The sweet spot would be warm nights and an ideal moon phase (as mentioned above).
Want to boost your chances of a hefty catch? Your best bet is during heavy rainfall or a storm. When it is windy, stormy, and dark out, this is the best combo for the finest bass fishing experience.
But skip the angling when there is lightning. It is not worth the trouble and danger.
Read more: 11 Pro Angler Early Spring Bass Fishing Tips to Bag a Massive Catch!
2. Tools
Get your tools ready – It will be one exciting nighttime bass fishing for sure!
Well, you can skip the whole array of tools, for sure. But just be sure that a good handful of really helpful ones are in your backpack.
There are just a few, select baits that do their job really well once it is dark out.
Frog – You would need topwater frogs for nighttime bass fishing. These fish go crazy at the sound of a frog when they are out looking for food.
However, they may not automatically come out at times. There are some nights that they would want to go on a feeding spree.
But the most important thing is that you have your frog ready, just in case. No matter what the color is, this should not be a problem at all. Bass fish love them regardless of the color.
Their favorite, however, is the popping frogs. They cannot resist these frogs once they spot them. So, have this tackle in your backpack to catch that bass.
Rattling Night Frog – Another type of great tackle is a rattling night frog. It is sure to captivate an unsuspecting bass fish's attention.
The key is to go for a longer cast, then let the frog do its job. It may take a couple of minutes or so but once your bass finds it, you're golden. It guarantees you of a catch for sure!
3. Jigs and Baits
There are a few things you need to know about jigs and baits.
First, you need the right weight for a jig. We have noticed that a 3/8 -ounce jig is a smart choice. Pair up a flipping jig with your grub and it is sure to attract a bass fish.
Basically, it is the vibration that gets the fish going. Once they hear and see the jig, they just cannot stop chasing them.
Another great bait to consider is a buzzbait. This one's a sure win for every angler.
When the wind is strong, you can guarantee great success from a buzz bait. Add in a trailer-hook, and you should be good to go.
If you want to add some variation to it, clamp down the rivet on the buzzbait blade. This is sure to add an extra squeal and squeak that bass fish cannot resist.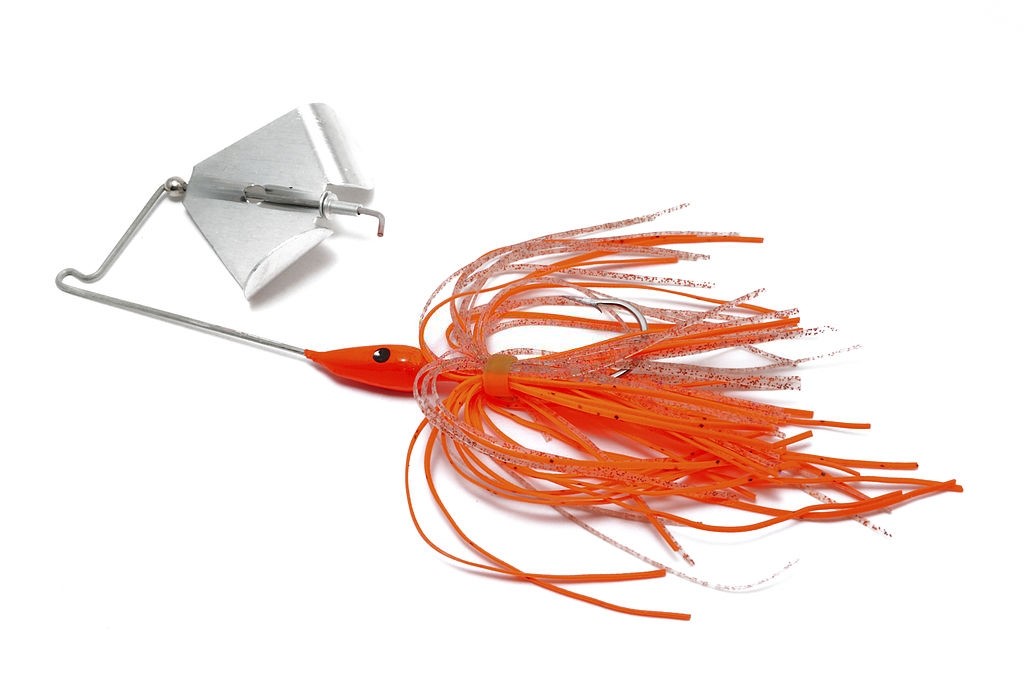 Important Tips on What to Pack When Bass Fishing at Night
The most practical thing to do when catching nighttime bass is knowing what to pack.
Do you need a huge backpack?
Can you do away with packing light?
Practical and successful anglers recommend that you only take the essentials with you. Packing light is the way to go.
There is no need to flash the latest and the coolest gear you've got. The goal is to just keep things sweet and simple.
This is why it should be okay to bring with you a small fishing backpack. The lighter it is, the better.
You will also need to bring along some pieces of clothing to keep you warm. Always keep in mind that nighttime bass fishing can be very chilly.
If you cannot last for hours, what is good about doing it in the first place?
Bring a jacket and maybe even gloves to keep you nice and toasty. If rain is bound to come, then you should bring along a weatherproof coat and boots. This way, you won't catch a cold while you catch a fish! It only makes sense, right?
5 Easy Tips to Boosting a Huge Catch During Nighttime Bass Fishing
Bass fishing at day is tough.
And it gets a little tougher at night.
But that does not mean it is impossible to do. With the right skills, you can actually lure that chunky bass into your hook.
In fact, the night sky gives you just as many opportunities of a massive catch. You can actually take advantage of it and know how to make it your ally.
Want to know how to make nighttime your best friend when catching bass? These 5 tips should be very helpful for you:
1. Lighting is Everything
It is obvious that you will need some light when attempting to catch bass.
For safety purposes, you will need a reliable source of light. After all, you would not want to feel as though you are blindfolded as you hold your reel and rod, right?
Pro anglers have one thing in mind when trying to catch bass at night – head to the docks.
This is where you need to start your journey. The lights are beneficial to keeping you safe, in addition to working on your bait.
As for where the fish go, there are often smaller ones that head over to lighted docks. These include crustaceans, insects, and other food for the bass.
Since they assemble in these areas, you can expect that hungry bass to sneak up to these smaller marine creatures. You will definitely boost your chances of finding bass in such a situation.
2. Understand Night Spawning
There are a few fish that spawn during nighttime. This is more common in the early summer and spring. Once the temperature dips, minnows including flatheads and shads tend to spawn.
With that in mind, you should cover semi-shallow waters that have gravel or small rocks. Small fish that are spawning are a treat to bass.
They are about to enter a feeding frenzy upon spotting these smaller fish that are spawning.
And what about bass fish? When do they spawn?
Spawning season for bass fish is usually in the spring. They head over to shallow waters – even at night.
As for the male bass fish, they like shallow waters to look for food during the spawning season. So, be sure to check out inlets and shallow benches on a spring night.
3. Go for the Rocks
Rocky bars are a favorite hangout among bass fish.
They usually prefer rock islands submerged along the bottom. The same holds true with rip-rap, which is their favorite feeding station.
And it is not just about the bass… Smaller aquatic creatures are fond of rocks, too!
These animals include crustaceans, and they like hanging out in these areas. Thus, you should be able to expect bass fish to be somewhere nearby!
4. Make Some Noise!
Bass loves the noise.
Yep, they are always curious about the noise coming from your lure.
But always keep in mind to avoid landing the lure on top of the bass. Instead, cast just past their lair. Then, you can retrieve the lure toward that area where these fish may be dwelling.
You can guarantee a good catch when you go for a slow retrieve. Try to let the bass hear your lure, then you can go for a gentle but steady retrieve – this method never fails.
5. Get Your Bait and Lure in Check
The right bait guarantees an excellent catch.
We recommend a soft plastic bait. It is the best way to catch bass fish at night. For instance, you can go for frog, worm, and lizard imitations as these never fail when catching bass.
As for the hook size, you don't need to change things up. What you use during the daytime should also work at night. But you can go to 5/0 during the nighttime. The only thing to keep in mind is that larger hooks are not as easy to see at night than during the day.
Another must-have when it comes to lures are top-water lures. These are good, yet not as great as soft plastic baits. Nevertheless, they get the job done in the wee hours of the evening.
You are going to get outstanding benefits from clankers such as jitterbugs at night. Even larger poppers secured on your fly rod are great. It is all about the commotion they create that draws bass fish to strike.
Still, never forget to cast past your target. Otherwise, you might just spook your bass and miss your opportunity.
Staying Safe When Nighttime Bass Fishing
The nighttime water can be quite intimidating for some anglers.
You may have some distortions in your senses, as well as your balance.
This is why it is very important to get plenty of light when you are onshore or aboard your boat. You need to stock up on flares, life vests, and things to keep you safe.
For more safety tips when fishing at night, here is a video you should watch:
Conclusion
It may seem challenging and tricky to do bass fishing during the night.
There are fears you need to overcome and techniques to be learned. These all help to increase your chances of a catch, so all your efforts will yield great results.
After checking out our tips and guide, you should be all set!
So now, you are ready to head out there and try bass fishing at night in summer or spring.
Grab your fishing buddy, pack up your stuff in your lightweight pack, and get set to go. Then, you should be more than equipped to experience a fine bass fishing activity that is sure to give you an amazing time.