If you want to boost your catch, then it helps to learn how to tie on a chatterbait.
And the best part about this technique is… It is actually not that hard! In just quick steps, you can master the art of tying on a chatterbait. This should help you catch that bass and a few other fish with ease.
Sounds good? Why wouldn't it!
So, if you are eager to get started, let's get all your tools all set up and tie on that chatterbait right now. Here's how!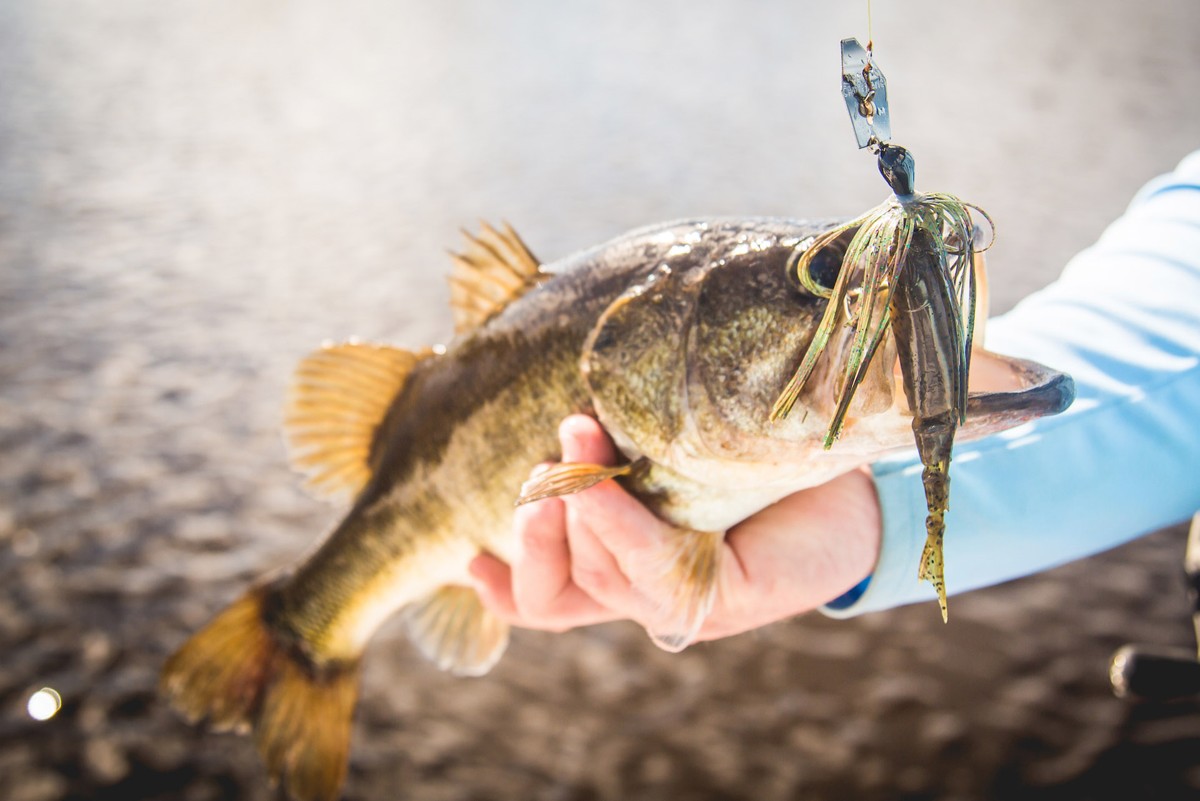 Chatterbait Basic Facts
First off, what is a chatterbait, anyway?
Simply put, a chatterbait is a lure used in fishing. It is a lure or jig that makes fish go wild. Specifically, this type of bait is popular in bass fishing. The unique shape makes it irresistible for this type of fish. Thus, you can expect a great catch by using a chatterbait.
As for its features, think about it this way – if a spinner bait, crank bait, and a jig have a baby, that would be a chatterbait. It has all the right features you want in a powerful lure such as vibration, snag resistance, and flash.
Another cool thing about a chatterbait is its extraordinary blade design. This is responsible for the distinct vibrating action it creates. And this is the one that entices the fish. In fact, it is this vibration that attracts fish to the bait. So, each time you use this lure, you can expect the explosive action each time a hungry bass bites on it.
Key Features of the Chatterbait
A chatterbait is like no other lure. Here are some of its unique features.
1. Weedless
For instance, this is a weedless lure. What this means is that it will never get caught up or snagged in the weeds. This is actually a great feature since you can always ensure a solid catch each time.
What is the reason behind this weedless quality? It is all because of the positioning of the hook. As it stays in an upright position, there is no way for the lure to get stuck in weeds. Thus, anglers should easily throw their bait right into the right spot where fish love to feed. In this case, it is mostly a heavy, thick cover.
2. Versatile
When it comes to versatility, you can never go wrong with a chatterbait.
It is a fine, versatile lure that you can use in deep or shallow water. There are anglers who prefer to get rid of the skirt from the chatterbait. Instead of keeping this feature, they attach on the end a soft, plastic jerk.
What's great about this combo?
If you are trying to lure a bunch of schooling fish, this system almost never fails. Moreover, it also works well when the fish are swimming close to the pond's or lake's bottom. Try adding a creature bait or spider jig to increase your chances of a bite from your target.
3. Bladed
As we have mentioned earlier, a chatterbait is bladed. There is a blade connected to its top, making it quite exceptional.
Let us talk about its anatomy, for a minute. There are two parts in a jig – the lead sinker and a skirt. Now, the sinker is usually metal or lead. This keeps the hook weight down. As for the skirt, this is the piece that tricks the fish and makes it think that it is food attached to the hook.
Jigs move in a vertical manner. On the other hand, a spinner bait moves in a horizontal motion. The latter mimics a prey's usual motion while a jig remains at the bottom.
4. Hybrid Features
A chatterbait is like three types of bait in one – a spinner bait, crank bait, and jig.
It has a metal blade just like a spinner bait, a vibrating feature like a crank bait, and a sinker that is commonly found in a jig. Many anglers who are fascinated with bass fishing consider a chatterbait as an essential lure to increase their chances of a great catch.
Benefits You Can Expect from a Chatterbait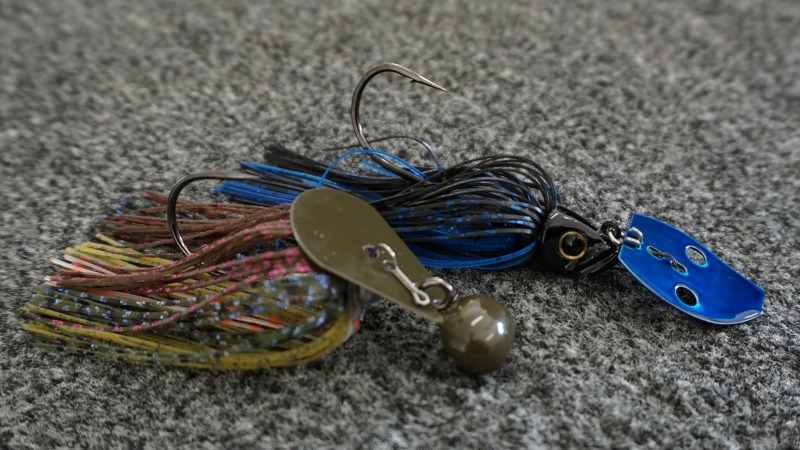 With its exemplary features and function, a chatterbait offers a number of benefits. These are the following.
1. Attracts Nearby Fish
The blade located at the top portion of a chatterbait's head comes in a hexagonal shape. Along with this feature, it offers a strong vibration once you propel it into the water.
Additionally, the head has a silver color. This is why when you pivot the blade, this creates a bright and eye-catching flash. This entices nearby fish to bite.
Aside from the flash created, the vibration is another feature that further causes the fish to get closer to it. The pulses no longer require anglers to pull the fishing line, too. This is something unique about the chatterbait, which you cannot expect from other types of lures.
2. Great for Murky Waters
If you opt to fish in murky or muddy waters, a chatterbait is great to use without a doubt.
The combination of the flashing and vibrating features make them highly visible to fish. Even if debris can be found, fish should easily spot the lure. Thus, this makes it even more essential to use a chatterbait when you plan on catching fish in this type of situation.
3. Ideal for Catching Big Fish
Do you want to catch yourself a big fish?
In this case, you should definitely use a chatterbait.
It is the composition and extraordinary movement of this lure that draw big fish to it, naturally. The vibrating and jerky motion that a chatterbait creates drive bass and several other big fish crazy.
The result?
Prepare yourself for a huge catch!
It is the flashing and the blade that sends off beams of bright light in every direction that makes the lure super visible to fish. That is absolutely irresistible for fish trying to catch a quick and easy meal!
4. Smooth Casting Guaranteed
An additional feature of a chatterbait is how easy it is to cast smoothly.
What makes this possible?
It is the streamlined, sleek, and slim shape of this lure that makes it happen. You can easily cast your chatterbait even in tough, high winds without any problem. No matter how tough the conditions may be, you can expect the lure to land right on your intended spot.
In addition, it is its weight that makes casting smooth, quick, and precise. The jig's reasonable weight results in the perfect landing. The movement is often weight-forward. Thus, you can always expect accuracy in your casts.
5. Retrieval Made Easy
It is not just the casting process that is effortless with a chatterbait.
In fact, you can also retrieve it with so much ease.
With some baits and lures, retrieval can be a pain. Like, literally. You have to exert so much energy to be able to retrieve your lure. For instance, it can even get snagged while on its way back to you.
But this is hardly the case with a chatterbait.
In just seconds, you can retrieve this lure like a pro – even when you are not even one (yet)!
The lure entices bass in seconds, and once the fish bites on your lure, you can fetch it right away. It is also the unique profile of this lure that allows you to force it out of the water swiftly. So, there are very low chances of missed opportunities.
How to Tie On a Chatterbait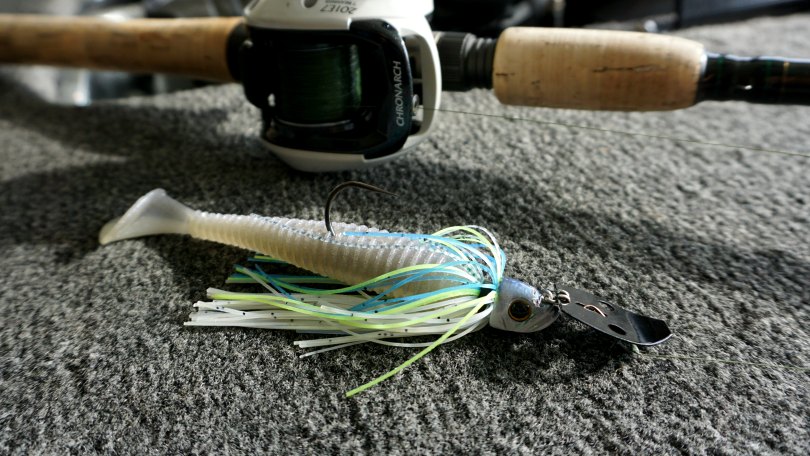 After being properly introduced to a chatterbait – what it is and what's great about it – let us move to your most awaited part….
You will learn how to tie on a chatterbait just like a pro!
We hear you – it is not so easy to do it. If you are a newbie, or you have never worked with a chatterbait before, it can be quite tricky getting it all set up.
But this is what we are here for – to get you tying on that chatterbait in no time! We lay out this step by step process that will help you harness this skill and start snagging that bass and big fish easily and quickly!
Now, before we take you to the steps, let us talk quickly about the types of fish you can catch with a chatterbait.
For the most part, a chatterbait is designed to help you catch big fish, specifically a largemouth bass. It is all because of how it resembles food that this type of fish likes to eat. The rattling sound is what draws fish to this lure.
Excited to catch that bass?
Here are the steps on how to tie on this lure to get you bass fishing in no time!
1. Determine the color and size to use.
We recommend that you use the 3/8 or about 5/8 ounce chatterbait. These are the ideal sizes for catching bass and other big fish species.
As for the color, you would want to stick to brown and orange or black and blue. These are catchy colors that never fail to drive your prey wild.
2. Grab your Spinnerbait
You can also use your chatterbait like how you normally use a spinnerbait.
Why?
It is because you will find it so easy to do so, even when you do not possess professional skills.
3. Get Your Fishing Line
Of course, you need your line ready before you tie on the chatterbait.
As for the best line to use, you can actually use any type you prefer. Whether it is braided or monofilament, either one should be just fine. But be sure that the line is suitable for the fishing condition you are in.
4. Pass the Fishing Line Through
Next up, you need to pass your fishing line through the lure.
Hold the lure by its hexagonal blade. Then, simply let the line pass through the lure's eyelet.
The goal is to pull just the right length across this tiny hole. By doing so, suspending the lure from underneath the fishing area should be relatively easy. A good length would be 4 to 5 feet of your fishing line when you are heading to open water. Otherwise, you should be good with 1 to about 2 feet.
5. Create a Loop
Secure the chatterbait with a loop.
Learning how to make the overhand knot is important as it is more secure and efficient to do.
Next, pull your line down right through the hole while leaving some space in your loop. Pass the lure back through this loop you have just created and form a nice and tight tie.
6. Knot it Up
Lastly, be sure the knot is secure.
You may want to moisten your fishing line with water to prevent it from getting stiff or tangled.
Then, pull the two ends of the fishing line and secure these with a knot. If there is excess in length, simply cut with your pliers or clippers.
Additional Tips
Another thing we would add is this optional technique to really make sure the chatterbait is secure to the line.
We recommend that you create a knot that keeps it straight and free from debris found in the water. Otherwise, this runs the risk of scraping against it, which can impact its overall performance.
Here is a video to help you tie on a chatterbait just like how pros do it:
Conclusion
Tying on a chatterbait can be intimidating for beginners.
But it should not be a difficult thing to do once you have the steps and techniques in mind. After learning the basics of this type of lure, you should be well on your way to tying on a chatterbait for success in your fishing experience!